Elemental: Cannes Film Review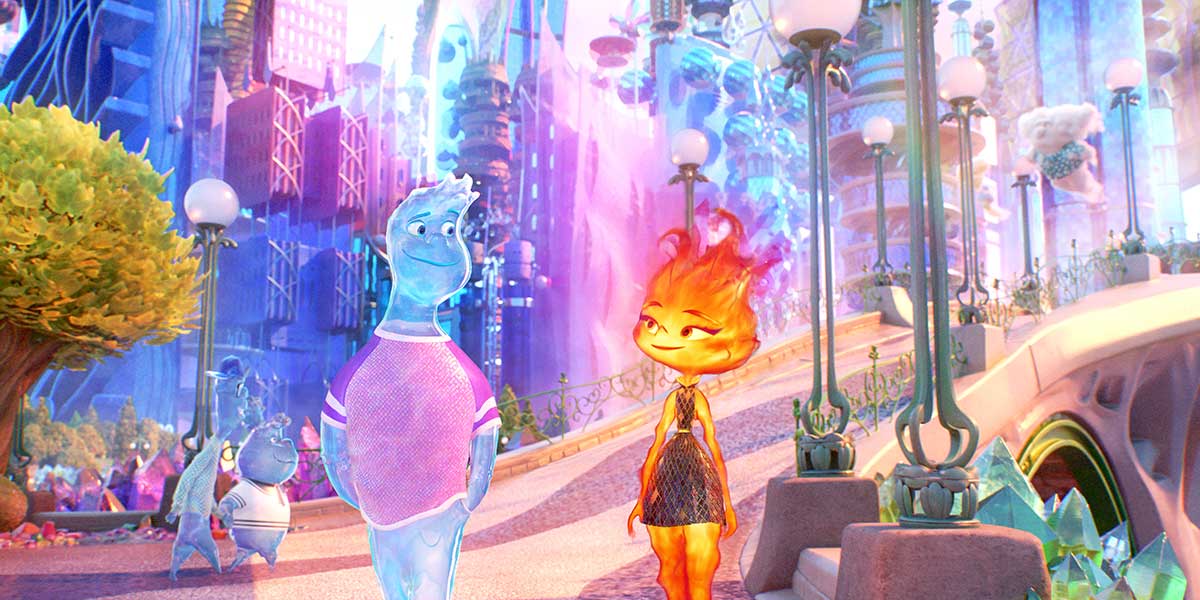 Elemental (© 2022 Disney/Pixar. All Rights Reserved.)
Heart-warming and moving, Elemental shows that Pixar still knows how to create a beautiful and timely film.  
---

To say that I was excited about Elemental, the newest Pixar original film, is an understatement. After a couple of recent releases that were not as commercially successful nor critically acclaimed as they used to be, Pixar's new movie had the opportunity to turn this trend around. And after watching it, I had to admit that it most certainly did. As the last screening of the Cannes Film Festival, Elemental definitely met, and even surpassed, all my expectations.
The premise of Elemental is, at its core, quite straightforward: elements do not mix. But what happens when Ember Lumen (Leah Lewis), a fiery and hot-headed young woman, meets Wade Ripple (Mamoudou Athie), an empathic and compassionate water guy? As the two anthropomorphic elements get to know each other and their romance blossoms, they influence each other and grow together. Thanks to Wade, Ember learns to get her temper under control and discovers the city she has been avoiding for all her life until now. More importantly, Ember realizes that her dreams and aspirations may not align with the future she believes her parents have envisioned for her.
While its story may not be entirely original or new, this does not make Elemental any less enjoyable. In fact, it is the characters that really make the film stand out. Most characters that inhabit Element City add to the uniqueness of the setting. More specifically, both Ember and Wade are extremely interesting in their own way. It is especially refreshing to see a character like Wade on screen, particularly in a film aimed at children. In a modern society plagued by the concept of toxic masculinity, seeing a male character who's not afraid of expressing his feelings or crying is still very much needed and a very positive example to look up to.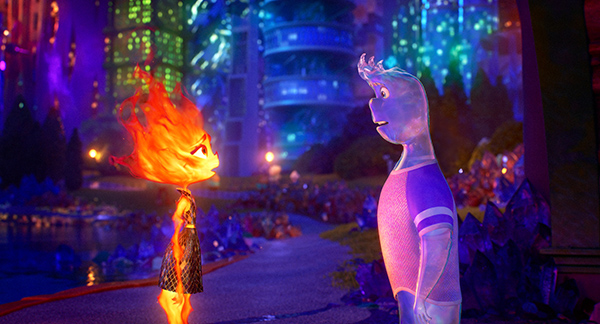 Much more than a story about forbidden love or opposites attracting each other, Elemental explores much deeper themes, such as that of family and forging your own path in life. Interestingly, the film is inspired by the director's own experience of growing up in an immigrant family. Just like him, Ember is a second-generation immigrant who feels the weight of her parents' sacrifice on her shoulders. In fact, Ember's parents were ready to risk everything and abandon everything they knew as they left Fireland for Elemental City to give Ember a better life. Similarly, Elemental touches upon the racism Ember and other fire elements suffer in Elemental City, from being refused entry to an exhibition as a child to being told she speaks very clear English.
With its gorgeous animation and vibrant colours, Elemental seems to mark a return to the classic magical atmosphere that characterises Pixar cartoons and marked many of our childhoods. Right before our eyes, Pixar creates a whole new world, one where the four elements that exist in our everyday life are alive and live in the beautiful and fantastical Elemental City. The details of the animation help Elemental City and its citizens quite literally come to life. Everything in the city feels real, from Firetown to the Cyclone Stadium, as a testament to the impressive worldbuilding of the film. Similarly, the musical score, composed by Thomas Newman, helps create an enchanting atmosphere.
See Also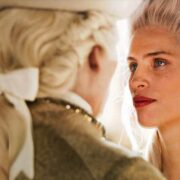 As Pixar and Disney both keep doing in their animated films, Elemental is an excellent example of how important it is to have representation on screen and showcase a wide range of stories from diverse communities. In his first feature movie as a director, Peter Sohn shares a personal experience that can easily become universal. The struggles Ember has to face are the same struggles many will relate to, as other immigrant children will be able to see themselves represented on screen thanks to Elemental.
---
Elemental premiered at the 2023 Cannes Film Festival and will be released globally in theaters on June 16, 2023.