Easter Sunday (Film Review): Putting the Fun in Dysfunctional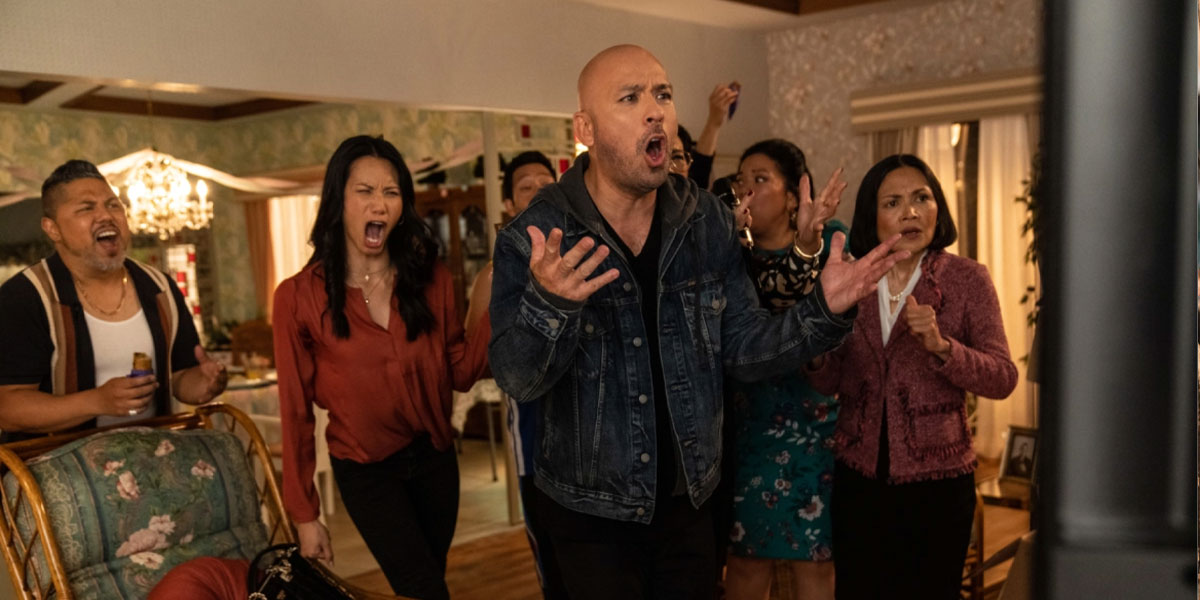 Easter Sunday (Ed Araquel/Universal Pictures)
While Jay Chandrasekhar's Easter Sunday isn't as great as the director's previous work with Broken Lizard, its lead performances make the film a worthwhile watch.
---

Watching Jay Chandrasekhar's Easter Sunday felt like a blast from the past. Growing up as a child and spending the entire day at my (now closed) local video store, going through the aisles and examining every single DVD on the shelves, I was able to make blind discoveries with films like Wayne's World, True Lies, La Bamba, and Young Guns just by being enticed by the covers, not knowing who made them or who was in it. It was through these films that I discovered actors like Tia Carrere and Lou Diamond Phillips, and their skills further developed my appreciation and love for cinema as a 12/13-year-old kid.
So it was a pretty surreal moment to see them both in Easter Sunday, especially when Diamond Phillips' introduction is staged like Andrew Garfield and Tobey Maguire arriving in Spider-Man: No Way Home. The camera slowly pans up as the garage door opens, revealing a shadowy figure crossing his arms, who just happens to be the Filipino screen legend, Diamond Phillips himself. And the two people who were at the screening with me started to cheer. And with reason, as both Diamond Phillips and Carrere haven't been in a major theatrical motion picture in a long time.
And what a way to make their return to the big screen, since Easter Sunday boasts a mostly Filipino cast and showcases on screen Filipino American representation, as the film tells the story of Joe Valencia (Jo Koy), a comedian struggling to find stable gigs in his industry. He's known for a Budweiser Zero commercial since his famous catchphrase, "Let's get this party started, baby!", became a thing people laugh at. Joe doesn't find it funny, but is able to score an audition for a TV show pilot. However, the constant grind at auditioning and performing stand up shows causes Joe to miss time with his son (Brandon Wardell). To make up for him missing a school meeting, Joe takes his son to the Bay Area for the annual family Easter Sunday dinner.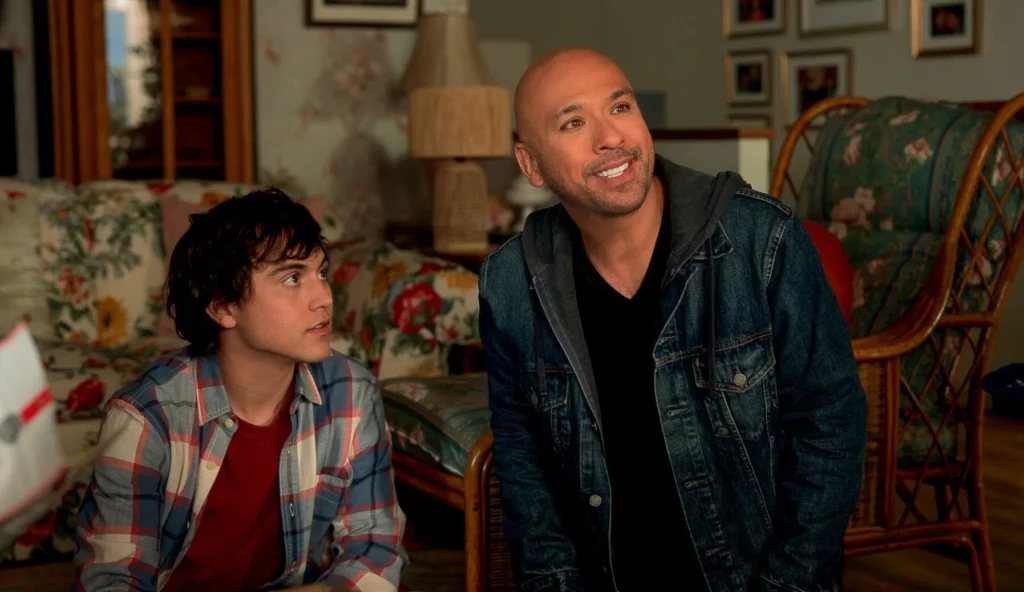 When he arrives, Joe learns from his sister (Elena Juatco) that his mother (Lydia Gaston) is at odds with Tita Theresa (Tia Carrere), for unknown reasons. And while this is happening, Joe's cousin Eugene (Eugene Cordero) is in trouble, since he took Joe's money to buy a Taco Truck, turned into a Hypetruck and stole money from gangster Dev Deluxe (Asif Ali) to pay for the Hypetruck's useless merchandise. The two of them devise a plan to gain $40,000 fast, by selling stolen Manny Pacquiao gloves to Lou Diamond Phillips, while Deluxe is looking for Eugene to potentially kill him.
The gangster plot is the weakest element of the movie, save for one fun visual flourish that cinematographer Joe Collins uses to jump-start a (very long) chase sequence. Part of the fun of seeing a Jay Chandrasekhar film has always been seeing the director uses absurd comedy with subtle, but effective, visual cues. Easter Sunday is surprisingly restrained in both fronts, even if Chandrasekhar is desperate to get a laugh from the audience and draws out the comedic bits to the point where most of them start to quickly get tired. Some of them work, especially Chandrasekhar himself who plays Joe's agent and constantly hangs up, pretending there's bad connection. He's a comedian who knows how to get a laugh from audiences, when his line delivery is always extremely deadpan (and bored). But that's always been his style. It worked in the Super Troopers films, and it definitely works here.
Asif Ali is also terrific as Dev Deluxe, the only character who consistently got laughs out of the audience. You may recognize him from WandaVision, as Norm, and he's equally funny here, playing a completely different character than he did in the Marvel series. And while Easter Sunday mostly fails at bringing in a riotous amount of laughter, it more than makes up for its lack of imagination in its plot and comedy through its themes and lead performances from its Filipino cast.
They're the ones whom elevate the film's more predictable material, and there's never a moment in which you believe that they're not one giant family. Funnily enough, Lydia Gaston's Susan reminded me a lot of my grandmother, especially by how she makes food and wants everyone to eat up, while I saw a bit of my aunt in Tita Theresa, with her semi-stubborn attitude (sorry!). Easter Sunday isn't a film solely aimed at Filipino audiences. Everyone will be able to see a bit of their family (or perhaps themselves) in Chandrasekhar's film, and every actor portraying them is a thrill to watch on screen.
See Also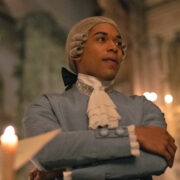 Koy and Gaston have incredible chemistry together (and Cordero is also funny trying to convince Joe that a Hypetruck is a better idea than a food truck), but Carrere is the highlight of the movie. Playing Tita Theresa with the right balance of humor during its first act where she and Susan are feuding with each other, and then progressively opening herself up to the family while singing The Black Eyed Peas' "I've Got A Feeling" during karaoke, Carrere's return to the big screen is more than a memorable appearance, alongside Lou Diamond Phillips appearing during its latter half. Never in a million years would I have ever imagined that 23 year old me would be sitting in a cinema to watch a film which pairs Tia Carrere and Lou Diamond Phillips, after stepping away from the spotlight for so long. And that alone was the price of admission.
Easter Sunday isn't perfect—its plot is highly recycled from other dysfunctional family movies, and the "gangster" climax doesn't work. But its lead performances elevate the film's so-so material and brings in a huge amount of heart at its core. As a result, it becomes hard not to bubble up during scenes where Joe tries to fix his family (through karaoke or by delivering a sermon). Anyone watching Easter Sunday, who has a dysfunctional extended family (who doesn't) may relate to what Joe is going through when he tries to patch unnecessary family drama. But as with any movie on family (discounting the Fast & Furious films), unnecessary feuds eventually brings them closer together. And, yes, it's all predictable, but since its heart is in the right place and Chandrasekhar was able to get two silver screen legends in their first major role in a while, I can't help but commend the film for what it achieved and recommend it to anyone with a large family who puts the fun in dysfunctional.
---
Easter Sunday is now available to watch globally in theaters.