Star Dolly De Leon on Triangle of Sadness (LFF Interview)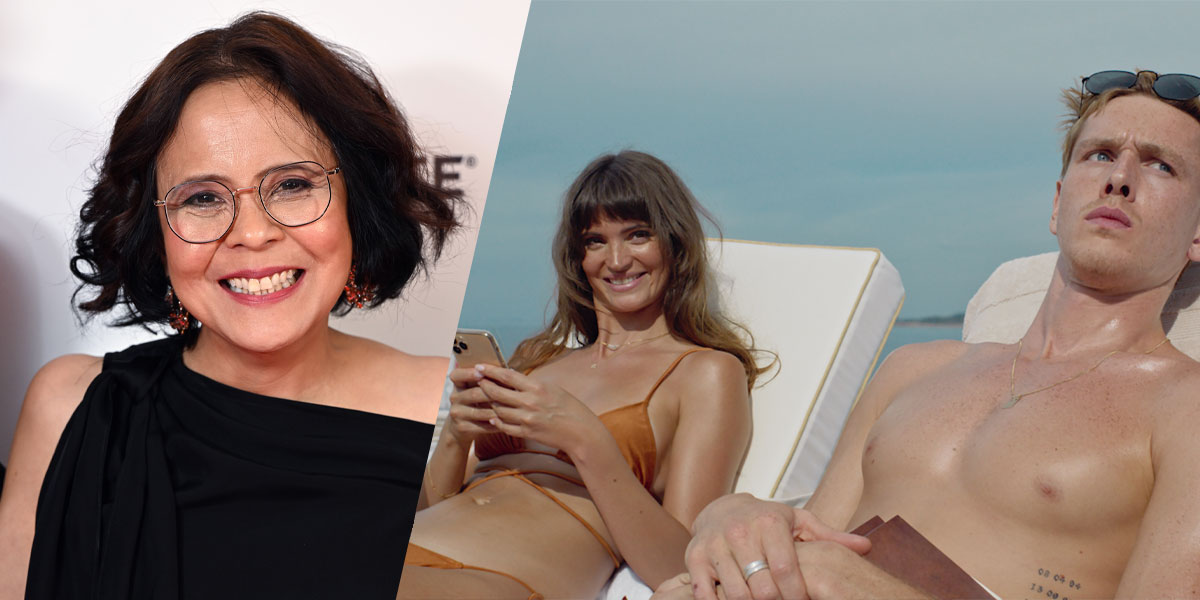 Dolly De Leon / Triangle of Sadness (Jeff Spicer/Getty for BFI, Curzon)
After the film's first screening at London Film Festival, we sat down for an interview with Triangle of Sadness scene-stealer Dolly De Leon.
---
Triangle of Sadness is the latest satirical triumph from Swedish filmmaker Ruben Östlund (Force Majeure, The Square). Sharply blending scandalous set-pieces, sharp humour and cutting-edge social commentary, the Palme d'Or winning film is best seen with a large cinema audience – even if you might need a sick bag for that certain moment.
A group of inconceivably rich, horrendously self-centred people seek out a luxurious holiday on an ultra-expensive cruise. Events quickly conspire against them, turning their trip into a holiday from hell. After a small portion of the crew and guests end up stranded on a desert island, power dynamics shift and role reversals take place, with a Filipina member of staff called Abigail taking control of the helpless, pathetic guests. Abigail is brought to life by experienced actor Dolly De Leon, who has rightly earned wide praise for her role. De Leon brings an unrelenting rage and fervent emotion to Triangle of Sadness, and despite being in a film which features such a fantastic ensemble cast, she somehow manages to shine the brightest.
The day after Triangle of Sadness had its first screening at London Film Festival, we sat with Dolly De Leon for an interview, talking about what it was like to be involved in this project, how important onscreen Filipino representation is, and more. Read our full interview below.
---
COMING ON BOARD: DOLLY DE LEON ON HOW SHE BECAME INVOLVED
I loved the film. It was amazing, especially in a cinema with an audience.
Dolly De Leon: How many were in your audience?
Only around 100 or so, but it was still rowdy!
DDL: It is so great to watch this film in an audience, with other people.
Absolutely. How did you come on board with the project?
DDL: They held auditions in Manila for about three days. I had to do three of the scenes: giving out the food, reprimanding the others for not watching the fire, and then Carl [Harris Dickinson, Beach Rats] and Abigail in the boat. I had a little synopsis, but not the script yet. I didn't feel like I was going to get the part – I suck at auditions! I just went there and had fun with it.
After that, Ruben [Östlund] asked for a Skype meeting and that is where I first met him. We discussed the character, what I thought she'd be like, and so on. We were somehow lost in translation, and I didn't realise that I was already in and had the part until I got an email congratulating me!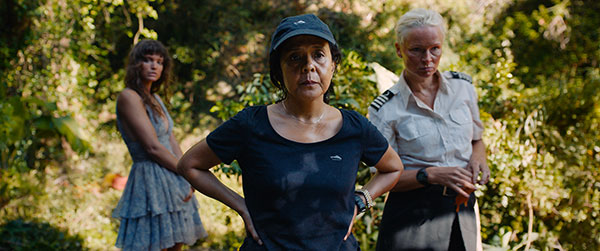 What attracted you to it once you met with Ruben and had a read of the script?
DDL: What really stood out to me was the character of Abigail and how she is so, so strong. She is so empowered to take that position as leader without asking for anyone's approval, despite the fact that all of her life, she has been used to taking orders and being treated like dirt. She sees how inept the other people really are and how they aren't going to be able to survive on their own, so she takes that position of power. She can't rely on them so basically has to do everything. That is what attracted me to it, as well as the fact that Ruben specifically had a Filipina in mind to play Abigail. This was so important because we are really not well-represented.
When your character starts to emerge as the leader, it got a huge cheer from the audience in my screening.
DDL: I didn't expect that way at all! I was so shocked when people did that, even in Cannes. It was the first time I watched it and heard those reactions – wow! When we were making it, I didn't feel that people would react that way, that people would really root for Abigail.
---
THE PROCESS: BALANCING DRAMA AND COMEDY
The script is so funny, but also very relevant and quite dark. What was it like working with a script like that, balancing between comedy and drama?
DDL: I worked on a sitcom in the Philippines in the early 2000s and did a horrible job with it. In retrospect, I was playing up the comedy too much. I think the difference between then and now is how I am more aware of how comedy works.
With Triangle of Sadness, I approached it with seriousness. To me, this was a serious task, and Abigail's objective as a character was very serious for her. It is no laughing matter, which is what it made work and what made it funny.
Your performance is very direct and serious, and the audience are laughing at the way these rich people end up being treated.
DDL: Exactly. And how she was seeing how ridiculous they are. People find that funny. I don't know the secret to comedy – I am not Robin Williams, God bless his soul, I could never do what he did – but I think personally as an actor, comedy comes from a very serious place, and that is what makes it funny.
What was it like working with the other cast members?
DDL: I am so in love with the cast. I love all of them and I think they also love me. We took care of each other, we looked out for each other and always checking in on one another. It was a very generous atmosphere. They are all very talented and professionals, so they know how to work on a set like this. It was perfect. I couldn't have worked with a better cast.
What is Ruben Östlund like as a director? Did it involve a lot of improvisation?
DDL: Ruben is very improvisational. He is so open to listening to his actors. If you feel that a scene is not realistic or possible, he listens. There were two instances where I had to talk to him about a couple of scenes, and he was very welcoming and open. He knows that filmmaking is not autocratic; it is a collaborative setting. He sees that and embraces that.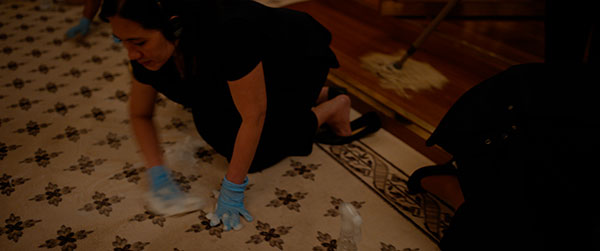 ---
BEING SEEN: FILIPINO REPRESENTATION IN CINEMA
You mentioned the importance of representation. Could you talk more about this, especially in terms of how overseas workers from the Philippines are portrayed in the film?
DDL: That was everything to me. These workers are highly respected people in my country, because they make a great sacrifice in leaving their families to seek better opportunities abroad. The fact of the matter is minimum wage is not enough to sustain a family in the Philippines. It is a huge sacrifice to leave your kids and family behind, and sometimes your children grow up thinking you're a bad parent, as they feel abandoned. They don't know their parent is making a great sacrifice – it is understated and they aren't aware.
It started in the 1970s when Filipinos were working in Saudi Arabia, and now we are all over the world. There are 1.7 million working around the world, so it was very important to represent that in Triangle of Sadness.
Your character is full of anger and resentment towards the other characters. What drives her to that point?
DDL: It is because she has been exposed to that kind of behaviour from them before. She has been living in a society where this method has been very effective in controlling people. Power, beauty, money, those are all key in order to keep a society organised, and Abigail sees that being oppressive and controlling works. When she is on the island and sees that she has the power now in her hands, she is thinking, 'This is how society works and I am creating a new society, so I'll do it the way they did before'.
She couldn't be nice to them – it wouldn't work.
DDL: She knows that if she is nice to them or submissive, they are not going to listen to her. She needs to do it in the way that they're used to. She is very cunning and smart at the same time. Why reinvent the wheel?
---
INTERPRETATION: DOLLY DE LEON ON THE BEAUTY OF AMBIGUITY
The following section contains spoilers for the ending of Triangle of Sadness.
Let's talk about the ending! It is quite ambiguous [Abigail stands over Yaya (Charlbi Dean, Black Lightning), rock in hand, unsure whether to strike her]. What do you think about the ambiguity of the ending and furthermore what do you like to think your character chooses to do?
DDL: When I watch films, I like ambiguity. I don't like it when a film overexplains or tells me how to think or feel. When I was younger, I hated ambiguity! But now I really appreciate it. It shows that the filmmaker has a lot of respect for the audience. It is very reflective of us as individuals on why we think something ends a certain way; it depends on where we are in our state of mind, emotionally and mentally.
See Also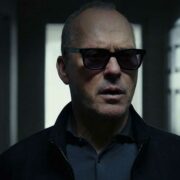 Now I want to ask you: What do you think Abigail does?
Good question! It is hard! You get to know Yaya and she builds a relationship with Abigail, but then she makes some comments about Abigail becoming her assistant, so the power starts to shift back to her.
DDL: That is the beauty of the film. As Abigail is going through that whole process of deciding what to do with Yaya, you can see that it isn't an easy decision to make. She has developed a friendship with Yaya, sort of at least, and Abigail is not a psychopath or a killer! It is a huge decision to make and she goes through that dilemma of deciding what to do.
If the audience thinks Abigail does hurt or kill Yaya, it reflects back on them. Why would I think so fatalistically about a person and assume she'd even harm Yaya? At the same time, if I think she doesn't harm her, then that means her mind is kind and good. It is something that is very introspective and makes me question why I think in these ways. I hope the audience feels that way too.
They definitely do. You might also think that if Abigail doesn't do anything, then she will just go back to her previous life, which is sad.
DDL: Right, and she wouldn't want to be anyone's assistant, especially after experiencing how delicious power can be!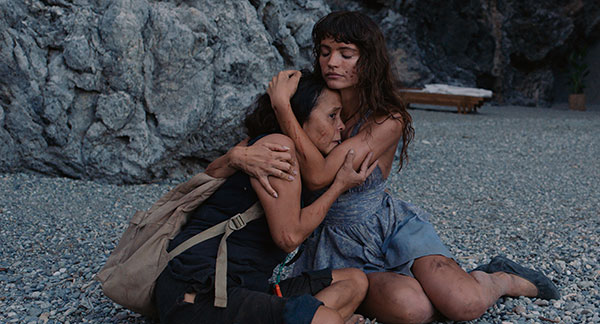 ---
WIDER RECOGNITION: DOLLY DE LEON ON EXPOSURE AND WHAT'S NEXT
You have been working in the Philippines for many years and have featured in films that have played at London Film Festival, but Triangle of Sadness is the film with the widest international recognition that you have been in. What has that been like to experience?
DDL: I feel like all the hard work of three decades has finally paid off. I have been working for a very long time – actually more than three decades – and it has been a very frustrating journey for me of coasting along and taking whatever is handed down to me. Finally, here we are, where all my hard work is being recognised.
The film industry is very active in the Philippines. We love films and the filming never really stops there, but we are limited to our territory, unless it is someone like Lav Diaz or Brillante Mendoza, who release their films internationally because they know they are better appreciated abroad. In the Philippines, they tend to underestimate the audience. They tend to feed the audiences shit because they think that is what they want. That's not true: the audience is dying for quality content, for more meaningful stories that they can relate to. People like Diaz, Mendoza, Erik Matti, Antoinette Jadaone, Sigrid Bernardo are directors that are doing this. I hope that because of Triangle of Sadness, our talents will be recognised. There are so many of us who are so talented in my country.
What are you working on next?
DDL: There are two Filipino projects, which will start filming when I go home in November. I am still talking to people about some projects in the USA too, which may happen in 2024. It is so exciting.
What was it like at Cannes, being part of a film that won the Palme d'Or?
DDL: Cannes was overwhelming! That was my very first international festival experience and my first time in Cannes. It was fabulous and wild and otherworldly. It was also the first time I watched Triangle of Sadness. It was a surreal experience. Being on the red carpet and seeing the film with a live audience, hearing their reactions, was amazing. I have a theatre background and it was my first time watching a film in the cinema for four years, so I felt like I was in the theatre again… but watching myself! That was odd! Hearing my language on screen and the audience reacting to me was strange, but in a good way.
You don't often see big reactions from audiences in films, unless it is an out-and-out comedy, for example.
DDL: Yeah, and the French have a very distinctive taste and these were all cinephiles watching in Cannes, so I was nervous about that. They reacted so generously though, which was a huge relief. Hearing that the British audiences react like this too is so great.
This interview has been edited for length and clarity.
---
Triangle of Sadness was screened at the 2022 BFI London Film Festival on October 9, 2022 and was released in UK cinemas from October 28. Read our review of the film and visit Curzon's official page!