Every Movie Reference You Missed in Netflix 's Do Revenge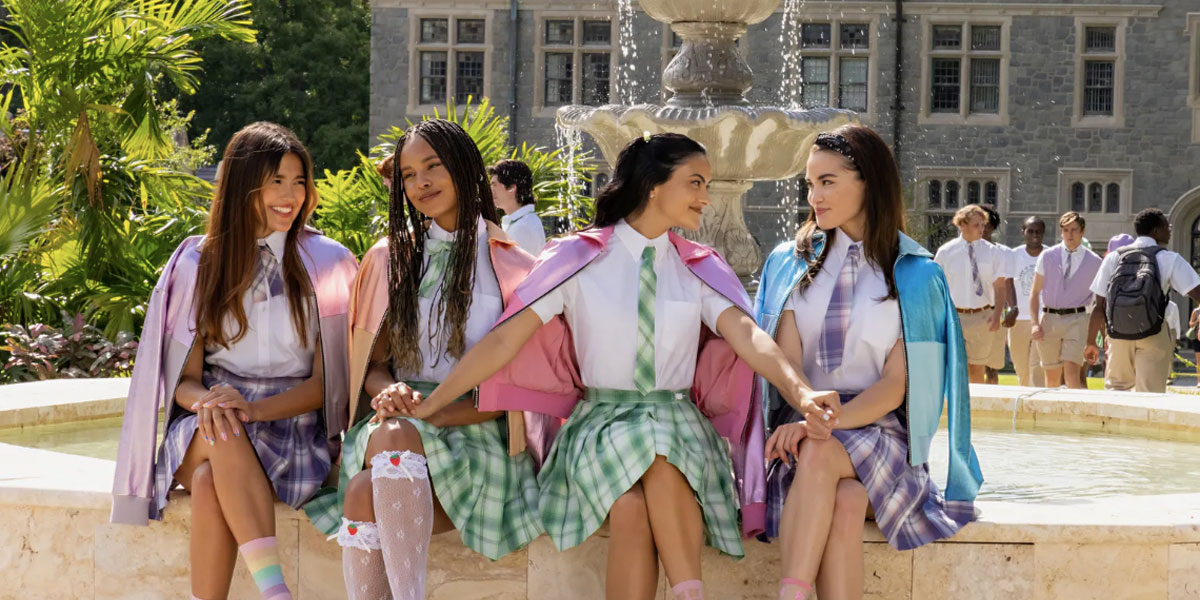 Do Revenge (Kim Simms, Netflix / Dimension Films)
Netflix 's charming dark-comedy Do Revenge is filling the chick-flick-shaped hole in our hearts one teen movie reference at a time.
---
While Netflix is no stranger to fun, quirky teen films, they reached new levels of success for their newest addition, Do Revenge. Directed by Jennifer Kaytin Robinson, the film stars Maya Hawke and Camila Mendes in a modern take on Hitchcock's 1951 thriller, Strangers on a Train. The dark comedy showcases the power of teenage girls, cliques, social media, and, most importantly, revenge. 
Jennifer Kaytin Robinson, along with screenwriter Celeste Ballard, portrays the highs and lows of teenage, high-school drama – with a twist. When preppy it-girl Drea Torres (Camila Mendes) is dismissed from the school's beloved clique, she ignites an unlikely friendship with Eleanor Levetan (Maya Hawke), the timid new girl at the school. The two of them team up and decide to get payback on their enemies – by doing each other's revenge.
From the pastel colour palette to the preppy outfits, Do Revenge checks all of the boxes on 'How To Achieve The Perfect 90s/00s Teen Drama', but this is only emphasized by the numerous movie references that can be seen paralleled in the film's narrative. And so, here is a rundown of our favourites.
---
ROMY AND MICHELE'S HIGH SCHOOL REUNION
(1997)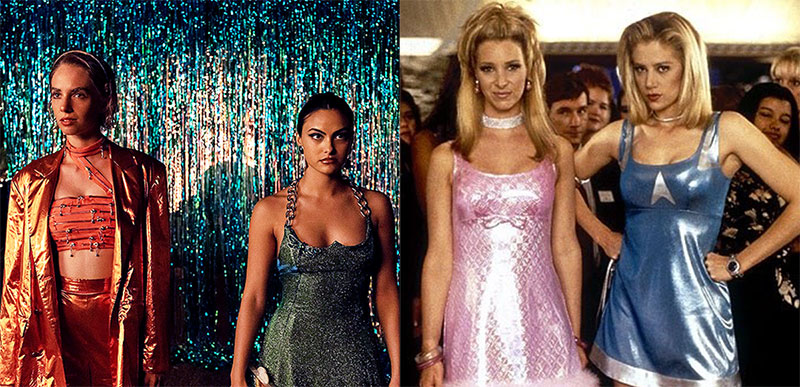 David Mirkin's 1997 comedy stars Lisa Kudrow and Mira Sorvino as two high school, outcast best friends who take it upon themselves to make a grand entrance for their high school reunion. By securing fake IDs, the pair reinvent themselves in order to debut a more glamorous, successful version than what their peers would remember. This is paralleled in Do Revenge when Drea and Eleanor make their grand entrance into their 'take-down' scene – coming face to face with the worst enemy of all – an ex-boyfriend.  
---
CLUELESS
(1995)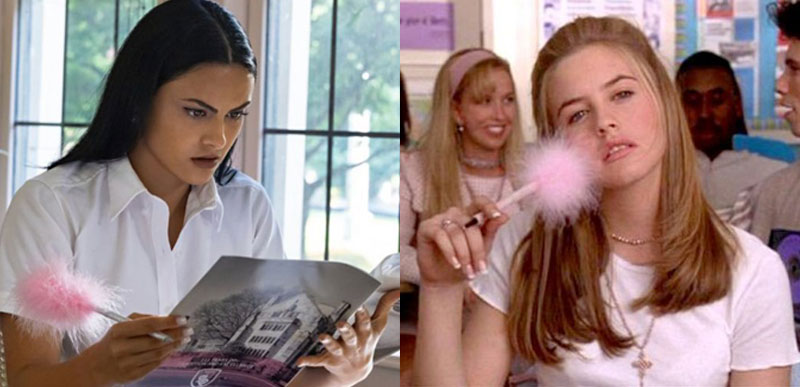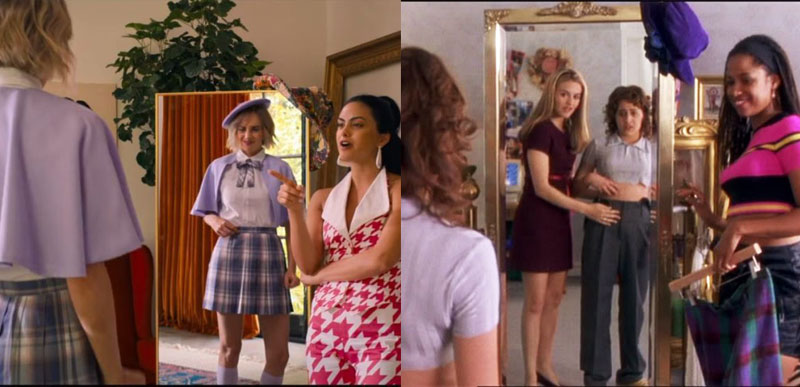 Now, anybody who is a teen-film fan will certainly be familiar with the 1995 comedy romance, Clueless. The iconic, timeless film directed by Amy Heckerling stars Alicia Silverstone as Cher Horowitz – the original it-girl. Almost 30 years on from its release date, Clueless is still a staple film, from its iconic outfits and witty lines, you can count on seeing costumes recreated for Halloween. Do Revenge references Clueless multiple times within the narrative, but two of the biggest ones that we picked up on were the infamous pink fluffy pen, as modelled by Cher (Silverstone) and Drea (Mendes). Another reference can be seen when Drea gives Eleanor her makeover, similar to Tai's (Brittany Murphy) in Clueless.
---
10 THINGS I HATE ABOUT YOU
(1999)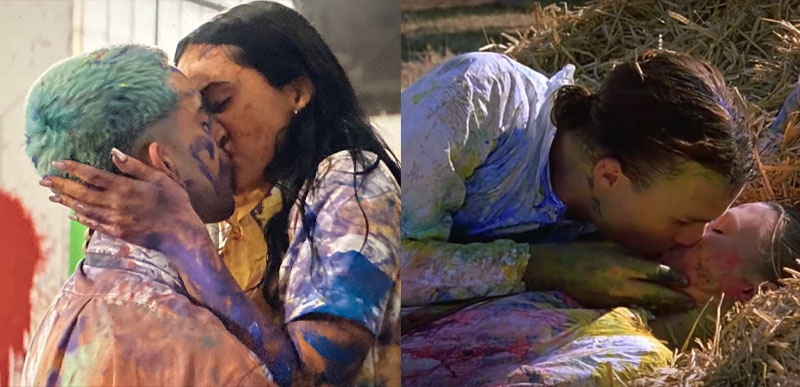 Another classic 90s film that Do Revenge draws inspiration from is Gil Junger's 10 Things I Hate About You. Both narratives focus on an unpredictable pairing – from different social groups falling in love. In Do Revenge Drea connects with Russ (Rish Shah), the charming British student on the gardening committee, and similarly, in 10 Things I Hate About You, Kat Stratford (Julia Stiles) is won over by the mysterious Patrick Verona (Heath Ledger). The parallels stem from the paintball scene in 10 Things I Hate About You, and the paint fight scene that takes place in Russ's studio in Do Revenge.
---
SCREAM
(1996)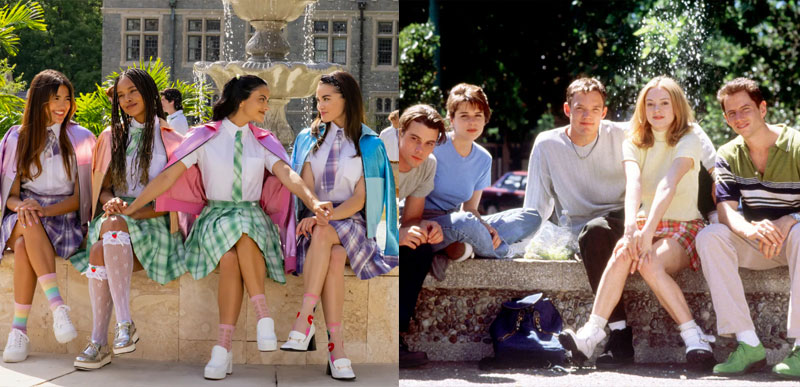 Finally, Wes Craven's 1996 horror, Scream. Whilst this film differs from the usual rom-com-teen films that have been referenced, there is still an element of satire in the film. Although it is a horror movie, it can still be considered a reflection on the high-school community and the way in which group tensions can arise – and is also considered an iconic film from the time period. Do Revenge's modern take on Scream can be seen on the wall of the fountain on the school grounds, mirroring the same scene from Scream – featuring the 'main group' of both films, before they turn on one another. 
---
Amongst those listed above, the narrative is filled with homages and inspirations. From Mean Girls (2004) to Heathers (1988)and Cruel Intentions (1999), Do Revenge really does feel like a love letter to its predecessors, like a film fuelled by a love for other films – and it works perfectly. Since its release on September 16th the film has soared to the top of Netflix's charts and has instantly become a favourite, perhaps because of its ability to recreate and reference the dark teen dramas that the spectator grew up watching, that seem so far out of reach in the current day and age. 
---
Do Revenge is now available to watch on Netflix. Read our review of the film.