Disappearance at Clifton Hill: A Mesmerizing, Mind-Bending Mystery (Review)

Tuppence Middleton in Disappearance at Clifton Hill (Lightbulb Film Distribution)
Disappearance at Clifton Hill 's artful ambiguity and absorbing atmosphere amplify the tension in this thought-provoking thriller.
---

From Disappearance at Clifton Hill 's ominous opening to its frightening final frames, a morose mood flows throughout the entire film, supplying each scene with a surplus of stress and suspense. Above all else, writer-director Albert Shin (Point Traverse, In Her Place) projects a proficient perception of panic in his third full-length feature, promptly placing viewers in the phrenetic perspective of his protagonist Abby (Tuppence Middleton, of Downton Abbey and The Current War), right from that petrifying prologue. Though the plotting in Disappearance at Clifton Hill grows more perplexing as the picture pushes on, this chthonic chill never ceases, and in the end, it is Shin's specialty at developing dread that makes this story such a stirring success.
Disappearance at Clifton Hill analyzes the anxieties of the aforementioned Abby, who returns to her childhood home near Niagara Falls after her mother dies and is asked to work with what's left of her family's old motel in order to prepare it for sale. As soon as she steps foot back in the small town of Clifton Hill, she is struck by menacing memories of an appalling abduction she once witnessed as a child while at the waterfalls with her family, and she becomes beset by a manic motivation to discover what truly took place that day, at all costs. Through her terrifying tread towards the truth, Abby encounters the execrable evils of this crooked community and presses back against personal demons that threaten to put an end to her earnest efforts.
As the adamant and antsy Abby, Middleton manages to match her character's chivalrous courage with an unnerving unpredictability, constantly causing audiences to question her own sanity as she sets off on this somber search. We are captivated by her continual commitment to the case, but Shin wisely writes Abby as a bit of an unreliable narrator, which makes us also consistently consider if the information we're receiving through her is accurate. Are Abby's recollections real? What has she refused to confront in Clifton Hill? Is she actually following the facts, or is she just toying with theories in her head?
It would be easy to grow detached from a protagonist this dubious, but Middleton so thoroughly believes in the candor of Abby's claims, and this trust is transferred to viewers as a result. Abby isn't without her faults, and she sure has a problematic past (filled with loads of lies), but Middleton's laudable loyalty to her lead role nevertheless inspires others to place their confidence in her as well. Though Shin's deliberately deceptive denouement complicates matters even more, most of Disappearance at Clifton Hill feels like a chilling commentary on the way that women's cares and concerns can be so coolly and conveniently censured by classifying someone as "crazed" or "confused". As we saw in Leigh Whannell's The Invisible Man earlier this year, people only wish to hear a woman's worries to an extent, and as soon as these troubles become "tiresome," the public will waste no time in seeking out her shortcomings and painting her as a "problem". Middleton's Abby faces this exact same exclusion throughout Disappearance at Clifton Hill, and it's arguably just as alarming as any of the film's sinister secrets.
With a cast of colorful and capricious characters, each with their own elaborate backstories, Disappearance at Clifton Hill is additionally commendable for thoroughly contextualizing its central setting and fully immersing audiences in the town's arresting atmosphere. Each supporting cast member is compelling enough to carry their own film (most notably distinguished director David Cronenberg's wickedly wacky Walter, a peculiar podcaster with a punchy and pleasing presence), and Clifton Hill could seemingly serve as the site for a whole TV season's worth of stories. Disappearance at Clifton Hill very much feels reminiscent of the works of David Lynch in this respect (think Mulholland Drive and Twin Peaks), as even though more corruption and crime in the city is slyly alluded to in almost every scene, many of these conspiracies remain cryptic by the time the credits roll. This obscurity may outrage some, but nonetheless, Shin's specificity in his storytelling allows Clifton Hill to have a singular style and spirit that one won't easily shake, and it should invite intriguing speculation.
Shin also directs the film with deft dexterity, alternating between shots that showcase the staggering scope of sights such as the noble Niagara Falls and shots that spotlight the small-scale sense of suffocation that Abby experiences as she discovers more of the town's depravity. Shin's flair for pairing his framing with the feeling of the film at any given moment is marvelous, and he truly capitalizes on conveying the confinement that Abby combats as she is criticized and challenged. Catherine Lutes' (Firecrackers, Mouthpiece) consuming cinematography enhances these emotions of estrangement and exile, while Alex Sowinski and Leland Whitty's scintillating score stresses the inherent strain of the story and serves as a significantly stimulating accompaniment to the disarray on display.
See Also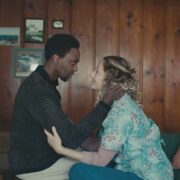 Disappearance at Clifton Hill's pensive pacing and purposely puzzling plot may feel off-putting to some, but for those who enter this eerie experience with an open mind, there are plenty of terrifying and thought-provoking themes to probe and ponder over. Even outside of this torrid tale's thematic weight, it stands as a supremely sumptuous show of stress and suspense, and though it may not match one's expectations for a "murder mystery," there is much more mania beneath this movie's machinations than meets the eye.
---
Disappearance at Clifton Hill will be available on Digital Download from July 20, and on DVD from August 3.
---
STREAM DISAPPEARANCE AT CLIFTON HILL:
---
JOIN US!
Don't miss our monthly updates with film news, movie-inspired recipes and exclusive content! You'll only hear from us once a month. #nospam