Cobra Kai Season 4 Review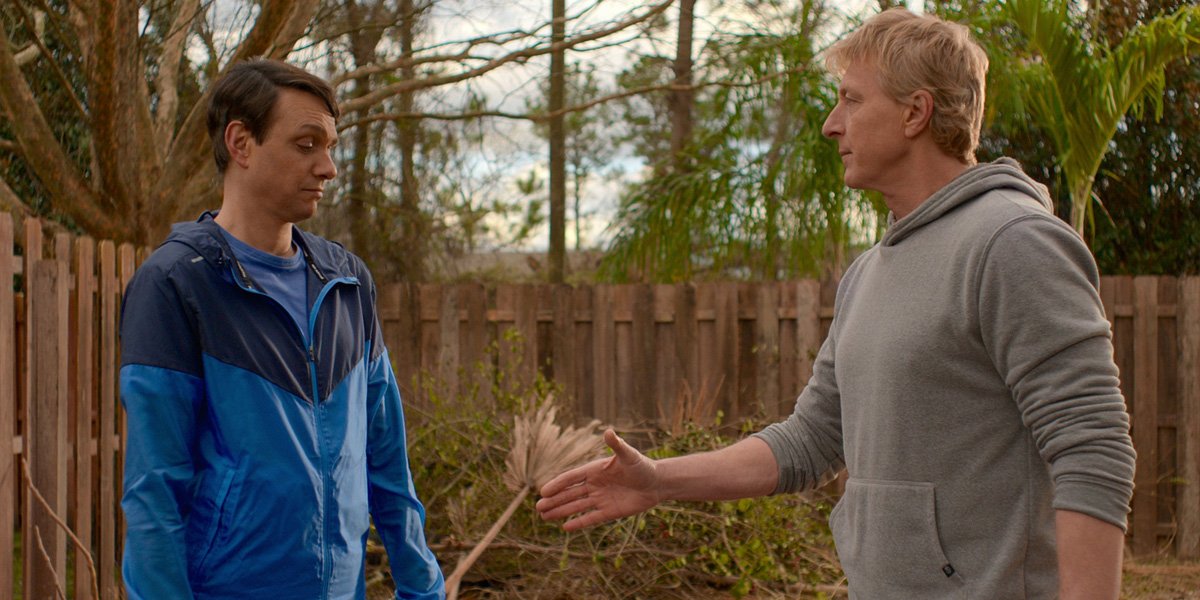 Ralph Macchio as Daniel LaRusso and William Zabka as Johnny Lawrence in Cobra Kai. (Netflix © 2021)
Netflix 's Cobra Kai returns and finds the balance between Karate Kid nostalgia and furthering the journey of its characters, making Season 4 the show's best yet.
---
While there have been plenty of television continuations of popular films, Cobra Kai is the most successful attempt at this to date in recent memory, especially in terms of live action continuations. Considering it's reached its fourth season, the most notable recent TV continuation that I can recall would be Ash vs Evil Dead, which only lasted three seasons until 2018. So, if that's the measuring stick, Cobra Kai has done pretty well for itself. Created by Josh Heald, Jon Hurwitz and Hayden Schlossberg, the series picks up 34 years after the events of The Karate Kid (1984) with Ralph Macchio and William Zabka reprising their roles from the film as karate rivals Daniel LaRusso and Johnny Lawrence. Throughout the show's first three seasons (the first two of which were released by YouTube Premium before the show moved to Netflix for season three, and now four), Cobra Kai has focused on Johnny and Daniel, their reignited rivalry, and the war between their dojos, Cobra Kai (and later Eagle Fang) and Miyagi-Do Karate.
In a 2020 interview with Cinema Blend, Jon Hurwitz established that the show takes place in the "Miyagi-verse" and every film featuring the late Pat Morita's Mr. Miyagi is canon. For those that aren't Karate Kid fans, that means that the events of The Karate Kid (1984), The Karate Kid Part II (1986), The Karate Kid Part III (1989), and The Next Karate Kid (1994) preceded Cobra Kai. Using those films as blueprints, and getting Macchio and Zabka to return, has allowed the creative team to create something that is very nostalgic, but also reinvents the series for a new generation, much like the Creed films have been able to do for the Rocky franchise. You'll never know what events from the previous films might show up as the journey of the show's characters continues. That, along with some pretty compelling new characters like Miguel Diaz (Xolo Maridueña), a bullied teenager and Johnny's neighbor who becomes his first student of the new Cobra Kai dojo, and Samantha "Sam" LaRusso (Mary Mouser), Daniel's teenage daughter and Miyagi-Do Karate student, has helped make Cobra Kai a pretty solid sequel series at this point.
Season 4 of Cobra Kai picks up after the cliffhanger ending of Season 3, which saw Johnny's former sensei John Kreese (Martin Kove) agree to leave if Cobra Kai loses the upcoming All Valley tournament. With a common enemy, Daniel and Johnny decide to train the students of Miyagi-Do and Eagle Fang together. Only time will tell if the newfound peace between Johnny and Daniel will last long enough to keep Kreese and Cobra Kai from becoming the definitive rulers of karate in the valley.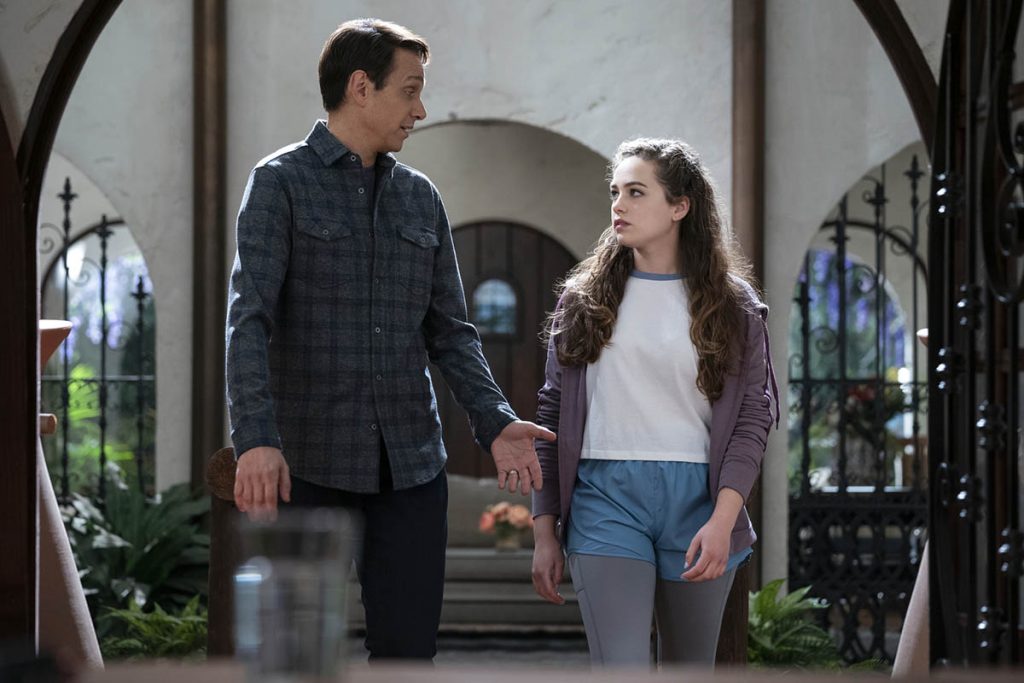 Throughout the first three seasons, Cobra Kai has provided audiences with plenty of nostalgia, both for the 1980s and the original films. It's part of what makes the show such a great continuation of The Karate Kid franchise: yes, it takes place in the modern day, but I wouldn't blame you for thinking this was actually made in the 80s, given how well it uses and sometimes dissects tropes from that era. This is a show made by admitted fans of the franchise in Heald, Hurwitz, and Schlossberg, yet, early on, it made a point of making itself more accessible for everyone. The first two seasons placed the focus squarely on Daniel and Johnny, while introducing new teenage characters like Miguel, Sam, Robby Keene (Tanner Buchanan), who is Johnny's estranged son and a one-time protégé of Daniel, and Tory Nichols (Peyton List), a rebellious bad girl, and member of Cobra Kai, and pulling them into their rivalry.
While Season 2 featured the return of Martin Kove's John Kreese, the primary antagonist and sensei of Cobra Kai for the first three Karate Kid films as an adversary for both Johnny and Daniel, it didn't take away from the development of the teenage characters. In fact, Kreese's return only furthers their development, given that he corrupts a number of Johnny's Cobra Kai students after Johnny had tried to teach them to be badass while also fighting with honor during the first season. Kreese's return felt organic to the story, and much less like fan service.
Contrast this to Season 3, which, as a longtime fan, I did enjoy, but it also felt like a lot of the biggest developmental moments for Johnny and Daniel were too wrapped up in the past. Even Kreese's biggest developmental moment, which unfolds throughout the season, is rooted in his life prior to the events of The Karate Kid (1984). Here's the key difference though, Kreese's development didn't harm the development of the teenage characters. Apart from Miguel, and to an extent, Sam and Eagle Fang member Eli "Hawk" Moskowitz (Jacob Bertrand), most of our main teenage players don't get any development that isn't painfully predictable.
In fact, Tory barely gets any at all outside of a few little nuggets. Robby falls down a path strictly because Daniel and Johnny are either focused on the past, or in Johnny's case, on Miguel. While I enjoyed the third season of Cobra Kai as a whole, thanks in part to, believe it or not, the long-awaited returns of two of my favorite characters from the film series, it didn't really master the mix of nostalgia for the original films and continuing the journey of every character involved. Basically, I was excited to see those two characters again, but their returns mostly didn't feel earned, and their returns wound up taking away from the developments of the teenage characters, making the season a very mixed bag.
That brings me at last to Season 4 of Cobra Kai, which in my mind is the best season of the series yet, because it masters that balance between nostalgic fan service and being able to continue the journey of its characters. Johnny and Daniel teaming up has been something that a lot of fans, including myself, have wanted, and this season brings it to us. It certainly has been built up to and not only that, it makes sense that the characters by Macchio and Zabka still butt heads despite being on the same side. Their team up is a means to an end, they're still rivals, and their clashes are natural and hilarious. Speaking of natural, thanks to Kreese's flashbacks in Season 3, the return of my favorite villain in the series history, co-founder of Cobra Kai and Kreese's friend Terry Silver (Thomas Ian Griffith) is integrated into Cobra Kai with ease. Griffith perfectly slips back into the role of the rich and vicious karate expert from The Karate Kid Part III (1989), giving the series its most menacing antagonist to date. Yes, Silver is much more dangerous than Kreese, and even if he is terrifying, it's such a joy seeing this character again after all this time.
Outside of Silver's return, there are other welcome character returns in Cobra Kai Season 4 that I won't spoil here. I'll just say that they also feel pretty organic to the story and help move things along. The ability of those involved to balance nostalgia and continuing their story makes for a smoother, realistic, ridiculous, and totally fun ride. Each of our main players receives some sort of development, whether they are adults or teenagers throughout the season's ten episodes. Unlike they did with certain characters in Season 3, these developments feel earned and aren't as predictable. For the teenagers, Tory stands out because I wanted to learn more about her and her home life, and Season 4 of Cobra Kai delivered that. As it was hinted at last season, she's not your stereotypical mean girl, and the depth given to her this time around strengthens this fact. Peyton List also gives a performance that makes you feel sympathy for Tory and understand where she's coming from, despite her status as a "villain".
There's also Sam, who happens to be my favorite character, and she's continued to grow more and more throughout the series. Throughout the course of the season, I began to grow worried that Sam might regress a bit, but thankfully that isn't the case. Season 4 sees Mary Mouser at her very best as her character becomes more independent and likeable. Sam will likely feel more unique than ever before to her critics by the season's end as she mirror's her father in The Karate Kid Part III (1989).
As far as the adults are concerned, it's harder to pick a standout because they all do such an excellent job this season. Since I highlighted Thomas Ian Griffith earlier, I'll give some praise to Martin Kove, who, along with the writers, has taken John Kreese beyond his generic sports movie antagonist box. Macchio and Zabka continue to crush their most iconic roles of Daniel and Johnny, respectively, and the journey of both characters is still one of the best aspects of Cobra Kai.
Speaking of that journey, the story told in Season 4 of Cobra Kai is an absolutely wild one. It gives our old characters plenty of development, and even finds the time to introduce new characters to the world like Kenny (Dallas Dupree Young), a middle schooler turned member of Cobra Kai. All of these developments feel natural because a good majority of them have been building for some time. The closest thing I could compare this to would be Avengers: Infinity War (2018) because it feels like the culmination of decades of storytelling. Of course, this isn't the endgame for the series, and neither is the upcoming Season 5 (which recently wrapped filming), at least if Heald, Hurwitz, and Schlossberg have anything to say about it. That makes what has been done with Cobra Kai Season 4 even more impressive, considering some shows don't even get to finish their stories while those involved here have made the series feel like it's reaching the end even though it's (hopefully) not.
This season, while not perfect (I could've done without a certain pointless cameo, and wished more time had been devoted to fleshing out certain relationships between the teenagers) is an absolute blast from start to finish. Whether you are a die-hard Karate Kid fan like me or have only seen Cobra Kai, you'll be very satisfied. Cobra Kai Season 4 finds the balance between nostalgia and continuing the journey of the characters, making it the best season to date. Not to mention, it sets up a Season 5 that could be even better and can't get here soon enough.
---
Season 4 of Cobra Kai is now available to watch on Netflix.