Chicken Run: Dawn of the Nugget Film Review

(BFI London Film Festival)
Our favourite chicken revolutionary returns in Chicken Run: Dawn of the Nugget for another life or death fight against evil, meat-hungry humans.
---

A lot has changed in our world since the first Chicken Run was released in 2000: technology has greatly advanced, giving us countless smartphone iterations, the uncontrolled growth of social media platforms, and the expansion of artificial intelligence. Perhaps most notably, however, in the context of that first film and its sequel, Chicken Run: Dawn of the Nugget, the vegetarianism and veganism industries have boomed in the past 23 years. Whilst neither films have ever been too preoccupied by their wider societal commentaries, Chicken Run: Dawn of the Nugget still presents a lovely snapshot of chickens, and reminds us that they're more than just slabs of meat. Sam Fell's (Flushed Away) film will appease fans of the original whilst also welcoming youngsters new to the series with its great wit and heart.
Chicken Run: Dawn of the Nugget picks up almost directly after the events of the first film, following Ginger (Thandiwe Newton, God's Country) leading her chicken family to escape from Mrs Tweedy's hellish farm. They now live an idyllic life on a small island in the middle of the lake. Everything is calm, and everything is seemingly safe. That is, of course, until pesky humans show up again. After Ginger and Rocky's (Zachary Levi, Shazam!) daughter Molly (Bella Ramsey, The Last of Us) is taken to a nearby chicken farm, the events of Chicken Run: Dawn of the Nugget begin. This time, as Ginger proclaims, they're not breaking out: they are breaking in.
The farm in which Molly is held with other chickens is a different beast to Mrs Tweedy's tiny prison in Chicken Run. It's a hulking, concrete behemoth, a true evil lair boasting inventions such as rocket-firing ducks and robotic guard moles. In this sense and others, Chicken Run: Dawn of the Nugget isn't just a retread of the first film; it is a bit vaster in scope and strives to push the boundaries of adventure further, although it can still feel somewhat safe and soft in execution.
Nevertheless, the imagination behind the story feels generally fresh. We get terrific set pieces such as the initial prison break(in), which feels like a poultry-infused Mission: Impossible scenario bolstered by Harry Gregson-Williams' (The Last Duel) pacey original score. Strong comedy is present throughout this set piece and the whole of Chicken Run: Dawn of the Nugget; in a comedic sense, it feels stronger than the first. There are layered jokes to go with simpler humour or slapstick, reinforcing the notion that Chicken Run: Dawn of the Nugget will appeal to both adults and children.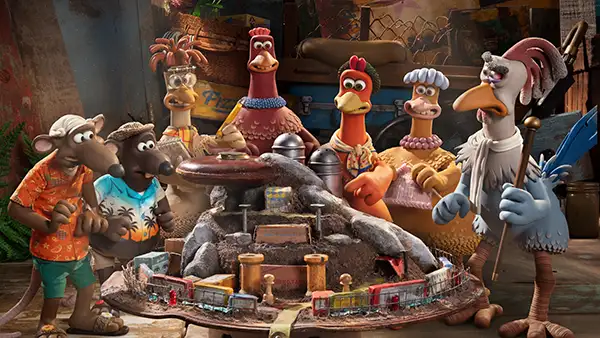 Enforcing this witty script, which is written by Karey Kirkpatrick (Chicken Run), John O'Farrell and Rachel Tunnard (Military Wives), are the returning characters that we all adored in Chicken Run: Ginger and Rocky are as lovable as always; rats Nick (Romesh Ranganathan, Cinderella) and Fetcher (Daniel Mays, 1917) play even bigger, friendlier roles; Fowler (David Bradley, Pinocchio) and Babs (Jane Horrocks, Sunshine on Leith) shine as brightly as they did in the first film, and are undoubtedly the pick of the bunch. Despite Chicken Run: Dawn of the Nugget having a cast that is almost completely different from the first film, a surprisingly small amount of character and colour is lost in the transition, although whilst Newton is good as Ginger, Julia Sawalha is missed.
See Also

These crowd pleasing components paper over most of the film's cracks, which most notably come in the form of a promising story that doesn't push itself far enough and a screenplay that falls back on predictable and mundane emotional ploys that don't really connect with the viewer. The usual Aardman Animations charm is here, giving us expectedly fantastic character designs and facial expressions, but also some forgettable backdrops and worldbuilding. Still, it's hard not to be charmed by Chicken Run: Dawn of the Nugget's friendly atmosphere, terrific wit, and all the returning characters. Out in mid-December on Netflix, this stop motion animation will be a warming and wonderful holiday treat for many.
---
Chicken Run: Dawn of the Nugget had its World Premiere at the 2023 BFI London Film Festival on October 14 and will be released globally on Netflix on December 15, 2023.