Causeway (LFF Review): Lawrence & Henry Excel in Indie Drama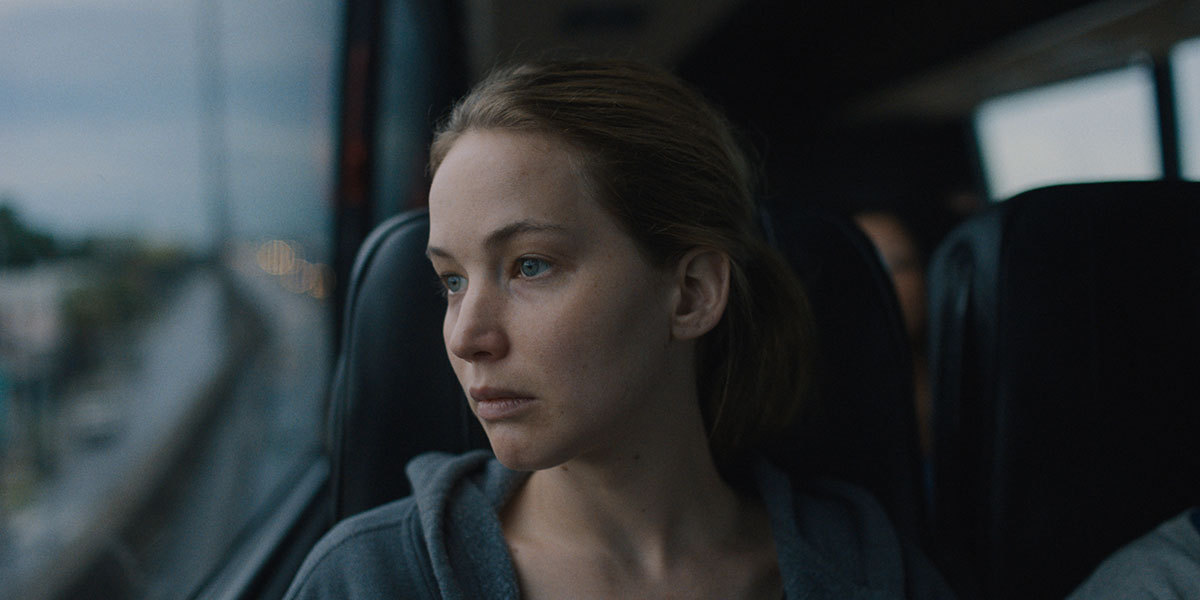 Jennifer Lawrence in "Causeway" (Apple TV+)
Jennifer Lawrence and Brian Tyree Henry are both excellent in Causeway, Lila Neugebauer's feature debut about an Army vet and mechanic finding solace in each other.
---

It is sometimes easy to forget how incredible an actress Jennifer Lawrence is. Her first major roles were either in small character dramas (Winter's Bone) or in franchises she commanded (The Hunger Games, the X-Men prequels). That led to an Oscar win for Silver Linings Playbook, three other nominations and a level of stardom that is rare nowadays for modern Hollywood actors. Last year, after a brief break from acting, Lawrence took her first lead role in Adam McKay's bold but flawed satire Don't Look Up. Now she stars in A24 and Apple TV+'s Causeway, the debut feature from theatre director Lila Neugebauer that reaffirms how great she is as an actor.
Lawrence plays Lynsey, who recently served in Afghanistan as part of the US Army Corp of Engineers. However, after being hit by a roadside bomb, she suffered a traumatic brain injury. As she begins the lengthy rehabilitation process in Nebraska, she is paralysed on one side, needing the help of carer Sharon (Jayne Houdyshell) to undress and brush her teeth. Months later, she has mostly recovered and wants to be redeployed, despite Sharon saying she isn't ready. Unable to stay, Lynsey must return to her home in New Orleans and her mother (Linda Emond), with whom she has an awkward relationship. Absent from the house is her brother, a drug abuser spoken of in the past tense.
Viewing her stay in New Orleans as temporary, a stopgap on her way back to the army, Lynsey gets a job cleaning pools in the city's wealthier neighbourhoods. Then her truck breaks down, forcing her to take it to the garage. There, she meets James (Brian Tyree Henry), a mechanic with traumas and life-changing injuries of his own. The pair quickly bond, with their friendship helping Lynsey as she readjusts to life back in the hometown she ran away from many years ago. Could her view of growing up in New Orleans be why she wants to redeploy so soon after her injury?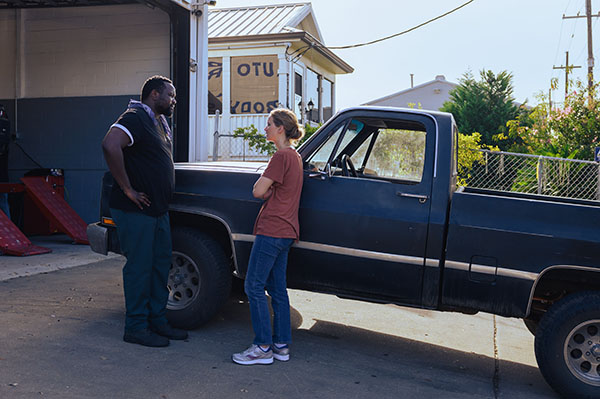 As mentioned above, Jennifer Lawrence (who also produces Causeway) is terrific here. She gives the kind of performance that quietly pierces the soul, wholly effective without being showy. Lynsey is an incredibly vulnerable character; this is proven in the opening scenes, depicting her prolonged and difficult recovery. And even when he regains most of her physical strength, there are still mental glitches and emotional scars that Lynsey must grapple with throughout the film. Lawrence's subtle changes in expression convey that perfectly as she fits into the role of the disconnected outsider who technically isn't an outsider. But Lynsey feels like one, departing the army and heading to a home she has never connected with. That loss of self-identity will soon become a key theme for the film.
The rest of the cast is very good, from Jayne Houdyshell to LindaEmond as Lynsey's mother Gloria. Her night-time drinking makes her somewhat unreliable for Lynsey, yet the film doesn't paint Gloria as a cliché, giving her scenes where she means well and even bonds with her daughter. The ever-reliable Stephen McKinley Henderson (Lady Bird, Dune) plays the neurologist who won't give Lynsey the all-clear, fearing that a return to active duty will cause her even worse brain damage. And there is a late cameo from someone who fans of Paul Thomas Anderson's There Will Be Blood will recognise.
Then there is the superb Brian Tyree Henry, who inserts charm and sorrow into his performance. Known for being a show-stealer in most of his roles (see his melancholic monologue in If Beale Street Could Talk), Henry shines here as a man dealing with grief fuelled by guilt. It is one of my favourite supporting performances of the year so far. James and Lynsey are a damaged duo, linked by their physical and psychological wounds. So, it isn't hard to see why they form this purely platonic relationship (it is platonic since Lynsey notes early on that she has girlfriends, not boyfriends). However, it only works because Lawrence and Henry have an intimate, irresistibly charming chemistry. It is full of these down-to-earth conversations with interrupting pauses, where one of them goes to reveal all and then pulls back, hinting at how withdrawn they have both become.
Elsewhere, cinematographer Diego García (Wildlife) opts for slow and measured camerawork highlighting the film's shot compositions. It is all part of a minimal, naturalistic approach that carries over to its portrayal of New Orleans, the same setting as the recently released Mona Lisa and the Blood Moon. But where that film showed a vibrant and fanciful version of the city, Causeway goes in a completely different direction and presents New Orleans in a grounded and authentic way (helped by the fact one of the film's screenwriters, Elizabeth Sanders, grew up in The Big Easy). Yet it also feels slightly unsettled – just like Lynsey. Perhaps she is striving to head back to Afghanistan less because she is trying to run away from New Orleans and her painful past.
With Causeway, Lila Neugebauer has crafted an exceptionally good indie drama about a wounded army veteran readjusting and finding solace in a new friendship. She is aided by the film's use of natural silences, excellent performances from Jennifer Lawrence and Brian Tyree Henry, and a script that is simple but fulfilling for one reason. A chief tenet of screenwriting is 'want vs need,' the idea being that a film will see a character try to get what they want before making them realise what they need. In Causeway, Lynsey wants to return to the army for many reasons, but the film is all about her need for stability and human companionship. The fact this journey is told in an affecting, sensitively told story is why Causeway is so brilliant.
---
Causeway premiered at the 2022 BFI London Film Festival on October 8, 2022, and will be released in select US theaters and globally on Apple TV+ on November 4.
---
WATCH CAUSEWAY