Mona Lisa and the Blood Moon: Film Review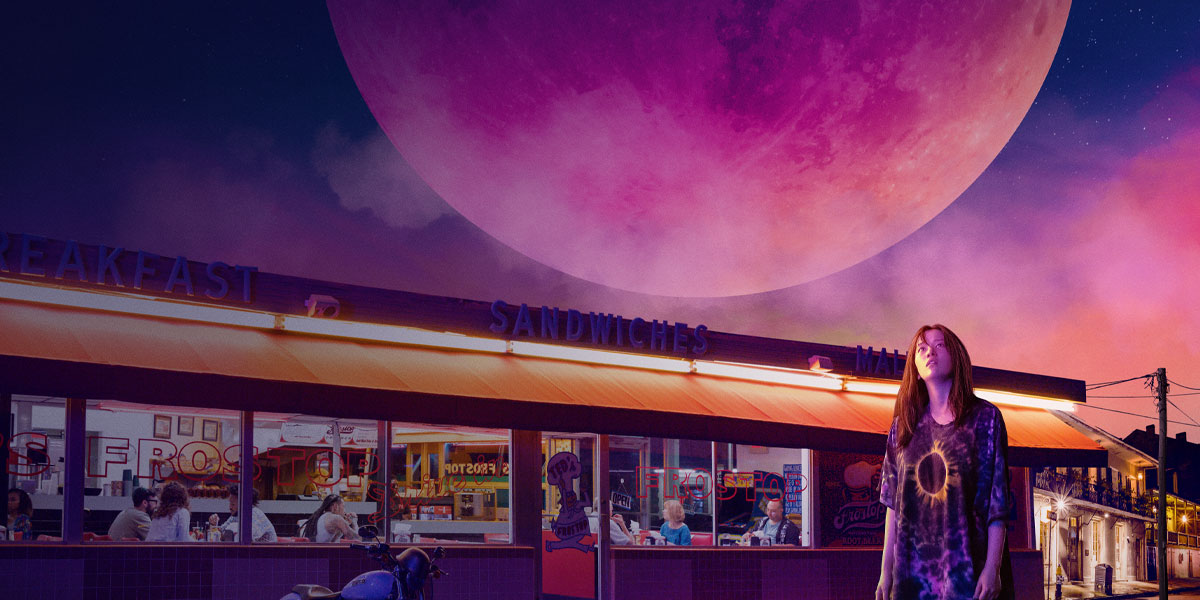 Mona Lisa and the Blood Moon (© Sky UK Limited)
Despite its weak conclusion, Mona Lisa and the Blood Moon is an enjoyable and perpetually interesting supernatural horror from Ana Lily Amirpour.
---

If her previous films are anything to go by, Ana Lily Amirpour is proving to be an incredibly idiosyncratic director. Her breakthrough debut, A Girl Walks Home Alone at Night (2014), was an Iranian vampire Western filmed in the Farsi language and in black-and-white. She followed that up with The Bad Batch (2016), a post-apocalyptic cannibal film that divided many. Now comes Amirpour's third feature, a supernatural horror set in the bustling city of New Orleans. It has taken a long time for Mona Lisa and the Blood Moon to get to this point, with its quiet release this month coming more than three years after production began on the project. Nevertheless, Amirpour's latest film is worth the wait.
A blood moon has risen over the bayous of New Orleans. And in a mental institution, that blood moon has awakened something in one of the patients. The young Mona Lisa Lee (Burning's Jun Jong-Seo) has been at the 'Home for Mentally Insane Adolescents' for ten years, and she possesses an unusual gift. She has the power to control others and make them do whatever she wants by looking directly into their eyes. Is it telekinesis? Hypnosis? Whatever it is, she uses her powers to escape the institution and head into the city. After a run-in with police officer Harold (Craig Robinson) that leads to him being shot in the leg, Mona meets single mother and stripper Bonnie Belle (Kate Hudson). The two quickly become close and form a team, with Mona using her body control powers to earn Bonnie some extra cash. Meanwhile, Harold is on their tail, guided by a fortune cookie telling him to "forget what you know."
Once Mona arrives in The Big Easy, the plot of Mona Lisa and the Blood Moon drifts around a fair bit. That is a trait of Amirpour's films, with the director keen to move other elements into the foreground. For instance, in A Girl Walks Home Alone at Night, the visual palette and genre pastiches stood out. In this film, it is the vibrant and distinctive characters and environments. New Orleans is an excellent location to use. From the creaking wildlife in the swamps to the streets that are a hive of activity at night, the city lends itself well to the hyper-neon aesthetic Amirpour creates.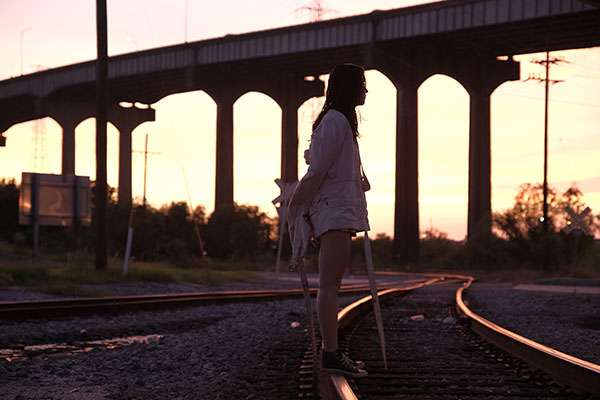 It is an aesthetic reinforced by the cinematography by Pawel Pogorzelski, known for his work on Ari Aster's films. Here, Pogorzelski utilises compact, zoomed-in camerawork, vivid colours, and other excellent tricks like the dolly zooms when Mona uses her powers. Elsewhere, whilst the score is by Daniele Luppi, there are original songs by Italian producer Bottin. The result is an eclectic mix of musical genres. The soundtrack starts with grungy rock that slows to a crawl as Mona attacks a nurse at the institution, then shifts to electro, synthpop, dubstep (described by one character as "music for goblins") and New Orleans jazz.
There is an eclectic cast too. Kate Hudson fits right in as Bonnie Belle, the brassy and cunning stripper who takes Mona under her wing. Her son Charlie (an assured and composed Evan Whitten) disapproves, believing she is taking advantage of Mona. But the actor who impresses the most is Jun Jong-Seo. Mona is a quiet and mysterious character; the film deliberately reveals little about her, bar a file showing she arrived from North Korea when she was 10. There is also a sense of naivety following her decade of seclusion, as she learns about her new world through TV and news clips of President Trump. Jong-Seo's otherworldly performance complements those qualities, using secretive body language and piercing eyes to great effect. All of Ana Lily Amirpour's films have revolved in one way or another around 'the outsider', but Jong-Seo's Mona may be the director's best representation of that theme so far.
See Also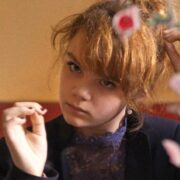 Mona Lisa and the Blood Moon may be somewhat unfocused, with a weak and rushed final act that doesn't match the rest of the film. However, at the same time, the movie draws you in with its excellent setting and great performances from Hudson and Jong-Seo. Amirpour's penchant for drifting, meandering stories is enticing here, aided by her use of supernatural elements and characters with strong personalities. And its Day-Glo aesthetic may be gaudy, but it is also vivid, hypnotic and unlike anything else. In astrology, a blood moon usually signifies chaos, disruption and changes in nature. That is present in Mona Lisa and the Blood Moon, both in the chaos Mona brings to New Orleans and in the movie's idiosyncratic features. It is an enjoyable and perpetually interesting film that demonstrates why Ana Lily Amirpour is such an exciting filmmaking voice.
---
Mona Lisa and the Blood Moon is now available to watch on digital and on demand.
Read our interview with director Ana Lily Amirpour and stars Craig Robinson and Ed Skrein.