Broadcast Signal Intrusion (Review): Harry Shum Jr Falls Down a Rabbit Hole

Broadcast Signal Intrusion (Queensbury Pictures)
Starring Harry Shum Jr as a video archivist on a mission, Broadcast Signal Intrusion is a paranoia-fuelled, noir-like sci-fi thriller that doesn't quite know what to do with its irresistible premise.
---

Part sci-fi thriller, part film noir, and part psychological horror, Broadcast Signal Intrusion is set in 1990s Chicago, and revolves around a video archivist who happens to discover a series of disquieting pirate broadcasts hidden within tapes that date back to 1987. As James (Harry Shum Jr., of Crazy Rich Asians and Glee) begins to investigate these strange occurrencies, he comes across all sorts of warnings, conspiracy theories, and mysterious individuals. Each of them takes him one step closer to understanding the "creepiest unsolved mystery hack of all time", and he soon discovers that this fourth wall-breaking interference seems to have troubling connections to his own missing wife, another unsolved case that also dates back three years. And so, James' search for answers continues, and many more questions arise. How many people have seen these eerie broadcasts, back in 1987? Is there a message hidden in the indecipherable sounds that can be heard in the tapes? If so, why would anyone choose that specific medium to send it across? More importantly, is the person who recorded the broadcasts still out there?
Expanded from a short film by Phil Drinkwater (Mancattan) and Tim Woodall (HIV: The Musical) that was discovered through FrightFest's screenplay contest, Broadcast Signal Intrusion starts from an irresistible premise, made even more so by the fact that it was inspired from the still unsolved real-life "broadcast intrusions" witnessed in Chicago in the 1980s. Now developed into a feature-length film by director Jacob Gentry (Synchronicity), this haunting thriller features gorgeous noir-like visuals, with desaturated colours and atmospheric lighting that successfully take us back to the Nineties, aided by an effectively eerie score that makes everything more mysterious and alluring. Slow camera movements and low angle shots make the film both immersive and alienating, as we're always attuned with James' thoughts but also can't shake the feeling that something is not quite right.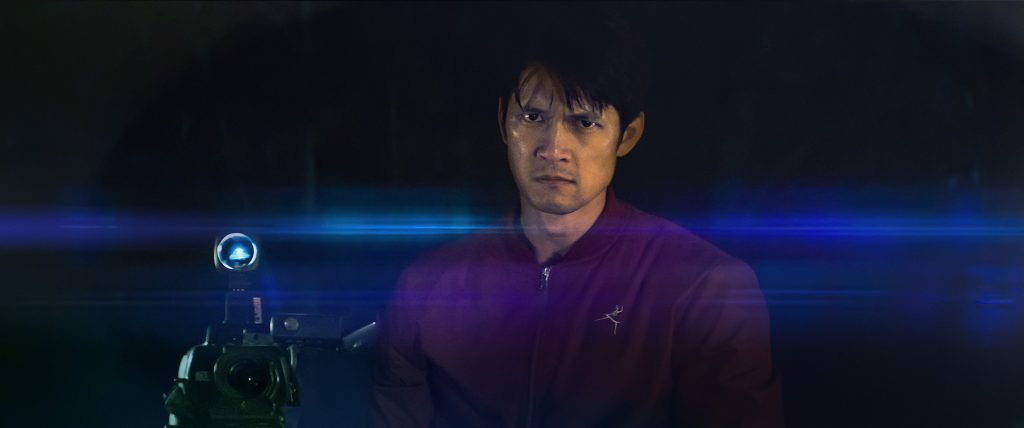 As James' investigation of this "rare cultural phenomenon" finally takes him one step closer to solving the mystery, we become more acquainted with the often creepy individuals he consults, and one of them warns him to drop his investigation, as he doesn't want him "falling down a rabbit hole [he] can't climb out of". Unfortunately, that's precisely what happens halfway through Broadcast Signal Intrusion, when our investment in the mystery begins to falter as it becomes quite clear that even the film itself doesn't quite know which direction to take.

It's a shame to see a film that has so much potential miss the mark, especially when it's been crafted so meticulously on a technical level. The combination of Broadcast Signal Intrusion's effective buildup of tension and Harry Shum Jr.'s committed performance make this horror-tinged noir undoubtedly effective at reeling us in. Unfortunately, there's also a point where the film loses us completely, first taking us on a series of detours and then coming to a conclusion that takes us further away from the conspiracy theories that drew us to it in the first place. In fact, if the first half of the movie has us completely immersed in its narrative as we try to decypher a fascinating puzzle, the second half feels like a very long journey indeed, with a messy conclusion that regrettably fails to keep us engaged.
Watching Broadcast Signal Intrusion reach its resolution, it becomes even more evident that it has been expanded from a short film, and perhaps its original form is also the best way to experience it. Though the feature-length film is a missed opportunity, perhaps the best way to enjoy it is by using it as an opportunity to explore a fascinating real-life mystery that's still unsolved, while immersing yourself in the film's evocative atmosphere and watching Harry Shum Jr. do his magic.
---
Broadcast Signal Intrusion had its World Premiere at SXSW Online on March 16, 2021. The film is now available to watch in the US and select countries, and will be released in UK cinemas from March 25, and on Blu-Ray and Digital Download from March 28, 2022.