Boss Level Review: Scott Pilgrim Vs The Time Loop
Frank Grillo and Selina Lo in BOSS LEVEL (Quantrell D. Colbert/Hulu)
Frank Grillo shines in Boss Level, a time loop sci-fi action drama featuring irresistible fight scenes, hilarious absurdity, and a surprisingly meaningful twist.
---

What happens if you take director and screenwriter Joe Carnahan (The Grey, Smokin' Aces), add an ensemble of talented actors whose names you wouldn't expect to find all in the same film, and throw in a pinch of humour, a great deal of absurdity, a little bit of sci-fi, some retro videogame vibes, many well-choreographed, gorgeous fight scenes and a time loop narrative? The answer to that is Boss Level, a film that successfully applies Groundhog Day's formula to the action thriller genre, with enough videogame thrills and catchy music to remind you of Scott Pilgrim Vs The World, and plenty of sci-fi and mystery to keep your eyes glued to the screen till the very end. Yet, while the film's time loop premise and videogame nostalgia only make it natural to compare Boss Level's plot and narrative structure to the films cited above, the movie also successfully stands on its own as a compelling, unique action drama. Thanks to Frank Grillo's (Captain America: The Winter Soldier) invested performance, Carnahan's blend of humour and action, and a well-crafted, perfectly timed screenplay, Boss Level is as full of surprises as it is an incredibly fun watch, delivering an equal dose of adventure and laughs throughout its entire duration.
The film's premise is simple enough: former special forces agent Roy Pulver (Frank Grillo) suddenly finds himself stuck in a time loop where, for reasons unbeknownst to him, an endless string of inventive, ruthless assassins are constantly trying to kill him. As Roy attempts to find out the truth about his predicament, as well as a way to eventually escape the loop, much of his time is spent finding new ways to defeat the terrifying figures attempting to murder him. Except that these assassins are not what you'd expect them to be. It's not just the usual "machete-wielding a*hole", as Pulver puts it: Selina Lo's (Debt Collector) Guan-Yin, a sword-wielding Chinese "Goddess of Mercy", is fond of catchphrases, while Meadow Williams's (The Mask) red-haired hitwoman Pam has a collection of peculiar firearms. Some murderers are keen on grenades, others like beheadings and some fly helicopters; there are German twins and there are those that may be short in size but love big explosions, and then there's "some a*hole who looks exactly like [Roy]".
And so, Roy jumps out of flaming buildings, steals race cars, escapes a bunch of eccentric, insane individuals and reaches his favourite bar, where he drinks his way through the day with a friendly barman (Ken Jeong's Chef Jake) and Boss Level's version of that annoying insurance guy in Groundhog Day (Sheaun McKinney's Dave). But Roy's day always resets itself at 12:47pm, when all the assassins inevitably find him and accomplish their mission. Soon, all the car chases, the electrocutions, and the bizarre, highly entertaining attempts on his life begin again, leading to even more imaginative escapes, compelling hand-to-hand combat sequences, and clever twists, all accompanied by really great tunes and Roy's everpresent, hilarious narration.
But just when Roy thinks he's destined to be stuck on the same videogame level forever, something happens that prompts him to retrace his steps, leading back to his genius scientist ex-wife Jemma (Naomi Watts) and her shady manager, Colonel Ventor (Mel Gibson). Fuelled by this newfound purpose, Roy has a new mission: saving his ex-wife, breaking the time loop and getting his revenge, all while reconnecting with his eleven-year-old son (played by Frank Grillo's real-life son, Rio).
As improbable and exaggerated as its plot may be, Boss Level works because it knows exactly when to be over the top and when to offer moments of authenticity and emotion. Yes, the film's action sequences are as fast-paced, well-choreographed and thoroughly satisfying as you'd expect them to be, but it's the film's magnetic protagonist that makes it truly memorable. Thanks to a gloriously sarcastic screenplay that provides him with plenty of clever comebacks and well-timed gags, Roy is likeable, believable, and undeniably cool from the moment he steps – or, rather, dodges a machete and barely manages to walk – into the frame.
As he shares his misfortunes with us, narrating his way into the time loop he finds himself in, we are right there with him. As he approaches his enemies with earnestness and charm, we admire his resilience. As we find out about his past mistakes, as an absentee father and husband, we can't help but be deeply affected by a thoroughly absurd situation that is also surprisingly authentic and always believable, made even more so by Grillo's commitment to the character.
See Also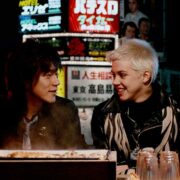 And so, in between an Indiana Jones quote and the kind of gripping, gratifying fight sequence you'll find yourself rewinding over and over again, Roy unexpectedly grows. Our protagonist's priorities shift again, as he realizes that, no matter how many times he literally let his family "die" in the past, he might still get a chance to redeem himself, after all. As the film takes yet another unforeseen turn, you'll be caught off guard by a surprisingly touching moment that will suddenly give the film a new meaning, somehow giving even its most absurd, comical scenes a poignant, and, at times, even poetic undertone.
"Some things you can't redo, and some things you're forced to do over and over again", but Boss Level proves that, if you know what to look for, it's never too late to turn an unfortunate situation to your advantage, and ultimately get a second chance. With a message that resonates even more in a post-COVID world, where most of us are currently dealing with our very own personal time loops, Boss Level is precisely the kind of film we need to shake us out of our routine and show us a different perspective. Led by a Frank Grillo in great shape and featuring gorgeous visuals and great performances from its entire cast, Boss Level might not have a complex story to tell, but it's just as fun, as wonderfully excessive and as surprisingly meaningful as it needs to be, and a great reminder that, no matter how dire the future would seem to be, there's always a way out.
---
Boss Level is now available to watch on Hulu.