Big Boys (2023): Film Review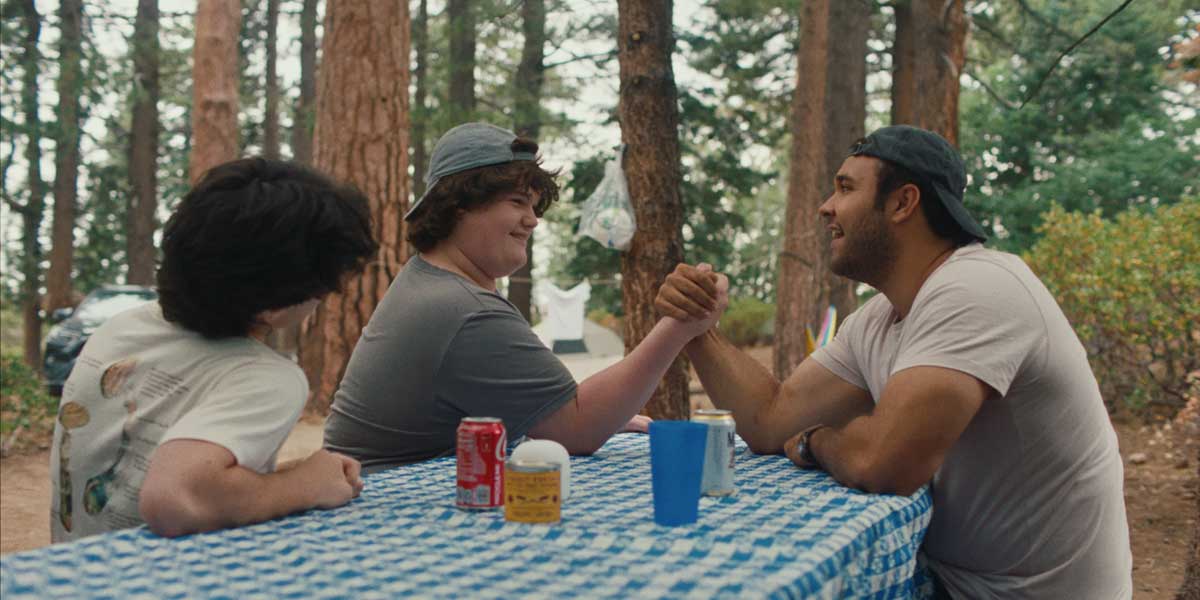 Isaac Krasner (left) and David Johnson III in Big Boys (Gus Bendinelli, Perfect Dog Pictures / BFI Flare 2023)
The charming and amusing coming-of-age film Big Boys tells the story of one teenager's sexual awakening on a sun-kissed camping trip.
---

Beyond the sharp humour and warm visuals, Corey Sherman's vividly realised Big Boys has plenty of depth to it. It is a film that will make you smile and, thanks to the inherent awkwardness of teenagers, cringe in equal measure. Just like in Bo Burnham's Eighth Grade (2018), the protagonist in Big Boys is full of little quirks and lacks some confidence, but his endearing nature and organic journey forms into something hugely resonant. In Big Boys, the added insecurity for main character Jamie (Isaac Krasner, The Truth About Santa Claus) comes in his homosexuality and body issues. Across its swift 90-minute runtime, Sherman's impressively crafted tale flits from serious drama to laugh-out-loud comedy with an alluring ease.
The plot of Big Boys is simple: 14-year-old Jamie heads off on a camping trip with brother Will (Taj Cross, PEN15), twenty-something cousin Allie (Dora Madison, Lapsis), and her new boyfriend Dan (David Johnson III, Lady in the Lake). Jamie's experiences on the trip, however, are far from simple, as he develops feelings for Dan and, for the first time, fantasises about being with another man. Due to the age gap, this love story will never see Dan reciprocate Jamie's feelings – but Big Boys is less about any romance, and more about Jamie's scary but exciting sensations. Sherman's own experiences as a teenager of internalised homophobia and toxic masculinity feed directly into this vivid depiction of a young man's sexual awakening.
From these experiences and playing out alongside stellar moments of humour are detailed depictions of society's preconceptions of what a man should be like. Jamie, under pressure to act in a less femme or queer way, stifles his homosexuality, and his arousal surrounding Dan confuses him. Similar pressures that straight teenagers experience still exist for him, but they are accompanied by casual homophobia and heteronormative assumptions from his peers – such comments which are far from casual in their impact. Throughout Big Boys, Sherman shows a keen eye in capturing this young man's formative story, from more overt visual cues such as lingering on the board game title 'Taboo', to close-ups of Jamie's face as it flits from excitement to fear to worry.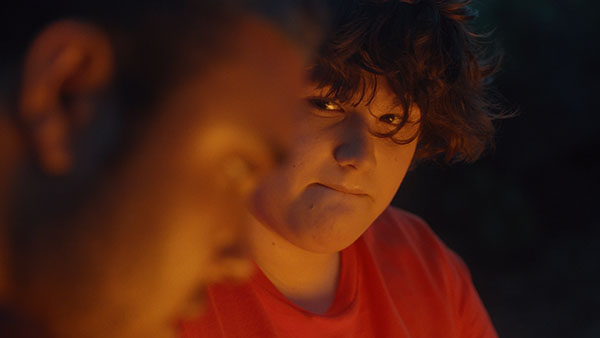 As the lead, Krasner brings an effervescent charm to Big Boys. Jamie is a deeply kind character with an amusing maturity – he brings a large selection of spices on a camping trip – and Krasner delivers Sherman's swift and witty dialogue to great effect. Perhaps most importantly, Krasner adds depth to his character, subtly morphing from initial nervousness into growing confidence, as he grows to understand and embrace his sexuality. The supporting cast add further energy to this often zany film, bolstering the ensemble-based scenes of Big Boys.
See Also

In turn, naturalistic lighting and hazy compositions add a lush, sun-kissed atmosphere to Big Boys, which infuses directly into Jamie's story. Flowers sprout in the surrounding landscape as this tale takes on a dreamy feel with a hopeful outlook. A lovely, swooning, choral-based original score by Will Wisenfeld (Bee and Puppycat) contributes further to this rich texture. Sherman utilises the well-trodden coming-of-age formula, but Big Boy's lesser-told story of a young gay teenager adds a uniqueness to proceedings, with Jamie's own wandering and curious eyes giving us little sneaks of Dan's muscly arms or hairy stomach. This 90-minute shared experience with Jamie does not encapsulate his whole coming out process; in Big Boys, there is no proud declaration, just small steps on a difficult and confusing journey which overarchingly is both uplifting and positive.
---
Big Boys was screened at the 2023 BFI Flare: London LGBTQIA+ Film Festival on 18-19 March, 2023. Read our BFI Flare reviews!