Beautiful Boy: An Emotional Rollercoaster with No End In Sight (Review)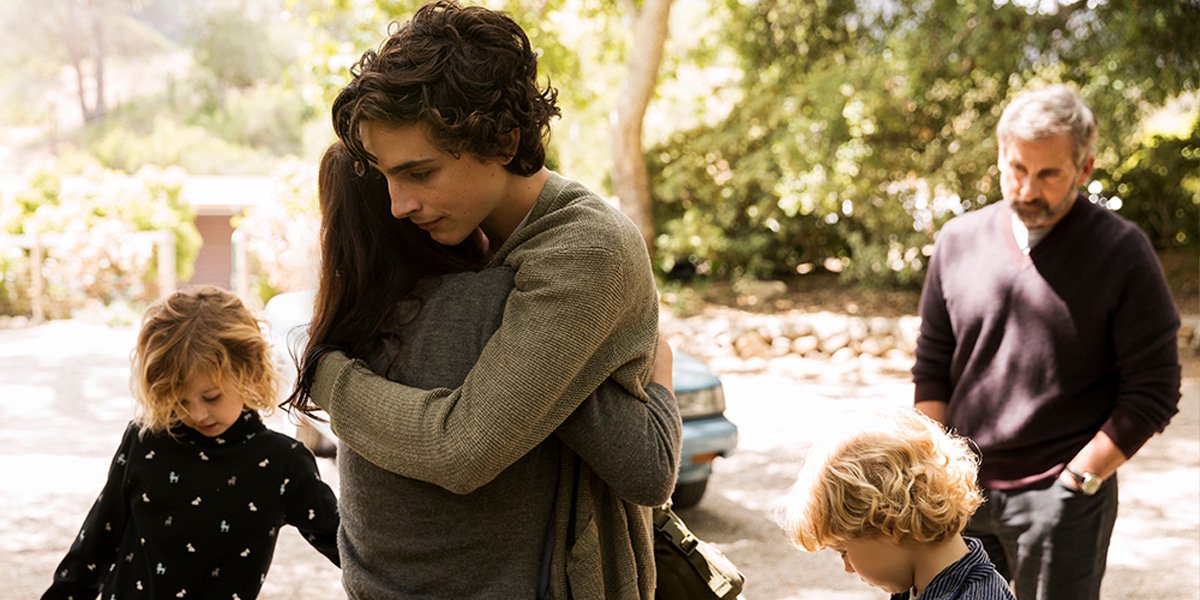 Maura Tierney, Steve Carell, Timothée Chalamet, Oakley Bull, and Christian Convery in Beautiful Boy (Amazon Studios)
Beautiful Boy brings to life the emotional story of a drug-addicted son and his unrelenting father who will do anything to keep him alive.
---

Addiction is a chronic disease that not only affects the victim, but also their loved ones. Drug addiction and rehabilitation have always had their place in Hollywood. From Glen Caron's Clean and Sober (1988), following a drug addict who check himself into rehabilitation to escape trouble, to Peter Hedges' Ben is Back (2018), revolving around a mother's love to keep her son alive, Hollywood has approached the subject of addition through the eyes of the victim and through the eyes of these whom area affected. And, although these films focus on the theme of addiction, each story has its own unique way of showing how this obsession with drugs leads to the victim's breakdown; therefore, causing anguish and pain to those who only seek to make them healthier. Amazon Studios' Beautiful Boy shows the heartbreaking story of a caring and loving father trying to break the cycle of his son's drug addiction.
Based on a true story, Beautiful Boy explores the tragic life of Nic Sheff (Timothée Chalamet, of Call Me By Your Name and 2021's Dune reboot), a struggling teenager who has become the victim of drug addiction. From the initial sequences of the film, the audience is already immersed into how chaotic Nic's life is: he's isolated and torn, as this addiction strips him from his family and his vibrant personality. David Sheff (Steve Carell, of NBC's The Office), Nic's father, is heartbroken seeing his son in this condition and tries his best to provide him with the help he needs.
The film is an emotional roller-coaster – a non-stop loop of ups and downs that keeps the audience on the edge of their seat. For sporadic periods of time, Nic is back to living a normal life with dad, his stepmom, and two stepsiblings. For a moment, life seems to be great again, but unfortunately, the addiction's grasp does not let go so easily. Nic is trapped in this never-ending cycle of soberness and addiction – each time leaving him and his family feeling more like failures.
In his first English-language debut film, director Felix van Groeningen chooses to explore the universal theme that many families can unfortunately relate to. Hollywood movies often portray drug addictions as a linear struggle, but van Groeningen does something different, by transforming this linear struggle into a repetitive cycle of success and failure. Heartbreakingly, we see Nic become sober and fall back into the hands of addiction numerous times, causing distrust and hopelessness to his loved ones and proving how this vicious cycle takes its toll on them, particularly his father. David wants nothing more in the world than to see his son not even healthy, but simply alive. Knowing his son's disease, he has to live with the doubt, pain, and uneasiness their son may bring him, despite doing everything he can to help.
What more can be said about Timothée Chalamet? From Call Me By Your Name to Greta Gerwig's Little Women, Chalamet will always bring the emotion. Thanks to van Groeningen's direction, the audience is able to see both sides of Nic – his sober side and his addicted side. With his sober side, Chalamet is just being the Chalamet we know now – this thoughtful, funny, and loving guy. We mainly see this in the interactions and relationships with his younger siblings. His happiness radiates off the screen and makes us feel warm inside as if he never had a drug problem. His brother and sister mean the world to him and it breaks his heart knowing that they will not be able to count on him as the older brother they deserve. On the flip side, we see Chalamet struggling internally and externally with his demons. His rage and depression take over when he hits rock bottom. Chalamet perfectly portrays this role of a struggling teen just trying to survive in this world.
As for Steve Carell, known for his iconic comedic roles in The 40 Year-Old Virgin and in Crazy, Stupid, Love., he dominates his character as a serious, anxious, and worrisome father. The passion he has to save his son has no boundaries. He is willing to do just about everything to make sure his son is alive. However, he realizes that by doing this, David is also harming the relationship between his wife and kids. In many instances, his actions are almost obsessive, parallel to his son's behavior and having the same damaging effects. He is in the dame destructive cycle Nic is in. And by the end, there is only one thing David can do and that is to let go of his obsession to save Nic. The chemistry between Chalamet and Carell is awe-inspiring and leaves the audience wanting more.
Films about addiction are not rare in Hollywood, but van Groeningen's Beautiful Boy stands out because the film depicts the cycle of a drug-addicted victim, showing him relapse several times after having a healthy sobriety. The performances by Chalamet and Carell are noteworthy and deserving of recognition. Without a doubt, this movie will become the perfect example of how drug addiction can not only affect the victim, but also has the potential to dismantle others.
---
Beautiful Boy is now available to watch on digital and on demand.