Banksy Most Wanted: Insightful Documentary Reveals the Pitfalls of the Art Market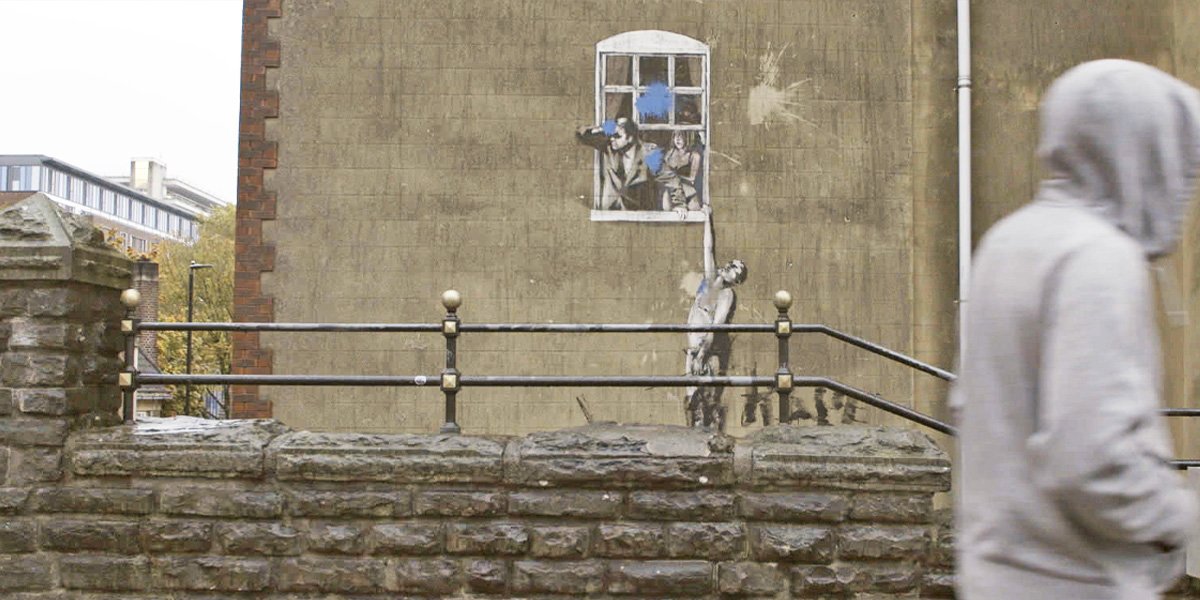 The Well Hung Lover (Bristol) in Banksy Most Wanted (Blue Finch Films)

An eye-opening documentary, Banksy Most Wanted explores hidden graffiti gems and presents an impartial investigation of Banksy's persona, while exposing art dealers and their motives.
---

Graffiti: Art or Vandalism? That is the ultimate question. Seemingly senseless drawings and inscriptions on the walls of a busy city or a quiet town often catch the attention of passersby and are likely to convey a hidden message. The most iconic and provocative graffiti artist, Banksy, stirs up the eternal war between street artists and traditional art connoisseurs by producing revolutionary artworks with cruel integrity and a pinch of sarcasm. Despite being a controversial figure who constantly challenges the art world, Banksy is being called the Robin Hood of our day and age because he manages to help out the common people.
For instance, the story that greatly stands out in Banksy Most Wanted is about Banksy "saving" a youth boxing club in Bristol that was at risk of being shut down due to the lack of government support by painting a graffiti over it: with the artist's permission, his "Mobile Lovers" artwork was sold by the owner of the boxing club and eventually, the money was invested into the club and children's happiness. The vox pop interviews in the documentary reveal that a vast majority of people feel a strong connection to his artworks and are ready to protest if someone has a bash at them: Banksy brings up silenced topics and fights for justice whilst remaining anonymous, and that is something not everyone could do.
Even after reading his biography, "Wall and Piece" (2005), and researching his life story and career progress on my own, Banksy Most Wanted discloses information I have never heard elsewhere before. The meticulous selection of the interviewees, news excerpts, and visuals make this particular documentary an extensively researched factual film, presented in a way that enables a person with minimum to zero art knowledge to understand the intricacies of the art business. If we dig deeper, we'll realise that art is a business nowadays, and the art dealers and collectors interviewed in the film are the living proof of that.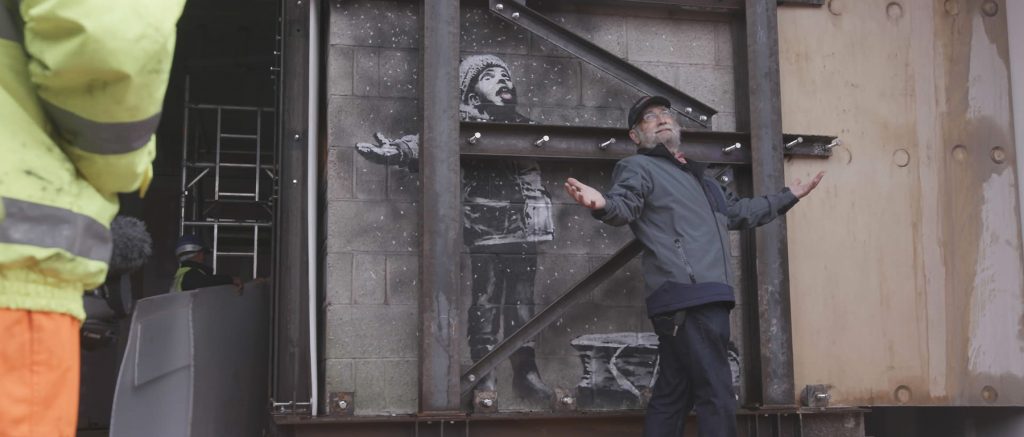 The right balance between the contrasting arguments for and against Banksy's works and graffiti in general allows me to call this documentary unbiased. On one side, we have the infamous art dealers that profit from the artworks left on the walls by street artists like Banksy. These artworks are the bread and butter of the influential art dealers and collectors, who have enough resources to move them into galleries or sell them for private collections. British art dealer Robin Barton, for example, is notorious for having been the first person who took down and sold Banksy street art. For a decade, he was making money this way and, as he mentions in the documentary, he saw absolutely nothing wrong with what he was doing, which triggered the locals, who claimed to be robbed of "their Banksy." Barton presents us with the other side of the coin of the art world – a money-oriented society.
It is left up to us to assess what is right or wrong, which is an extremely subjective matter. This creative choice feeds our interest even more and again proves to us the objectiveness of this documentary. Meanwhile, we are also introduced to Banksy's former agent, Steve Lazarides, who is very careful about the information he gives out. It just proves, again, that the team behind Banksy is doing its best to preserve his mysterious facade.
Unlike many other monotonous documentaries, Banksy Most Wanted captures our attention with its opening scene. Banksy's "Girl with Balloon" gets shredded in front of the public at Sotheby's auction in London – one of the most provocative events involving the artist so far. As art collector and dealer Jonathan Cheung correctly points out, "it's like a massive f*ck you to the art world." Was Banksy in the room? Was it a prank? The scene, and the film's driving sound effects, definitely set a fast pace and expressive tone for the rest of the movie, which makes it impossible to resist watching. Over the years, Banksy and his team have managed to carefully sculpture this anonymous and invisible yet bold persona that everyone wants to capture, and the documentary proves that we know lots and nothing about Banksy, at the same time. Almost no one has ever seen his face, yet his name travels around the world. However, the film is not only about his controversial identity but also about something more important – his works and their impact on the media and the world.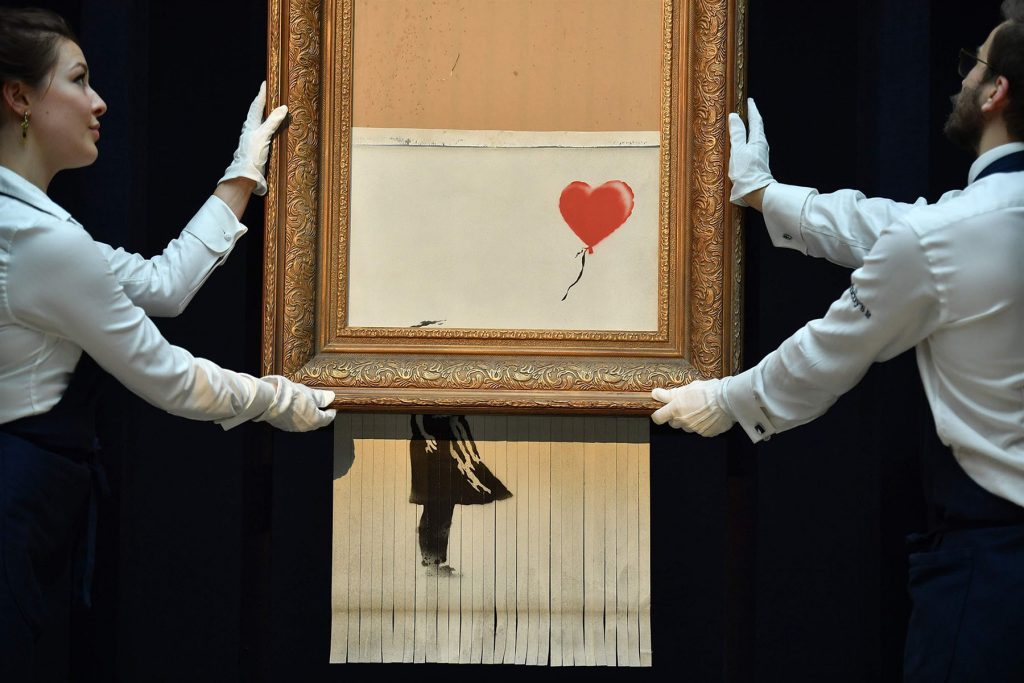 Banksy is an unofficial spokesperson for the public. War, consumerism, poverty, and fascism are just a few of the political and social themes that he brings up through the vivid graffiti images. The fact that he has found a new and more effective way of communicating to the whole world is shocking. By creating his graffiti in remote, forgotten places, he forces the media to travel and pay attention to the issues present there. An image of a cat, for instance, appears in Gaza. At first glance, there seems to be nothing special about it. But pictures of cats are among the most searched items on the internet. If we connect the dots, it becomes evident that Banksy put up a cat on the wall of a destroyed house to draw attention to the destruction and the war between the enclave's Islamist Hamas rulers and Israel. His simple but very recognisable and bold works evoke reactions, and that is exactly what art is meant to do.
See Also

But who is Banksy, then? Whoever unveils his identity will make history. The film's directors Aurélia Rouvier and Seamus Haley do not take sides, yet they raise essential questions, like whether or not it is ethical to remove the artwork from the specific location chosen by the artist, and the way he intended for it to be enjoyed by the passers-by. Instead of influencing the viewers' opinions and giving answers to every single question, the film gives you food for thought and encourages you to approach each piece of information with a critical and sober mind. Rouvier and Haley succeed in building Banksy's portrait and depicting his persona from multiple angles, even without having Banksy himself in the film. There is no definite conclusion, no specific answer to who Banksy is. At the end of the day, do we really want to know? And if we find out, will his art have the same impact? A vibrant, fast-paced documentary, Banksy Most Wanted concludes with a quote that certainly has an element of truth: "If you want to say something and have people listen, then you have to wear a mask."
---
Banksy Most Wanted will be available digitally in the U.K. and Ireland on March 22, 2021.
---
---
JOIN US!
Don't miss our monthly updates with film news, movie-inspired recipes and exclusive content! You'll only hear from us once a month. #nospam