Army Of The Dead Review: Snyder's Zombie Heist Film Hybrid Slays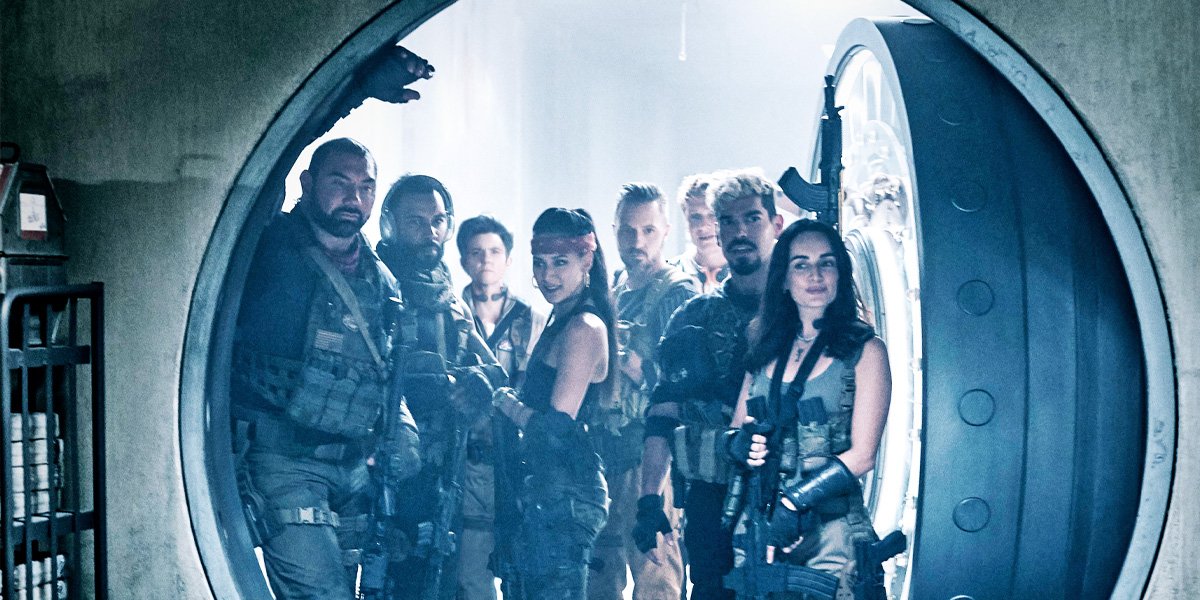 Dave Bautista, Omari Hardwick, Tig Notaro, Samantha Win, Colin Jones, Matthias Schweighöfer, Raúl Castillo and Ana De La Reguera in Army Of The Dead (Clay Enos / Netflix © 2021)
Army of the Dead is a touch too long, but thanks to aggressive action & a surprisingly touching father-daughter-focused story, Snyder's zombie epic entertains.
---

Hot off the staggering success of Zack Snyder's Justice League, the widely adored auteur has perhaps never been more prolific, demonstrating an almost unprecedented command over the pop culture conversation. Whether you love or hate the guy (or his films), you can't deny that there's hardly any other figure who can get #FilmTwitter talking as much as Mr. Snyder. Unfortunately, despite of the critical and commercial acclaim for his long-awaited "Snyder Cut" of 2017's Justice League – released this past March – Warner Bros. decided to stop any further evolution of the so-called "SnyderVerse," allowing the writer-director to devote his efforts elsewhere and pursue other projects. Though we can't say for sure that his DC storytelling is over for good (especially as the studio experiences some earth-shattering shake-ups), Snyder isn't wasting any time to build on his current white-hot buzz, navigating his way to Netflix and returning to his roots by revisiting the zombie genre for the first time since 2004's Dawn of the Dead.
After being announced in 2007, Army of the Dead spent years stuck in development hell (humorously enough, over at Warner Bros.). Thankfully, Netflix swooped in to buy the rights in early 2019, clearly sensing that the post-apocalyptic actioner would be a streaming smash. However, their confidence didn't cease there; apparently, they liked enough of what they saw in pre-production that they not only gave the greenlight to a prequel (entitled Army of Thieves, which already shot from October to December 2020), but they also started to conceive an anime-style series starring characters from the film, currently known as Army of the Dead: Lost Vegas. In short, before most of the world had even seen Army of the Dead, a complete cinematic universe was coming together behind-the-scenes. Therefore, with so much riding on one single film, a lone question remained – could Snyder really reach Netflix's – and our – expectations?
Right out of the gate, Army of the Dead captivates with a chaotic opening credits sequence that details the start of the zombie outbreak and feels instantly iconic. Snyder's signature style is on full display, a superb song choice accentuates the anarchy unfolding before our eyes, and it's quickly clear that we're in good hands. From there, we're introduced to the film's expertly cast ensemble, beginning with Dave Bautista's (Guardians of the Galaxy, Blade Runner 2049) Scott Ward, a former mercenary who now spends his days flipping burgers. Out of the blue, Ward is approached one day by Bly Tanaka (Hiroyuki Sanada, of The Wolverine and Mortal Kombat), an obscenely wealthy casino owner who attempts to recruit him for the job of a lifetime. In Las Vegas – a city that has been quarantined to prevent further spread of the zombie virus that first sprung up there – Tanaka has $200 million simply sitting in a vault in one of his abandoned casinos; unfortunately, the U.S. military intends to destroy the city with a tactical nuclear strike in a matter of days. And that's where Ward comes in.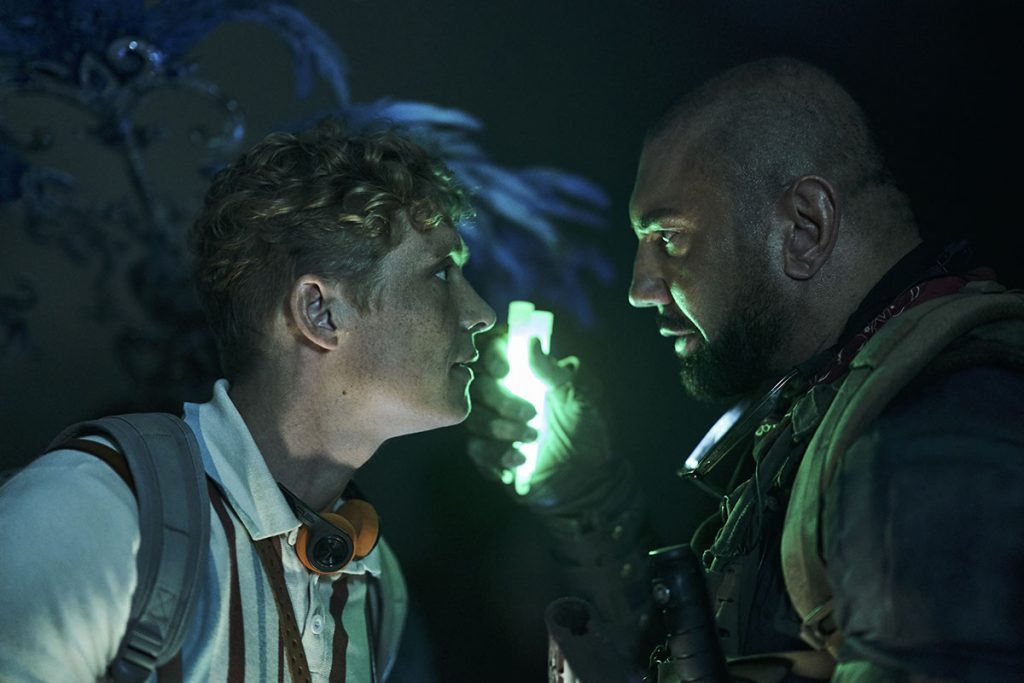 Spurred by the temptation to make something of himself once again – and secure some cash in the process – Ward agrees to raid this vault, bringing his former teammates Maria Cruz (Ana de la Reguera, of The Book of Life and the upcoming The Forever Purge) and Vanderohe (Omari Hardwick, of Kick-Ass and Sorry to Bother You) along as well. Soon, the trio get to work rounding out their team, enlisting plucky helicopter pilot Marianne Peters (Tig Notaro, of Instant Family and Together Together), sneaky German safecracker Ludwig Dieter (Matthias Schweighöfer, of Valkyrie and Resistance), and snarky Mexican sharpshooter Mikey Guzman (Raúl Castillo, of We the Animals and Wrath of Man), among others. Sadly, the squad's plan hits a snag when Ward's estranged daughter Kate (Ella Purnell, of Maleficent and Miss Peregrine's Home for Peculiar Children) tags along to look for a friend of hers, adding some unexpected familial strife to their mission. Nonetheless, together, this motley crew still has to make it to the casino in time – each fulfilling their role to a tee – all while avoiding the "Alpha" zombies occupying Las Vegas, who are far more intelligent than the classic creatures we know and organize in horrifying hierarchies.
With Army of the Dead, Zack Snyder takes on three responsibilities – directing, producing, and writing this zombie heist film hybrid – and, as such, the story is unapologetically Snyder through and through. Sure, that means a few of film fans' critiques with his works are warranted here as well (it's as outrageously overlong as Watchmen and Batman v. Superman: Dawn of Justice), but it's also refreshing to watch Snyder embrace his creative sensibilities without any real studio restraint. You can nitpick here or there – the cast certainly didn't need to be as large as it is, and the pacing lags slightly in the second act – but Snyder's strengths are appropriately spotlighted too, such as his skill with scope and scale (this easily feels like the "biggest" Netflix release to date). His ability to craft a compelling mythology out of this original concept in a matter of minutes is masterful – including his imaginative subversion of zombie tropes with his characterization of the hordes here – and his direction is as dynamic as ever, staging action setpieces with video game-esque vibrancy, centering us in the thick of the conflict with convincing credibility.
While Snyder's script may not be as solidly structured as his careful camerawork, his aforementioned accomplished cast elevates it immensely, with nearly every actor perfectly pulling their weight. Dave Bautista continues to confirm his aptitude as a deft dramatic actor, carrying himself commendably in the combat scenes but impressing most of all in his heart-to-hearts with Purnell's Kate (which is especially imperative, since their relationship constitutes the movie's effective emotional core). Likewise, his chemistry with Reguera's Maria is equally endearing, as the two establish a persuasive partnership from their very first scene and always deliver as the film's de facto "co-leads" with their ravishing repartee. Amongst the supporting cast, Notaro is easily the standout, something that is all the more monumental when you consider that she didn't even film alongside her "scene partners," as she subs in for comedian Chris D'Elia, who was dropped from the film in 2020 due to claims of sexual harassment made against the actor. If this weren't common knowledge, you wouldn't sense a thing – Snyder's integration of Notaro is seamless, and the actress emulates (and honestly even exceeds) the energy of the ensemble with her terrific comedic timing and charismatic charm.
See Also

Schweighöfer is second best-in-show, making a flawless first impression as the "adorkable" Dieter (before we watch his further adventures in his prequel film), an aloof oddball who is woefully out of his element when it comes to zombie executions but knows exactly how to sharpen up when he gets to safe cracking. His brilliant back-and-forth with the blunt and brusque Vanderohe is also always an amusement, only adding to our adoration of the goofy German. Meanwhile, though Castillo has less screentime than his peers, he makes the most of these moments regardless, and his Guzman is flashy ball of fury who fearlessly lights up the film when featured. Finally, proper praise must be paid to Nora Arnezeder (Safe House, Mozart in the Jungle) who plays her role of Lily – a furtive Frenchwoman who is familiar with the innerworkings of the Las Vegas zombie clan's customs and assists our core crew accordingly – with power and panache, conveying her capability in clashes with the undead in mere minutes and outperforming her partners.
Army of the Dead isn't immune to criticism – and stereotypical Snyder complaints apply here as well, from the elongated runtime to occasionally dodgy dialogue – but his arresting action, excellent ensemble, and stunning storytelling scale more than make up for these minor quibbles. While not as tight and tense as Snyder's first foray in the zombie film genre, this heist film still has the scares and suspense to satisfy most moviegoers, and with such captivating characters and mystifying mythology, Snyder successfully lays the foundation for a fruitful franchise going forward. Count us in.
---
Army Of The Dead is now available to watch on Netflix.