April 2023: New Movies In Theaters This Month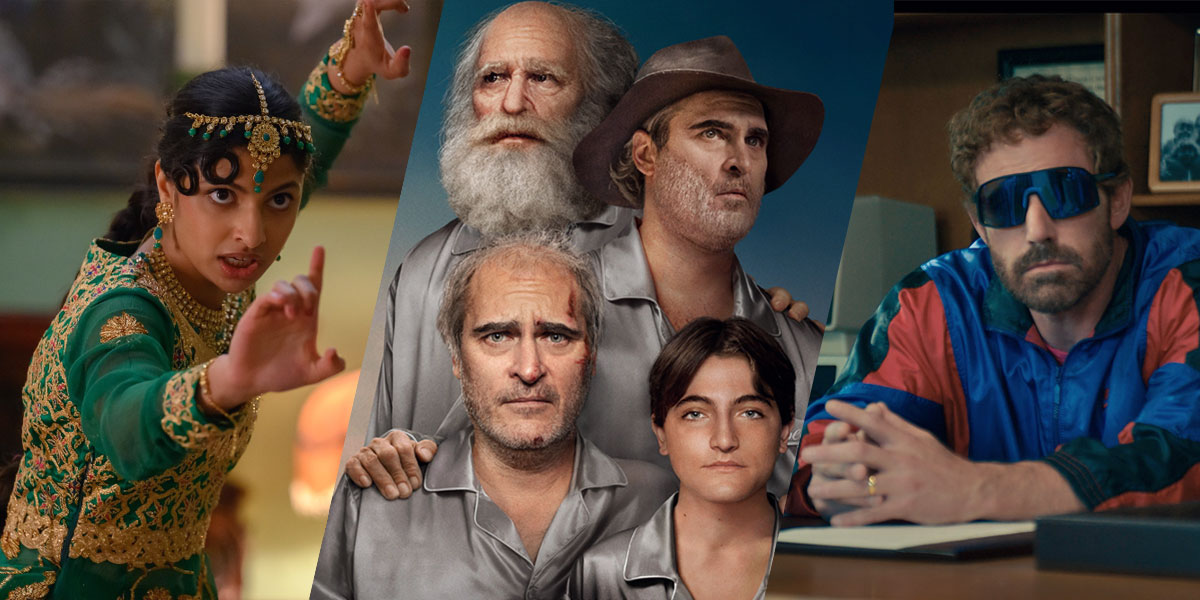 Polite Society, Beau is Afraid, Air (Focus Features, A24, MGM)
April 2023: all the new movies in theaters this month, from Air, Beau is Afraid and Super Mario to more anticipated films and great new releases!
We're going to see many highly anticipated films in April 2023! In the list of new movies in theaters this month are blockbusters like The Super Mario Bros Movie and Evil Dead Rise, festival favorites like Air, Joyland and Showing Up and new releases from directors Guy Ritchie and François Ozon! And then, of course, there's the Joaquin Phoenix film we're all dying to watch.
Discover all the new movies in April 2023 and start planning what to watch in theaters this month! All movies are in order of release and divided by films to watch in U.S. theaters and in U.K. cinemas, and we've also added global release dates where available. Scroll till the end for some exciting events and this month's film festivals, and read our list of most anticipated movies of 2023!
---
APRIL 2023 MOVIES: IN U.S. THEATERS & GLOBALLY
THE JOURNEY: A MUSIC SPECIAL WITH ANDREA BOCELLI (LIMITED)
Directors: Gaetano Morbioli & Paolo Sodi
U.S. Release: April 2-6
U.K. Release: TBA
Official synopsis: Combining world-class musical performances with intimate conversations across the awe-inspiring Italian countryside, THE JOURNEY: A Music Special from Andrea Bocelli is an exploration of the moments that define us, the songs that inspire us, and the relationships that connect us to what matters most.
---
ONE DAY AS A LION (LIMITED)
Director: Bruce Davis
U.S. Release: April 4
U.K. Release: TBA
Official synopsis: Jackie Powers (Scott Caan) is a nice guy but a lousy hit man, and when he's sent to take out a crafty debtor (J.K. Simmons), Jackie only pisses him off. Fleeing the scene, Jackie takes bored waitress Lola as a hostage. When Jackie reveals he needs money to get his son out of jail, Lola cooks up a scheme for them to get cash from her dying mother (Virginia Madsen). Meanwhile, a thug sent to kill him is sleeping with Jackie's ex. Also starring Frank Grillo, this crime-comedy is a witty homage to Tarantino and the Coen brothers.
---
AIR
Director: Ben Affleck
Global Release: April 5
Full Review: Air (2023 Film): SXSW Review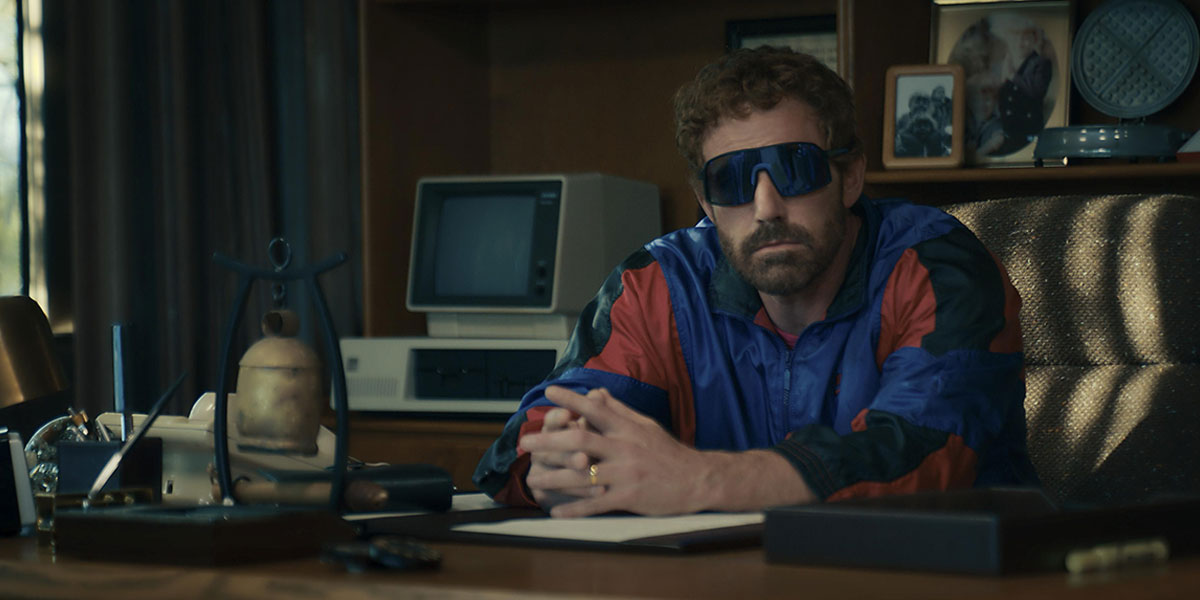 Official synopsis: From award-winning director Ben Affleck, Air reveals the unbelievable game-changing partnership between a then rookie Michael Jordan and Nike's fledgling basketball division which revolutionized the world of sports and contemporary culture with the Air Jordan brand. This moving story follows the career-defining gamble of an unconventional team with everything on the line, the uncompromising vision of a mother who knows the worth of her son's immense talent, and the basketball phenom who would become the greatest of all time.
---
THE SUPER MARIO BROS MOVIE
Directors: Aaron Horvath & Michael Jelenic
Global Release: April 5
Full Review: The Super Mario Bros. Movie (2023): Review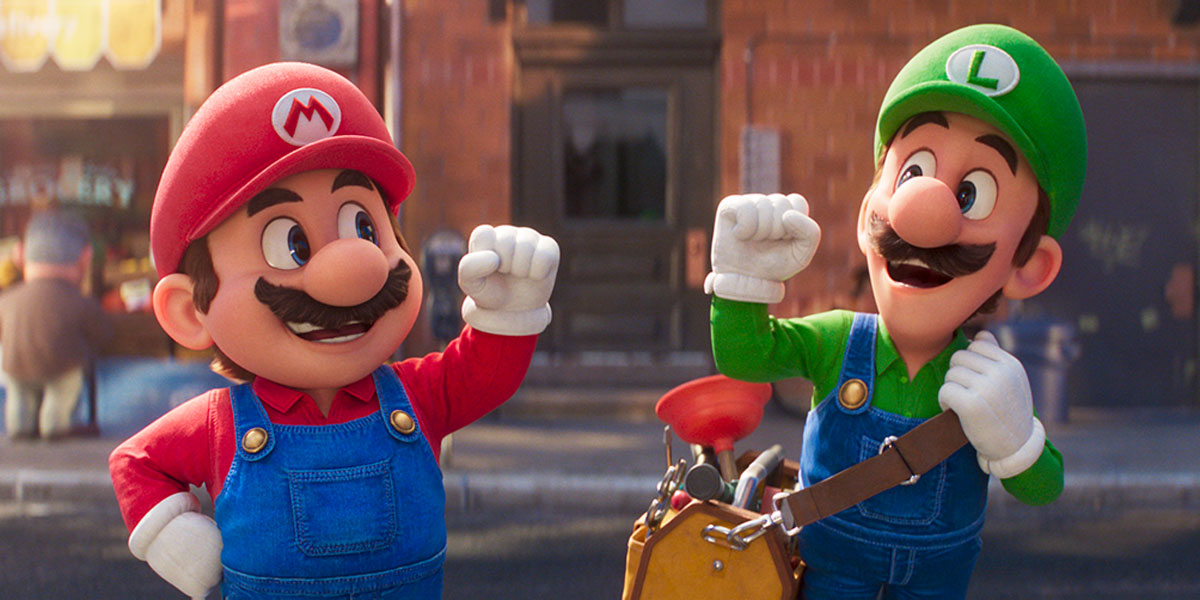 Official synopsis: While working underground to fix a water main, Brooklyn plumbers Mario (Chris Pratt; Jurassic World and The LEGO Movie franchises) and brother Luigi (Charlie Day; It's Always Sunny in Philadelphia) are transported down a mysterious pipe and wander into a magical new world. But when the brothers are separated, Mario embarks on an epic quest to find Luigi.
With the assistance of a Mushroom Kingdom resident Toad (Keegan-Michael Key; The Lion King) and some training from the strong-willed ruler of the Mushroom Kingdom, Princess Peach (Anya Taylor-Joy;The Queen's Gambit), Mario taps into his own power.
---
THE SEVERING (LIMITED)
Director: Mark Pellington
U.S. Release: April 6 in LA at Brain Dead Studios, followed by a dance performance by Nina McNeely and with Mark Pellington in attendance
U.K. Release: TBA
Official synopsis: From acclaimed filmmaker Mark Pellington (The Mothman Prophecies), a visceral and powerful feature-length dance film. This cathartic movement piece was created in collaboration with the brilliant choreographer Nina McNeely (Gaspar Noe's Climax), rising Dutch cinematographer Evelin Van Rei, and editor Sergio Pinheiro. Inspired by the Wim Wenders film Pina, Pellington was interested in expressing feelings and emotions through a 'narrative of movement and text,' told through the physical expression of dancers' bodies and souls. Grief is physical and lies in the body, in our very DNA, which makes movement the ideal way to communicate it. In Pellington's words, "It's the way to express what it feels like to be severed or to feel nothing. The film is a cathartic reencounter for anybody who's felt loss, or isolation, or struggled with these themes: fear, reconnection, isolation."
---
HOW TO BLOW UP A PIPELINE
Director: Daniel Goldhaber, Ariela Barer, Jordan Sjol, Daniel Garber
U.S. Release: April 7
U.K. Release: April 21
Full Review: How to Blow Up a Pipeline Film Review
Official synopsis: A crew of young environmental activists execute a daring mission to sabotage an oil pipeline in this taut and timely thriller that is part high-stakes heist, part radical exploration of the climate crisis. Starring Ariela Barer, Kristine Froseth, Lukas Gage, Forrest Goodluck, Sasha Lane, Jayme Lawson, Marcus Scribner & Jake Weary.
---
JOYLAND
Director: Saim Sadiq
U.S. Release: April 7
U.K. Release: February 24
Full Review: Joyland (Film Review): Repressed Desires & Gender Roles
Interview: Director Saim Sadiq on Joyland: Interview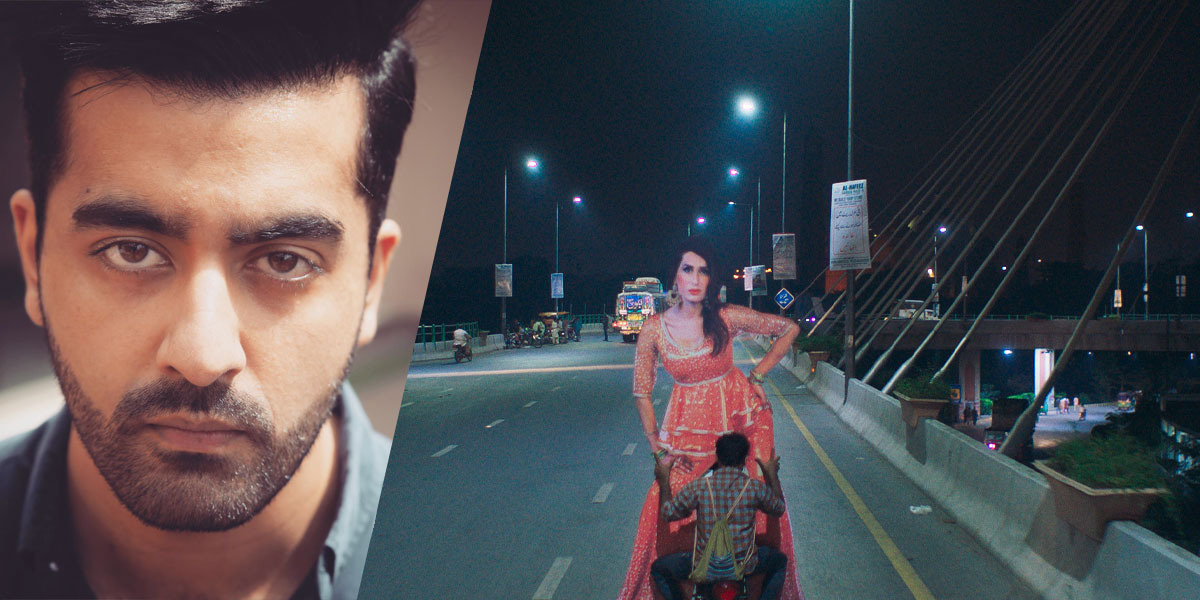 Official synopsis: The youngest son in a traditional Pakistani family takes a job as a backup dancer in a Bollywood-style burlesque, and he quickly becomes infatuated with the strong-willed trans woman who runs the show.
---
ONE TRUE LOVES (LIMITED)
Director: Andy Fickman
U.S. Release: April 7
U.K. Release: TBA
Official synopsis: Emma's life flips upside down when she is forced to choose between the husband she thought was dead and the fiancé who has given her a second chance at love. Starring Phillipa Soo, Simu Liu and Luke Bracey in the modern romance, ONE TRUE LOVES.
---
RIDE ON
Director: Larry Yang
U.S. Release: April 7
U.K. Release: TBA
Official synopsis: When debt collectors try—and fail—to seize a horse from a stuntman (Jackie Chan), video of the attempt goes viral. Furious, the debt collectors return, leading to hilarious, action-packed antics that outdo even the pair's most daring acts.
---
SAM NOW (LIMITED)
Director: Reed Harkness
U.S. Release: April 7 in New York and Los Angeles with national select cities to follow
U.K. Release: TBA
Official synopsis: Filmed over 25 years, the film follows filmmaker Reed Harkness and his brother Sam as they embark on a 2,000-mile road trip in search of Sam's missing mother. Because of his mother's absence, we witness the effects of Sam's trauma in his interpersonal relationships, both in adolescence and adulthood. The film explores themes of intergenerational trauma, mental health, and coming of age through a unique hybrid narrative approach.
---
SHOWING UP
Director: Kelly Reichardt
U.S. Release: April 7
U.K. Release: TBA
Full Review: Showing Up (Film Review): The Balance Between Life & Art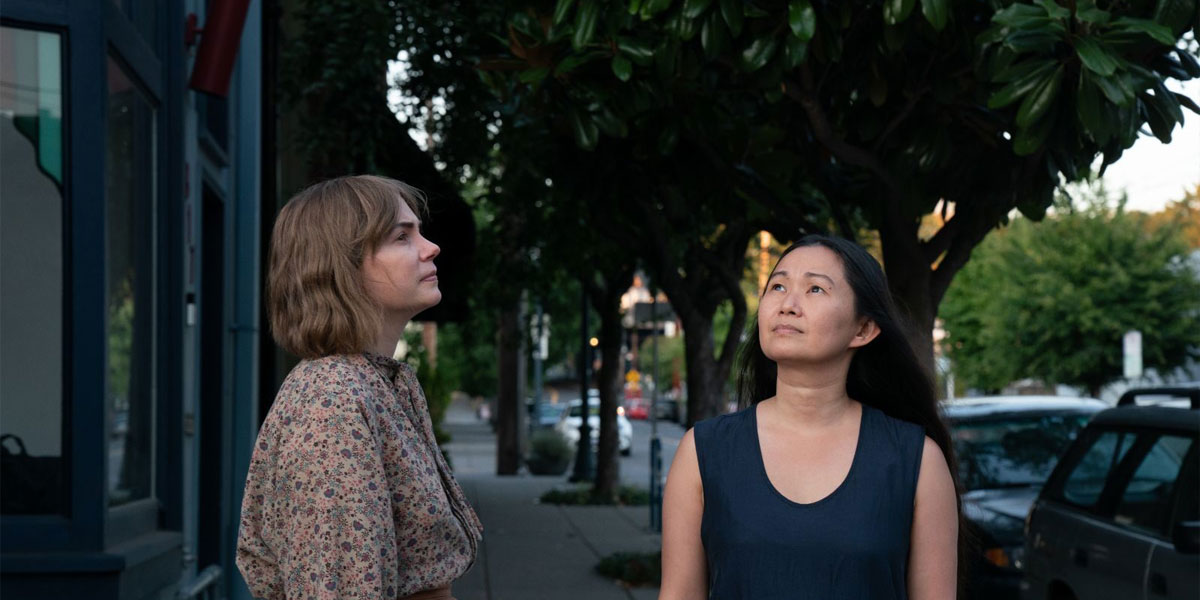 Official synopsis: A sculptor (Michelle Williams) preparing to open a new show must balance her creative life with the daily dramas of family and friends, in Kelly Reichardt's vibrant and captivatingly funny portrait of art & craft.
---
YOU'RE KILLING ME
Director: Beth Hanna
U.S. Release: April 7
U.K. Release: TBA
Official synopsis: 'You're Killing Me' follows Eden, who goes to a coveted 'Heaven and Hell' party, hoping to get a letter of recommendation to an elite university from the wealthy parents of her classmate, but the party quickly turns into a fight for her life.
---
LITTLE RICHARD: I AM EVERYTHING (LIMITED)
Directors: Lisa Cortés
U.S. Release: special one-night-only theatrical screenings on April 11, followed by additional theaters and a digital release on April 21.
U.K. Release: April 28
Full Review: Little Richard: I Am Everything Film Review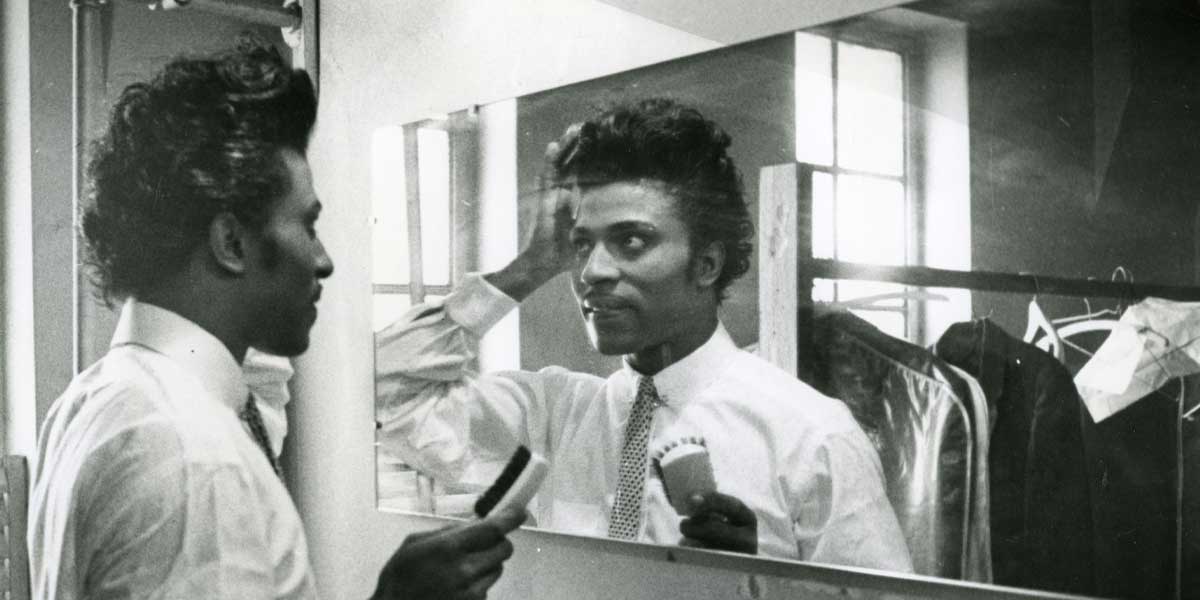 Official synopsis: Director Lisa Cortés' Sundance opening night documentary Little Richard: I Am Everything tells the story of the Black queer origins of rock n' roll, exploding the whitewashed canon of American pop music to reveal the innovator – the originator – Richard Penniman. Through a wealth of archive and performance that brings us into Richard's complicated inner world, the film unspools the icon's life story with all its switchbacks and contradictions.
In interviews with family, musicians, and cutting-edge Black and queer scholars, the film reveals how Richard created an art form for ultimate self-expression, yet what he gave to the world he was never able to give to himself. Throughout his life, Richard careened like a shiny cracked pinball between God, sex and rock n' roll. The world tried to put him in a box, but Richard was an omni being who contained multitudes – he was unabashedly everything.
---
BEAUTIFUL DISASTER
Director: Roger Kumble
U.S. Release: April 12
U.K. Release: TBA
Official synopsis: In Beautiful Disaster, bad-boy Travis Maddox (Dylan Sprouse) is exactly what college freshman Abby Abernathy (Virginia Gardner) needs and wants—to avoid. He spends his nights fighting in underground boxing matches, and his days as the ultimate college campus charmer. But Abby wants nothing to do with Travis. Intrigued by Abby's resistance to his appeal, Travis offers her a simple bet: if he loses his next fight, he must remain sex-free for a month. If he wins, Abby must live in his apartment for the same amount of time. Either way, Travis has no idea that Abby's dark past is about to emerge, and he may have finally met his match.
---
TOMMY GUNS
Director: Carlos Conceição
U.S. Release: April 12
U.K. Release: TBA
Official synopsis: Angolan-Portuguese director Carlos Conceição's audacious and enigmatic TOMMY GUNS invokes the ghosts of Angola's colonial past while embracing the symbolic power of genre filmmaking. The story begins in 1974, just one year before the country's independence from decades of Portuguese rule. Wealthy colonists are fleeing the country as Angolan revolutionaries gradually claim their land back. A tribal girl discovers love and danger when her path crosses that of a Portuguese soldier. Another group of soldiers, completely cut off from the outside world, blindly follow the brutal orders of their commander in the name of serving their country.
But nothing stays fixed in this genre-shifting cinematic puzzle, which playfully swerves from art house drama to war film to zombie flick to escape thriller with exhilarating control. Winner of Best European Film and the Youth Jury Award at the Locarno Film Festival, TOMMY GUNS has elicited comparisons to the work of Claire Denis, Miguel Gomes, and even M. Night Shyamalan, and announces a bold and exciting new voice in Portuguese and Angolan filmmaking.
---
THE LOST WEEKEND: A LOVE STORY (LIMITED)
Director: Eve Brandstein
U.S. Release: April 13
U.K. Release: TBA
Full Review: The Lost Weekend: A Love Story – Film Review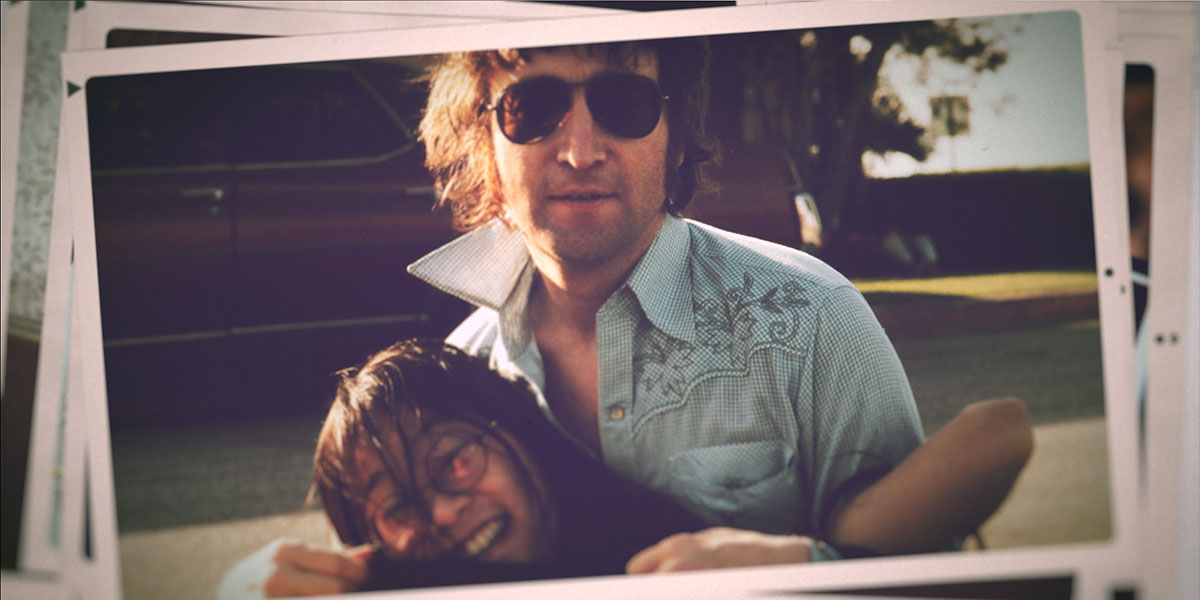 Official synopsis: "The Lost Weekend: A Love Story" explores the 18-month relationship (1973-1975) that John Lennon spent with May Pang, his Chinese American assistant turned lover (on Yoko Ono's insistence). With May's help, Lennon reunited with his son Julian and had his most artistically and commercially productive period post-Beatles – with the albums "Mind Games", "Walls and Bridges" which included his only #1 Hit Single "Whatever Gets You Through the Night", "Rock and Roll" and collaborated with Elton John, David Bowie, Harry Nilsson, Mick Jagger, and Ringo to name a few. Pang chronicles it all revisiting her younger self, a naïve 22-year old experiencing her first, unforgettable love.
---
BACK ON THE STRIP
Director: Chris Spencer
U.S. Release: April 14
U.K. Release: TBA
Official synopsis: A young and heartbroken failed magician gets recruited as the new front man for The Chocolate Chips, a legendary Black male stripper squad who put aside old conflicts to stage a reunion.
---
BEAU IS AFRAID
Director: Ari Aster
U.S. Release: April 14 in NY/LA, April 21 nationwide
U.K. Release: May 19
Full Review: Beau Is Afraid (Film Review): A Baffling Nightmare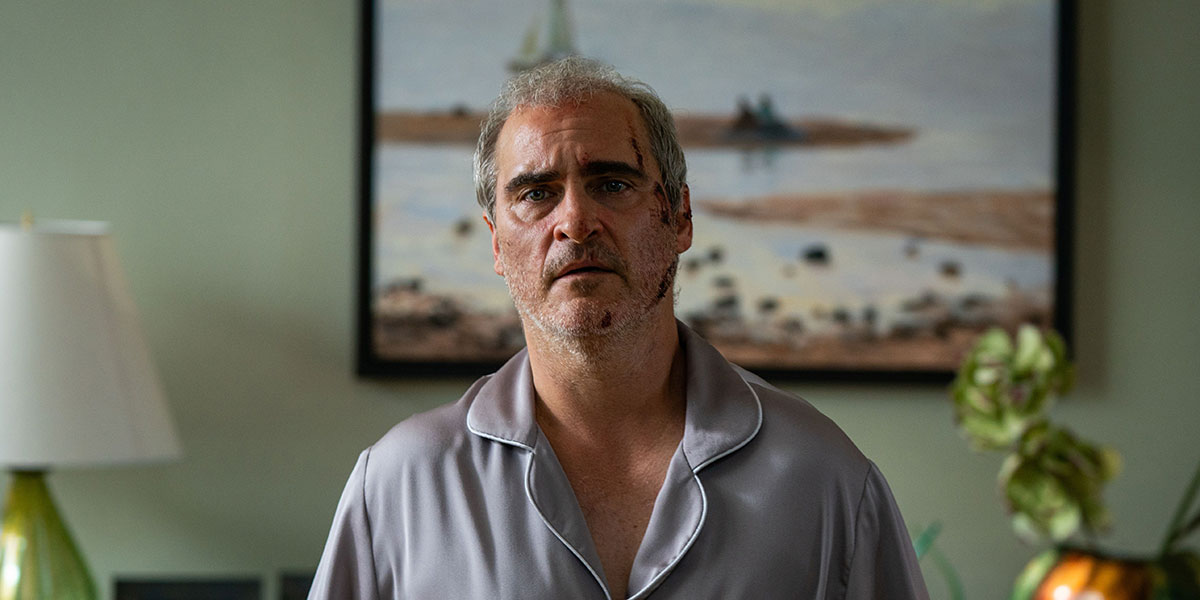 Official synopsis: A paranoid man who embarks on an epic odyssey to get home to his mother. Starring Academy Award Winner Joaquin Phoenix, Nathan Lane, Amy Ryan, Parker Posey, and Patti LuPone.
---
BLIND WILLOW, SLEEPING WOMAN
Director: Pierre Földes
U.S. Release: April 14
U.K. & Irish Release: March 31
Official synopsis: A cinematic interpretation of a collection of short stories by renowned, internationally best-selling Japanese author Haruki Murakami, Blind Willow, Sleeping Woman is set in Tokyo, a few days after the 2011 Tōhoku earthquake and tsunami, and follows the existential repercussions of the natural disaster on the lives of multiple characters, as they navigate a seismic event both real and internal. The film is adapted from three of Murakami's short story collections: Blind Willow, Sleeping Woman, The Elephant Vanishes and After The Quake.
---
EVERYTHING WENT FINE (LIMITED)
Director: François Ozon
U.S. Release: April 14 (NY) / April 21 (LA), followed by a national expansion
U.K. Release: out now! Watch Everything Went Fine!
Full Review: Everything Went Fine: Film Review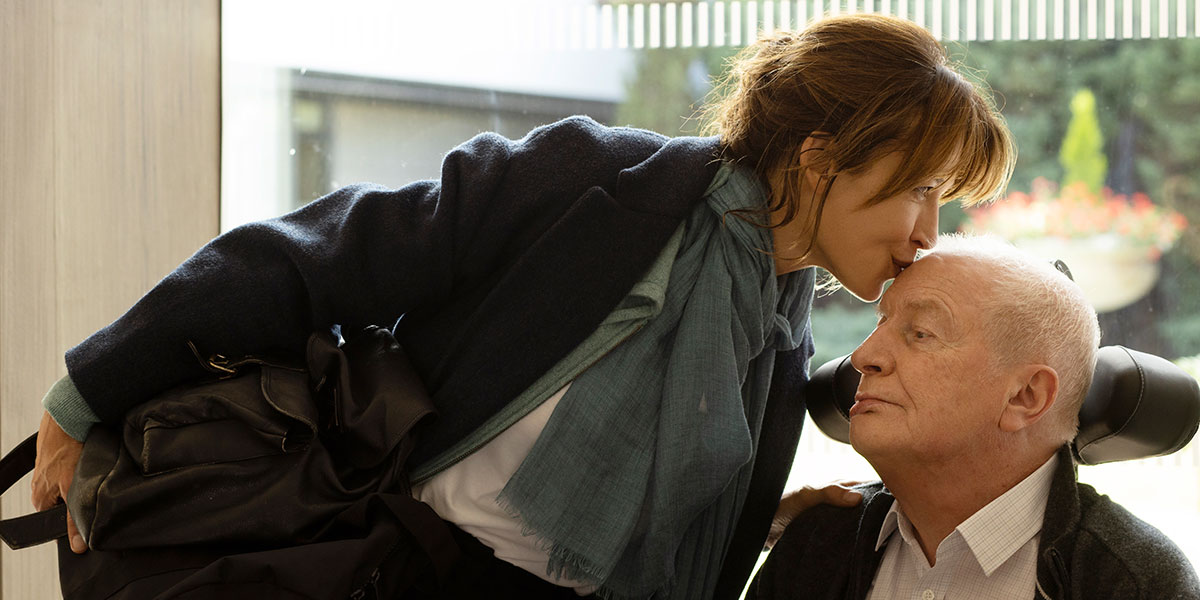 Official synopsis: Based on the autobiographical novel by author Emmanuèle Bernheim (who had collaborated on Ozon's screenplays for Under The Sand, Swimming Pool and Ricky), EVERYTHING WENT FINE is a dramatic change of pace for the genre-hopping director. After a debilitating stroke, 85-year-old art collector André Bernheim (Alain Resnais regular André Dussolier) demands that his daughter Emmanuèle (Sophie Marceau, beloved by French audiences since her teenage debut in the 1980 hit La Boum), help him end life on his own terms.
Faced with a painful decision, Emmanuèle, with the grudging support of her younger sister Pascale (Ozon regular Géraldine Pailhas), begins sorting through the processes and bureaucratic hurdles necessary to fulfill her father's final wish, as she is forced to reconcile her past with a complicated, stubborn, yet charismatic man.
---
HILMA
Director: Lasse Hallström
U.S. Release: April 14
U.K. Release: October 28, 2022
Official synopsis: Hilma follows Hilma af Klint as she grows up as a curious and scientifically interested young girl, eagerly looking for the wisdom of life and death. After her beloved sister dies a tragic death, Hilma feels a deepened sense for spiritual and philosophical ideas. While attending the Royal Academy of Fine Arts, she meets a circle of female artists that share her passion. Together they found "The Five" and create occult practices in an attempt to communicate with the spirits of the higher world.
---
HUMAN FLOWERS OF FLESH (LIMITED)
Director: Helena Wittmann
U.S. Release: April 14 at the Metrograph (NY)
U.K. Release: TBA
Official synopsis: After a stirring encounter with the French Foreign Legion, Ida (Dogtooth's Angeliki Papoulia), sets sail with her own corps of five men, none of whom speak the same language, to trace the route of this fabled troop. Their voyage will take them from Marseille to Corsica and finally to Sidi Bel Abbès, Algeria, the historical headquarters of the Legion. Along the way, boundaries blur. Life at sea produces a special kind of mutual understanding. A legionnaire of yore makes an about-face.
---
MAFIA MAMMA
Director: Catherine Hardwicke
U.S. Release: April 14
U.K. Release: TBA
Official synopsis: MAFIA MAMMA follows an insecure American woman (Toni Collette) who unexpectedly inherits her grandfather's mafia empire in Italy. Guided by the firm's trusted consigliere (Monica Bellucci), she hilariously defies everyone's expectations, including her own, as the new head of the family business.
---
MATTER OUT OF PLACE
Director: Nikolaus Geyrhalter
U.S. Release: April 14
U.K. Release: March 25 at WatchAUT – Austrian Film Festival, release TBA
Official synopsis: Waste on the shores, waste on the mountains. On ocean floors and deep down in the earth. The term "matter out of place" refers to objects in a place they originally do not belong to. And there are many such objects in the places Nikolaus Geyrhalter visits for this film. In his unique imagery consisting of minutely composed pictures, the director traces immense amounts of waste across our planet. He travels from the mountain tops of Switzerland to the coasts of Greece and Albania, into an Austrian refuse incinerator and then to Nepal and the Maldives, and finally to the deserts of Nevada.
MATTER OUT OF PLACE is about human-made refuse, which is surrounding us all the time everywhere. On his journey, Geyrhalter illustrates the sheer endless struggle of people to gain control over the vast amounts of waste that we produce every single day. Collecting, shredding, burning, burying – a Sisyphean task, which ostensibly solves the global problem of rubbish that is stealthily growing.
---
NEFARIOUS
Director: Chuck Konzelman & Cary Solomon
U.S. Release: April 14
U.K. Release: TBA
Official synopsis: On the day of his scheduled execution, a convicted serial killer gets a psychiatric evaluation during which he claims he is a demon, and further claims that before their time is over, the psychiatrist will commit three murders of his own.
---
ONCE UPON A TIME IN UKRAINE
Director: Roman Perfilyev
U.S. Release: April 14
U.K. Release: TBA
Official synopsis: Akayo samurai enters the territory of Ukraine, seeking revenge on the Japanese Harimoto, a buyer of slaves from a Ukrainian master. On his way, Akayo meets the serf Taras, who is also guided by personal revenge and wants to organize the release of his beloved.
---
ONE OF THESE DAYS
Director: Bastian Günther
U.S. Release: April 14
U.K. Release: out now on digital and on demand!
Review: One of These Days (Film Review): Americana at its Bleakest
Interview: Bastian Günther and Carrie Preston on One of These Days
Official synopsis: Director Bastian Günther's compelling, psychologically charged images ultimately draws a timeless and topical picture of poverty, wealth, and desperation. Based on true events, ONE OF THESE DAYS portrays a society in which the obsession with economic gain leads to tragedy. Anchored by terrific central performances from Joe Cole and Carrie Preston, and a great supporting cast.
---
ORGAN TRAIL (LIMITED)
Director: Megan Turner
U.S. Release: April 14
U.K. Release: TBA
Official synopsis: Abigale and her family fall victim to a ruthless gang while making their way across the Oregon Trail. As the only survivor, she will do whatever it takes to retrieve her one earthly possession, her family's horse, from the clutches of the bloodthirsty bandits.
---
THE POPE'S EXORCIST
Director: Carlos Conceição
U.S. Release: April 14
U.K. Release: April 7
Full Review: The Pope's Exorcist: Film Review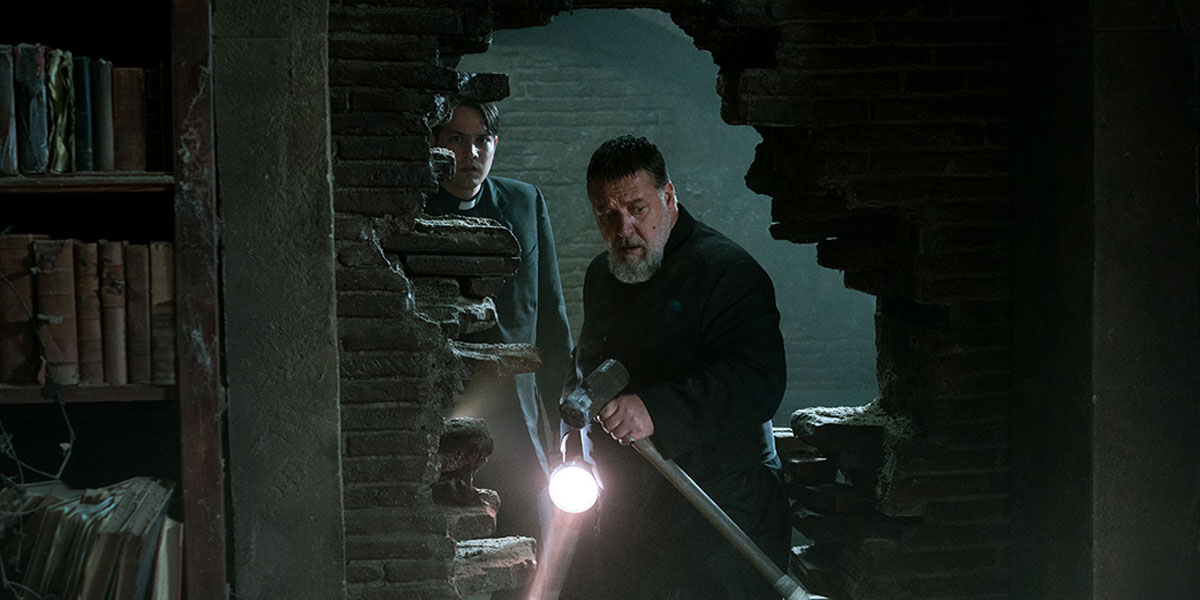 Official synopsis: Inspired by the actual files of Father Gabriele Amorth, Chief Exorcist of the Vatican (Academy Award®-winner Russell Crowe), The Pope's Exorcist follows Amorth as he investigates a young boy's terrifying possession and ends up uncovering a centuries-old conspiracy the Vatican has desperately tried to keep hidden.
---
RARE OBJECTS
Director: Katie Holmes
U.S. Release: April 14
U.K. Release: TBA
Official synopsis: A young woman with a traumatic past seeks to rebuild her life when she begins working at a New York City antique shop. Starring Katie Holmes and Alan Cumming.
---
RENFIELD
Directors: Chris McKay
Global Release: April 14
Full Review: Renfield Film Review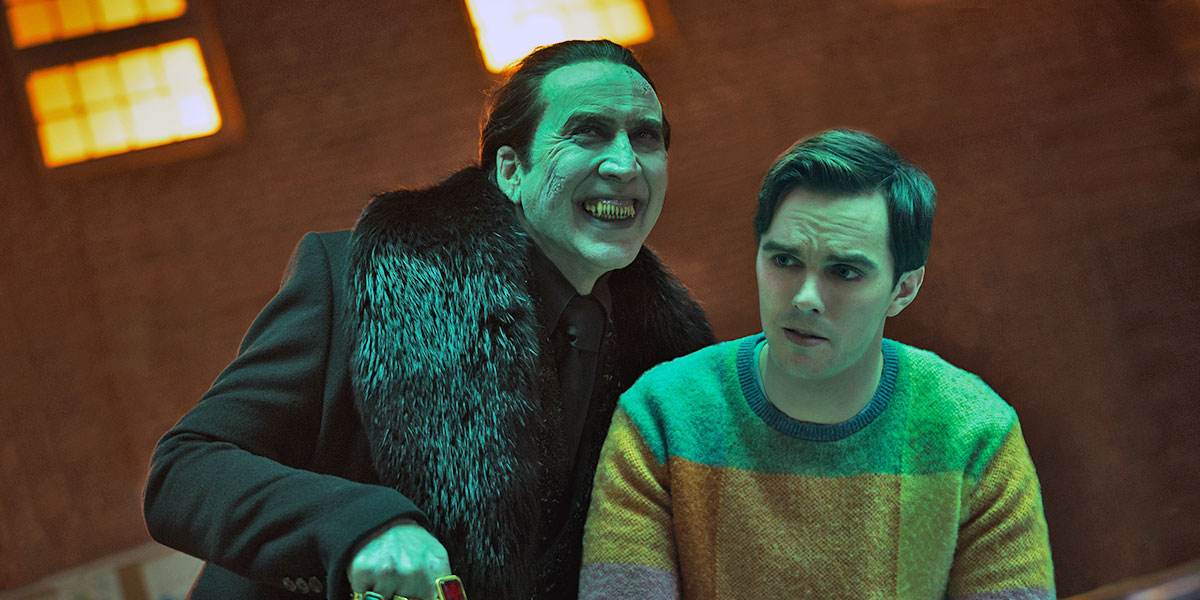 Official synopsis: In this modern monster tale of Dracula's loyal servant, Nicholas Hoult (Mad Max: Fury Road, X-Men franchise) stars as Renfield, the tortured aide to history's most narcissistic boss, Dracula (Oscar® winner Nicolas Cage). Renfield is forced to procure his master's prey and do his every bidding, no matter how debased. But now, after centuries of servitude, Renfield is ready to see if there's a life outside the shadow of The Prince of Darkness. If only he can figure out how to end his codependency.
---
SUZUME
Directors: Makoto Shinkai
Global Release: April 14
Full Review: Suzume Film Review
Official synopsis: 17-year-old Suzume's journey begins in a quiet town in Kyushu when she encounters a young man who tells her, "I'm looking for a door." What Suzume finds is a single weathered door standing upright in the midst of ruins as though it was shielded from whatever catastrophe struck. Seemingly mesmerized by its power, Suzume reaches for the knob…
---
SWEETWATER
Director: Martin Guigui
U.S. Release: April 14
U.K. Release: TBA
Official synopsis: Hall of Famer Nat "Sweetwater" Clifton makes history as the first African American to sign an NBA contract, forever changing how the game of basketball is played.
---
WILD LIFE (LIMITED)
Director: Elizabeth Chai Vasarhelyi
U.S. Release: April 14
U.K. Release: TBA
Global Release: May 25 on National Geographic Channel and May 26 on Disney+
Official synopsis: Wild Life is a sweeping portrait of conservationists Kris and Doug Tompkins chronicling their fight to preserve one of the last truly wild places on earth.
---
THE BEST MAN
Director: Shane Dax Taylor
U.S. Release: April 21
U.K. Release: TBA
Official synopsis: Luke Wilson and Dolph Lundgren star in this pulse-pounding, action-packed thriller. When a team of ruthless mercenaries violently seize control of a remote resort hotel, former Special Ops soldiers attending their best friend's wedding must rely only on their wits and training to combat the terrorists and save the hostages held for ransom. The cast also includes Brendan Fehr, Nicky Whelan, Scout Taylor-Compton, and Scott Martin.
---
CARMEN (LIMITED)
Director: Benjamin Millepied
U.S. Release: April 21 in NY and LA
U.K. Release: TBA
Official synopsis: Benjamin Millepied's CARMEN is a gritty modern day tale, with a majestic score by Nicholas Britell, and dream-like dance sequences that evoke magic realism. The story follows a young and fiercely independent woman who is forced to flee her home in the Mexican desert following the brutal murder of her mother, another strong and mysterious woman. Carmen survives a terrifying and dangerous illegal border crossing into the US, only to be confronted by a lawless volunteer border guard who cold-bloodedly murders two other immigrants in her group.
When the border guard and his patrol partner, Aidan—a Marine with PTSD—become embroiled in a deadly standoff, Carmen and Aidan are forced to escape together. They make their way north toward Los Angeles in search of Carmen's mother's best friend, the mercurial Masilda and owner of La Sombra nightclub – a sanctuary of music and dance. Carmen and Aidan find both solace and their unwavering love for each other in the safety of Masilda's magical refuge, but time is running out as the police hunt closes in.
---
CHEVALIER
Director: Stephen Williams
Global Release: April 21
Full Review: Chevalier Film Review
Official synopsis: Inspired by the incredible true story of composer Joseph Bologne, Chevalier de Saint-Georges. The illegitimate son of an African slave and a French plantation owner, Bologne (Kelvin Harrison Jr. in a tour de force performance) rises to improbable heights in French society as a celebrated violinist-composer and fencer, complete with an ill-fated love affair and a falling out with Marie Antoinette (Lucy Boynton) and her court.
---
EVIL DEAD RISE
Director: Lee Cronin
Global Release: April 21
Full Review: Evil Dead Rise: SXSW Film Review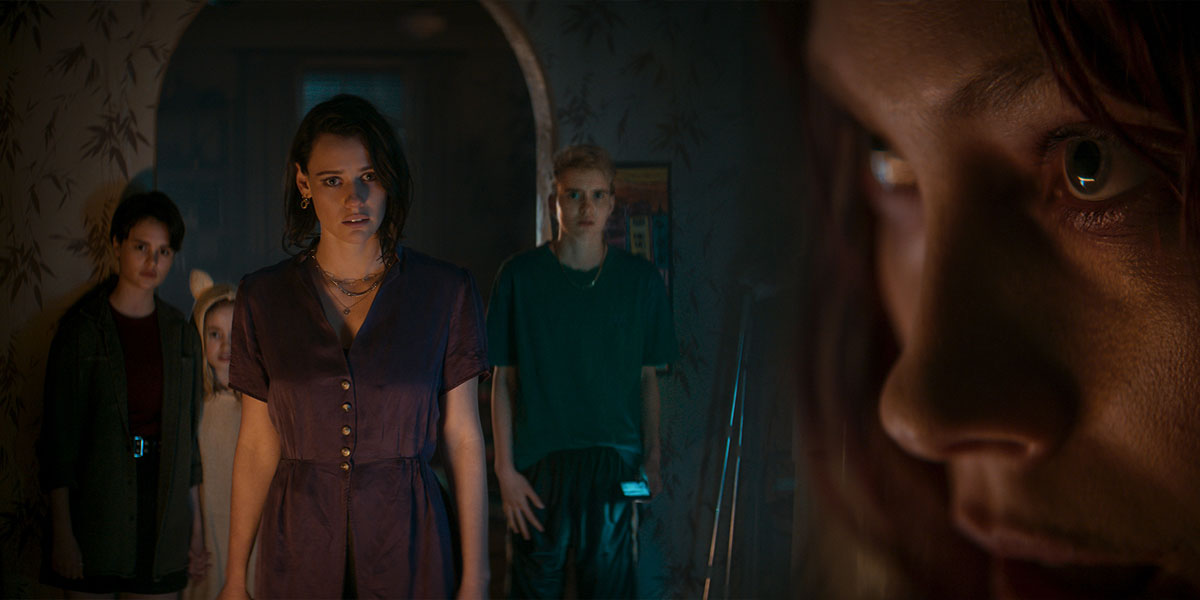 Official synopsis: A twisted tale of two estranged sisters whose reunion is cut short by the rise of flesh-possessing demons, thrusting them into a primal battle for survival as they face the most nightmarish version of family imaginable.
---
GRINGA
Directors: EJ Foerster & Marny Eng
U.S. Release: April 21
U.K. Release: TBA
Official synopsis: Unpopular Marge Bickford (Jess Gabor) is having a tough time navigating the minefield that is her high school. But Marge's life is upended when her beloved mother (Judy Greer) unexpectedly passes away. Marge decides to hunt down her estranged father (Steve Zahn), a faded ex-soccer star living in rural Mexico as a tequila aficionado and coach to the local women's fútbol team. Somehow these two misfits learn to play the game of life…both hoping that a family can be put back together, even if all you have are the missing pieces.
---
GUY RITCHIE'S THE COVENANT
Director: Guy Ritchie
U.S. Release: April 21
U.K. Release: TBA
Official synopsis: Guy Ritchie's The Covenant follows US Army Sergeant John Kinley (Jake Gyllenhaal) and Afghan interpreter Ahmed (Dar Salim). After an ambush, Ahmed goes to Herculean lengths to save Kinley's life. When Kinley learns that Ahmed and his family were not given safe passage to America as promised, he must repay his debt by returning to the war zone to retrieve them before the Taliban hunts them down first.
---
MBG (MONEY BACK GUARANTEED)
Director: Faisal Qureshi
Global Release: April 21
Official synopsis: The wait is finally over! MBG is an action, comedy, and thriller movie, written & directed by Faisal Qureshi. Releases in cinemas worldwide on Eid Al Fitr 2023. Starring: Fawad Khan, Wasim Akram, Shaniera Akram, Mikaal Zulfiqar, Ayesha Omar, Jawed Sheikh, Jan Rambo, Mirza Gohar, Hina Dilpazir, Shayan Khan, Mani, Kiran Malik, Ali Safina, Marhoom Ahmad Bilal, Adnan Jaffer, Shafaat Ali and Aqdas Waseem.
---
OTHER PEOPLE'S CHILDREN (LIMITED)
Director: Rebecca Zlotowski
U.S. Release: April 21 in NY (Film at Lincoln Center and IFC Film Center) and LA (Laemmle Royal), followed by a national expansion
U.K. Release: March 24 on digital and on demand!
Full Review: Other People's Children Film Review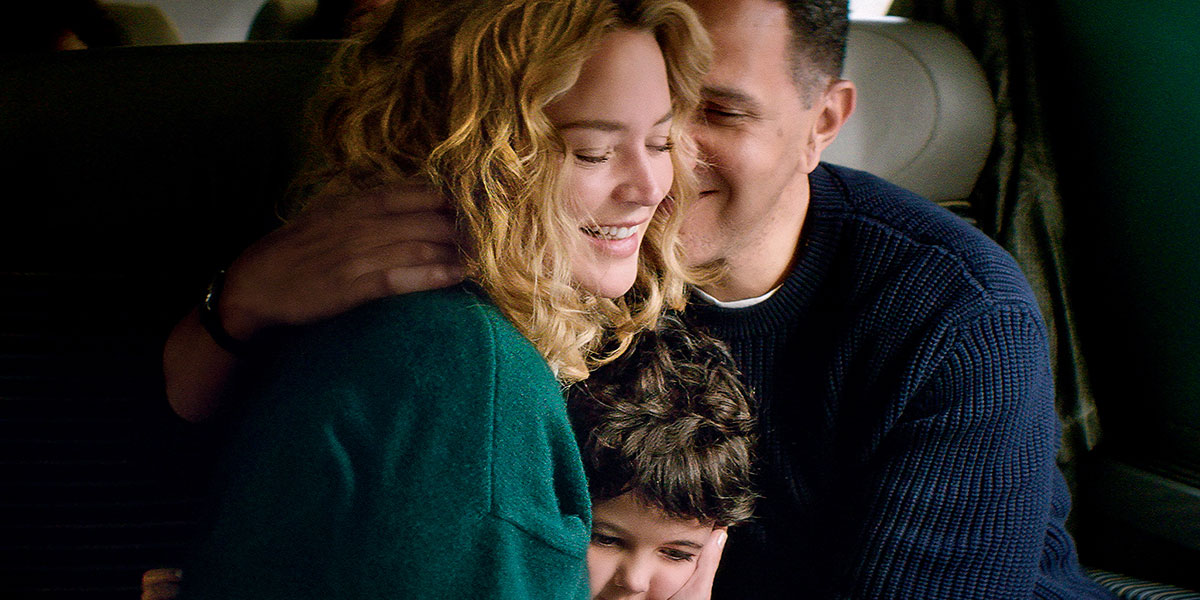 Official synopsis: In her latest film, acclaimed French filmmaker Rebecca Zlotowski (Grand Central, Planetarium, An Easy Girl) draws from her own life to depict the emotional trajectory of Rachel (Virginie Efira), a schoolteacher whose desire for a biological child seems increasingly unlikely to be fulfilled (as she's informed by her gynecologist in a delightful cameo from director Frederick Wiseman).
When Rachel starts a relationship with car designer Ali (Roschdy Zem), he's slow to let her know that he's a single father, but once she finds out, she quickly grows to love his precocious daughter, Leila (Callie Ferreira-Goncalves). The stresses and strains of close relationships between adults and children are thoughtfully examined in a drama that's as romantic in its evocation of new love blossoming in Paris as it is clear-headed about the myriad pressures that societal expectations impose on the lives of middle-aged women, with echoes of Paul Mazursky's An Unmarried Woman.
---
SOMEWHERE IN QUEENS
Director: Ray Romano
U.S. Release: April 21
U.K. Release: TBA
Official synopsis: Leo Russo (Romano) lives a simple life in Queens, New York with his wife Angela (Laurie Metcalf), their shy but talented son "Sticks" (Jacob Ward), and Leo's close-knit network of Italian-American relatives and neighborhood friends. Happy enough working at the family construction business alongside his father (Tony Lo Bianco) and younger brother (Sebastian Maniscalco), Leo lives each week for Sticks' high-school basketball games, never missing a chance to cheer on his only child as he rules the court as a star athlete. When the high-school senior gets a surprising and life-changing opportunity to play basketball in college, Leo jumps at the chance to provide a plan for his future, away from the family construction business. But when sudden heartbreak threatens to derail Sticks, Leo goes to unexpected lengths to keep his son on this new path.
---
THE TANK (LIMITED)
Director: Scott Walker
U.S. Release: April 21
U.K. Release: TBA
Official synopsis: After mysteriously inheriting an abandoned coastal property, Ben and his family accidentally unleashed an ancient, long-dormant creature that terrorized the entire region—including his ancestors—for generations.
---
TO CATCH A KILLER
Director: Damián Szifron
U.S. Release: April 21
U.K. Release: Sky Cinema, date TBA
Full Review: To Catch a Killer Film Review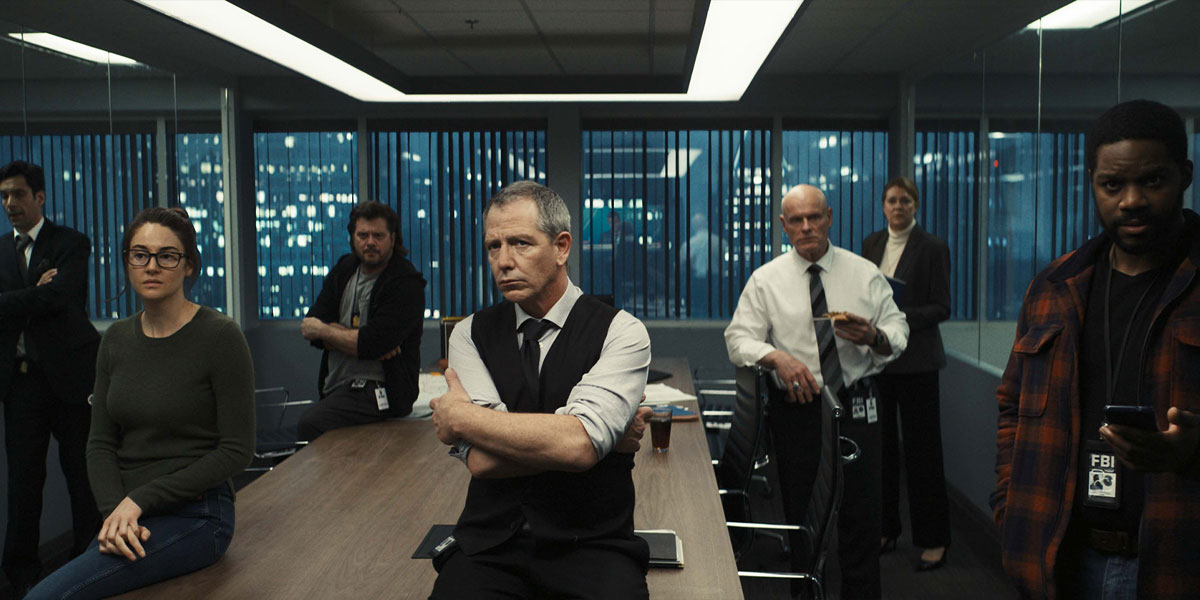 Official synopsis: A modern-day Clarice Starling, Eleanor (Shailene Woodley) is a young police investigator wrestling with the demons of her past when she is recruited by the FBI's chief investigator (Ben Mendelsohn) to help profile and track the work of a disturbed individual. As the police and FBI launch a nationwide manhunt, they are thwarted at every turn by the individual's unprecedented behavior. Given her tortured psyche, Eleanor may be the only person who can understand the mind of their assailant and bring him to justice.
---
TRENQUE LAUQUEN (LIMITED)
Director: Laura Citarella
U.S. Release: April 21
U.K. Release: TBA
Official synopsis: Told over the course of twelve chapters, and screening in two parts, Trenque Lauquen tells the story of Laura, a biologist cataloging plant species in the small town of Trenque Lauquen, Argentina, who has gone missing. Her boyfriend and a driver she's worked with team up to track her down. The two men share stories and tour the doldrums of the Las Pampas area. As they get to know one another, they begin to unravel the mystery behind Laura's disappearance, discoveries that lead to other discoveries, and even more questions.
---
32 SOUNDS
Director: Sam Green
U.S. Release: April 28
U.K. Release: TBA
Official synopsis: 32 Sounds is an immersive feature documentary and profound sensory experience from Academy Award-nominated filmmaker Sam Green (The Weather Underground) featuring original music by JD Samson (Le Tigre, MEN). The film explores the elemental phenomenon of sound by weaving together 32 specific sound explorations into a cinematic meditation on the power of sound to bend time, cross borders, and profoundly shape our perception of the world around us.
Join Oscar-nominated filmmaker Green as he takes the audience on a journey through time and space — exploring everything from forgotten childhood memories, to the soundtrack of resistance, to subaquatic symphonies — and experience in new ways the astonishing sounds of our everyday lives. 32 Sounds investigates the mysterious nature of perception and the subtle yet radical politics that arise from sensation and being present in one's body.
---
ARE YOU THERE GOD? IT'S ME, MARGARET.
Director: Kelly Fremon Craig
Global Release: April 28
Official synopsis: For over fifty years, Judy Blume's classic and groundbreaking novel Are You There God? It's Me, Margaret. has impacted generations with its timeless coming of age story, insightful humor, and candid exploration of life's biggest questions. In Lionsgate's big-screen adaptation, 11-year-old Margaret (Abby Ryder Fortson) is uprooted from her life in New York City for the suburbs of New Jersey, going through the messy and tumultuous throes of puberty with new friends in a new school. She relies on her mother, Barbara (Rachel McAdams), who is also struggling to adjust to life outside the big city, and her adoring grandmother, Sylvia (Kathy Bates), who isn't happy they moved away and likes to remind them every chance she gets.
---
BIG GEORGE FOREMAN: THE MIRACULOUS STORY OF THE ONCE AND FUTURE HEAVYWEIGHT CHAMPION OF THE WORLD
Director: George Tillman Jr.
Global Release: April 28
Official synopsis: Big George Foreman: The Miraculous Story of the Once and Future Heavyweight Champion of the World is based on the remarkable true story of one of the greatest comebacks of all time and the transformational power of second chances. Fueled by an impoverished childhood, Foreman channeled his anger into becoming an Olympic Gold medalist and World Heavyweight Champion, followed by a near-death experience that took him from the boxing ring to the pulpit. But when he sees his community struggling spiritually and financially, Foreman returns to the ring and makes history by reclaiming his title, becoming the oldest and most improbable World Heavyweight Boxing Champion ever.
---
THE END OF SEX
Director: Sean Garrity
U.S. Release: April 28
U.K. Release: TBA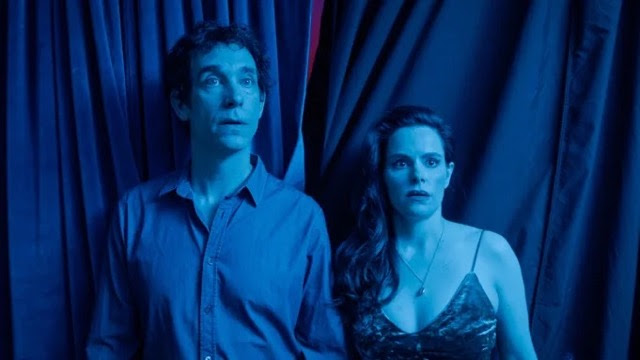 Official synopsis: The End of Sex tells the story of a married couple (Hampshire and Chernick) who are feeling the pressures of parenting and adulthood. After they send their young kids to camp for the first time, they embark on a series of comic sexual adventures to reinvigorate their relationship.
---
POLITE SOCIETY
Director: Nida Manzoor
Global Release: April 28
Official synopsis: A merry mash up of sisterly affection, parental disappointment and bold action, POLITE SOCIETY follows martial artist-in-training Ria Khan who believes she must save her older sister Lena from her impending marriage. After enlisting the help of her friends, Ria attempts to pull off the most ambitious of all wedding heists in the name of independence and sisterhood.
---
R.M.N.
Director: Cristian Mungiu
U.S. Release: April 28
U.K. Release: TBA
Full Review: R.M.N. (Film Review): Hatred Slowly Deteriorates the Mind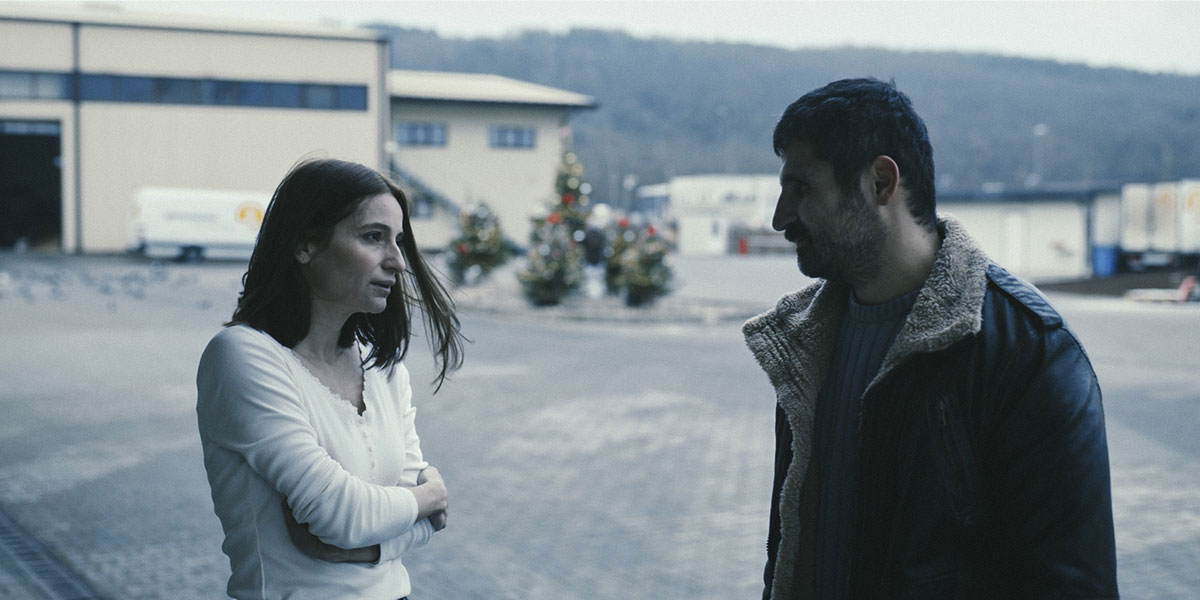 Official synopsis: A few days before Christmas, having quit his job in Germany, Matthias returns to his multi-ethnic Transylvanian village. He wishes to involve himself more in the education of his son, Rudi, left for too long in the care of his mother, Ana, and to rid the boy of the unresolved fears that have taken hold of him. He's preoccupied with his old father, Otto, and also eager to see his ex-lover, Csilla. When a few new workers are hired at the small factory that Csilla manages, the peace of the community is disturbed, underlying fears grip the adults, and frustrations, conflicts and passions erupt through the thin veneer of apparent understanding and calm
---
SNAG (LIMITED)
Director: Ben Milliken
U.S. Release: April 28
U.K. Release: TBA
Official synopsis: An Australian lone wolf's quiet existence is shattered when he learns that the woman he once loved and thought was dead is alive and held captive by ruthless gangsters. Now, to take on this dangerous criminal organization, he must seek out allies and storm into a world of violence to rescue the love of his life in this gritty, modern day violent fairytale.
---
SISU
Director: Jalmari Helander
U.S. Release: April 28
U.K. Release: May 26
Film Review: Sisu Film Review
Interview: Jalmari Helander on Sisu: Film Interview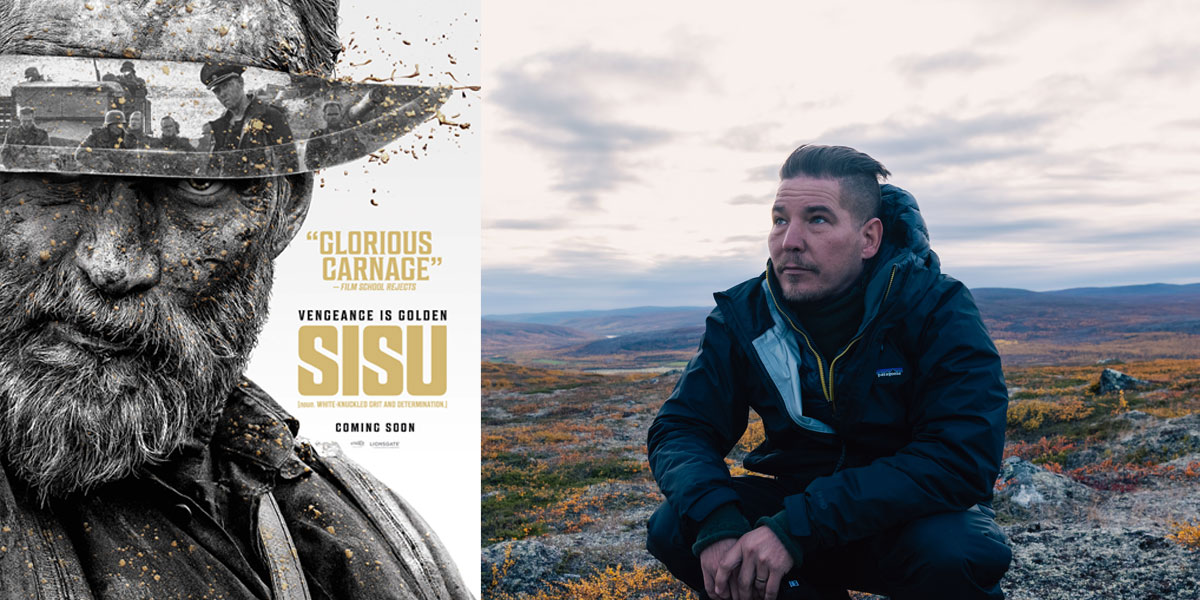 Official synopsis: During the last desperate days of WWII, a solitary prospector (Jorma Tommila) crosses paths with Nazis on a scorched-earth retreat in northern Finland. When the Nazis steal his gold, they quickly discover that they have just tangled with no ordinary miner. While there is no direct translation for the Finnish word "sisu", this legendary ex-commando will embody what sisu means: a white-knuckled form of courage and unimaginable determination in the face of overwhelming odds. And no matter what the Nazis throw at him, the one-man death squad will go to outrageous lengths to get his gold back – even if it means killing every last Nazi in his path.
---
T.S. ELIOT'S FOUR QUARTETS (LIMITED)
Director: Sophie Fiennes
U.S. Release: April 28 at the IFC Center
Official synopsis: Ralph Fiennes's exquisite performance of T. S. Eliot's poetic masterpiece is dynamically translated from stage to screen by director Sophie Fiennes (Grace Jones: Bloodlight and Bami, The Pervert's Guide to Ideology). During the early days of COVID, the Academy Award® nominee set himself the challenge of committing Four Quartets to memory, and in 2021 he brought it to the London stage followed by a tour of theaters across the UK. Written by Nobel Prize winner Eliot in the shadow of the Second World War, the poem is a searching examination of who – and what – we are. This celebrated meditation on human experience, time, and the divine offers up questions, imagery, and emotions that bear a powerful relevance to our present day.
---
APRIL 2023 MOVIES: IN U.K. CINEMAS
HAMLET – BRISTOL OLD VIC LIVE (LIMITED)
Director: John Haidar
U.K. Release: April 7
Official synopsis: Coinciding with the 400th anniversary of the publication of Shakepeare's First Folio, Bristol Old Vic's visceral production, directed by John Haidar (Richard III), excavates the dark subconscious of Shakespeare's greatest tragedy in a contemporary setting, with rising star Billy Howle (The Serpent; MotherFatherSon; On Chesil Beach, Chloe) in the title role, supported by a star-studded cast including Mirren Mack (The Nest; Sex Education; The Witcher: Blood Origin) as Ophelia and award-winning stage and screen actress Niamh Cusack as Hamlet's mother, Gertrude.
---
BLUE BAG LIFE
Director: Lisa Selby
U.K. Release: April 7
U.S. Release: TBA
Full Review: Blue Bag Life: Film Review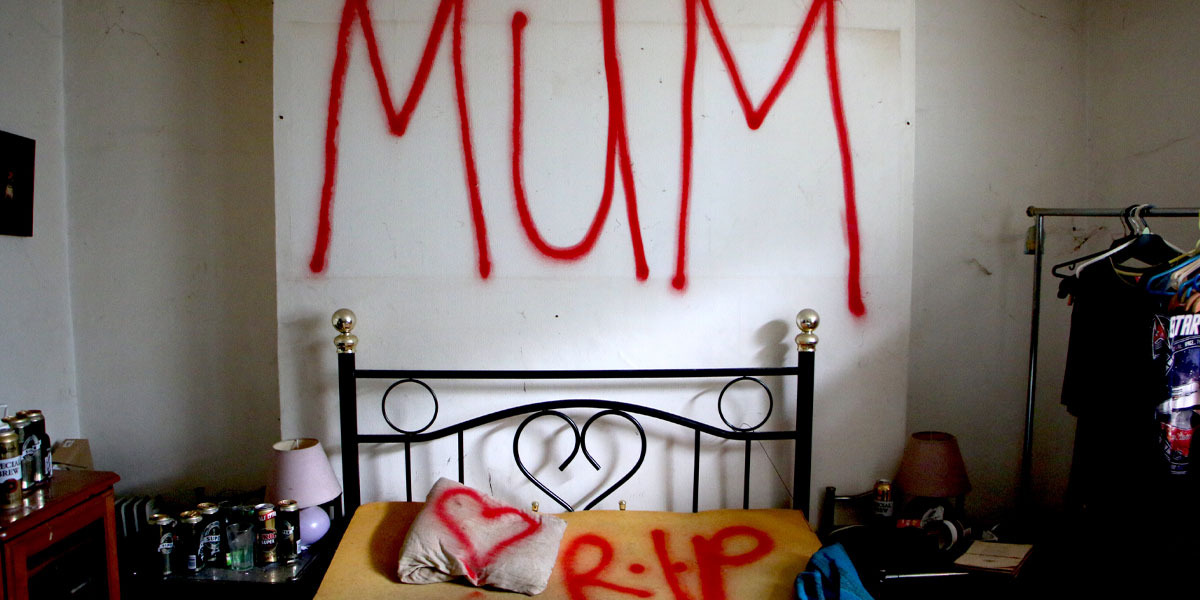 Official synopsis: Blue Bag Life is a story gleaned from material collected over a lifetime. Lisa Selby, an artist and lecturer, has always documented her life in paint, words, photographs and film.
As Lisa struggles to comprehend why her mother Helen didn't raise her, Helen dies. Helen was charismatic, articulate, beautiful and addicted to heroin. Lisa now begins to get to know the woman she never called Mother, through the things she left behind and the memories of people who knew her. Lisa's partner, Elliot, relapses on heroin and is incarcerated.
Through her own sobriety and her love for Elliot, Lisa comes to understand addiction, and Helen, differently. She also uncovers a new possibility towards motherhood deep within herself.
---
GODLAND
Director: Hlynur Pálmason
U.K. Release: April 7 in cinemas and on Curzon Home Cinema
U.S. Release: February 3
Full Review: Godland (Film Review): A Muddled but Beautiful Odyssey
Interview: Hlynur Pálmason on Godland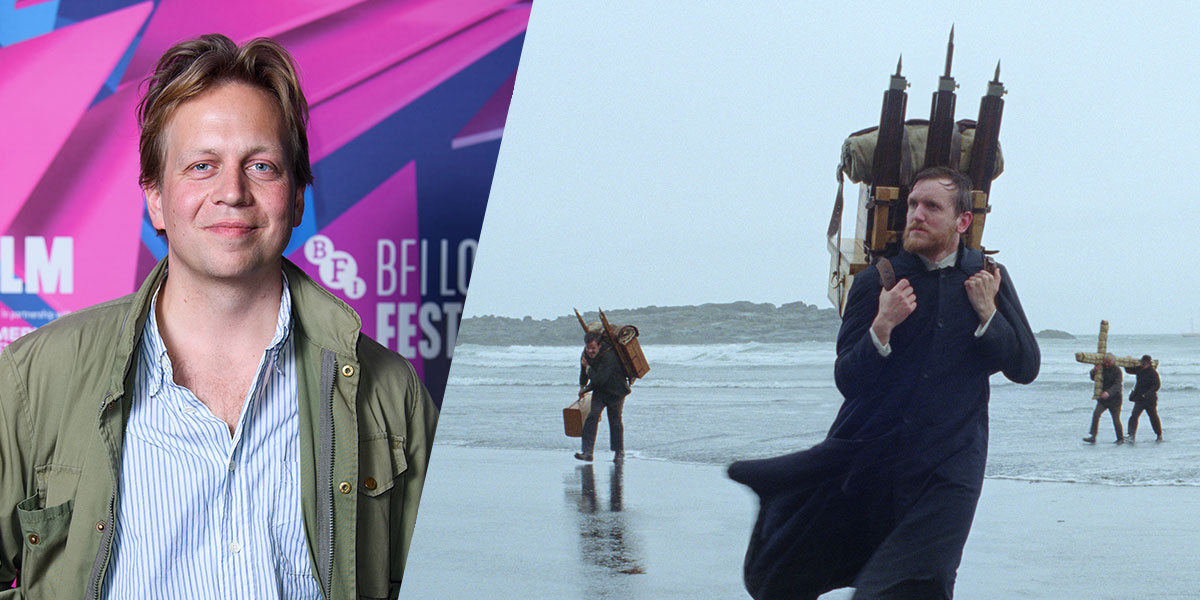 Official synopsis: Lutheran priest Lucas (Elliott Crosset Hove) has been assigned by the Church of Denmark to establish a parish in the barren wilds of Iceland. A foolhardy soul, he decides to take an arduous cross-country route, much to the annoyance of his guide and soon-to-be neighbour Ragnar (Ingvar Sigurðsson), who even has to drag him to their destination when the priest falls from his horse. Undeterred, Lucas begins his work but finds the locals less than receptive to his spiritual advances. All the while, Lucas remains both in awe of and unsettled by the beauty and indifference of the natural world. Just as he understands language to be a barrier between him and his potential congregation, so Lucas sees the landscape as a wildness he must tame.
---
IN THE COURT OF THE CRIMSON KING (LIMITED)
Director: Martika Ramirez Escobar
U.K. Release: April 7
U.S. Release: October 22 (limited)
Official synopsis: The film centres on the extraordinary character of Robert Fripp, described by bandmate Bill Bruford as "a cross between Josef Stalin, Mahatma Gandhi, and the Marquis De Sade." Fripp is the only constant member of King Crimson and is also famous for his work with David Bowie, Brian Eno, David Sylvian and Blondie.
---
LEONOR WILL NEVER DIE
Director: Martika Ramirez Escobar
U.K. Release: April 7
U.S. Release: out now on digital and on demand!
Official synopsis: Leonor Reyes was once a groundbreaking figure in the Filipino film industry during its ragtag action cinema glory days, but now she struggles with old age, mounting bills, and the untimely death of her son. While revisiting an unfinished script about a fearless protagonist trying to avenge his brother's murder, Leonor is struck on the head by a falling television set and knocked into a coma. As she lies unconscious in the hospital, fantasy and reality begin to blur when Leonor finds herself awake inside her script, becoming the hero of her own story.
---
THE OUTWATERS
Director: Robbie Banfitch
U.K. Release: April 7
U.S. Release: out now on digital and on demand!
Official synopsis: The Outwaters follows four friends who set out to make a music video whilst camping in the sun-drenched Mojave desert. Their trip starts off like any other, but the group soon realises something is not right. Mysterious sounds haunt them, and when a menacing force descends, their horrifying journey into soul-shattering darkness begins.
---
CAIRO CONSPIRACY
Director: Tarik Saleh
U.K. Release: April 14
U.S. Release: January 27
Official synopsis: Adam (Tawfeek Barhom), the son of a fisherman, is offered the ultimate privilege to study at the Al-Azhar University in Cairo, the epicenter of power of Sunni Islam. Shortly after his arrival in Cairo, the university's highest ranking religious leader, the Grand Imam, suddenly dies and Adam soon becomes a pawn in a ruthless power struggle between Egypt's religious and political elites.
---
LOVING HIGHSMITH
Director: Eva Vitija
U.K. Release: April 14
U.S. Release: September 22, 2022 (limited)
Official synopsis: LOVING HIGHSMITH is a unique look at the life of celebrated American author Patricia Highsmith based on her diaries and notebooks and the intimate reflections of her lovers, friends and family. Focusing on Highsmith's quest for love and her troubled identity, the film sheds new light on her life and writing. Most of Highsmith's novels were adapted for the big screen; the best known of these are STRANGERS ON A TRAIN and THE TALENTED MR. RIPLEY.
---
ONE FINE MORNING (LIMITED)
Director: Mia Hansen-Løve
U.K. & Ireland Release: April 14 in cinemas and June 16 on MUBI.
U.S. Release: January 27
Full Review: One Fine Morning (Film Review): Finding Unexpected Love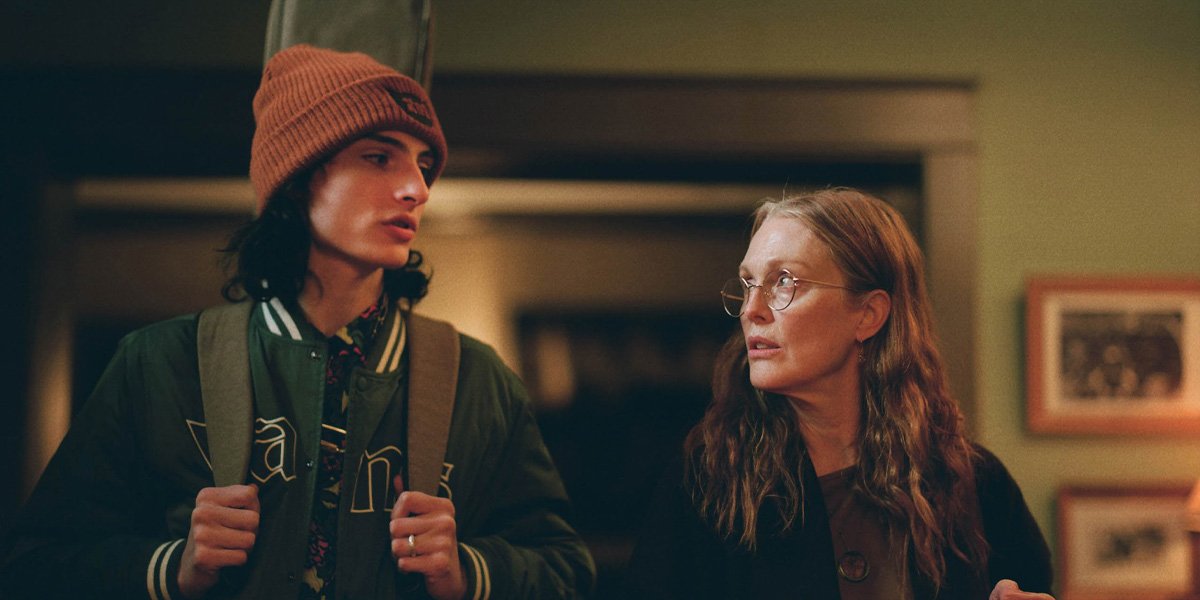 Official synopsis: Sandra (Lea Seydoux) is a widowed young mother raising her daughter on her own, while also caring for her sick father (Pascal Greggory). She's dealing with the loss of the relationship she once had with her father, while she and her mother and sister fight to get him the care he requires. At the same time, Sandra reconnects with Clément (Melvil Poupaud), a friend she hasn't seen in a while and, although he's married, their friendship soon blossoms into a passionate affair.
---
NEVER FORGET TIBET
Director: Jean-Paul Mertinez
U.K. & Irish Release: April 19
U.S. Release: March 2022 (limited)
Official synopsis: Never Forget Tibet explores, with His Holiness 14th Dalai Lama, the details of his incredible escape into exile for the first time on film in his own words with the Indian political officer who led him to safety. Featuring the Tibetan community in exile and those with historic ties to Tibet, the film explores the Dalai Lama's compassion for a world seemingly in crisis today and seeks to find what can be learnt from his inspirational life story, Tibetan culture and its ancient spirituality.
---
A CLEVER WOMAN (LIMITED)
Director: Jon Sanders
U.K. Release: April 21
U.S. Release: TBA
Official synopsis: A Clever Woman tells the story of sisters and performance artists Phoebe (Josie Lawrence) and Dot (Tanya Myers), who have returned to their family home on the Isle of Wight a year after the death of their mother, an accomplished composer. As they prepare the family home for sale, reminisce and clear decades of family clutter, they start to work on a site-specific performance piece about their complex relationship with their mother and her serial infidelities. The piece incorporates the mother's compositions for the pianola, including songs using the poems of the Victorian feminist, Mary Coleridge.
---
PACIFICTION
Director: Albert Serra
U.K. Release: April 21
U.S. Release: February 2023
Film Review: Pacifiction (Film Review): Political Paranoia & the Inevitability of Evil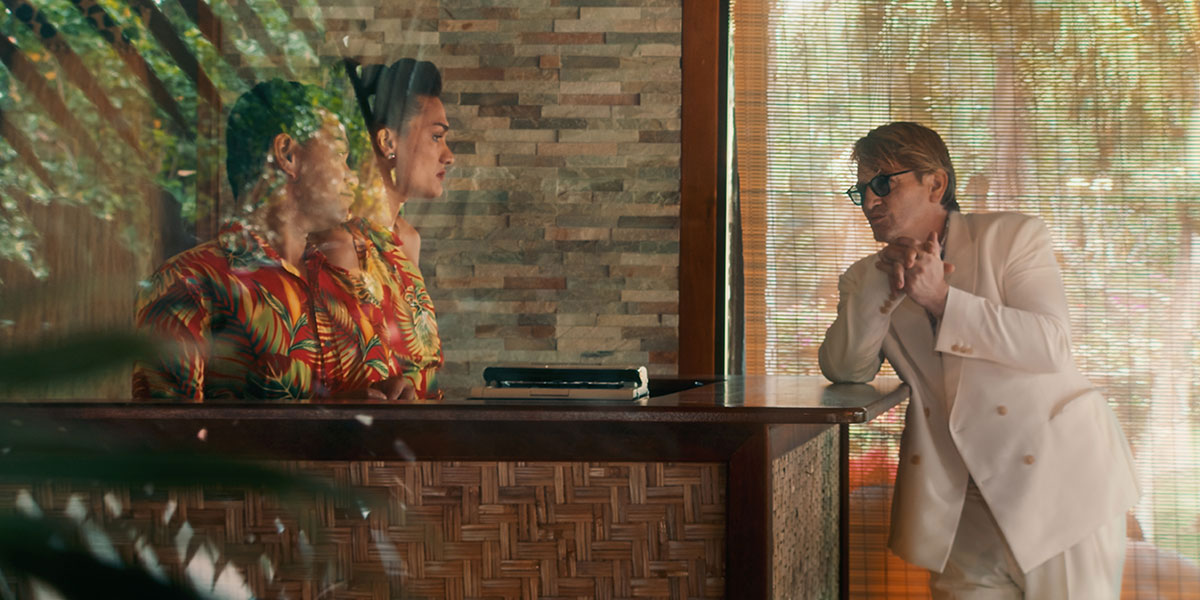 Official synopsis: A murky tale political intrigue and municipal power struggles, the film is set on the beautiful island of Tahiti in French Polynesia, and focuses on De Roller (a wonderful turn from Benoit Magimel) the High Commissioner and French official. A calculating man, with flawless manners, he has a somewhat broad perception of his role in which he navigates the high end 'establishment' as well as shady venues where he mingles with the locals. Especially as there has been a persistent rumour going round: the sighting of a submarine whose ghostly presence could herald the return of French nuclear testing.
---
SICK OF MYSELF
Director: Kristoffer Borgli
U.K. Release: April 21
U.S. Release: TBA
Full Review: Sick of Myself (Film Review): A Squirm Inducing Wonder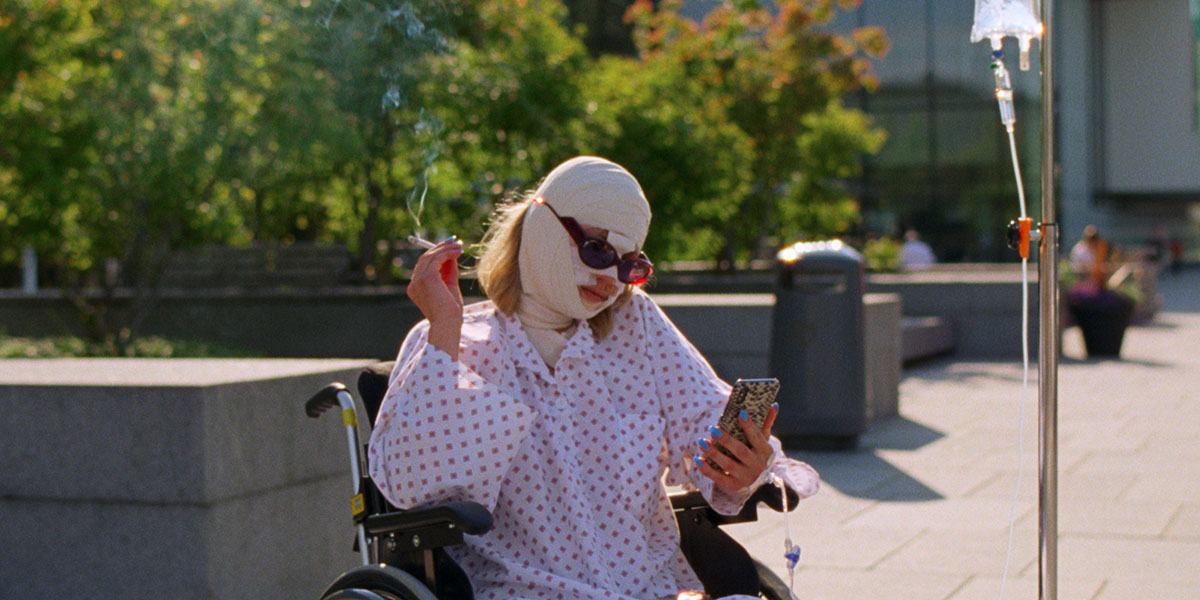 Official synopsis: Bored cafe waitress Signe (Kristine Kujath Thorp) and her boyfriend Thomas (Eirik Sæther) are in an unhealthy, competitive relationship that takes a vicious turn when Thomas suddenly breaks through as a contemporary artist. In response, anti-heroine Signe makes a desperate attempt to regain her status by creating a new persona hell-bent on attracting attention and sympathy.
---
LEAVING TO REMAIN
Director: Mira Erdevički
U.K. Release: April 28
U.S. Release: TBA
Official synopsis: LEAVING TO REMAIN explores the experience of migration through the lives of three extraordinary characters – a lawyer, a policeman, and a student – who belong to one of the Britain's largest but least understood minority communities. This compelling and moving feature documentary directed by Mira Erdevički will be released by Verve Pictures in UK cinemas on 28 April.
---
LOVE ACCORDING TO DALVA
Director: Emmanuelle Nicot
U.K. Release: April 28 in cinemas and on Curzon Home Cinema
U.S. Release: TBA
Full Review: Love According to Dalva Film Review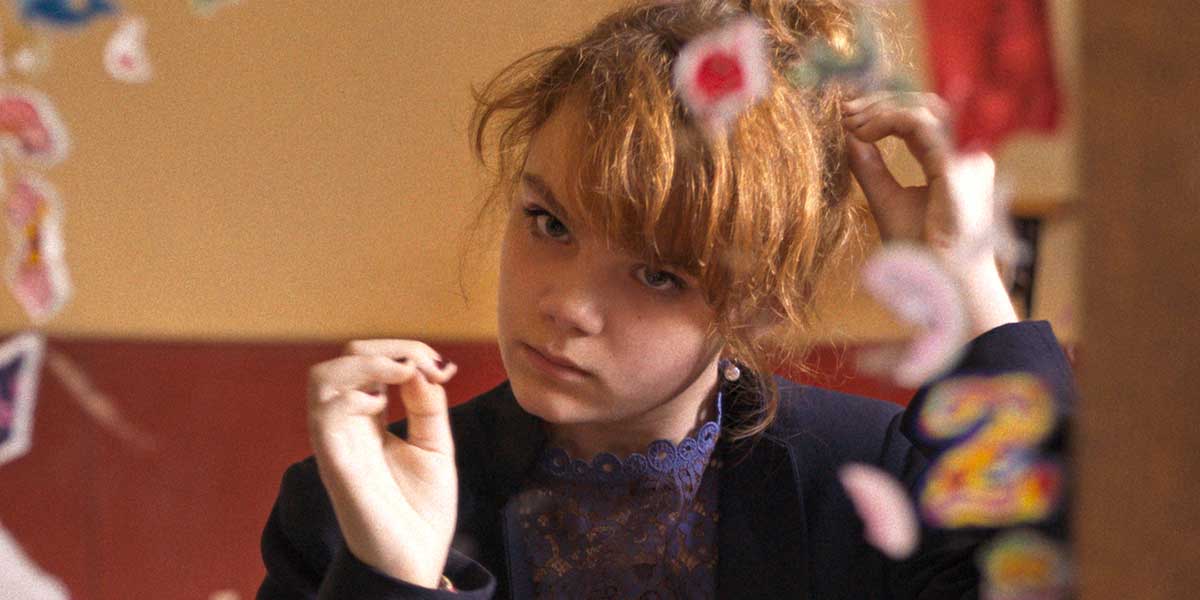 Official synopsis: Dalva, 12, lives alone with her father. She dresses, wears make-up and lives like a woman. One evening, the police storm into their home and take her into foster care. Dumbfounded and outraged at first, she later meets Jayden, a social worker, and Samia, a teen with a temper. Through these new relationships, can Dalva learn to become a child again?
---
MY EVEREST
Director: Carl Woods
U.K. Release: April 28
U.S. Release: TBA
Official synopsis: Bringing together a motley crew of friends, Max decides to take on his biggest challenge yet: to trek to Everest Base Camp on horseback. Yet as the reality of his world-first trek dawns, putting his body through incredible pain, he is forced to dive deep into his own self worth and question his original motivations. Featuring the astonishing scenery of the Himalayas, My Everest is a compelling documentary that invites the audience to understand Max's world as a disabled man, and how his drive to defy societal expectations led him to put his life on the line, and by doing so, question why he felt he had to prove himself to the world.
---
RODEO
Director: Lola Quivoron
U.K. Release: April 28 in cinemas and on Curzon Home Cinema
U.S. Release: March 17 (limited)
Official synopsis: Julia (Julie Ledru) lives on a social housing estate with her mother and brother. Relations at home are fraught and Julie's only escape is urban dirt-biking, but coming from an underprivileged household she hasn't the money to own her own. So, she steals them; and she's pretty good at it. It's while on one of these stolen bikes that she encounters the B-More gang, a group who revels in the world of urban rodeos, a sub-culture of motorbike fanatics whose activities reach far beyond the stunts they revel in.
Initially suspicious of Julie's presence, her hustling abilities draw her into the fold, close to the gang's imprisoned leader and his tough but troubled wife Ophélie (Antonia Buresi). As she becomes more embroiled in the gang's underhand dealings, Julia reveals plans for a heist that could net them a small fortune but carries with it no small amount of danger.
---
THE UNLIKELY PILGRIMAGE OF HAROLD FRY
Director: Hettie Macdonald
U.K. Release: April 28
U.S. Release: TBA
Official synopsis: A seemingly unremarkable man in his 60s named Harold one day learns his old friend Queenie is dying. He embarks on a walk, only to keep going for 450 miles until he reaches Queenie's hospice, much to the despair of his wife Maureen.
---
MUMMIES
Director: Juan Jesús García Galocha
U.K. Release: April 31
U.S. Release: February 2023 (limited)
Official synopsis: Three ancient mummies end up in present-day London and embark on a journey in search of an old ring belonging to the royal family, stolen by the ambitious archaeologist Lord Carnaby.
---
APRIL 2023 – FILM FESTIVALS & EVENTS:
Film Festivals:
Events:
Fist of the Condor: special Live Q&A screenings at Alamo Drafthouse (NY) on April 4-5
Krzysztof Kieślowski's Three Colours Trilogy in UK cinemas in 4K: 31 March (Blue), 7 April (White), 14 April (Red).
Spirited Away Live on Stage: April 23 & 27