Angry Young Men (2022): Film Review

Angry Young Men (Courtesy of the 2022 Glasgow Film Festival)
High on ambition but low on budget, Paul Morris' Angry Young Men is a bold debut that isn't afraid to lean into its absurdist elements.
---

There's a similarity between Paul Morris' process of writing and directing Angry Young Men and the film's thematic elements: high ambition struggling to flourish in an environment that's lacking in opportunity and means. But those years of hard work have yielded a debut film that's quirky, bold and well executed despite the constraints of a fairly micro budget and compact crew.
On a Scottish housing estate, The Bramble Boys have established their turf and keep a pretty firm handle on the goings-on of their neighbours. Milk and paper rounds, making sure the local kids aren't too rowdy, having a bookie and a pimp on the payroll… Pretty run of the mill stuff. But when rival gang The Campbells turn up, intent on recruiting new members and taking over The Brambles' territory, the boys must utilise their smarts and resources to defend their position as the local authority, and avoid an all-out gang war.
Angry Young Men is certainly odd, but in a manner that's fairly endearing. The film features potentially one of the most low-octane car chases in recent memory, wherein three guys in a Nissan observe the speed limit whilst pursuing a guy on crutches through a residential area early in the morning. The weapons of choice for both gangs are bats made out of what appears to be tape and paper, which 'clunk' rather bizarrely when making contact with the body in a manner that teeters between humorous and serious. And the gangs themselves are clearly differentiated by two distinct uniforms: a balaclava and a jumper (substituted for a black jacket if you're one of the higher-ups) for the Campbells, and a camouflage poncho and black beret for the Bramble Boys.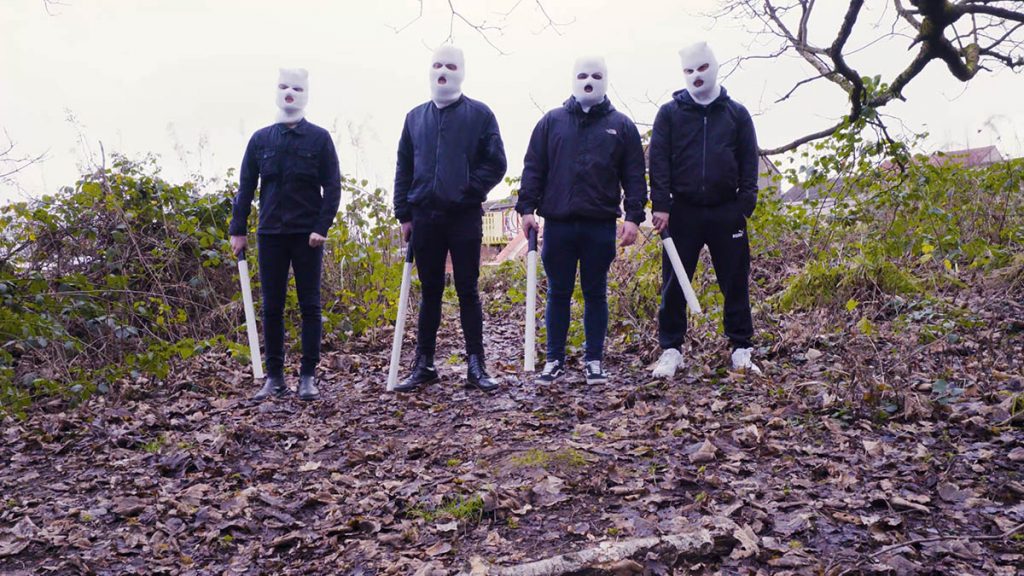 Morris' vision for the film is pretty clear, and while low in budget, Angry Young Men is high in ambition. There's a confidence in the way the film leans in to its more absurdist elements; it isn't afraid to play into the schtick and trust the audience to play along. It's darkly funny, with some witty one liners and visual gags, even if the performances delivering the material aren't always completely convincing. It's a cast made up predominantly of first-time actors, so some wooden moments are understandable, but there is a tangible sense of camaraderie that's clearly been fostered on the small set, with Morris at the helm and in the midst, starring as Bramble Boys' leader Jimmy.
See Also

It's a clear labour of love, nurtured for a long time and finally granted a platform at the Glasgow Film Festival. Angry Young Men is an exciting peek at the future for Scottish filmmakers, especially those like Morris who are unafraid to take risks and self-fund their passion projects. It's a film a little bit outside the box, imperfect but self-assured and so clearly crafted, despite humble beginnings and long, slow chase to the finish line. (Perhaps in a Nissan.)
---
Angry Young Men had its UK Premiere at the 2022 Glasgow Film Festival on 9 March, 2022.