All of Us Strangers: LFF Film Review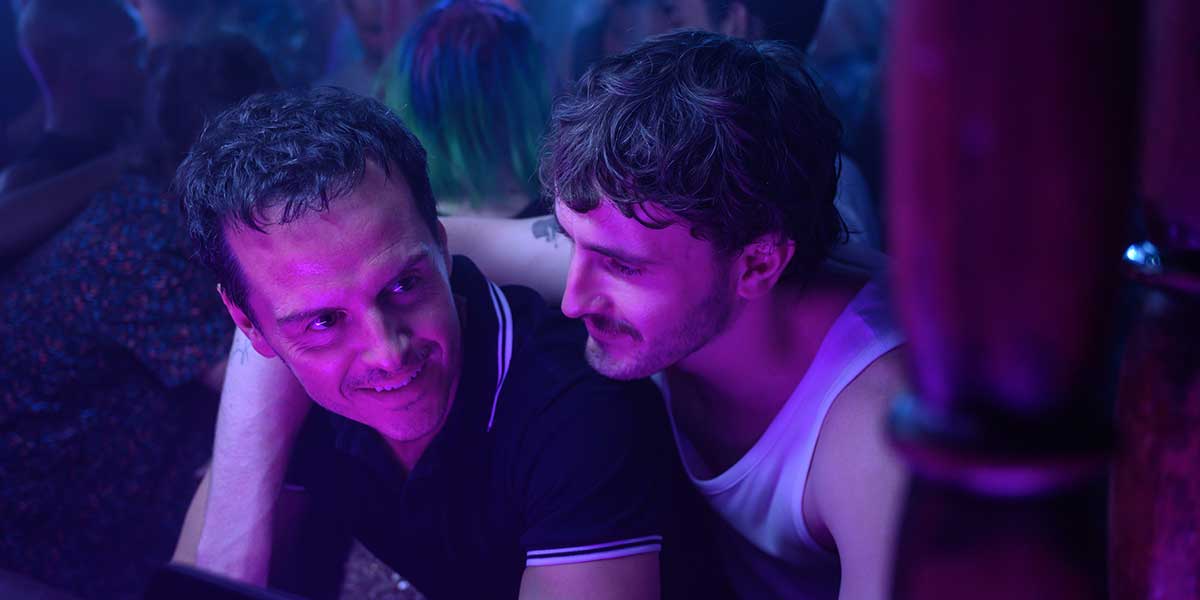 All of Us Strangers (Searchlight Pictures)
All of Us Strangers, Andrew Haigh's intimate gay romance within a metaphysical drama, is perfect.
---

The Pet Shop Boys seem like the perfect intersection of '80s British culture and gay culture. Two of the synth-pop band's songs are employed in these subtexts in All of Us Strangers, the new film from British director Andrew Haigh (Weekend, 45 Years and HBO's Looking). The first, 'I Want A Dog,' is heard at a gay nightclub. The second, their cover of 'Always On My Mind,' is played in a suburban house as the Christmas tree is decorated. It is a precious memory tainted with the knowledge that things will soon change for the worse. Both scenes – and songs – connect the two sides of Haigh's astonishing gay romance drama with a metaphysical film that subtly, brilliantly swells with emotion.
As we start, a weary Adam (Andrew Scott) looks out as the sun rises over the London skyline. He is a struggling screenwriter who sometimes works in TV, living in a high-rise building. A fire alarm leads to an awkward first meeting with Harry (Paul Mescal), a Northerner who is seemingly his only neighbour. Meanwhile, Adam is currently writing a suburban coming-of-age story set in 1987. For research, he takes the train to Sanderstead and the house from his childhood. There, he reunites with his mum (Claire Foy) and dad (Jamie Bell), which should be impossible. They died in a car crash when he was just 11.
But here they are, very much alive – preserved as if it were still 1987. As Adam's trips home become more frequent, his relationship with Harry becomes more and more intimate. And the latter's outgoing nature may bring Adam out of his reserved and lonely nature.
"Is this real?" Adam asks in one scene. "Does it feel real?" Mum replies. It certainly feels ethereal. All of Us Strangers is based on the 1987 novel by Japanese author Taichi Yamada, which viewed nostalgia as poisonous. Haigh takes a different approach, adding the gay narrative and pouring some of himself into it (scenes of Adam with his mum and dad were shot in the director's childhood home just outside of Croydon). It's not quite a ghost story, but there are ghosts, and Haigh uses them to wonder how we remember and wonder about our parents. What would we tell them if you saw them one more time? What if we got to hear the things we never got to hear?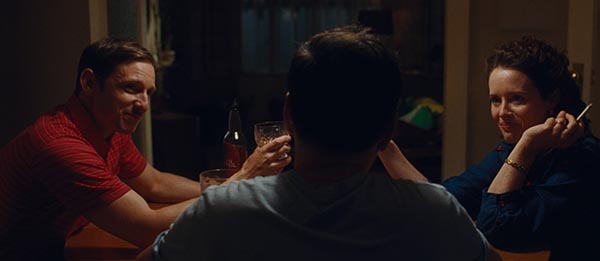 The film looks spellbinding, with every environment feeling lived-in. That includes Adam's old room, full of posters and records from Frankie Goes to Hollywood and Erasure albums (the former has a song that becomes a motif here, including for its climax). Jamie D. Ramsay (Living) shoots in 35mm with occasional slow dissolves. Also from Living, composer Emilie Levienaise-Farrouch produces a humming electro score that works well with an '80s soundtrack that will mean a lot to British audiences. But the critical aspect of All of Us Strangers is the cast. For Adam, Haigh has said he chose Andrew Scott – and a gay actor in general – for the nuance he would bring.
And Scott is heartachingly superb and sensitive here as a gay man who has always felt alone, never quite able to move on from losing his parents. He is caught between two ages, perhaps best symbolised when he returns home and wears his old pyjamas. He has grown out of them physically but not emotionally.
Elsewhere, Paul Mescal has become one of the best actors of his generation (see Aftersun). Once again, he is incredibly engaging. Harry's bond with Adam is intimate and passionate and founded on the fact they don't really have anyone else, with Harry on the outside looking into his family circle. And Jamie Bell and Claire Foy (both younger than Scott) naturally slip into their roles as Adam's parents. Bell is wry, matter-of-fact and emotionally suppressive. Foy is excited and affectionate. Importantly, Haigh gives Adam one-on-one time with both of them as he confronts how he grew up – and they express their regret.
His father always suspected Adam was gay but said nothing, even as he was viciously bullied at school. Conversely, his mother doesn't know, meaning Adam has to come out. When he does, she is a little confused. What about "that awful, ghastly disease?" Adam answers that "everything's different," highlighting how time has changed differences and preconceptions regarding Adam's sexuality. Yet that same gap hasn't healed the pain of losing his mum and dad. It is as if he has been haunted ever since.
Warm, compassionate and melancholic in equal measure, All of Us Strangers is perfect. Scott, Mescal, Bell and Foy are all phenomenal in a film about someone who still needs the loving and comforting embrace of his parents but also the chance to open up and find someone. And Andrew Haigh tackles love, loss and loneliness whilst crafting an absorbing and fairly complex story. Some trippy and nightmarish moments are included, as is an ending of togetherness but also goodbyes and heartbreak. Just as Adam discovers the power of love – a force from above, cleaning his soul.
---
All of Us Strangers will be screened at the 2023 BFI London Film Festival on 8-10 October and will be released in US theaters from December 22 and in UK cinemas from January 26, 2024. Read our article on the exploration of grief in The Boy and The Heron and All of Us Strangers.