Alien on Stage (Review): The Best "Alien" Film Since "Aliens"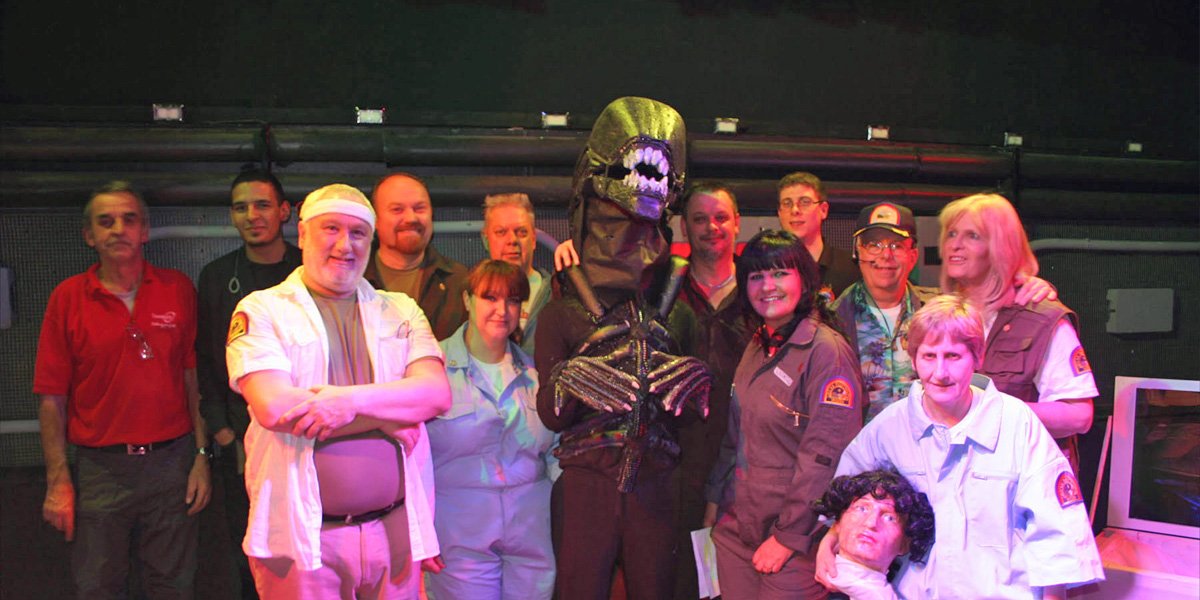 Wimborne Show: The Cast and Crew of Alien on Stage (Alien on Stage: The Documentary)
Alien on Stage fills the space left behind by a chestburster with good-humor, empathy, and fun in a smart, winning underdog story.
---

In a festival and awards season filled with COVID, racial, economic, and gender strife, Alien on Stage was the panacea I needed. The documentary tells the story of a group of bus drivers in Dorset who spend a year preparing to put on a stage performance of Alien. The show is a flop. Random chance (and the support of our industrious filmmakers) helps lead the Dorset drivers to reunite for a one night only chance to perform their show on West End.
The filmmakers, neophytes Danielle Kummer and Lucy Harvey, have crafted a story that's equal parts slice of life drama, rich tribute to passionate creatives, and uplifting British comedy in the vein of Calendar Girls or Waking Ned Devine. Kummer and Harvey film their subjects with an infectious sense of warmth and compassion. Personally, as someone who works a day job and then invests himself in film writing with his free time, I found the energy all the cast and crew are able to apply to bringing Alien to life genuinely inspiring.
There's also a light, uplifting tone deftly deployed. Even when frustration over unlearned lines reaches a near boil, the show's director, Dave, keeps a light and decent tone with his cast. The cast drinks and smokes and ribs one another with the sort of well-hewn banter of old friends. By the time we reach the show's West End performance, I felt a real personal stake in the success of these people. From the calm, competent audio team to the lovable goofball playing Dallas (the Tom Skerritt role in Alien) who is apparently allergic to learning his lines, lovable underdogs are the name of the day.
Perhaps my favorite of the film's many memorable characters is a fellow named Pete. Pete, a bus station supervisor by night, is tasked with crafting the show's special effects. Leaving aside the man's almost overwhelming good humor, his craft is genuinely impressive! His xenomorph skull mounted on a bicycle helmet and his reticulated xenomorph tail – operated by a series of wires through little holes – evince the sort of microbudget creativity that would make Ray Harryhausen smile. On stage, his creation ends up looking quite glorious. I couldn't help but feel touched by Pete's quiet hope that Ridley Scott would appreciate the work he's done.
There's extremely creative low budget filmmaking on display here too. From the use of a go-pro on the show's xenomorph to quaint interstitials well-inspired by the Alien franchise, Kummer and Harvey show a knack for servicing both the needs of their documentary story and the broader appeal of the Alien franchise. I certainly never imagined a film could so effortlessly generate tension from the "big question" of if a couple of fishing poles would work well enough to allow the show's chestburster recreation to succeed. It almost feels too cynical to write, but it's too easy to imagine a fictional adaptation of this story with British comedic stalwarts like Simon Pegg and Nick Frost in leading roles. Alien on Stage stands as a kind-hearted tribute to people who make community theater possible. It's certain to stand as one of the year's most uplifting and charming documentaries.
---
Alien on Stage premiered at SXSW on Thursday, March 18th.