Alice, Darling (2023): Film Review

Alice, Darling (Lionsgate)
Alice, Darling allows Anna Kendrick to give a career-best performance playing a woman who's trying to survive a psychologically abusive relationship.
---

One of the greatest benefits of the #MeToo movement was the power that women were given to tell their own stories. There are endless examples of films that surround female friendship, domestic violence, and female-centric social issues that were all written and/or directed by a man. With the slow transition to being more inclusive as to who Hollywood allows to tell what kinds of stories, audiences are getting more diverse films that tackle subject matters that haven't been authentically presented on screen before. Alice, Darling falls right into this category.
Alice, Darling opens with Alice (Anna Kendrick, of A Simple Favor) meeting her best friends, Tess (Kaniehtiio Horn) and Sophie (Wunmi Mosaku), for dinner. The dinner seems to be going well, just friends catching up, but something is a little off about Alice. Every time her phone goes off, she jumps a little, and her friends are starting to notice as well. After a few rounds of drinks, Alice heads home to see her boyfriend Simon (Charlie Carrick). A few days later, these three women go to a lake house for a quick vacation, but Alice continues to act slightly off, and her friends start to realize that she is in a psychologically abusive relationship. 
Telling a story about emotional abuse is without a doubt no small feat, but Mary Nighy directs Alice, Darling with empathy and the confidence of someone who has made dozens of films before. From a visual standpoint, trying to portray someone who is in an abusive relationship without showing scenes where there is physical violence takes a director who is able to fully understand the headspace that a psychologically abused victim would have. With every frame where we see Alice, we can tell the pain that she is in, even before she realizes it herself. There is a subtle sensitivity that Nighy has that makes you root for Alice, even when she doesn't make the best decisions, just because this portrayal of someone who is really struggling with their mental health feels so authentic.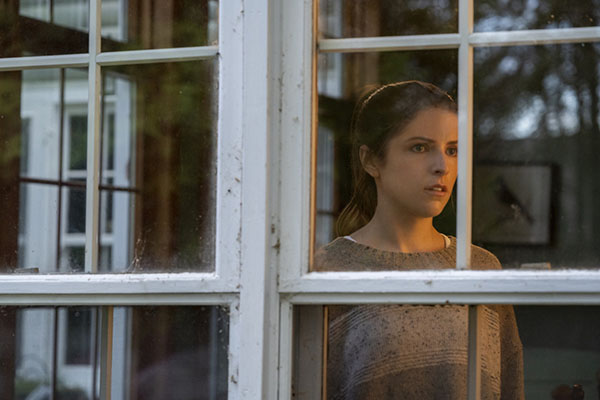 Going a little deeper, the audience is able to feel Alice's pain partly because of the effective filmmaking on all sides. We have all been in situations where you are either talking to someone or at least in the same room as someone else, but your mind is completely on something else. Even if the space that you are physically in is happy and positive, if your head is in a negative space, it makes everything feel darker and drained of life. In Alice, Darling, we can see this same phenomenon occur numerous times, especially in the first half of the film. We get little glimpses of what Alice is thinking of, and how this one person possesses nearly all of her thoughts. Having some flashes of Simon when Alice is thinking of him or hearing his voice when you know he's not there creates such a strong sense of unease. Even when Alice is experiencing joy with her friends, we are still in the palm of Simon's hand, knowing we will see him again soon.
Anna Kendrick breaks your heart hundreds of times in just 90 minutes, giving a performance that someone could only do after decades of acting. Since most of the film takes place in one or two locations without Simon, Kendrick needs to bring all the pain that Alice is feeling through her facial expressions and body movements. She plays Alice with the emotional intelligence of someone who's at the peak of their craft. There are plenty of opportunities where Alice could have screamed and cried, and those emotions would have been completely understood, but Kendrick knows when to allow her emotions to take center stage, and when to keep it subtle. One of the best examples of this is at the end of the movie, where there is a climatic standoff of sorts, and you can tell exactly what is going on in Alice's head by where she is looking and how her facial expressions change ever so slightly, making it one of the most heart-racing scenes I've seen in a while.
Even with all of this praise, Alice, Darling is far from perfect. One of the weakest points of the film is the screenplay. Psychological abuse is such a hard topic to write about, especially writing dialogue where the abuse is taking place, or someone is talking about the abuse. Alanna Francis' writing is at its best when these three women have lighter conversations, where the dialogue feels pretty authentic. As the plot goes on, Alice's struggles become more in plain sight, which is when the script becomes weaker. Many times, when these women talk about the abuse Alice is experiencing, the words they use and the way they go about discussing the details of Alice and Simon's relationship feel very surface-level. Even just adding one more scene where this friend group had more time to discuss this toxic relationship would have done the film a lot of good.
Even if some of the themes of Alice, Darling feel shallow, Francis still effectively crafts a story that feels original. There are not any clichés that I picked up on, and when you leave the theater, the overall effect of exploring domestic psychological abuse with such nuanced performances from the whole cast is what you'll remember most. Films such as Alice, Darling are part of the reason why I love going to the movies so much. Being able to go on this emotional trip with others, and knowing that a film like this has the potential to help people who could be in a similar situation, even if they don't know it, is really beautiful. With Alice, Darling, and Stowaway, it looks like Anna Kendrick might be going back to her indie roots, and if this is true, consider me seated and brimming with excitement for whatever she has next.
---
Alice, Darling is now showing globally in theaters.