Acasa, My Home: Between the City and the Sky (Review)
Acasa, My Home (Manifest Film / Zeitgeist Films / Kino Lorber)
Understated, honest, and unflinching, Acasa, My Home is a stunning portrayal of a family caught in a unique upheaval.
---

When the land surrounding Văcărești lake on the border of Bucharest was declared a Nature Reserve in 2014, it marked a significant victory for local environmental activists. The lake, the remnants of a grand, doomed communist project, had flourished over years of abandonment, transforming into one of Europe's most unique and diverse wildlife reserves, all with minimal human interaction. As the city swelled to meet it, its location made it a truly one-of-a-kind park, nestled so close to the heart of Romania's capital, now with its splendour protected by the Romanian government. Yet, as the documentary Acasa, My Home captures, this ecological achievement marked the beginning of a momentous and calamitous upheaval for one Roma family – as the land fell under government protection, the Enache family, residents of the lake's shore for over two decades, were suddenly unwelcome guests.
Acasa, My Home is the story of Gică Enache, Niculina Nedelcu and their children. By way of three years of close familiarity with the family, director Radu Ciorniciuc is able to show with exceptional intimacy the day-to-day routine of life in Văcărești's relative wilderness: fishing by hand in the clear waters of the wetland and rowing trips through the marsh's reeds. But even in this seemingly infinite freedom, the world of the city exists as a silent behemoth, its shadow looming over the park. Even through seemingly cordial co-existence, as case workers donate clothes and materials to the family, while Vali, Gică's oldest son, sells fish door-to-door in the town itself, there are omens of the Enaches' downfall. We see how adept the children have become at hiding from social services in the reedbeds of the park. When police arrive on horseback to prevent Gică from burning his garbage, he concedes with confrontational reluctance. When the mounting pressure of assimilation becomes overwhelming, Gică threatens to set himself on fire. Eventually, unavoidably, it all falls apart.
The film's second part documents the family's move into social housing in Bucharest, a transition marked by extraordinary difficulties. Having lived in the park their whole lives, none of the children are able to read or write, and they are quickly the victims of ostracization and racism. While the younger children are happy to adapt, Vali's difficulties are severe, and his increasing conflict with the fiercely patriarchal Gică becomes the focal point of the film's second act. Vali is at once comforted and confronted by his status as an outsider in this new world – becoming a park ranger, he builds a visitor centre on the land where his family once lived, while a fishing trip to a city park with his brother results in arrest.
For a debut feature, Acasa, My Home demonstrates an incredible self-assurance. The camerawork is subtle and intimate, and the decision to change camera styles between the city and the park results in a powerful sense of displacement. The sympathy with which the film treats the family, despite stubbornness to the point of self-destruction, results in a work of surprising objectivity. Though an occasional glance to camera may bely some cracks in the work's cinéma vérité sensibilities, and some stunningly incongruous moments lift us away from a first-person account of the family's struggles (in one scene, Prince Charles appears in the park like a jumpscare), the Enaches are given some semblance of authorship – if not in their fates, then at least in how those fates are retold.
The effect of all these decisions is a work that succeeds as both a portrait of these human lives and an examination of humanity's increasingly urban nature. The Enaches, Gică especially, are far from heroic figures, and yet it is impossible not to sympathise with the struggle for freedom, the fight against forced assimilation, and the pain of adaptation. Acasa, My Home is a story that is universal despite its uniqueness, a tale of liberty and generational divides with remarkable polish and style for a debut work. Regardless of any success it may achieve at the upcoming Academy Awards, success which some have tipped it for, Ciorniciuc has made an emphatic point in defence of a kinder, more intimate style of documentary filmmaking, through which remarkable and distant stories are made profoundly and familiarly human.
See Also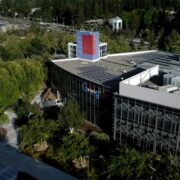 ---
Acasa, My Home opens in select US theaters and Virtual Cinemas on January 15, 2021.
---
JOIN US!
Don't miss our monthly updates with film news, movie-inspired recipes and exclusive content! You'll only hear from us once a month. #nospam