A Bigger Splash (Review): Love, Lust and Mystery

A Bigger Splash (StudioCanal)
Set on an Italian island in the middle of the Mediterranean Sea, Luca Guadagnino's A Bigger Splash is a story of love, lust and mystery.
---

Luca Guadagnino's reimagination of Jaques Deray's La Piscine (The Swimming Pool) is a visually beguiling, character driven feature. A Bigger Splash aligns us with the small yet powerful ensemble, which features Tilda Swinton, Matthias Schoenaerts, Dakota Johnson, and Ralph Fiennes as they navigate a lustful and complicated summer on an Italian island in the middle of the Mediterranean Sea. It is a slow paced drama, but it's full of mystery and secrecy, as characters' pasts are unravelled to show their true colours.
Tilda Swinton is charming as always in her role as Marianne, and, for the most part, drives the whole film. Our eyes are fixated on Marianne and her love life as she and her partner Paul (Matthias Schoenaerts) are vacationing together on the island of Pantelleria before being joined by Marianne's past friend Harry (Ralph Fiennes) and his daughter Penelope (Dakota Johnson).
Marianne is a rockstar, and is in need of a break from her face paced life. What makes Swinton's character particularly fascinating is that she is unable to speak due to an operation on her vocal cords, so her entire performance is given with little to no words. Paul is a calm and easy going character, and finds peace whenever he is with Marianne. They seem, on the outside, a couple that are always comfortable when they are with each other.
Dakota Johnson deserves just as much praise and is incredibly alluring in the way she plays Penelope. Penelope is always lounging by the pool or finding somewhere new to sunbathe, flaunting her ethereal beauty. Penelope is young and has a lot of charisma, and this makes her a very desirable character. On the contrary to Johnson's role, Penelope's father, Harry, is very narcissistic, fiery and demanding. Harry's the type of person to always get what he wants, and will make it someone elses problem if he doesn't. Film Critic David Ehlrich puts into words beautifully how captivating Fiennes' performance is.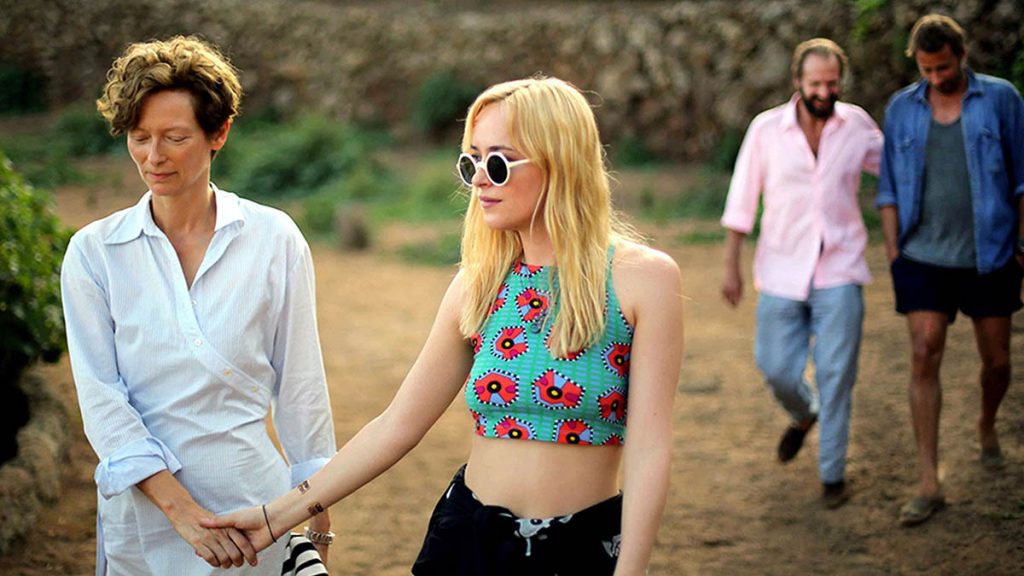 At first, when Penelope and Harry arrive, it seems normal. It is just a group of friends vacationing together, living happily. But, as the story goes on, it isn't at all happy or relaxing. A Bigger Splash prides itself on being a psychological drama, so somewhere along the narrative, we're expecting a twist. The characters are hit with multiple complications on their vacation, some more major than others. Marianne is affected more than the others by the complications, and Swinton's performance near to the end of the film is phenemoneal, as her distress can be felt through the screen. The story, however, would have benefitted from following La Piscine more closely instead. The ending is ultimately fine, but it would have been nice to see a little more character involvement as it is only Marianne who seems to feel any grief.
See Also

Guadagnino's directing style is becoming more and more distinguishable with each piece he creates. His focus on stunning visuals, especially when it comes to Italian beaches, is continuously breathtaking. Cinematographer Yorick Le Saux, who Guadagnino has worked with on I Am Love, We Are Who We Are and A Bigger Splash, always knows how to make every shot look great. When a film like A Bigger Splash is so character driven, it is nice that the visuals are payed very close attention to as well as the stars. It is especially noticeable how visually remarkable the rock scenes are when Penelope and Paul go for a walk together.
A Bigger Splash is worth the watch, especially during summertime. It would work well paired with La Piscine just to contrast the differences, and compare the similarities. If you like anything Guadagnino, or maybe you've only seen Call Me By Your Name and want to explore more of his filmography, A Bigger Splash is the perfect place to continue your love for Italian/American cinema.
---
A Bigger Splash was released on February 12, 2006, and is now available to watch on digital and on demand.