5 Video Game Movies from the 2010s
(Columbia Pictures)
---
Do you love playing video games as much as you enjoy watching movies? Are you counting down the days till the release of Sonic the Hedgehog 3, Minecraft, Halo, and many more upcoming video game movies? In recent years, there has been a surge in cinematic adaptations of popular video games, titles like The Angry Birds Movie transforming what was a popular mobile game into a beloved animated film. Pikachu graced the silver screen as an adorable, smart-aleck detective who needs coffee to solve crimes, and Tomb Raider's Lara Croft made the transition to the big screen not once, but several times. Whether you need a film to watch as you wait for new adaptations or you're a slot gaming websites fan looking to expand your universe, we have you covered! Here is a list of 5 great video game movies from the 2010s. Happy watching!
---
1. The Angry Birds Movie (2016)
Clay Kaytis & Fergal Reilly
Making the leap from mobile game to movie, The Angry Birds Movie was released in 2016 and followed by a 2019 sequel , much to the delight of Angry Birds fans. The film is set on Bird Island, a tranquil avian paradise inhabited by flightless birds. Red (Jason Sudeikis), Chuck (Josh Gad), and Bomb (Danny McBride) must defend their home when a group of green pigs arrive. These piggies are led by Leonard (Bill Hader) and harbor devious plans to steal the birds' precious eggs.
At first, it seems the pigs are friends, not foes, to the birds. But the tune slowly changes as Red, Chuck, and Bomb team up to discover that the pigs are up to no good. They must convince their fellow island dwellers to join them in an adventurous fight that takes them beyond the shores of their homeland and to the walled city where the evil pigs dwell. There, a great battle ensues, and the plot for the sequel becomes clear. Moviegoers loved this flick and its sequel for their zany humor, vibrant animation, and fantastic lineup of comedian voice actors.
Adults and kids alike will enjoy The Angry Birds Movie for its physical comedy and zingy one-liners. The heroes are endearing and relatable, and the plot is easy to follow with enriching narratives interwoven within. There's a strong message regarding the value of teamwork, patience, and friendship that successfully translates Angry Birds from the phone screen to the big screen—no easy feat.
---
2. Pokémon: Detective Pikachu (2019)
Rob Letterman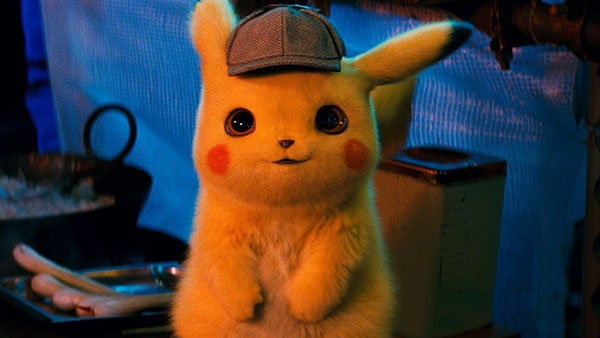 Pokémon: Detective Pikachu, released in 2019, brings your favorite little yellow creature to the screen as a detective out to fight evil. Set in Ryme City, the movie features the character Tim Goodman (Justice Smith), who gave up a lifelong dream to become a Pokémon trainer after the passing of his mother and isolation from his father. When Tim learns that his father may have died under mysterious circumstances, he goes on an adventure to uncover the truth.
Tim crosses paths with Pikachu (Ryan Reynolds) during his investigation, and the pair team up after accidentally discovering a mysterious gas substance that makes other Pokémon rabidly violent. There are further plot twists and turns throughout the film that will keep viewers enraptured at every turn.
The partnership that forms between Tim and Pika is especially heartwarming and successfully captures the magic and spirit of the Pokémon world. Critics called this movie visually stunning, nostalgic, and appealing to lifelong fans as well as newcomers to the Pokémon universe. It's also one of the 5 best movies based on Nintendo games.
---
3. Tomb Raider (2018)
Roar Uthaug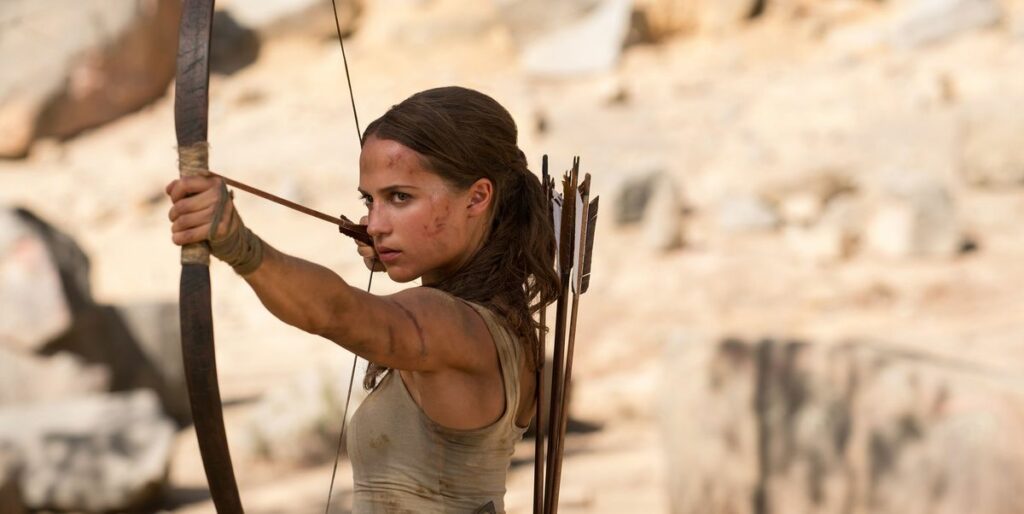 Tomb Raider was long ago made into a series of films starring Angelina Jolie, who initially nearly passed on the movie but eventually decided to take on the role of the iconic Lara Croft role. The 2018 reboot of the franchise replaces Jolie with Alicia Vikander. This is Lara Croft's origin story and tracks the archer as she embarks on a dangerous journey to a remote island in search of clues to the whereabouts of her missing father, Richard Croft (Dominic West).
Here, she must unravel the mysteries of an ancient tomb, test her survival limits, and confront a serious foe that comes in the form of a zombie life virus. There are booby traps, old burial grounds, and a sizeable inheritance in play for Lara Croft as she navigates the island.
The newest Tomb Raider is gritty and realistic: Vikander has unmatched physicality and emotional commitment to her role. This film is beloved for its thrilling action sequences and the amazing transformation our title hero makes from an ordinary bike messenger to a brave, bow-wielding warrior. This remake of Tomb Raider rebooted the franchise with a character-driven narrative that resonated with viewers.
---
4. Prince of Persia: Sands of Time (2010)
Mike Newell
Jake Gyllenhaal plays the titular character of Dastan in this 2010 movie based on a game released in 2003. Gemma Arterton takes on Princess Tamina's role, while Academy Award winner Ben Kingsley portrays undercover villain Nizam. Dastan is embroiled in a battle against dark forces seeking to unleash the power of a magical dagger with time-traveling abilities. After being framed for his father's murder, Dastan must ward off evil players who want to wield the dagger for all the wrong reasons.
See Also

There are exhilarating parkour-inspired action segments and electrifying chemistry between Gyllenhaal and Arterton as they fight for good. This film successfully captures a complex time travel-related video game rife with acrobatic moves and plot twists. If you're in the mood for a swashbuckling adventure and entertaining escape, look no further than Prince of Persia.
---
5. Assassin's Creed (2016)
Justin Kurzel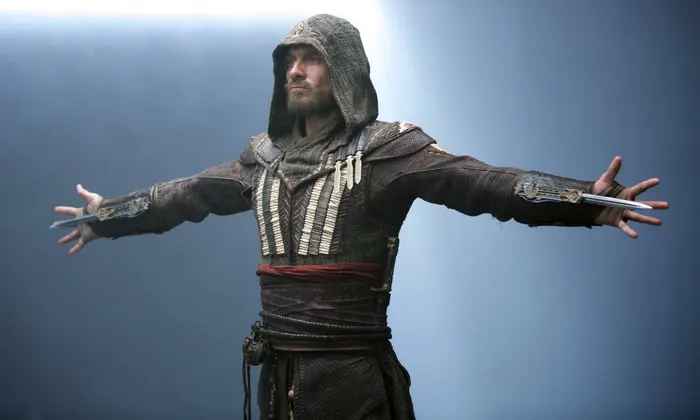 The inimitable Michael Fassbender takes on the role of Cal Lynch in 2016's Assassin's Creed. He must relive the memories of his Assassin ancestor, Aguilar, in 15th-century Spain. Cal takes on the centuries-old conflict of Assassin vs. Templar after his uncle commissions him to do so. The Templars seek an Apple of Eden that can control humanity's free will, and Cal is the key to stopping him.
His ancient ancestor, Aguilar, was the last to be seen with the Apple, so Cal has to take on the role through science-fiction means to learn of the tool's whereabouts. While in a machine that allows him to relive his ancestor's memories, Cal adventures through Spain in pursuit of the Templars.
Assassin's Creed features impressive stunt work, including the highest free fall performed in almost 35 years. Diehard video game fans praised this film for its fast pace, stylistic choices, and spot-on casting choices. Check this one out for an intriguing blend of history, futuristic technology, and video-game-inspired magic.