From the Simpsons to Shakespeare: 5 TV Shows to Introduce Students to Literature

The Simpsons (Fox)
---
Some students prefer reading books; others enjoy watching TV shows based on books. More and more production companies are always looking for great books on which to base their movies, and that is because there are just so many classic novels that make for perfect TV adaptations. Whether you're a fan of period dramas or detective stories, there's something for everyone to enjoy, and you will also learn something about the classics. More and more learners are putting their books down and spending more time watching TV. Whether you're looking for a fun, immersive series or you want to learn about a specific novel, we have you covered. Here are 5 TV shows to introduce students to literature.
How Can a TV Show Introduce Students to Shakespeare and Other Classic Literature?
Nowadays, it's difficult to find people who read hard copy literature books. In college, most students use library archives and free essay samples to get writing inspiration and online journals to find topics. They also often prefer watching videos, as some use visual references to learn more quickly and more effectively. In the world of literature, many tv shows based on books are being released every day, and some of them can be essential to introduce learners to works that they might find intimidating on paper. It's more fun to learn about the great works of Shakespeare and other great classic authors if you can do it by watching a series, and, if the TV show is good, it will be just as educational.
This is particularly beneficial for those who may struggle with traditional methods of teaching literature. Students can find essay examples on literary works that are found in TV shows to help them understand the underlying themes and motifs of the classic literature. Reading free literature essay samples and watching movies make it easier for the audience to relate to the characters and remember the plot. So without further ado, let's look at 5 TV shows that can help introduce students to literature.
---
1. The Handmaid's Tale (2017,-)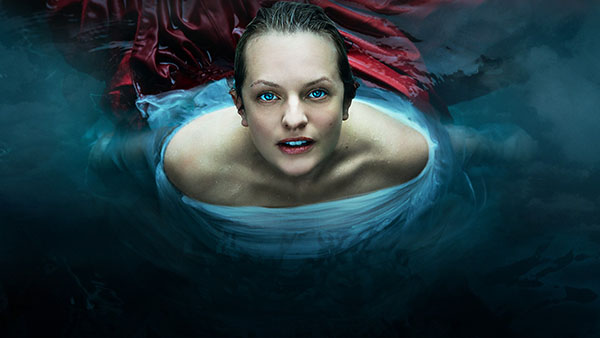 Based upon Margaret Atwood's 1985 novel of the same name, this Hulu series has been incredibly successful ever since its release in 2017, so much so that there are currently 5 seasons of the show, with a sixth underway. The Handmaid's Tale takes place in the world of Gilead – a religious state that greatly values gender hierarchy and childbirth.
It's a dystopian world set in a not-so-distant future, where fertility rates are extremely low, due to diseases and pollution, and, in the aftermath of a civil war, a new regime has been established. In Gilead, women have very few rights, so much so that many – the fertile ones – have been reduced to slaves, using the guise of religion. These women are called Handmaids, and, as a punishment for the crimes the law believes them to have committed – from divorce, which is considered to be "adultery", to being unmarried, queer, or simply not adhering to the accepted societal norms – they are sent to the houses of the wealthy and forced to bear children for them against their own wishes.
Offred (Elisabeth Moss), the main character, narrates her own story through a series of memories that focus on her captivity, marriage, and childbirth. As the movie progresses, Offred learns a lot about the world she's part of, where society is divided into classes that isolate people from one another and create even more societal problems. And tries to balance the urge to escape from it and the safety of her child.
The Handmaid's Tale is a dark watch, but it's also a potent and haunting one, and it's also incredibly timely when it comes to gender equality and human rights. It manages to be both faithful to Atwood's novel and thoroughly absorbing, and Elizabeth Moss' performance makes it a must-watch.
---
2. Sherlock (2010-2017)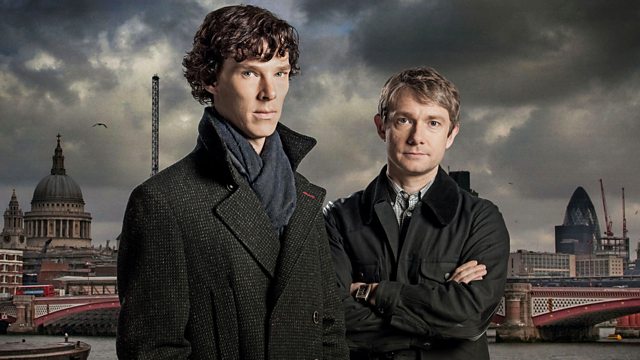 Sherlock Holmes is the only consulting detective in the world. He is not interested in prestige and money: what he wants is the opportunity to use his intellect and special methods of deduction. That much is common knowledge, but what do you actually know about Arthur Conan Doyle's many novels featuring the legendary detective?
Though BBC's Sherlock is clearly no substitute for the author's work, it can be a great way of approaching the character for the first time if you're not familiar with the books, and to analyze the choices made by the team behind the series if you're a Sherlock Holmes fan. This highly successful show is a modernized version of the novels, but the cases Sherlock (Benedict Cumberbatch) and Watson (Martin Freeman) deal with – at least in the first two seasons – are inspired by Conan Doyle's ones, making this the perfect introduction to the subject. Not only that, but the series is thoroughly gripping from beginning to end, and it will have you conjuring up theories for months.
Though the last two seasons had mixed reactions, Sherlock remains a clever, complex, one-of-a-kind series that will captivate you regardless of what you're into. There are characters that will immediately feel familiar, mysteries to solve at an incredibly fast pace, interesting psychological dynamics, and more than one fascinating villain. Andrew Scott is exceptional as the crown-wearing Moriarti, but the entire cast delivers impressive performances, in a series that's as wonderfully sarcastic as it is genuinely compelling and emotionally affecting. We guarantee that, when you get to the Finale, you'll want to start watching it all over again.
---
3. Pride and Prejudice (1995)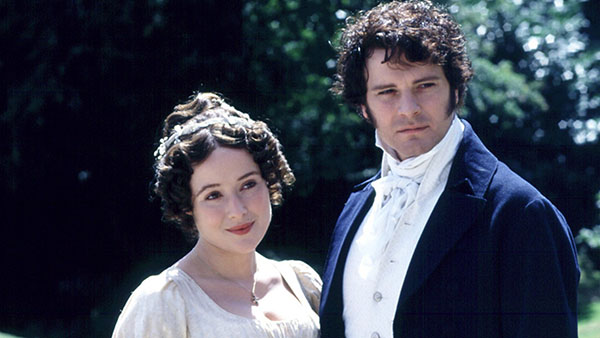 If we say Pride and Prejudice, you'll probably think of the 2005 film with Keira Knightley and Matthew Macfadyen. But, while the movie was certainly enjoyable enough, we're here to tell you that there's a much more enthralling adaptation of Jane Austen's 1813 novel that you should be watching.
The novel revolves around the growing relationship between rich landowner Fitzwilliam Darcy and a young woman named Elizabeth Bennet, whose mother is desperate to see all of her five daughters married. When wealthy gentleman Charles Bingley rents a manor not too far from the Bennets, Mrs. Bennet devises a plan to introduce him to her daughter Jane at a ball, but this very same ball is also where her sister Lizzie and Mr. Darcy meet for the first time. "Pride and Prejudice" shows us how their relationship develops while also immersing in the fascinating world of the Bennets.
What makes this 1995 BBC adaptation so great is not only its quintessential Britishness, which you can find in anything from its setting to its humor, but also how faithful it is to Jane Austen's novel. Pride and Prejudice is one of those TV shows that manage to depict exactly what you had in mind when you first read the novel, down to the characters themselves. Jennifer Ehle and Colin Firth excel as Mr Darcy and Elizabeth Bennet, and their performances and chemistry play a huge role in the show's success. This is quite simply the perfect adaptation, and one you shouldn't miss.
---
4. The Simpsons (1989,-)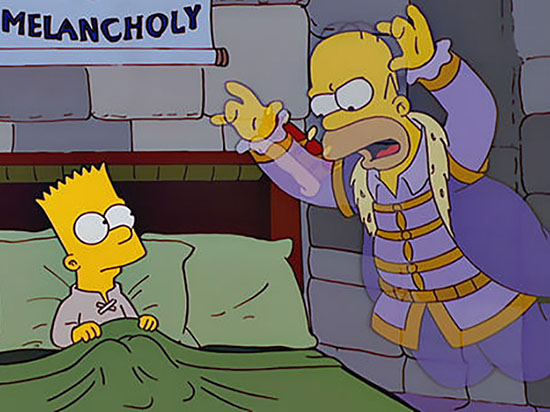 Who hasn't heard of The Simpsons? This highly popular animated series is one of the best out there, and also the one that has been around the longest, since it has been running since 1989. But if you're wondering what The Simpsons have to do with the classics, let us explain.
The show is set in a fictional US city called Springfield and focuses on a family that's made up of two parents, three children, grandparents, uncles, and aunts. The children are simply amazing: Bart is a high-ranking prankster, Lisa is a great saxophonist and loves math and philosophy. But so are the adults: Homer is a nuclear power plant operator and a lover of bacon, doughnuts, and beer, and his wife Marge is the sober glue that holds everything together.
What you probably don't know about the series is that many of its episodes are based on classic literature, which makes it easy for young students, or even children, to remember tales that would be complex on paper. Among the many novels referenced by The Simpsons are Edgar Allan Poe's "The Raven" (Treehouse of Horror) and "The Tell Tale Heart" (Lisa's Rival), Tennessee Williams' "A Streetcar Named Desire" (A Streetcar Named Marge), Shakespeare's "Hamlet" (Tales from the Public Domain) and "Macbeth" (Four Great Women and a Manicure), William Golding's "The Lord of the Flies" (Das Bus), Louisa May Alcott's "Little Women" (The Man in the Blue Flannel Pants), and – you guessed it – even "Sherlock Holmes" (Treehouse of Horror).
These are only a few references of a series that also pays attention to language and constantly delivers valuable lessons. Equally entertaining and instructive, The Simpsons can definitely help students access literary classics easily.
---
5. Sons of Anarchy (2008-2014)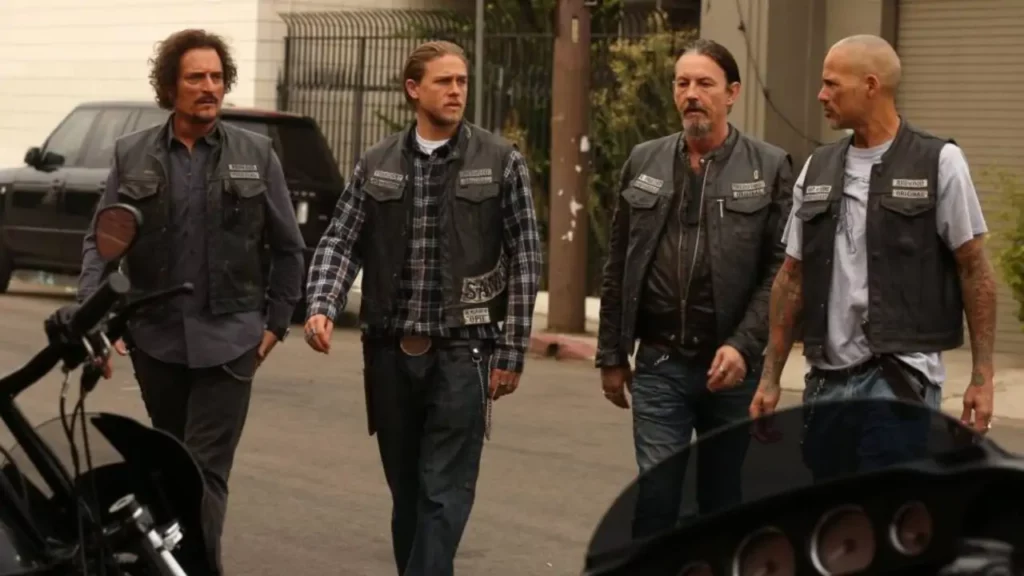 While many are familiar with the highly popular Sons of Anarchy, what you might now know is that it was based on "Hamlet" by Shakespeare. You don't have to be well-versed in Shakespeare to appreciate a plot full of lies, betrayal, and bloodshed, and, when the show ended, back in 2014, it had more deaths than the book it's based on. Over the course of its 7 seasons, this FX series follows the lives of an outlaw motorcycle club operating in a fictional Californian town named Charming.
It's a story of alliances, brotherhood, betrayal, love, and redemption, mainly revolving around SAMCRO (Sons of Anarchy Motorcycle Club, Redwood Original), its president-to-be Jackson "Jax" Teller (Charlie Hunnam), and his family, and we see them deal with rival gangs, politicians and other authorities. Some of its most violent scenes are centered around emotion rather than guns, and that is part of the series' appeal, as well as the incredible chemistry between its cast members. But there are also interesting stories and developments in Sons of Anarchy, and you're guaranteed to get attached to its well-written characters. As for the connection with Shakespeare's "Hamlet," we'll let you discover that part on your own.
---

Reading books and watching movies based on them are great ways of learning new concepts. While each has its pros and cons, it's important for you to figure out which method works for you. These are 5 great TV shows that will expose you to classical literature while also providing you with gripping, enthralling entertainment. Happy watching!