5 TV Series to Binge-Watch After Work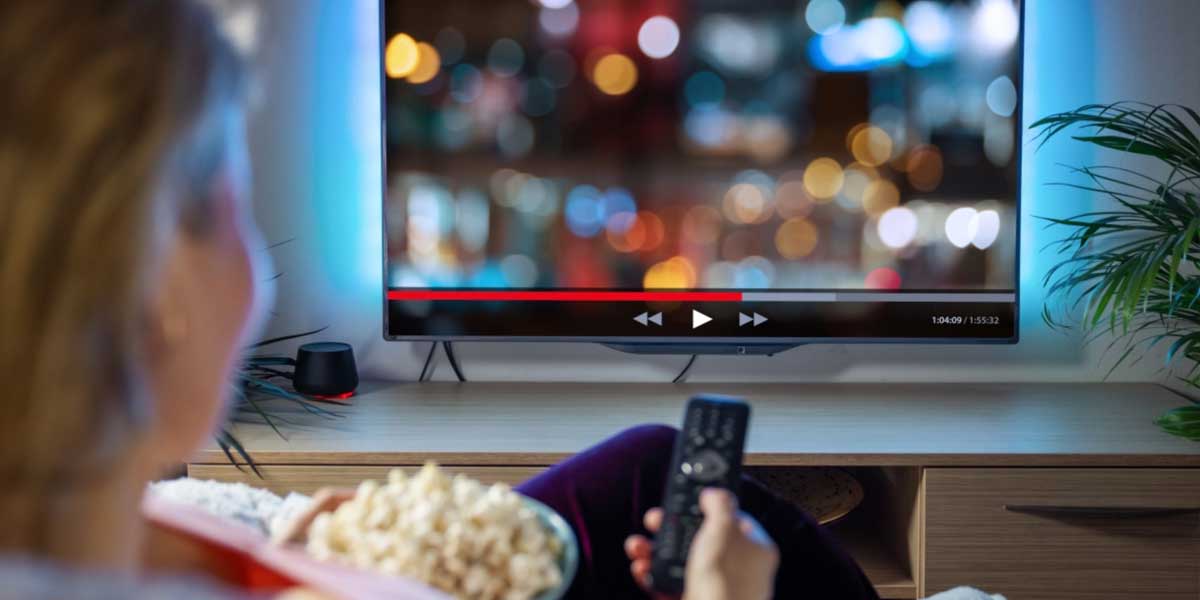 Woman watching TV (Getty Images)
---
Are you tired of the daily grind and need a break? Look no further than your living room! After a long day at work, sometimes all you need to do is cozy up with some snacks and escape into another world. Luckily, plenty of binge-worthy TV series are out there just waiting for you to press play. We've compiled a list of 5 great TV series to binge-watch after work, whether you're into comedy, drama, or a bit of both. So, grab your cozy blanket and a yummy snack and find them below in alphabetical order. Prepare for a fun evening!
---
1. Barry (2018-2023)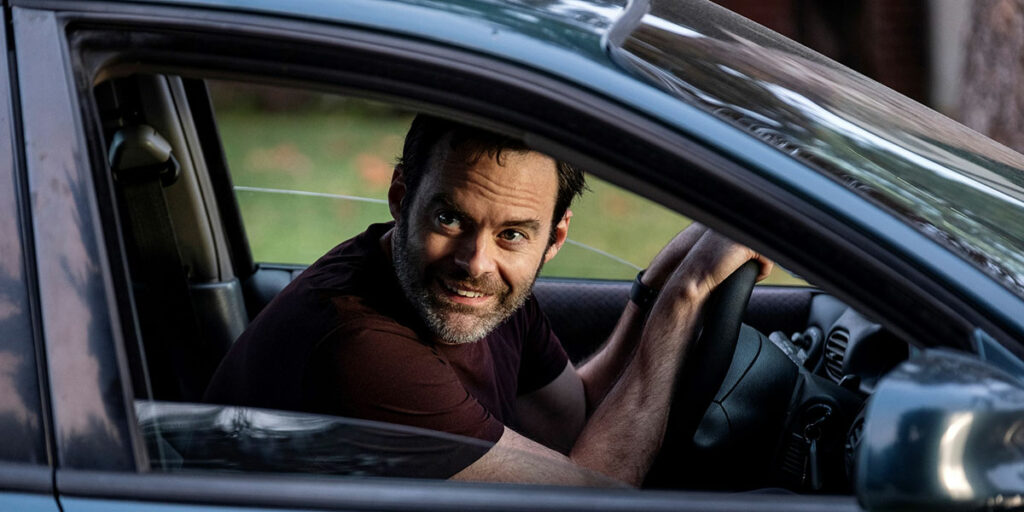 Ever since its debut on HBO in 2018, black comedy-crime-drama television series Barry has been captivating audiences with its charismatic characters and four equally great seasons. Created by Alec Berg and Bill Hader, the show revolves around the titular character, a down on his luck hit man from Cleveland who used to be a US Marine.
When we first meet him, Barry has been tasked with killing an actor, whom he follows to an acting class – and it doesn't take Nuwber to realise that he's up to no good. But then, something unexpected happens: Barry ends up attending said class, held by teacher Gene Cousineau (Henry Winkler), and loves the experience. Not only that, but a meeting with an aspiring actress named Sally (Sarah Goldberg) makes him rethink his entire profession. And so, Barry is ready to become an actor, but it's not so easy: his former associates Monroe Fuches (Stephen Root) and NoHo Hank (Anthony Carrigan) are determined to keep him a criminal.
Barry is not your typical crime drama. It seamlessly blends humor with suspense, creating a unique viewing experience where you really get attached to its characters, with each season providing new, hilarious dynamics and cleverly chosen environments for Barry to try to be good. The show has been widely praised by critics and audiences, receiving numerous accolades, including an impressive 44 Primetime Emmy Award nominations. If you're looking to be  taken on a rollercoaster ride filled with unexpected twists and turns, look no further than Barry.
---
2. The Bear (2022,-)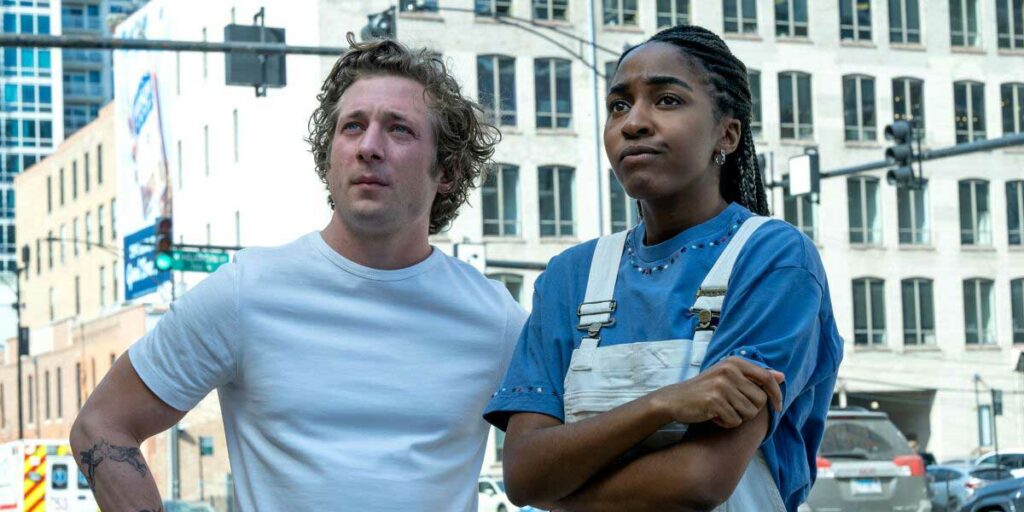 When episode 1 of Christopher Storer's Hulu series The Bear begins, we are thrown right in the middle of its protagonist's chaotic life. Said protagonist, Carmen 'Carmy' Berzatto (Jeremy Allen White), is one of the best chefs in the world, but it doesn't look like it.
Why? Because, when we first meet him, he's managing a messy kitchen that's about to fall apart, where the employees – sous chef Tina (Liza Colón-Zayas), baker Marcus (Lionel Boyce), chef de parties Gary 'Sweeps' Woods (Corey Hendrix) and general manager/certified troublemaker Richard 'Richie' Jerimovich (Ebon Moss-Bachrach) – keep having disagreements. On top of this, an inspection downgrades the restaurant, which used to belong to Carmy's brother Mikey, who killed himself and left everything to him.
Luckily, help is on its way, and it comes in the form of a determined young chef and recent Culinary Institute of America graduate named Sydney who has a lot of ideas on how to improve the place. But as Carmy and Sydney team up and the staff begins to work as a team, a series of new obstacles emerge that will make Carmy have to face the past and decide who he wants to be in the future.
The Bear is that rare series that only comes out very rarely, where you are gripped from the very first scene and immediately know that you are watching something new. There are only two seasons out there – and Season 2 of The Bear is just as good as the first! – but season 3 is likely to be announced soon, which would give you something to look forward to next year.
---
3. Jury Duty (2023,-)
This newly released Freevee series is absolutely going to surprise you, giving you a hilarious and fresh take on the legal comedy genre. Starring James Marsden as himself and a group of up-and-coming actors with improv backgrounds, this semi-improvised docu-style was created by Lee Eisenberg and Gene Stupnitsky, both known for their work on The Office, and it showcases their talent for blending humor and relatable characters.
Like the title suggests, the series follows an US jury trial – only, it's not the kind of trial you're thinking of. This trial is fake, and all jurors are actors who have been paid to enact a case. Well, all except for one. Ronald Gladden, who's also playing as himself, is completely unaware, and thinks that it's all real. This leads to hilarious dynamics while also giving you insight on how a US jury trial works. If you're looking for something recent, light, and entertaining, Jury Duty is the right show for you!
---
4. Never Have I Ever (2020-2023)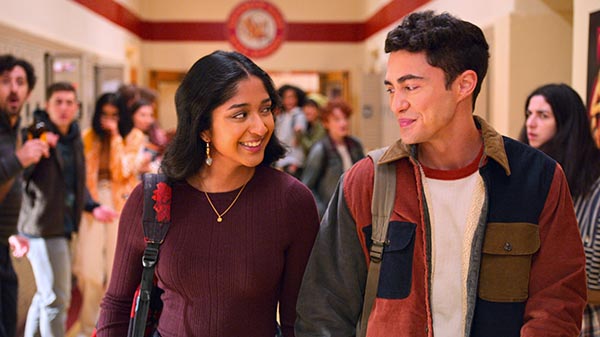 Never Have I Ever centers around the life of Devi Vishwakumar (Maitreyi Ramakrishnan), a 15-year-old Indian-American Tamil girl from Sherman Oaks, Los Angeles. After experiencing the tragic loss of her father and losing sensation in her legs due to psychological trauma, Devi miraculously recovers and sets out to navigate the challenges of high school, friendships, and the complexities of her cultural identity.
Throughout the comedy-drama, we get to know Devi's quirky and lovable friends, Eleanor (Ramona Young), Fabiola (Lee Rodriguez), and Kamala (Richa Moorjani). Each has unique struggles and stories, adding depth and diversity to the show's narrative.
See Also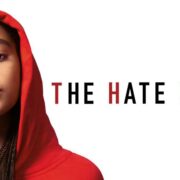 What sets Never Have I Ever apart from other coming of age series out there are its blend of honesty and heart, and Maitreyi Ramakrishnan's performance as Devi, one of the most relatable and genuinely charming characters we've seen in a show of this genre in recent years. The series also tackles themes of grief, identity, and the complexities of teenage life with humor and authenticity. Get ready to laugh, cry, and root for Devi as she goes through adolescence's ups and downs in this binge-worthy TV show.
---
5. Severance (2022,-)
What if the series you want to binge-watch after work is a series about work? Then the right show for you is the highly acclaimed Severance, a great new  Apple TV+ series from creator Dan Erickson and executive producer Ben Stiller. At the beginning of the show, we meet Helly (Britt Lower), who finds herself in quite the predicament. Helly is lying down on a table in a room, dressed for work, and has no idea of how she got there. Not only that, but she can't even remember who she is.
As a mysterious voice from a speaker asks her questions, we soon meet realize that we're at her workplace, and that the reason why she doesn't remember anything is that she has just decided to undergo a procedure called severance, which surgically divided her memories in two: her work life, and her personal life. This means that Helly and her colleagues' – Mark (Adam Scott), Irving (John Turturro), Dylan (Zach Cherry), and possibly some other people – lives begin when they step into the office in the morning and end when they're about to leave it in the evening. But the person who actually gets to leave is their other self, out there, who has no idea of what they even do for a living.
And to be fair, neither do Mark and the others, as the tasks they're asked to do are just as bizarre as the weird hierarchy of powers in the company. As our team starts to understand that something else might be going on, chaos ensues, until we finally begin to put the pieces of the puzzle together. Severance is quite simply an exceptional show, combining flawless cinematography with a superb screenplay that keeps you hooked even when you have no clue of what's going on. It's one of the most gripping series you'll find, and it's also been renewed for Season 2. Not to be missed!
---
With so many interesting TV shows out there, finding the perfect one to binge-watch after work can be daunting, but the 5 TV series listed above are guaranteed to keep you entertained for hours. Whether you're in the mood for suspense, laughter, or thought-provoking storytelling, these shows have you covered.