5 Reasons to See Napoleon

(Aidan Monaghan, Sony Pictures)
Napoleon boasts many reasons for your undivided attention, but here are the top 5 reasons why you should see the Ridley Scott masterpiece.
---
It's been a big year full of some highly anticipated titles hitting the big screen, but I dare to say none have been quite as anticipated as Ridley Scott's Napoleon. The epic historical drama, starring Joaquin Phoenix (Joker) as Napoleon Bonaparte and Vanessa Kirby (The Crown) as the Empress Joséphine, is based on Napoleon's astonishing life and offers an intimate portrait of one of history's greatest military leaders. With Scott at the helm, Napoleon promises to play out in a very rich, atmospheric, historically detailed manner. If you're on the fence about seeing it, here are five reasons why you should see Napoleon.
---
5. Cinematic Reunion of Ridley Scott & Joaquin Phoenix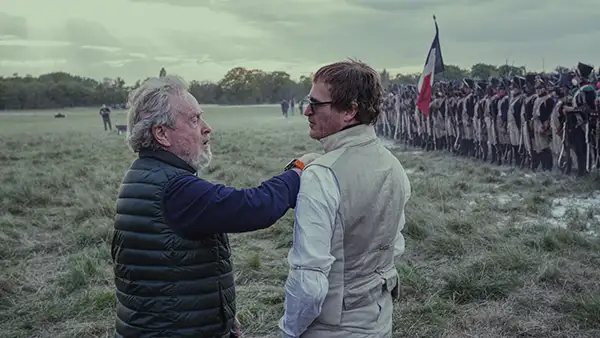 Napoleon reunites the Oscar-winning Phoenix and with the award-winning director for the first time since Gladiator (2000), in which Phoenix plays the power-hungry ruler and last emperor of the Pax Romana, Commodus. His performance is masterful and chilling, slicing you right in half. Gladiator—stunning and gorgeous in its own right—was Phoenix's first big production, so it's quite fitting now that the two artistic forces are teaming back up for one of cinema's biggest historical portrayals.
If you saw Gladiator, you know what these powerhouses are capable of producing together and how well they support and feed off of one another's creative energy. Phoenix and Scott have had over two decades to refine their respective craft and explore themselves as they relate to that craft, so we have every reason to be excited about this reunion, which will no doubt be anything short of brilliant and thrilling.
---
4. Costumes & Sets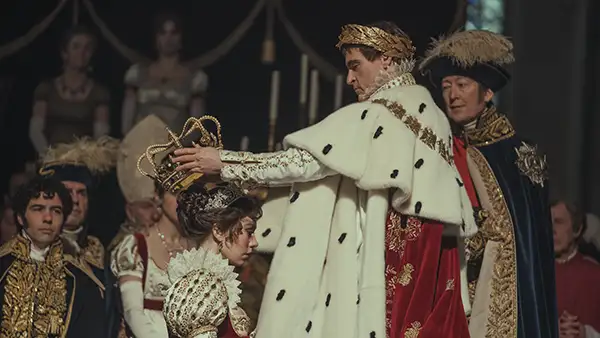 Costumes and sets are such integral parts to bringing atmosphere to a story, and where both are concerned, Ridley Scott is known for going all in. His films are rich in detail with stunning visual styles. Even 20 years ago, the costumes and visual efforts in his films were impressive, dropping us right into certain time periods so we could experience it as fully as we could. And that's what a good historical adaptation should do: as accurately as possible represent a certain time period so viewers lose sense of their own place in history.
Academy Award-Winning Costume Designer Janty Yates, known for her work on Gladiator, is teaming back up with Scott for Napoleon, so get ready to be awe-struck. Yates and Scott have collaborated on several films, including Kingdom of Heaven and The Last Duel, and from those alone we know to expect immaculate sets rife with opulent fabrics—in this case, of chiffon, silk, satin, and lace adorning the neoclassical styles that were widely popular during the Napoleonic era.
Coronation outfits are always standouts, so make sure and pay close attention to Napoleon and Joséphine's lavish outfits in particular: He wore a gold-embroidered white satin tunic and red velvet cloak embellished with golden bees, while she wore a white satin gown with puffed sleeves and gold detailing.
---
3. Big, Bad Battle Sequences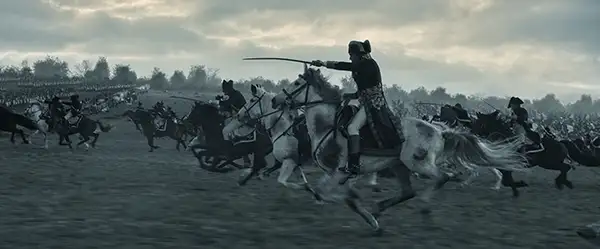 Ridley Scott is no stranger to action epics featuring big, bad battle sequences and historical bloodshed incited by political turmoil. It's his bread and butter. In fact, he's already made the hefty proposition that Napoleon will feature not one, not two, but SIX large-scale battles spanning Napoleon's prolific military career. What's so exciting about this? I'll tell you.
Where early Napoleon-centric films of the past also tackled the leader's infamous battles, they often focused more on a specific military moment—The Battle of Waterloo, for example—and made a grandiose spectacle out of it that featured thousands of extras and loads of chaos.
Not anymore. Technology has come a very long way since then, and with Scott's vision at the helm, we can buckle up for a massive battle spectacle. Scott planned Napoleon's massive battle sequences, like the tactical masterpiece that was the 1805 Battle of Austerlitz, in regular meetings with the heads of various production departments and with military advisors in order to ensure scale, choreography, accuracy, and cohesion in presentation.
Also, this is Scott's second attempt at capturing the lived experience of the Napoleonic Wars, so you know his heart is wholly in presentation. His first attempt was with his 1977 debut film, The Duellists.Rest assured we can go into Napoleon knowing each battle sequence was sifted through numerous times with a fine-toothed comb, making one thing for sure: Napoleon will not skimp on spectacle. Not even one bit. And isn't that what we often love most about historical adaptations?
I know I do.
---
2. Deep Dive into Napoleonic History
We're all intrigued by some aspect of history. With Napoleon, not only are we getting a deep dive into one of the most mythological military commanders ever, but we're also diving into the effects of his tumultuous private life. And with Scott's clear and expressed interest in Napoleon as a historical figure, we know we have the chance to see as close an accurate depiction of the emperor's life as possible.
During the French Revolution, Napoleon rose rapidly through the military ranks and, as a general, seized power in a coup d'état in 1799. Then he crowned himself leader. Next, he set out waging war against European nations and expanding his powerful empire, all while embroiled in an intense romantic war with Joséphine, which ultimately served as the force driving him to conquer the world. Over the course of a single decade, Napoleon led a revolutionary French army against the other great powers of Europe and succeeded, even bringing down the Holy Roman Empire. After tearing across Europe for a time, his career finally came to an end on the remote island of Saint Helena, where he died in 1821 at the age of 51.
Napoleon reportedly will make his romance with Joséphine the center of the movie—an aspect often overlooked in previous Napoleonic adaptations. When the two met, he was a 26-year-old French military officer, and she was a 32-year-old single mother of two. They fell deeply in love and soon married, but both were known to have affairs. After five years of marital unbliss, they divorced in 1810 after Napoleon accepted Joséphine would never be able to give him the heir needed to maintain his line.
Napoleon's story is that of a war criminal, really—a psyche overrun with obsession and madness. What makes it so intriguing is that he was a man who came out of nowhere to seize and rule everything, all in the name of love. What's makes it so tragic is that he did all he did in an effort to win Joséphine's love, and when he couldn't, he conquered the world to destroy her and, in the process, wound up destroying himself. To see this tragedy play out in the era of 21st Century film will be utterly exciting and captivating.
Other iconic moments of French history teasing in the trailer include the 1793 public beheading of the last Queen of France, Marie Antoinette; the 1795 defeat of French royalists where Napoleon ruthlessly fired on protestors in the streets of Paris; and Napoleon's infamous self-coronation as Emperor of France in direct antagonism of the Catholic Church and Pope Pius VII.
---
1. Joaquin Phoenix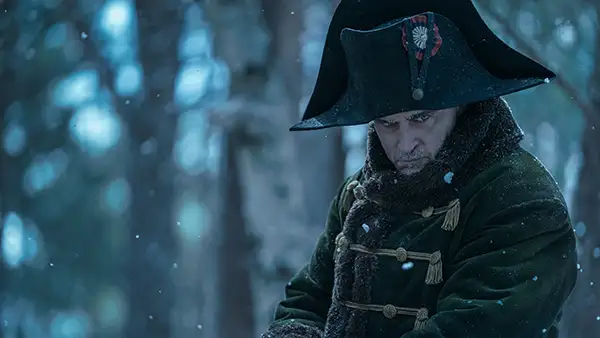 Joaquin Phoenix is one of the most talented, versatile, impactful actors of modern-day cinema. He is well known for his compelling, thunderous performances—especially those featuring heavy psychological aspect, like Joker. Ridley Scott himself has said that Phoenix is "the best player of damaged goods" and that's what makes him so perfect to play Napoleon.
Even ignoring the actor and director's reunion, the idea alone of seeing Joaquin Phoenix play one of the most powerful and emotionally complex military generals-turned-leaders is excitedly appealing. Phoenix has an authentic ability to dissolve himself into the psychology of his characters, which is part of what makes him so alluring. He understands darkness and works that aspect to create the unforgettable dimension his characters often envelop … layered with varying levels of innocence and sadness mixed with power, love, and danger.
Phoenix playing any emotionally complex character is guaranteed to be an experience that exposes us to deep empathy and awareness of something we haven't yet considered. As far as I'm concerned, no director can go wrong with Phoenix in the lead, as he often winds up carrying the entire film as opposed to the film's own story.
Judging from early promotional materials, this will be the case with Napoleon. Reportedly, Scott realized his film centered around Phoenix's performance and even rewrote the movie during filming to ensure Phoenix's comfort level with his character portrayal. This allowed Phoenix to focus on accurately bringing Bonaparte to life in a momentous way. Because of that, I imagine Napoleon will be the most immersive, authentic Napoleon Bonaparte film experience to date, one that sees us all hold Joaquin Phoenix in the highest esteem.
Ridley Scott recently told Deadline of working with Phoenix, "No actor could ever embody Napoleon like Joaquin. He created one of movie history's most complex emperors in Gladiator, and we'll create another with his in Napoleon."
Mmm, I can't wait.
---
Napoleon will be released globally in theaters on November 22, 2023, before streaming on Apple TV+.