5 Noir Films Worth Watching

Taxi Driver (Columbia Pictures)
---
Picture this: a rain-soaked alley lit only by the stores' neon signs, a hat tilted just so to shadow a pair of determined eyes, a cigarette's smoke curling into the midnight air. Welcome to the intoxicating realm of film noir. These tales aren't just stories; they're haunting melodies that play on the strings of your soul. If you're yet to embark on this cinematic journey, here's a list of 5 noir films worth watching to kickstart your adventure.
---
1. Taxi Driver (1976)
Martin Scorsese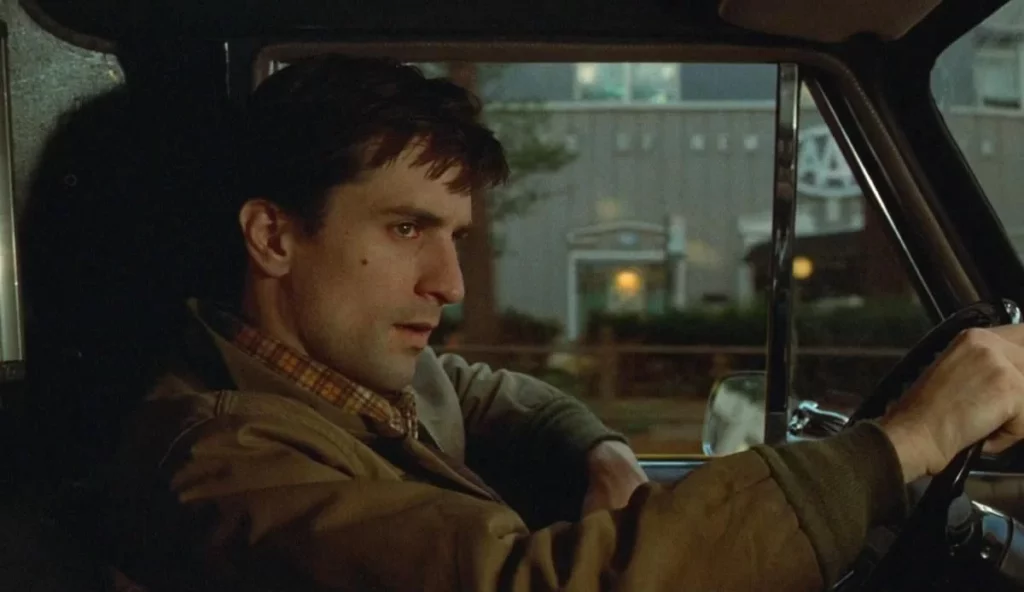 The streets of New York never felt so alive, yet so desolate. We're thrown into the tumultuous world of retired veteran-turned-cab driver Travis Bickle (Robert De Niro), a man that's so incredibly lonely that he is completely consumed by the city's underbelly. Travis means well, but he can't help being affected by the broken system around him. As we see him drive people around, his desire to rid the city of corruption keeps growing until it devours him, and his slow descent into chaos is both disturbing and riveting. Martin Scorsese and writer Paul Schrader don't just show us a man on the brink; they make us feel his every emotion, every jolt, every piercing note of that haunting score.
The cinematography (Michael Chapman) perfectly complements the narrative, with the neon lights, juxtaposed against the gritty streets, painting a stark portrait of a city teetering between hope and despair. Taxi Driver's atmosphere, and the way it turns New York City into a character of its own, make it one of the best noir films around, but that's not the only reason. Noir films tend to revolve around a morally ambiguous hero who exists at the edge of society, and Travis Bickle is the definition of the noir antihero – a seemingly ordinary man whose the extreme isolation turns him into another version of himself, and we're with him at every step thanks to the use of voiceover. Not to be missed.
---
2. Chinatown (1974)
Roman Polanski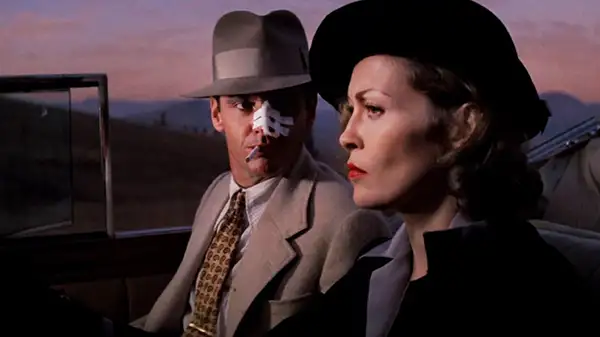 Imagine Los Angeles in the '30s; now add a splash of treachery, a sprinkle of lust, and a dollop of murder. Enter J.J. Gittes (Jack Nicholson), the savvy private detective. Initially hired for a simple job, Gittes finds himself tangled in a web spun with dark secrets and insidious plots, with the enigmatic Evelyn Mulwray (Faye Dunaway) at its center. Every twist in this tale is a fresh stab of surprise, and its meticulous attention to period-accurate details adds an extra layer of authenticity, immersing viewers in the deceptive glamour and concealed corruption of the era.
Screen Rant describes Chinatown as "the best noir film ever made," and they're not wrong. Roman Polanski's film, which he co-wrote with Robert Towne, is the quintessential noir film because it combines all the elements of the genre into a genuinely enthralling whole. Through morally flawed characters, a puzzle of a mystery that only – brilliantly – becomes clear at the very end, a noir hero who's determined to get to the bottom of things, and an excellent use of atmosphere and tension, Chinatown exemplifies the very best the genre has to offer. And on top of this, it also features flawless performances and a perfectly paced screenplay.
---
3. Sunset Blvd. (1950)
Billy Wilder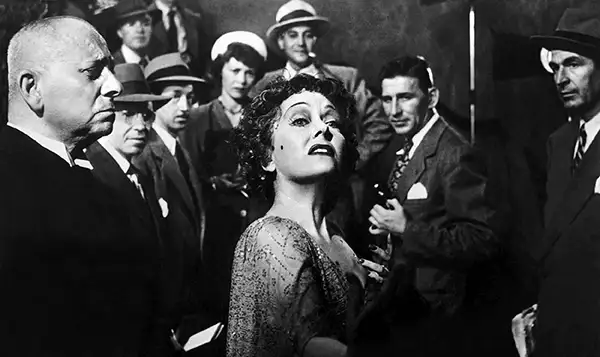 Hollywood's glamorous façade gets a reality check in this gripping tale from writer-director Billy Wilder and co-writers Charles Brackett and D.M. Marshman Jr.. Joe Gillis (William Holden) is a down on his luck writer, but his world is turned upside down when he meets a forgotten silent film star, Norma Desmond (Gloria Swanson). Their tumultuous relationship is a mirror to Hollywood's cruel and fleeting spotlight. Norma's descent into delusion, climaxing with her eerie proclamation, "I'm ready for my close-up," is downright spine-chilling. Beyond the narrative, the film serves as a critique on the impermanence of stardom, posing questions about relevance, age, and the lengths people go to remain in the limelight.
Sunset Blvd. is a noir classic, but it's also one of the best black comedies around, acting as the perfect Hollywood satire from one of the best comedy directors ever. It's funny but also, in a way, disquieting, the atmosphere slowly building up and fully immersing you in Wildest's biting commentary on the industry. If you love Babylon and Singin in the Rain and are looking for a film with a noir element to it, Sunset Blvd is the movie for you.
---
4. Rebecca (1940)
Alfred Hitchcock
Alfred Hitchcock, the master of suspense, gifts us this eerie romance. A young woman (Joan Fontaine) marries the dashing Maxim de Winter (Laurence Olivier). But their married life is overshadowed by the specter of his deceased wife, Rebecca. The chilling presence of Mrs. Danvers (Judith Anderson), and the omnipresent aura of the unseen Rebecca, weave a tapestry of suspense that's simply unforgettable. Beyond the surface-level suspense, the film dives deep into the psyche of its characters, exploring themes of identity, jealousy, and the overpowering nature of memories, further cementing its status as a psychological masterpiece.
Not everyone considers Rebecca to be a noir film, as it contains many elements of the romance and psychological thriller genre. But it also features at least some noir film elements, such as the tension and paranoia that define its titular protagonist and the atmosphere of the movie, which reflects her state of mind.
---
5. The Big Sleep (1946)
Howard Hawks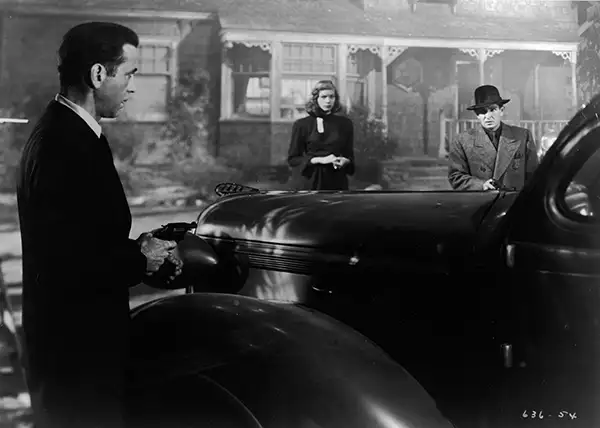 Step into the shoes of detective Philip Marlowe (Humphrey Bogart). Hired for what seems like a straightforward case, Marlowe's journey takes him into the heart of the city's criminal maze. His encounters with the bewitching Vivian Rutledge (Lauren Bacall) are laden with electric tension, making this a detective story for the ages. The witty and razor-sharp dialogue is a treat, making even the most intricate parts of the plot a joy to unravel. The magnetic relationship between Bogart and Bacall serves as the cherry on top, ensuring this film's place in the annals of cinema history.
The Big Sleep is one of the best noir films around, mainly due to a slowly unfolding screenplay that needs your full attention at all times and its excellent use of atmosphere, but it's also, without a doubt, a Howard Hawks movie, in the best possible way. The director's trademarks make this noir film stand out from the others: if you'd like to explore it further, we recommend To Have and Have Not.
---
What makes these 5 noir films worth watching is the way they employ the very best elements of the genre to craft something unique. The atmospheric allure of these noir tales isn't restricted to celluloid, but it has spilled over into the world of graphic design. If you're thinking of designing a brochure that tells a tale as gripping as a noir film, you can do that with platforms like VistaCreate, where even a novice can blend noir aesthetics into their designs.
And if you'd like to continue your exploration of the noir genre after reading this list, why not check out the work of Orson Welles, Jacques Tourneur, Otto Preminger, Charles Vidor, Nicholas Ray, Robert Aldrich, Robert Siodmak, and even some modern releases like Drive and Memento? Happy watching!