5 Movies Where Characters Play Cards

---
Card games are a staple of crime movies and mobster biopics, but these aren't the only genres where you'll find characters counting cards and calling a bluff. Looking for some inspiration for your next movie night? Below are just a few films with memorable card game scenes from various genres, all worth adding to your viewing list.
---
1. Titanic (1997)
James Cameron
James Cameron's Titanic is one of the most beloved films of all time, telling us the tale of the 1912 sinking of the R.M.S. Titanic through a spectacularly gripping, action-packed movie that's also a believable romance that unfolds on two separate timelines. At the center of it all is our central duo: an unhappy 17-year-old woman named Rose DeWitt Bukater (Kate Winslet) who's about to become engaged to an arrogant man whose wealth will save her family, and a lucky third class passenger named Jack Dawson (Leonardo DiCaprio). Why is Jack lucky? Because he won his tickets for the fateful voyage in " a lucky hand of poker," as the character himself states.
Though the game isn't the highlight of a film, it's a great way to make the character immediately likeable to us, as if most of the passengers are extremely rich, bored people, Jack is one of the few relatable characters, and one that is so easy to root for. As the film continues, we watch him conquer Rose's heart and remind her of what makes life worth living, in a movie that's just as epic as you'd imagine it to be but also surprisingly funny and genuinely moving. If you haven't seen Titanic yet, it should be on your watchlist.
---
2. Molly's Game (2017)
Aaron Sorkin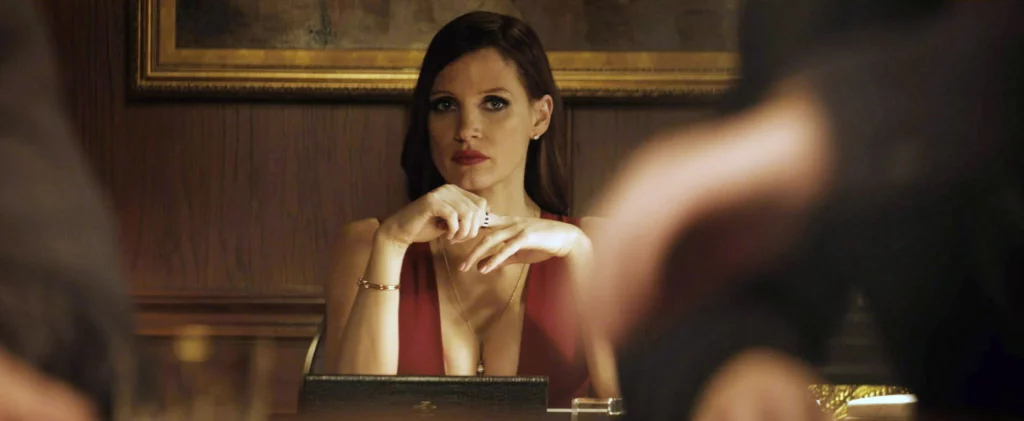 In Molly's Game, we follow the titular protagonist, Molly Brown (Jessica Chastain) as she undergoes a career change. If she initially was a professional skier who dreamed of competing in the Olympics, she soon has to rethink her career when a devastating injury puts an end to her athletic dreams. And so, Molly does the most unexpected thing of all: she sets up an underground poker game for the wealthy elite. Not only that, but she became pretty popular, with players that included royals, celebrities, and important businessmen.
Needless to say, her endeavors soon come to an end when the FBI finds out and inevitably arrests her. In the film, we witness her rise to fame and her eventual downfall, despite the help she gets from criminal defense lawyer Charlie Jaffey (Idris Elba).
Even if it doesn't revolutionize the genre, writer-director Aaron Sorkin's debut is still a very enthralling movie, and what makes worth watching are Jessica Chastain and Idris Elba's performances – they are also joined by an all-star cast including Kevin Costner, Michael Cera, Jeremy Strong and Chris O'Dowd. Moreover, Molly's Game is a retelling of a true story, based on a memoir that Molly Brown wrote when she was released from prison.
---
3. Now You See Me 2 (2016)
Jon M. Chu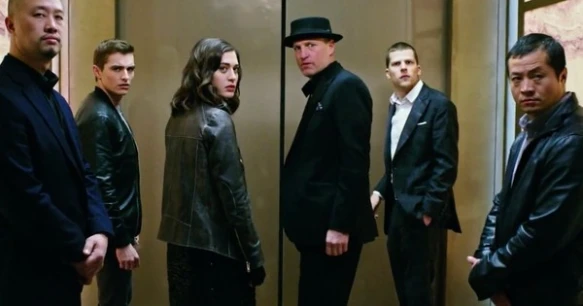 The Now You See Me franchise – revolving about a group of illusionists called the Four Horsemen (Jesse Eisenberg, Woody Harrelson, Isla Fisher, and Dave Franco) and the F.B.I. Agent (Mark Ruffalo) and Interpol Detective (Mélanie Laurent) chasing them are definitely flawed, as they follow the formula by the book. But the actual games played by the characters are pretty gripping and entertaining, brilliantly brought to life by the film's talented cast. In Now You See Me 2, there's a scene with a disappearing card trick that will have you in hysteric just for the sheer silliness of it.
---
4. 21 (2008)
Robert Luketic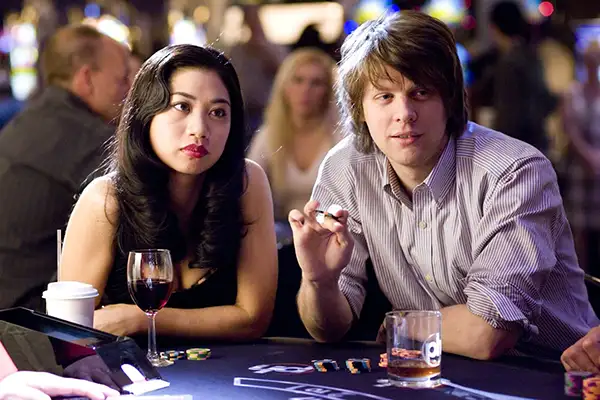 As with Molly's Game, this 2008 heist movie from director Robert Luketic is based on real events. It follows the story of a group of MIT students who band together, led by mercurial college professor Mickey Rosa (Kevin Spacey), to win big in Las Vegas by using their math abilities. Among them is a very bright student named Ben Campbell (Jim Sturgess), who joins the team to find a way to pay his college fees. But things get complicated when he comes to confront a casino enforcer named Cole Williams (Laurence Fishburne) – and, on top of this, a romance with a teammate (Kate Bosworth) is taking place.
The best things about 21 are its cast's committed performances and the true story behind it. While the film doesn't really do much with its premise, often falling into stereotypes and clichés, it will still make for a fun watch if you're looking for something light. The real-life MIT Blackjack Team operated from the late 1970s well into the early 2000s. Is it a coincidence that they stopped operating with the growth of blackjack online?
---
5. One Flew Over the Cuckoo's Nest (1975)
Milos Forman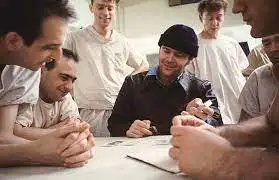 This all-time classic from master storyteller Milos Forman stars Jack Nicholson in a career-defining role, as the one and only Randle Patrick McMurphy, a man who's transferred from a prison to a mental institution only to face a similar environment. His enemy? The strict head of the psychiatric ward, Nurse Ratched (Louise Fletcher), who's not only extremely rigid when it comes to the rules but also abusive, and also has a habit of torturing her patients.
During the film, we follow McMurphy as he earns the trust of his fellow patients and confronts Nurse Ratched, in a movie that's really worth seeing for its central performance and ever-shifting dynamics, as well as the controlled chaos portrayed on the screen. You'll be surprised to hear that characters play cards here, too: McMurphy often organizes card games with his fellow patients, which a clever way to offer us insight into their personalities while keeping us entertained.