5 Great Robert De Niro Movies

The Godfather Part II, Taxi Driver, Silver Linings Playbook (Paramount, Columbia, Roadshow Films)
---
If we were to ask you to come up with a list of great movies starring Robert De Niro, chances are each of us would come up with a different title. With a career that spans nearly six decades, the actor has given us over 100 films, and many performances that were memorable and groundbreaking for different reasons. Of course, the crime genre is what made him famous, and you're probably thinking of films like Heat, Goodfellas, The Godfather Part II, Once Upon A Time in America, Raging Bull, and the more recent The Irishman and Joker. But De Niro has also proven great at tackling comedies (Meet the Parents), musicals (New York, New York), dystopian films (Brazil), detective stories (Angel Heart) serious dramas (The Untouchables, The Deer Hunter) and even more genres.
Each and every single one of these movies deserves to be seen, which is why attempting to come up with a list of best performances would be impossible. So, we decided to list 5 great Robert De Niro movies instead! They belong to different genres and they are all worth watching for different reasons. Find them all below in alphabetical order and scroll till the end for more recommendations!
---
CASINO (1995)
Martin Scorsese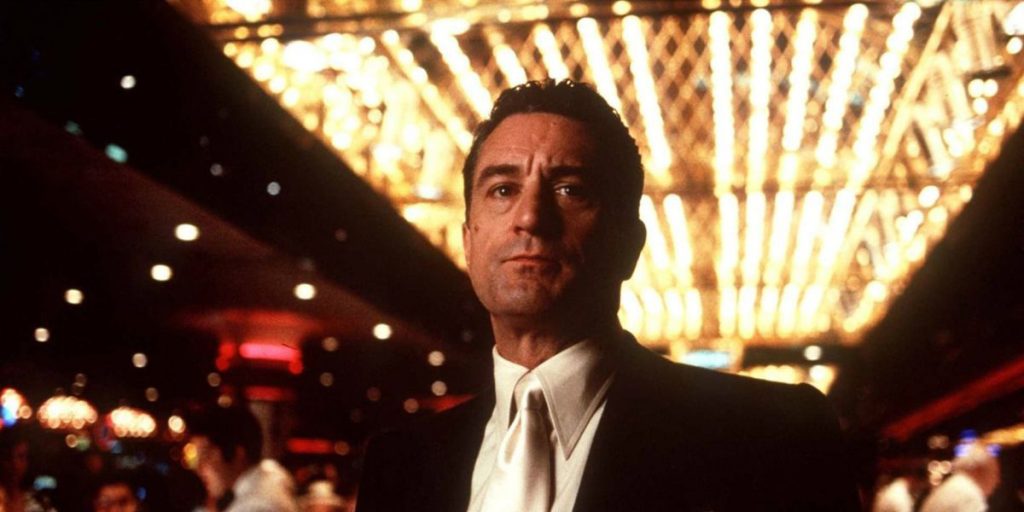 Martin Scorsese's Casino takes place in 1970s Las Vegas, in the world of casinos and poker, and is a story of corruption, deception, and shifting power dynamics. The film's protagonist is mafia mobster Sam "Ace" Rothstein (Robert De Niro), who becomes the unofficial manager of the Tangiers Casino. His childhood friend and mob enforcer Nicky Santoro (Joe Pesci) eventually joins him, tasked to protect him, but his criminal activities draw more attention to the casino. Things become even more complicated when hustler Ginger McKenna (Sharon Stone) and con-artist Lester Diamond (James Woods) enter the picture, which is only the beginning of our protagonist's dealings with greedy mobsters, corrupt politicians, and, eventually, the FBI. Adapted from Nicholas Pileggi's book of the same name, Casino might not be groundbreaking, but it's an enthralling, gripping crime movie that will have your eyes glued to the screen.
---
THE KING OF COMEDY (1982)
Martin Scorsese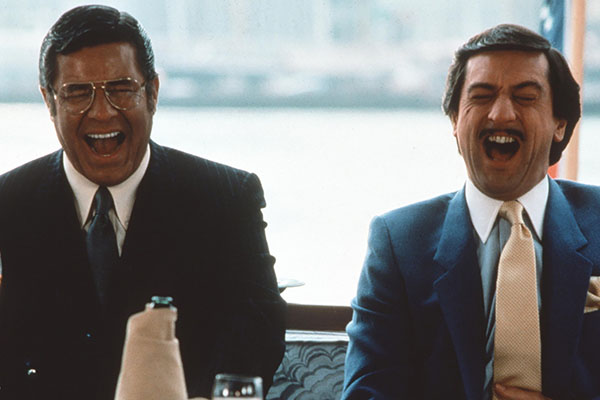 With The King of Comedy, we move to a completely different kind of film: a surprisingly timely, hilarious, insightful satire that had a huge influence on several genres, and is considered a classic to this day. The film revolves around a well-meaning, mentally unstable wannabe-comedian Rupert Pupkin (Robert De Niro), whose attempts at telling jokes are unsuccessful due to his inability to grasp the very essence of humor. But this doesn't prevent Pupkin from hosting a talent show, even if it's an imaginary one that takes place in his mother's basement.
Obsessed with the idea of celebrity and striving to be in the spotlight, Pupkin decides to take matters into his own hands, and decides that he's going to try to meet popular talk shot host Jerry Langford (Jerry Lewis), whose acts inspired him to pursue this career. But admiration soon turns into obsession when Pupkin realizes that Langford doesn't want to meet him. And so, with the help of fellow fan (and psychopath) Masha (Sandra Bernhard), our well-meaning protagonist becomes Langford's stalker and, eventually, his kidnapper.
If the premise sounds familiar, it's because among the many films The King of Comedy inspired is Todd Phillips' Joker, also starring Robert De Niro – this time, as the host. But Scorsese's 1982 satire is a completely different level of quality, featuring incredible turns from its entire cast and delivering a film that hasn't aged a day, and is still extremely relevant, not to mention hilarious, disquieting, gripping, and everything in between.
---
THE GODFATHER PART II (1974)
Francis Ford Coppola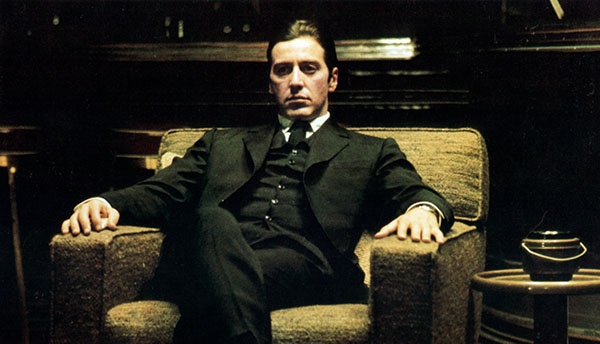 The second film in the Godfather trilogy is even better than the first, and it's partly thanks to Robert De Niro. His performance in the film definitely helps making it the all-time classic that it is, but Francis Ford Coppola and Mario Puzo's screenplay is also a huge factor. This 1974 sequel is also a prequel, as it presents us with parallel stories that take place at the same time. On one hand, we have the story of Michael Corleone (Al Pacino), that acts as a sequel by following the new Don, who's tasked with protecting the family business after a failed assassination attempt. On the other hand, we have 1910s-based story of his father, Vito Corleone (Robert De Niro), showing us what led to him building his empire.
Not only is The Godfather Part II the first film to attempt such an ambitious task, but it also absolutely succeeds at that, giving us a worthy continuation of a masterfully crafted first film that is made even more meaningful by its structure. Also starring Robert Duvall, Diane Keaton, and an all-star cast, the film is ultimately an exploration of family, power, corruption, and expectations that get passed down through generations.
---
SILVER LININGS PLAYBOOK (2012)
David O'Russell
Silver Linings Playbook is the rare example of a film adaptation that's better than the book. Adapted from Matthew Quick's 2008 novel of the same name, the film revolves around a former teacher named Pat (Bradley Cooper) who is released from a mental institution and placed in the care of his parents (Robert De Niro and Jacki Weaver) after recovering from a nervous breakdown that was brought on by a painful divorce. Intent of getting his ex-wife (Julia Stiles) back, Pat struggles to adapt to his new life while taking care of his mental health, and help comes in the most unexpected way when he meets a neighbor named Tiffany (Jennifer Lawrence) who's just as mentally unstable as he is.
Robert De Niro is not even the main character in this film, and yet his performance as Pat's father helps making it the one-of-a-kind gem that it is. From a hysterically funny Ernest Hemingway moment that you won't be able to forget to many skits involving remote controls, blunt comments and superstitious rituals, De Niro's many appearances make the film even more memorable and are further proof of the actor's comedic abilities. The film as a whole is a thoroughly surprising watch, and you'll end up revisiting it over and over again.
---
TAXI DRIVER (1976)
Martin Scorsese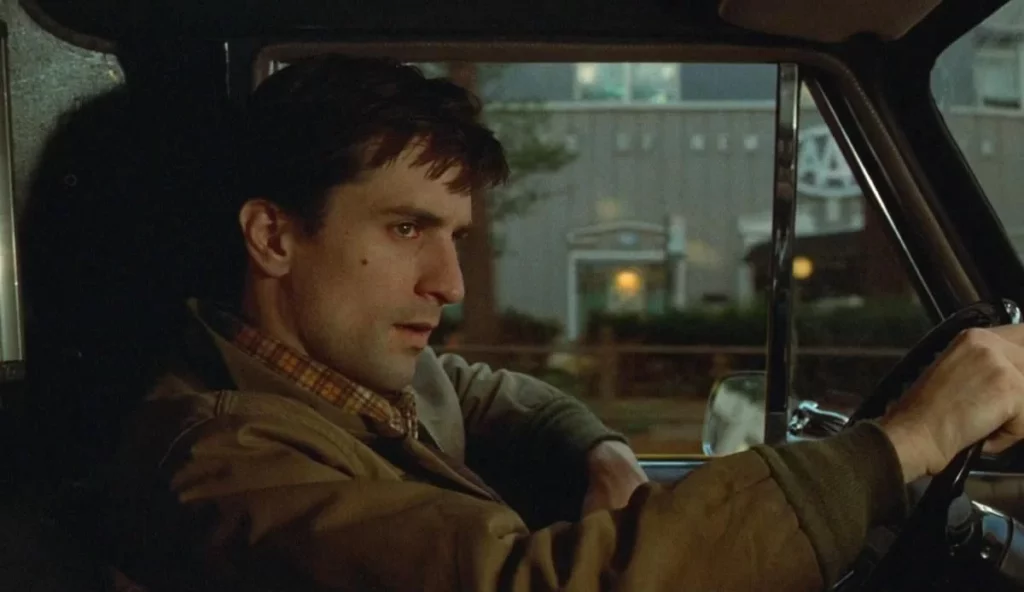 No list of great Robert De Niro movies would be complete without Taxi Driver, which is not only one of the most quoted and beloved films of all time but might as well be one of the best movies ever made. The film revolves around the titular taxi driver, an extremely lonely man named Travis Bickle (De Niro): a retired veteran, he spends his days driving people around and taking in the grey, neon-lit streets of New York City. Travis is a well-meaning victim of the system – a lost man who takes it upon himself to clean his city of corruption and ends up being devoured by it, falling further and further down a hole made by his own extreme loneliness and delusions. Robert De Niro gives one of his best performances as one of cinema's most famous antiheroes, an Scorsese delivers a masterclass in film noir filmmaking.
---
OTHER GREAT ROBERT DE NIRO MOVIES:
A Bronx Tale
Brazil
The Deer Hunter
Goodfellas
Heat
The Irishman
Joker
Meet the Parents
Mean Streets
Midnight Run
Raging Bull
The Untouchables