Almost Famous (Dreamworks)
---
After a long day of writing, you may wish to relax while watching a movie. And what can beat watching a movie about a writer? Films about writers are a great source of inspiration and motivation.
If you're a writer yourself, watching another writer on the screen trying to craft their story can help with your motivation. Writing isn't always easy: sometimes, it will be challenging, and watching someone else struggle with your same issues can be a relief. If you're not a writer, these films will be just as rewarding because of their compelling narratives and unique storylines. Below are five films about writers.
---
1. MIDNIGHT IN PARIS (2011)
Woody Allen
Gil Pender (Owen Wilson) is a successful but unhappy screenwriter struggling with his first novel. One day, while on a trip to Paris with his fiancée Inez's (Rachel McAdams) family, he discovers that he's somehow able to go back to the 1920s every day, at midnight. But that's not all: on his first night in the past, he happens to crash a party for French poet Jean Cocteau and meet prominent figures from the past, such as songwriter Cole Porter (Yves Heck), bullfighter Juan Belmonte (Daniel Lundh), and his heroes – novelists F. Scott Fitzgerald (Tom Hiddleston), Ernest Hemingway (Corey Stoll) and Gertrude Stein (Kathy Bates). This brings much excitement to Gil's life, not only because he can draw inspiration from these famous writers, but also because things with his fiancée aren't going so well: through his trips to the past, our protagonist finds all the support he lacks in his real life, and this helps grow into a braver person.
Discovering the many famous people Gil gets to meet is part of the fun of watching Midnight in Paris – our favourite sceene is his hilarious meeting with surrealists Salvador Dali (Adrien Brody), Man Ray (Tom Cordier) and Luis Buñuel (Adrien de Van) – but this film contains plenty of Woody Allen's signature wit, as well as an all-star cast and a genuinely thrilling plot.
Midnight in Paris invites you to never give up when you face challenges. When challenges become too much, it's always good to seek help from a writing service like online Edu birdie, which is great for students and has top writers who can deliver quality work on time. Seeking help and watching films about great writers will help you become a better author and get rid of writers' block.
---
2. ALMOST FAMOUS (2000)
Cameron Crowe
"It's all happening!" Cameron Crowe's semi-autobiographical film Almost Famous has acquired cult status for an entire generation, and the reason is that it's one of those movies you could watch over and over again. Set in the 1970s, the film tells the story of a 15-year-old child prodigy named William Miller (Patrick Fugit) who's always struggled to fit in, even more so since his apprehensive mother, Elaine (Frances McDormand), has imposed a strict ban on the one thing William adores: rock music. But William is determined to follow his dream of becoming a rock journalist, and he eventually manages to get an assignment by the legendary Lester Bangs (Philip Seymour Hoffman), who offers him $35 to review a Black Sabbath concert.
But what William finds at that concert is something else entirely, as he happens to meet the opening band, "Stillwater," led by the charismatic Russell Hammond (Billy Crudup), a larger than life groupie named Penny Lane (Kate Hudson), and more people who'll eventually give him that acceptance he's been longing for his whole life. And so, William manages to get hired by Rolling Stone magazine to write an article about Stillwater, and he follows them on the road. But doing this interview will turn out to be much harder than William thought, mainly due to his friendship with Russell, and he'll eventually learn that a life of fame and fortune has a huge dark side too.
Almost Famous is a film that has something for everyone, providing plenty of great music, quotable lines, and iconic moments – even more so if you can recognize the real-life figures these characters are based on – as well as superb performances from its all-star cast, a charismatic protagonist whose enthusiasm is contagious, and a heartwarming story that will teach you that staying true to yourself ultimately pays off.
---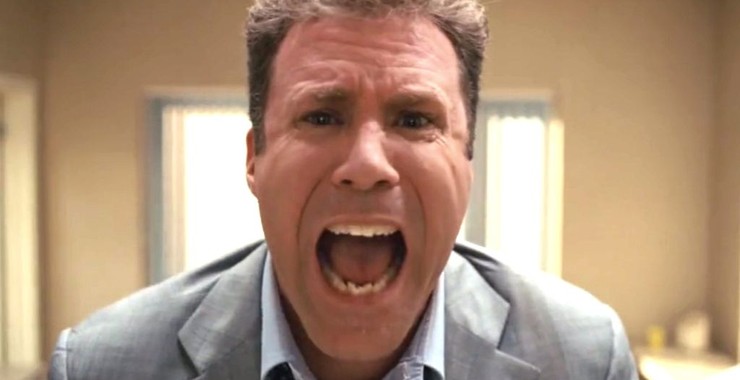 3. STRANGER THAN FICTION (2006)
Marc Forster
The protagonist of Marc Forster's 2006 comedy-drama movie is an IRS auditor named Harold Crick (Will Ferrell), who leads a repetitive, monotonous life and adheres to a strict routine. One day, when Harold is assigned to audit a baker/known tax evasor named Ana Pascal (Maggie Gyllenhaal), he suddenly starts hearing an omniscient voice narrating his life. Things get even more worrying when Harold does something as futile as resetting his wristwatch and the voice narrates that his action will lead to his death. And so, upon advice from a psychologist, our protagonist consults a literature professor named Jules Hilbert (Dustin Hoffmann), who recognizes that the voice in question is adhering to known omniscient narrative devices and decides to help him. What's left to understand now is if Harold's story is a comedy or a tragedy.
Can we truly make decisions in life or have they already been decided for us? What role does fate play in our existence? How do we cope with the inevitability of death? Stranger Than Fiction asks all these questions and more. Watch it for the performances, the unexpected twists, and the important questions it asks.
---
4. THE LOST WEEKEND (1945)
Billy Wilder
Based on Charles R. Jackson's novel of the same name, Billy Wilder's Academy Award-winning 1945 noir film is the story of a chronic alcoholic  named Don Birnam (Ray Milland) who goes on a weekend-long drinking spree with fellow writers, purposely missing the train he was supposed to take to meet his brother out of town. Don is a writer battling alcoholism, and Wilder doesn't shy away from showing us the effects of addiction, portraying his protagonist with all the misery needed to show us just how degrading and humiliating life can become for an alcoholic. The Lost Weekend is an engaging movie, but it's also a very serious depiction of a disease that's often sugarcoated or used for comedic purposes in films, and for that, alone, it's worth watching. It also contains plenty of wit from screenwriters Wilder and Charles Brackett (Sunset Blvd.) and fantastic performances from Ray Milland as Don and Jane Wyman as Don's girlfriend.
---
5. THE DIVING BELL AND THE BUTTERFLY (2007)
Julian Schnabel
Sometimes, real-life stories can be more inspirational than fiction. Julian Schnabel's 2007 film is adapted from the 1997 bestselling memoir by Elle magazine editor-in-chief Jean-Dominique Bauby, who suffered a stroke in 1995 and was left with locked-in syndrome – a neurological condition where someone is fully aware of what's happening around them, and retains all their cognitive abilities, but cannot move or communicate due to most of their body's complete paralysis. In Jean Beauty's case, the only part of his body that isn't paralyzed is his left eye, which is how he was able to write his memoir, using a transcriber that reacted to his blinking. 200,000 blinks later, the novel was published and went on to become a number one bestseller in many countries, not only for the sheer effort that the writing process itself took (keeping in mind that each word required minutes to be written) but also for the honest, heartbreaking story of Bauby's life with this condition – a life that ended right after the book was published, when the writer died of pneumonia.
But Bauby's life and determination is remember now only by his meaningful memoir, but also by Julian Schnabel's film, which transposes the writer's emotions onto the screen and makes this a much more emotional, tangible experience for the viewer that verges onto the spiritual. Stunning, heart-wrenching, and deeply affecting, The Diving Bell and The Butterfly is a true cinematic journey from one of our best directors of our time.
---
Films about writers can be about many different subjects, but they often offer a detailed look at how they overcame their challenges,and are a great source of inspiration for upcoming writers. These five films are all worth watching for their unique approaches to the stories they tell, and are bound to entertain you and inspire you.