5 Animated Movies to Watch on Valentine's Day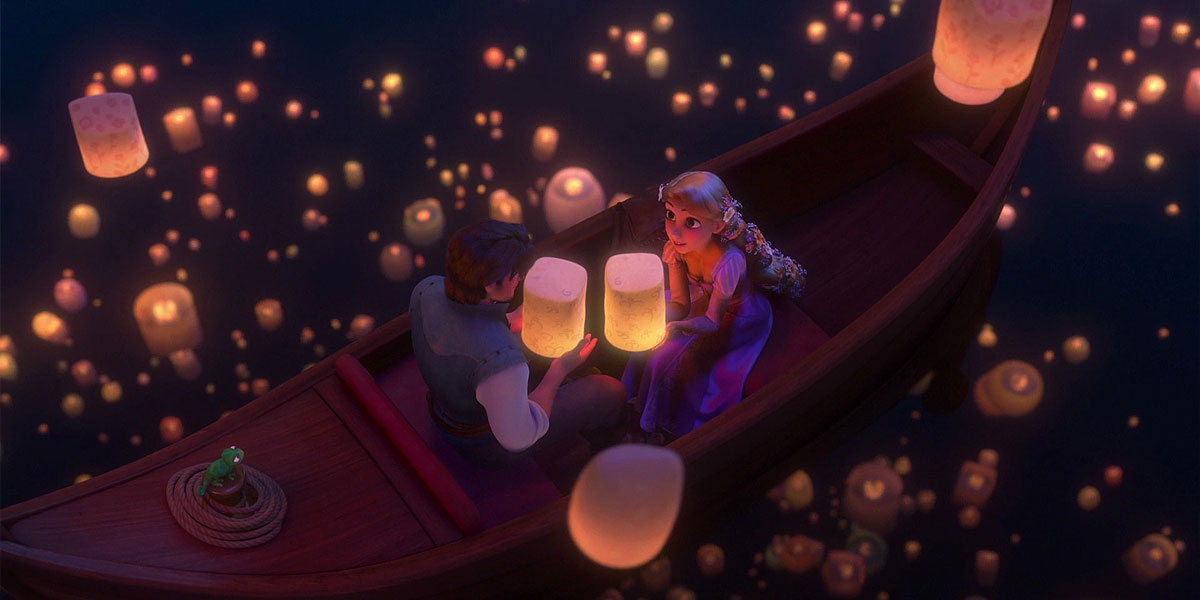 Tangled (Walt Disney Studios)
The perfect animated movies to watch on Valentine's Day, including a beloved Disney classic and a fantasy anime film from the director of Your Name.
---
Typically, when people watch a film on Valentine's Day, it'll be your usual clichéd romantic movie. But this year, how about watching something a bit different? How about rather than crying your eyes out to The Notebook again, you go back in time and relive an animated classic from your childhood? Or perhaps even discover a new gem you'd never heard of before? Animation is such a unique medium, perfectly built for taking simple stories about everyday things and turning them into these grand and flashy events. These traits make it perfect for the romance genre, as it can take these played-out love stories and turn them into something fresh with stunning visuals to match. So here are my picks for 5 animated movies to watch on Valentine's Day, the films that will help create a beautiful moment you'll hopefully remember for the rest of your life.
---
1. Beauty and the Beast
Year: 1991
Directors: Gary Trousdale & Kirk Wise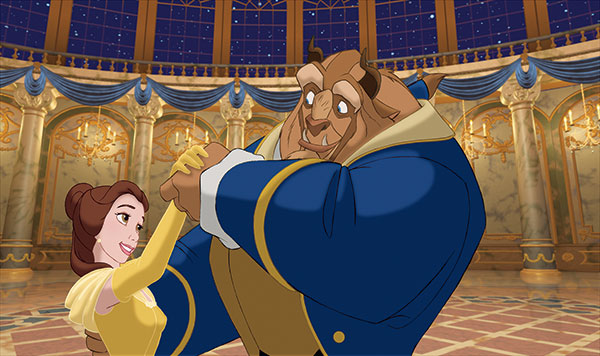 Arguably the quintessential Disney romance, this renaissance classic became the first ever animated movie to be nominated for the coveted Academy Award for Best Picture in 1992. Based on the famous French fairytale of the same name, the story follows the studious Belle (Paige O'Hara) as she imprisons herself in the castle of a beast to save her father. As time passes, Belle and the Beast (Robby Benson) fall in love, crafting several beautiful scenes in the process. 
An easy standout is the beloved ballroom dancing scene, a classic romantic moment featuring the iconic Academy Award-winning title song sung by Angela Lansbury. Belle's dress, the Beast's suit, the ballroom, the song – it all comes together to create a masterful slice of cinema that is perfect for this holiday.
---
2. WALL-E
Year: 2008
Director: Andrew Stanton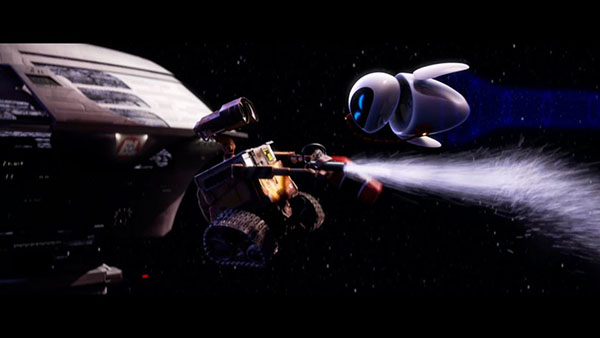 Beauty and the Beast's ballroom scene may be spectacular, but despite all the glamour and beauty, I don't think it's my favourite romantic dance sequence in an animated movie. That honour would have to go to WALL-E, my all-time favourite Pixar film. WALL-E is set in a distant future on a deserted Earth, and follows the titular last remaining compactor robot. When he's visited by another robot, EVE (Elissa Knight), sent to scan Earth for sentient life, the two end up falling in love, and WALL-E (Ben Burtt) follows her across the galaxy.
This pursuit results in the two in space, which leads to the gorgeous "Define Dancing" scene, set to the beautiful track of the same name by Thomas Newman. How do you beat the majesty of dancing in a castle ballroom on Valentine's Day? The answer is, of course, by dancing in the most beautiful and grand place in the universe – space. As WALL-E and EVE glide around the ship, to them it must feel like they're the only beings in the entire solar system. For me, what makes a truly magical moment with your partner is when you feel like you're the only two people in the world and nothing but each other matters. Space may contain every place that exists, but in that second, there's nowhere you'd rather be than alone with them. That is love.
---
3. Weathering With You
Year: 2019
Director: Makoto Shinkai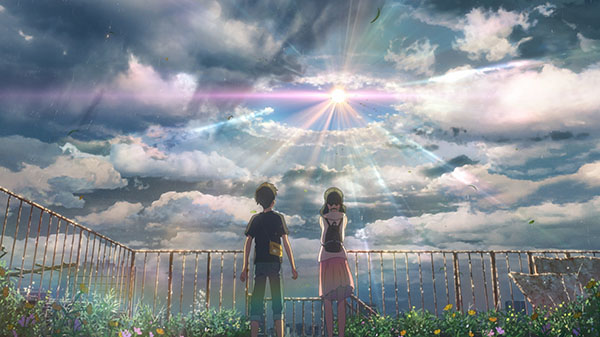 Makoto Shinkai loves a good romance. The anime director also made the critically acclaimed fantasy romance Your Name, which is brilliant, but for me, the purer expression of young love is his 2019 film Weathering With You. The film follows high schooler Hodoka (Kotaro Daigo) who, after running away from home, meets teenage orphan Hina (Nana Mori). Hina is a "sunshine girl" with the power to bring sunlight and get rid of the rain simply by praying. The two come up with an idea to use Hina's powers for profit, creating a business that controls the weather for specific events, falling for each other along the way.
Our two leads are obsessed with the idea of maturity. They're teenagers, yet their main focus is on money and real-world responsibilities, concepts that are meant to be reserved for adults. The two constantly bicker over which of them is acting older and more like an adult. This, to me, rings very true of a classic teenage romance. It reminds me of being young and constantly trying to show off in an attempt to win over the affections of whoever you're pursuing at the time.
Weather is very prominent throughout the film, particularly the contrast between rain and sunshine. The Tokyo Hodoka lives in is one that's seemingly perpetually raining, but when he discovers Hina, she's able to stop it. For just a few moments at a time, she brings the sunshine back into his life. Is there a more romantic concept for a fantasy movie? Weathering With You is a perfect Valentine's Day watch, filled with grand romantic gestures and passionate acts of love. You might end up spending the night crying, but that's a risk worth taking.
---
4. Tangled
Year: 2010
Directors: Nathan Greno & Byron Howard
See Also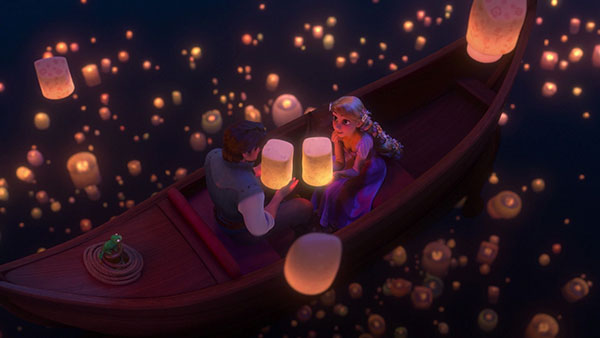 This might be a tad hyperbolic, but in my opinion, the most beautiful image in any modern animated film is found in Disney's 2011 hit Tangled. Said image features the film's central lovers front and centre, sitting together on a boat, surrounded by floating lanterns, staring deeply into each other's eyes. To me, the most beautiful moments in life happen when you can forget about the rest of the world, and that is echoed here.
Tangled is a loose adaptation of the classic Brothers Grimm fairy tale "Rapunzel". It tells the story of the young girl Rapunzel (Mandy Moore) with long, magical hair who, after spending her life trapped in a tower, is finally given freedom when her path crosses with the charming thief, Flynn Rider (Zachary Levi). 
In this scene, as the sky lanterns from the nearby city surround them, you can tell from their expressions that nothing else matters to them. At this moment, their love is the only important thing to them, the only thing worth thinking about. The scene is made even more beautiful thanks to the film's stunning ballad "I See The Light", sung by Moore and Levi. All of this comes together to create one of Disney's most beautiful scenes and makes the film easy to recommend to watch on Valentine's Day.
---
5. Ride Your Wave
Year: 2019
Director: Masaaki Yuasa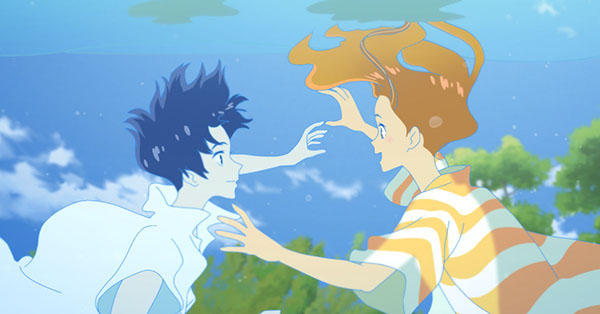 Masaaki Yuasa is my all-time favourite animated filmmaker. Night Is Short, Walk On Girl (2017) and Mind Game (2004) are both favourites of mine, not to mention his series, such as Ping Pong the Animation (2014) and The Tatami Galaxy (2010), my favourite animated work of all time. Ride Your Wave is his attempt at a proper romance film, and follows the blossoming relationship between young surfer Hinako Mukaimizu (Rina Kawaei) and Minato Hinageshi (Ryota Katayose), a firefighter who saves her when her apartment catches on fire. The second half does get a tad ridiculous and insane, but it's specifically the montage early in the film that seals this as a perfect Valentine's Day watch.

Set to a gorgeous duet, the montage doesn't take you on an emotional rollercoaster like the one that opens Up, it simply showcases two people in love being in a relationship. Every aspect of it is either adorable, beautiful or heartwarming, accompanied by Yuasa's typically spectacular and unique animation. There's no better time than Valentine's Day to watch something that simply shows off a couple getting to be a couple. It's a true, pure expression of love and on Valentine's Day, a day about appreciating the things in your life you love no matter what or who they are, is there anything better to watch?

---
READ ALSO: