(Spawns / iStock)
---
Ever since various digital currencies started to be introduced, there has been a lot of interest in crypto-themed movies and TV shows, from documentaries that helped us understand them more to fictional stories made more exciting by the topic, and the high stakes it comes with. And cryptocurrency has also captured the interest of people from various fields — from investment options to payment methods in crypto app, and so on. It even inspired a few TV series and films, and we are here to help you choose the right one for you!
Here's a list of 3 crypto-themed TV shows, from highly popular series to lesser known ones!
---
1. Mr. Robot
(2015-2019)
Mr. Robot has got to be the obvious choice, as this USA Network drama from creator Sam Esmail took the world by storm when it first aired and went on to have three more seasons that were just as successful as the first. The series tells the story of a young computer programmer named Elliot Alderson (Rami Malek), who has two jobs. Our solitary protagonist might be a cybersecurity engineer by day, but he is also a hacker at night, and he's on a mission to right the wrongs of the world. One day, a group of underground hackers named Mr. Robot recruit him to join their cause: bringing down corporate America. Which brings quite the dilemma for Elliot, as he just-so-happens to work for one of said corporations.
This doesn't even begin to explain the brilliance of Mr Robot, but it's best if you discover it on your own. If the series works, it's due to the combination of an original concept, brilliantly brought to life with a screenplay that allows for plenty of tension and suspense, and fantastic performances from the entire cast – mainly, Rami Malek and Christian Slater, who plays Mr. Robot himself. Given its topic, you'll also encounter references to digital currencies and the crypto world, as the show raises thought-provoking questions about privacy, security, and more. We guarantee Mr Robot will have your eyes glued to the screen from start to end.
---
2. StartUp
(2016–2018)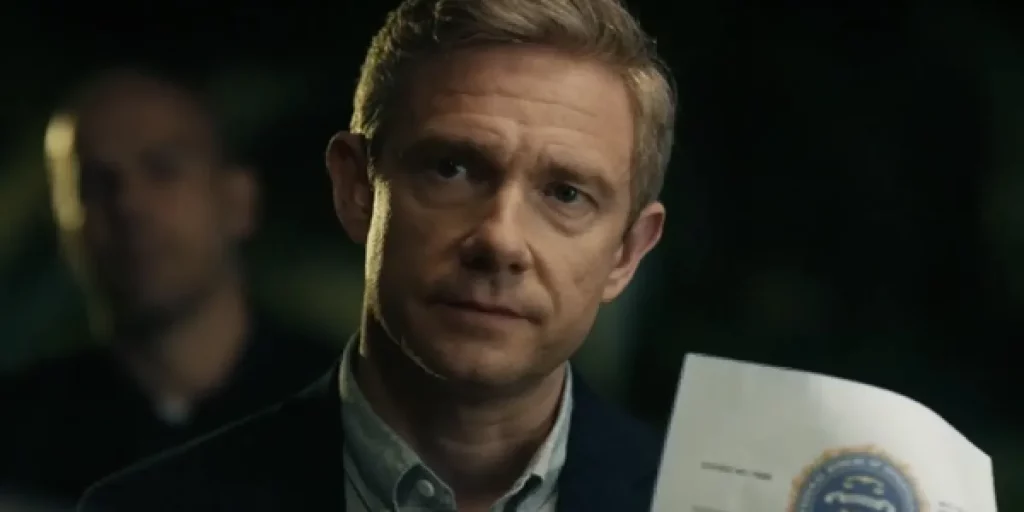 Here's a more obscure title that's also worth checking out! This three-season crime TV show follows the journey of three tech entrepreneurs – a genius named Izzy (Otmara Marrero), a banker named Andy (Carl Weintraub), and his father Nick (Adam Brody), who needs to hide some cash –  who launched their own crypto startup, like the title suggests. But things aren't so easy for our unlucky trio, as FBI Financial Crimes agent Phil Rask (Martin Freeman) is after them.
Set during the early days of crypto history, the series is gripping thanks to a well-paced screenplay, a fantastic cast, and very good technical features, from cinematography and editing to sound design (for which it was nominated for a Golden Reel Award), that will keep you immersed in the intrigue. It also explores the complexities of creating and marketing a digital currency, and the ethical struggles that come in between.
---
3. How to Sell Drugs Online (Fast)
(2019-)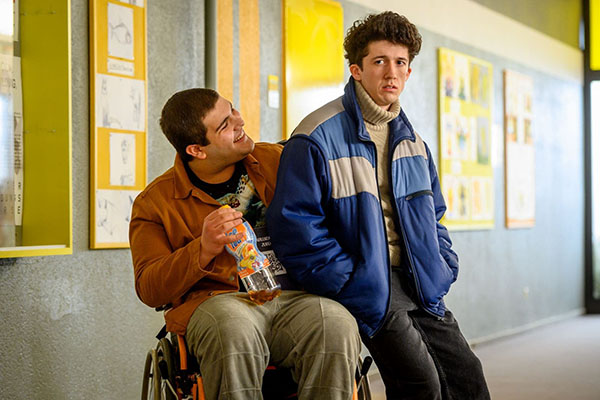 If you thought all crypto-themed TV shows had to be gritty and dark, we're here to prove you wrong. This recent, highly successful Netflix series from creators Philipp Kässbohrer and Matthias Murmann is actually a coming-of-age story. It revolves around two high schoolers who launch a drug business from their bedroom, and it's just as gripping as the other series on this list.
How to Sell Drugs Online (Fast) is a great show if you're looking for something quiky and darkly funny with a crime element in it. At the center of it are best friends Moritz and Lenny, and their ultimate aim is not unlike that of many other teenagers: getting someone to like them. That someone is Moritz's ex-girlfriend Lisa, and the former has come up with an inventive idea. And so, the two launch an actual business that sees them sell ecstasy online – which is where the crypto element comes into play – and that quickly spirals out of control. As their business venture becomes risky and attracts the attention of all the wrong people, our unwitting duo finds themselves entangled into something way bigger than they had imagined, all while striving to get Lisa's attentions back. How to Sell Drugs Online (Fast) is a compelling, hilarious watch, made all the more intriguing by the fact that it was actually inspired by a true story.
---

The 3 shows listed above are not only crypto-themed, but they all find an interesting way to explore their unique premises and deliver fantastic TV storytelling as a result. Whether you're looking for a colorful coming-of-age show with a twist, for an acclaimed long-running series, or for a hidden gem with a fantastic cast, you'll find plenty of binge-watching material! Happy watching!