10 Feel-Good Films to Take Your Mind Off Covid-19

The Martian, La La Land, Ocean's Eleven (Twentieth Century Fox, Summit Entertainment, Warner Bros)
10 feel-good films to help take your mind off Covid-19, from La La Land to The Young Girls of Rochefort, recommended by our writers!
Though it's only been a few months since we published a list of "5 Feel-Good Movies to Take Your Mind Off Coronavirus," March 2020 seems ages away. Back then, we were about to enter our first lockdown, and we were still unaware of how long it was going to last and how much it was going to affect us all. Eight months later, with several countries currently dealing with a second wave, our need to be comforted and cheered up couldn't be stronger. Many of you have been reading our March article again, looking for inspiration, so we decided to write another one. From La La Land to The Young Girls of Rochefort, here are 10 more feel-good films to take your mind off Covid-19, as recommended by our staff. Read our original list of feel-good movies!
---
LA LA LAND
ZACH'S FEEL-GOOD FILM
Director: Damien Chazelle
Year: 2016
Cast: Ryan Gosling, Emma Stone, Rosemarie DeWitt, J.K. Simmons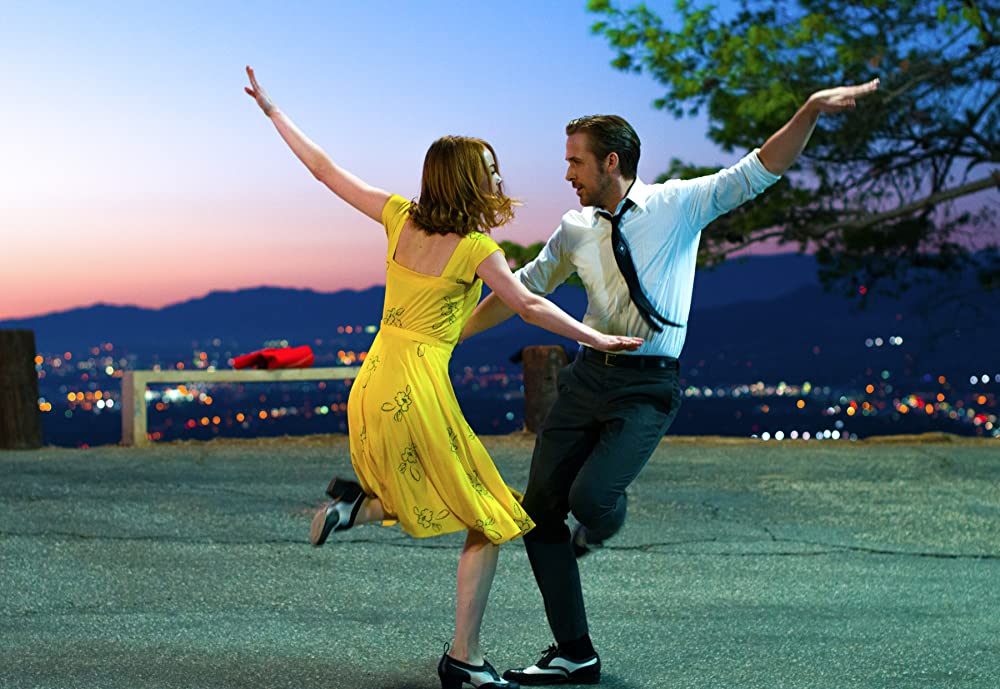 Moreso than practically any other film made since the heyday of Hollywood in the late 1920s, no movie has better manifested the magic of the cinematic medium than Damien Chazelle's 2016 masterwork, La La Land. On the surface, it's an opulent, optimistic ode to the creative daredevils of the world who seek to defy the odds and pursue their dreams by all means necessary, full of magisterial musical numbers, delightfully diverting dialogue, and an excess of classic-cinema-esque enchantment. And yet, the satisfactions don't stop there. While Chazelle spends most of the movie building up this fanciful fantasy for Emma Stone's Mia (The Favourite, The Help) and Ryan Gosling's Sebastian (First Man, Blade Runner 2049), he just as deftly deconstructs this tall tale in the end, all while somehow never losing sight of the film's infectious idealism.
La La Land doesn't avoid the anguish that can accompany any artist's journey to shoot for the sometimes seemingly unattainable stars – Mia and Sebastian's struggles are laid out in unflinching, unglamorized ugliness, and even though both find success in their respective lines of work, these accomplishments still come at a cost – but, even while remaining rooted in reality, the film always emphasizes the euphoric enticement at the center of this intimidating industry that draws the dreamers in time and time again, encouraging us to never lose hope despite what woes may come our way. Life isn't a fairy tale, as Mia and Sebastian so dismally discover, but it isn't without its happy endings either – even if they aren't how you always envisioned them. Mia sums it up best in the film's second featured song, stating that, no matter what, "somewhere, there's a place where I'll find who I'm gonna be – a somewhere, that's just waiting to be found." And the search never stops.
---
LINDA LINDA LINDA
ANTHONY'S FEEL-GOOD FILM
Director: Nobuhiro Yamashita
Year: 2005
Cast: Bae Doo-na, Aki Maeda, Yuu Kashii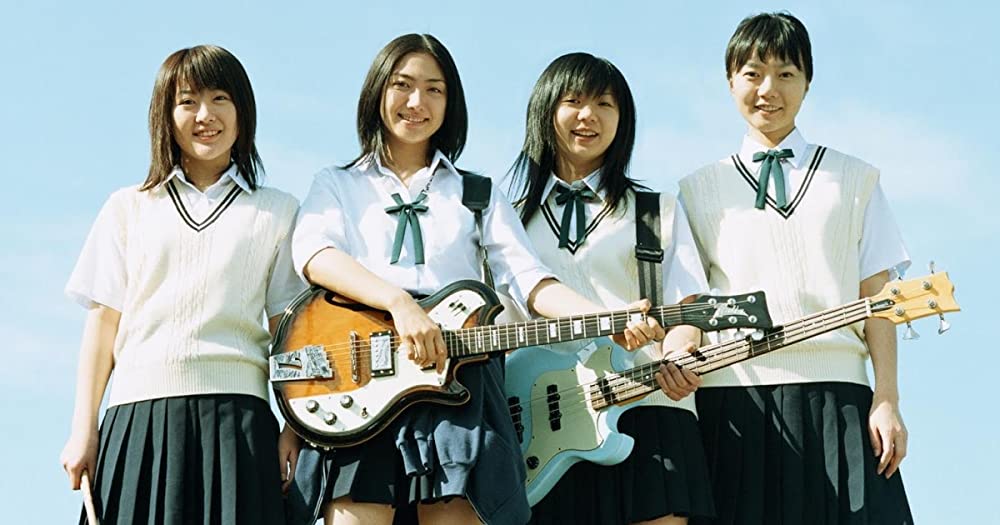 Linda Linda Linda has everything you would ever want from a film: friendship, a rollicking pop-punk soundtrack, beautiful cinematography, and relatable characters, to name just a few examples. It tells the straightforward but whimsical story of three high school girls who recruit a Korean international student to perform the vocals for their band. Moreover, they only have three days to learn three songs for an upcoming music festival their high school is putting on! Will they have enough time to come together as a band, learn the songs, and juggle their other responsibilities?
Sensitively directed by Nobuhiro Yamashita and featuring Bae Doo-na (The Host, Cloud Atlas) in a marvelous performance, the film wistfully captures the highs and lows of high school, from staying up too late with your friends to awkward crushes. It radiates sheer warmth throughout its runtime, gently nestling the viewer into its world and gradually developing its characters. The music throughout is impeccably catchy and develops strong emotional ties between the characters and the music they play. Linda Linda Linda is nothing less than a perfect cinematic accomplishment. It achieves everything it sets out to do, crafting a joyous and intimate viewing experience sure to please just about anyone. 
---

KIKI'S DELIVERY SERVICE
JOSHUA'S FEEL-GOOD FILM
Director: Hayao Miyazaki
Year: 1989
Cast: Minami Takayama, Rei Sakuma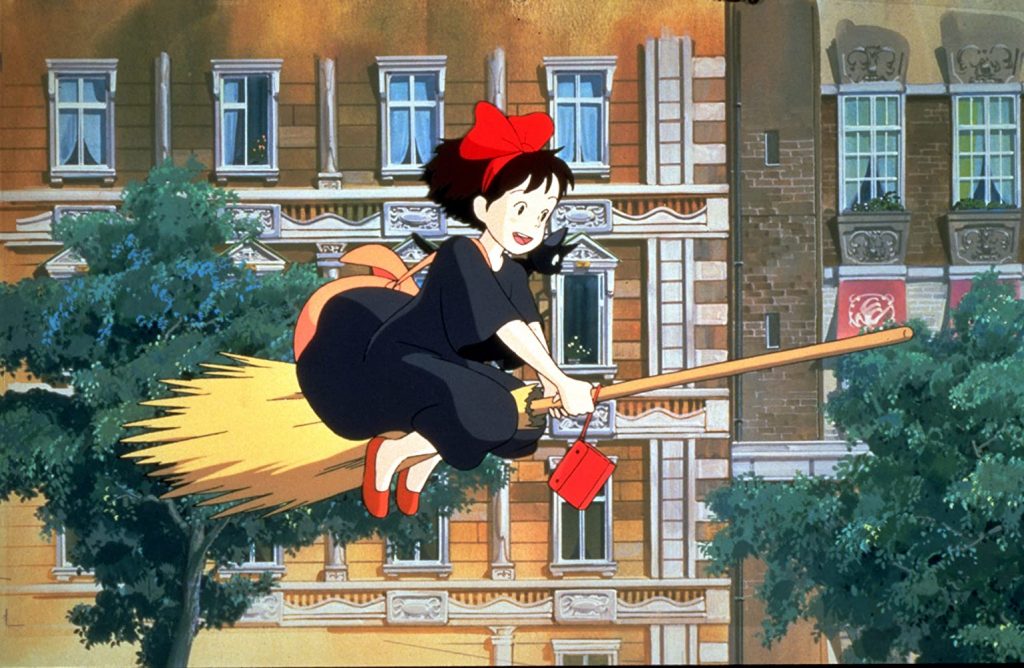 There are several Studio Ghibli releases that can be easily be included on this list, but Kiki's Delivery Service is the quintessential film. This Hayao Miyazaki classic captures the day-to-day life of a 13 year old witch in training. Kiki moves to the big city, facing the struggles of independence and learning to overcome her self-doubt. This coming of age story is filled with charm, set in a wonderful world that can only come from the creative mind of Miyazaki. Kiki, the protagonist, can also be seen as a great inspiration for young girls, as she overcomes self-doubt and learns to embrace failure as a opportunity to improve upon oneself. Overall, the film can appeal to everyone: it is so joyful that adults will love it more than children. As Miyazaki puts it, "it will inspire sympathy in the viewers."
---
AMÉLIE
ADELE'S FEEL-GOOD FILM
Director: Jean-Pierre Jeunet
Year: 2001
Cast: Audrey Tautou, Mathieu Kassovitz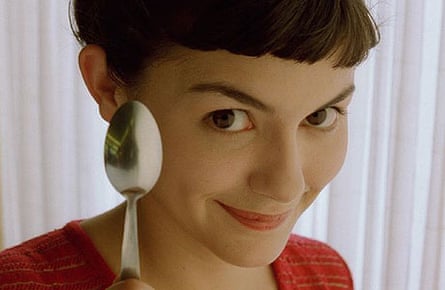 Jean Pierre Jeunet (Delicatessen)'s Le Fabuleux Destin d'Amélie Poulain is a contemporary fable with an unforgettable look, told with vivid hues of green and red and saturated with feel-good vibes. Set in 1997, the film tells the story of Amélie Poulain (Audrey Tatou), a young girl who finds a treasure box hidden behind a tile in her bathroom. As she sets off on a mission to find the owner of the box, she decides that her 'call in life' will be to fix other people's lives, and help them find their own happiness. Audrey Tatou (Coco Before Chanel) is perfect as the weird and shy Amélie, as she is able to underplay her character's sparkly essence, clearly curbed by her parents' strict upbringing. Mathieu Kassovitz (Munich) is just as great in the role of Nino, her love interest and peculiar match. Both characters are used to living in the background of other people's lives, and Tautou and Kassovitz convey this feeling with simple gestures and expressions: we cannot help but like them right from the start.
What ultimately makes Le Fabuleux Destin d'Amélie Poulain a magical movie is its quirkiness, and its ability to keep us glued to the screen, making its two hours of runtime fly by. The film's brilliance lies in the roundabout ways Amélie goes about helping others, rather than following a more realistic, straightforward fashion. Iconic is the kidnapping of her father's garden gnome, in order to bring his hidden longing for travels back to life: Amélie manages to have the gnome photographed in front of various famous places around the world and send them as postcards to her father, sparking confusion and curiosity in him and a true giggle from the audience. Le Fabuleux Destin d'Amélie Poulain is the cinematographic embodiment of 'uplifting' and 'warm'. Its magic still works like a soothing balm for the heart everytime I watch it, making it a go-to choice for gloomy autumnal evenings.
---

THE MARTIAN
CLAIRE'S FEEL-GOOD FILM
Director: Ridley Scott
Year: 2015
Cast: Matt Damon, Jessica Chastain, Chiwetel Ejiofor, Jeff Daniels, Kristen Wiig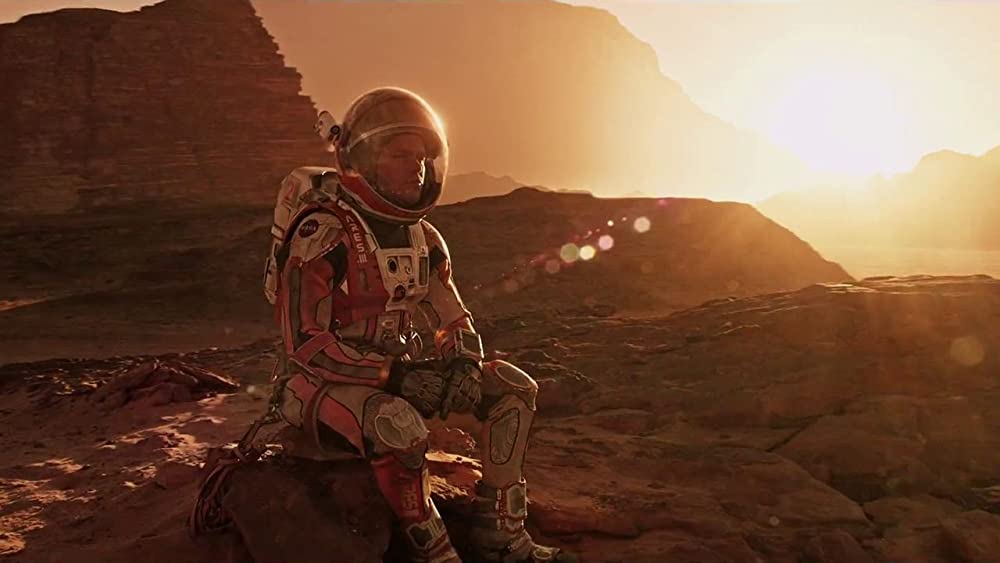 With millions of people all over the world living under local lockdowns, on paper (or rather, screen) it seems odd to recommend a film in which the main character is completely isolated and unable to go outside. But Ridley Scott's space epic belongs to a particular sub-genre of films wherein it's the intelligence of people competent at their jobs, a trust in science and a willingness to work together that ultimately provides the positive outcome. Sounds idyllic, no?
The Martian is engaging right from the off, with a tight, smart script that doesn't over explain NASA-isms to us normal folk and peppers in a good dose of humour, whilst still building to a tense third act that delivers even upon repeat viewings. Every actor involved is believable in their role – side note, what a fantastic cast on offer –  and the characters are so delightfully competent that even the most minutiae aspects of Mark Whatney's (Matt Damon) rescue mission provide entertaining viewing. It's an absolute pleasure to spend 2+ hours in the company of clever people doing clever things and getting a happy ending – and a helping of disco music – by the end credits. Let's hope 2020 ends with a good dose of Gloria Gaynor as well.
---
OCEAN'S ELEVEN
SERENA'S FEEL-GOOD FILM
Director: Steven Soderbergh
Year: 2001
Cast: George Clooney, Brad Pitt, Julia Roberts
What is it about heist movies that makes them so compelling? Throughout the decades, countless films have used the heist formula to craft stories about charming criminals teaming up to fight wealthy bad guys in sophisticated, intricate and often not entirely legal ways, but with good intentions at heart. In the 1950s-80s, films like The Killing (1956), Bonnie and Clyde (1967) and The Sting (1973) became instant classics, defining a sub-genre that would later evolve into incredibly elaborate, one-of-a-kind gems like Reservoir Dogs (1992), The Usual Suspects (1995) and Inception (2010). Though very different in style, all these films tackle universal themes like justice, trust and growth, following a winning formula that never fails to deliver.
There's something incredibly satisfying about watching a group of underdogs meticulously plan the perfect heist, carefully recruit the right people for the job, cleverly overcome unexpected obstacles, and ultimately succeed. Ocean's Eleven follows the same pattern, adding an all-star cast, excellent characterization and the right dose of dark humour to the mix. As you are drawn into Danny Ocean (George Clooney)'s world, you'll soon find it impossible not to root for his gang of lovable thieves (Brad Pitt, Casey Affleck and Matt Damon, among others), as they plot to pull off the biggest heist in history so as to leave evil casino owner Terry Benedict (Andy Garcia) empty handed, all while reuniting Danny with his ex wife (Julia Roberts). Leave all your troubles behind, travel back to the age of analog cell phones and questionable ties, and prepare to fall in love with Steven Soderbergh's 2001 masterpiece. Be warned: you'll want to keep watching it over and over again.
---

PADDINGTON
NILS'S FEEL-GOOD FILM
Director: Paul King
Year: 2014
Cast: Ben Whishaw, Hugh Bonneville, Sally Hawkins, Nicole Kidman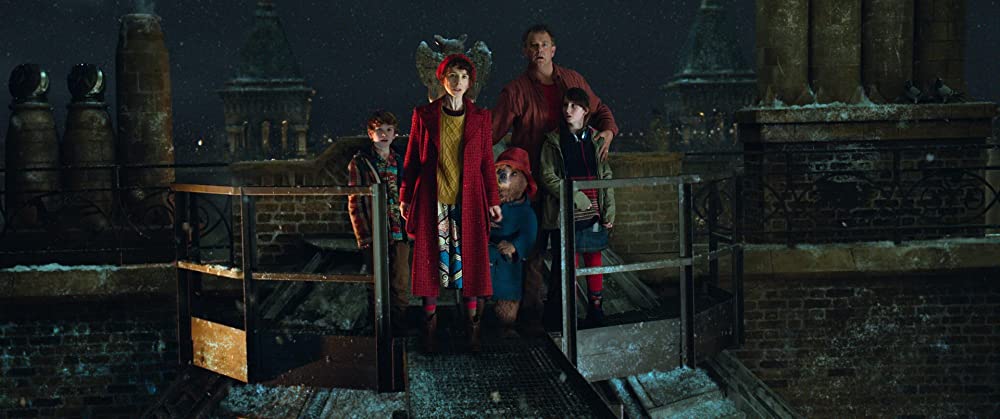 Paddington is the ultimate feel-good film: emotionally, comedically, and cinematically satisfying. Based on a series of iconic British children's books, the film tells the story of a friendly and well-meaning bear from "darkest Peru" named Paddington who travels to London and finds a new home with the Brown family. London is portrayed as a colorful, multicultural utopia, a city where all belong and all are welcome—bears included—and shares an infectious message to be kind and see the good in everyone.
The film boasts a strong cast, especially Ben Whishaw with his memorable voice performance of Paddington and a deliciously sinister Nicole Kidman as a villainous taxidermist, her amusingly diabolical gusto only bested by Hugh Grant in the sequel. Meanwhile, Paddington surprises and compels as a piece of filmmaking, aesthetically charming with its bright color palette, seamless visual effects, and Nick Uruta's whimsical score. Most dazzling, however, are its comically thrilling set pieces that delight with perfect comedic timing and grace, especially a skateboard/bus/umbrella pursuit of a thief and a suspenseful climax set in the Natural History Museum. Whether you choose to view the film as an immigrant narrative and a prescient antidote to mid-2010s Brexit anxieties or just a warm and wholesome comedy, Paddington is relentlessly optimistic and never short of laughs. 
---
SING STREET
BERNARD'S FEEL-GOOD FILM
Director: John Carney
Year: 2016
Cast: Ferdia Walsh-Peelo, Aidan Gillen, Maria Doyle Kennedy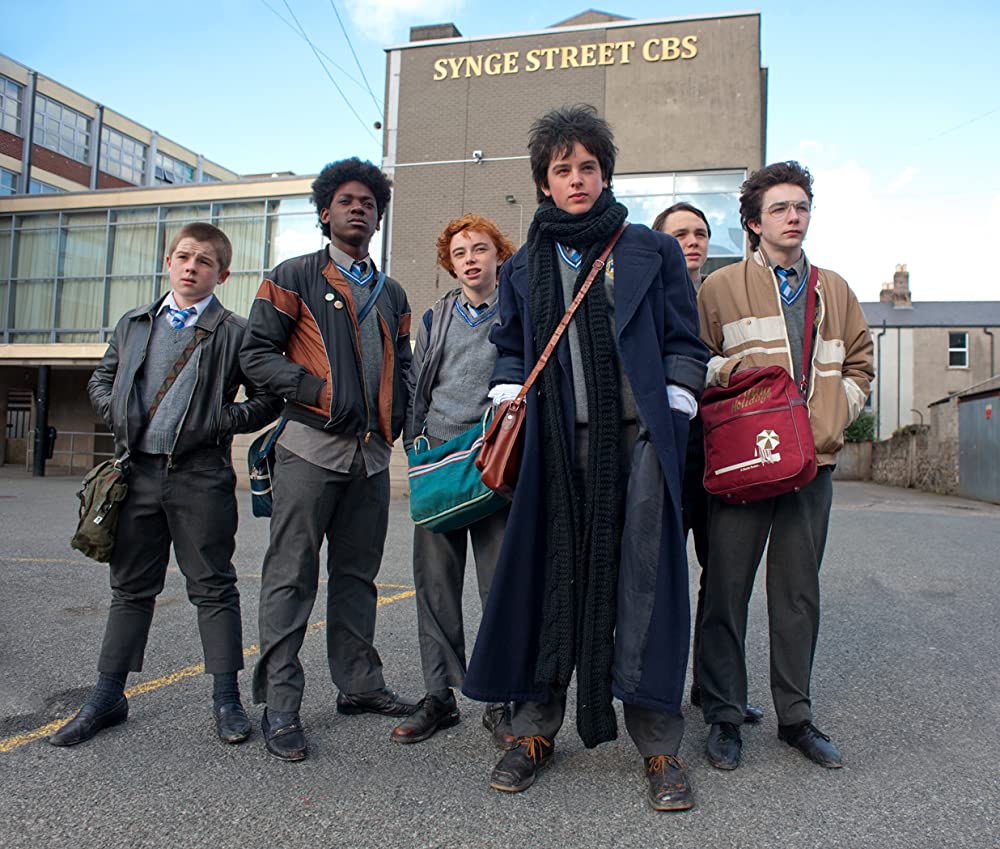 As we settle in for yet another stretch of COVID generated misery, lockdowns in Europe and cancelled holidays in the US, we could all use a movie that puts a smile on our faces.  Allow me to recommend a movie that puts a smile on my face, the Irish diegetic musical Sing Street.  The film tells what is ostensibly a simple coming of age story: a nerdy high school boy meets a cool girl in 1985 Dublin and forms a band to impress her.  The arc of our lead character's growth as a young man is reflected in the band's evolving musical style. Early jittery pop gives way to more soulful love ballads as the boy gets closer to the girl.  Under the direction of John Carney (Once), Sing Street comes alive in each musical sequence; each song is a fantastic little earworm and feels like a lost 80s gem. And the whole thing is just so damn fun – a joyous musical and a fantastic, touching coming-of-age story.  If the film's signature song "Drive It Like You Stole It" doesn't put a smile on your face, I question if you're capable of experiencing joy.  Watch Sing Street, take your mind off COVID, and bask in the glow of young love and awesome music.
---
THE WORLD'S END
SERENA'S FEEL-GOOD FILM
Director: Edgar Wright
Year: 2013
Cast: Simon Pegg, Nick Frost, Martin Freeman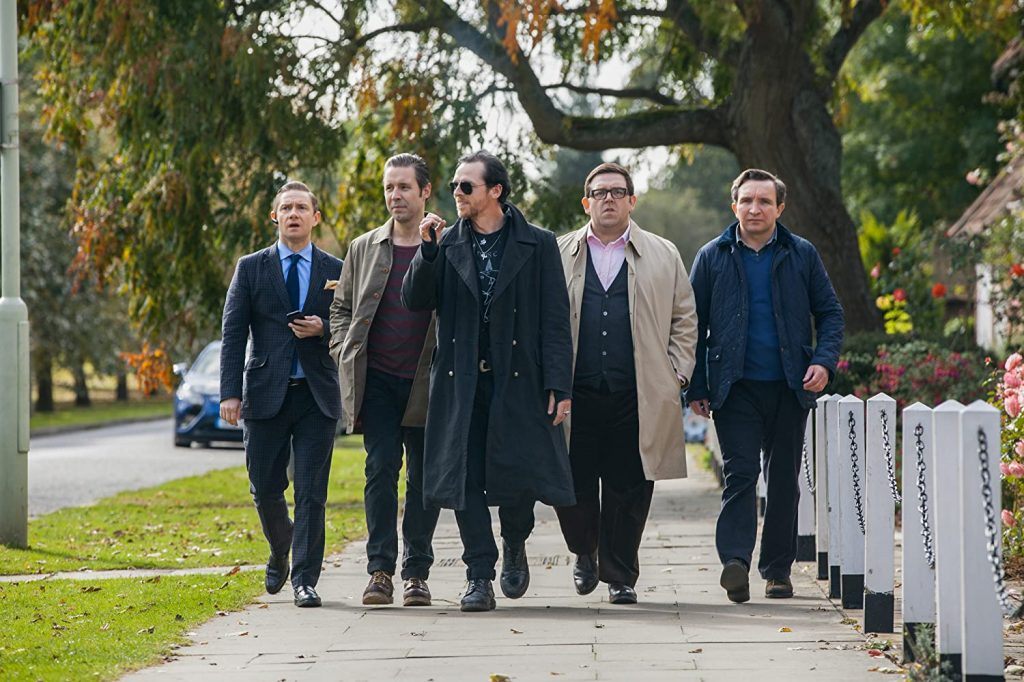 When the world as we know it seems to have ended for good, there's no better film to keep us company than a movie that literally revolves around the end of the world. Of course, the third and final installment of Edgar Wright's beloved Cornetto Trilogy is so much more than that. Filled with wonderful dark humour, bizarre coincidences and plenty of British pop culture references, The World's End is perhaps the most accessible chapter of an exceptionally entertaining trilogy that began with the iconic zombie rom-com Shaun of the Dead (2004) and the clever buddy-cop comedy Hot Fuzz (2007).
Excellent characterization, hilarious neologisms, a really great soundtrack and a meaningful lesson to teach: The World's End has them all, showcasing Wright's incredible talent as a storyteller and featuring a charismatic lead whose self-destructiveness was, to Simon Pegg, so much more than a comedic device. To soften the wait for Wright's much anticipated upcoming thriller Last Night in Soho, revisit this ageless classic and get ready to add the expression "Let's Bubu" to your vocabulary.
---
THE YOUNG GIRLS OF ROCHEFORT
ETHAN'S FEEL-GOOD FILM
Director: Jacques Demy
Year: 1967
Cast: Catherine Deneuve, Françoise Dorléac, George Chakiris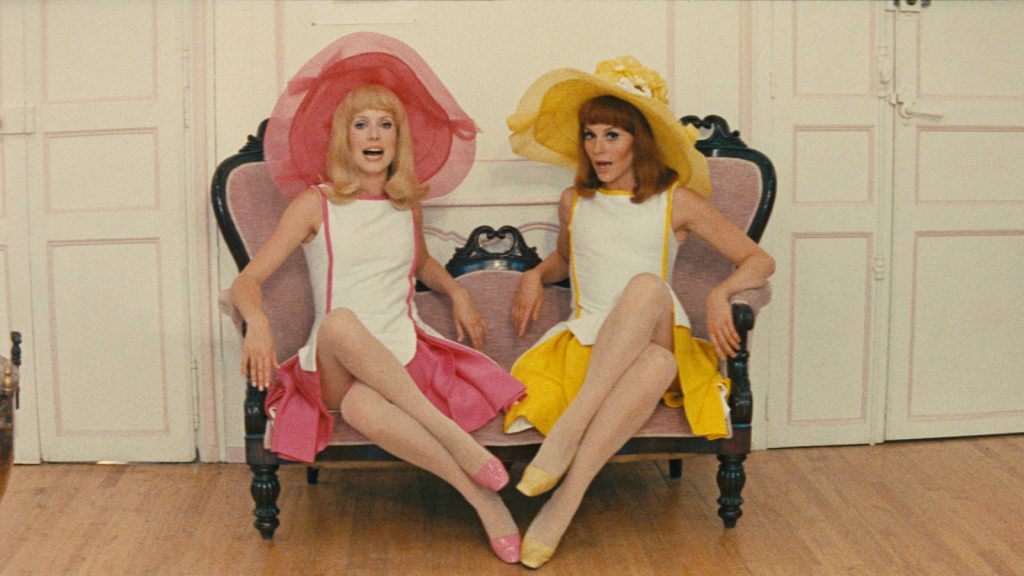 The films of French director Jacques Demy occupy a special place in the French New Wave Canon. While François Truffaut and Jean-Luc Godard spent their time experimenting with editing and story, Demy took the style of the golden age of Hollywood and breathed new life into what was considered a dead form and created some of the most vibrant and endearing musicals of all time. The Young Girls of Rochefort is both his best film and one of the purest expressions of joy ever put to celluloid. Following an assorted cast of characters in the town of Rochefort over an eventful weekend, Young Girls sees Demy at the height of his power both as a deeply emotional storyteller and a brilliant musician, crafting a narrative that compliments the upbeat score and musical numbers composed by Demy and composer Michael Legrand that fill your heart with glee. It's light enough that it won't require too much attention while still delivering a story that will keep you invested until the very end, and ultimately give you hope for the future.
---