Whitney Houston: I Wanna Dance With Somebody (2022): Film Review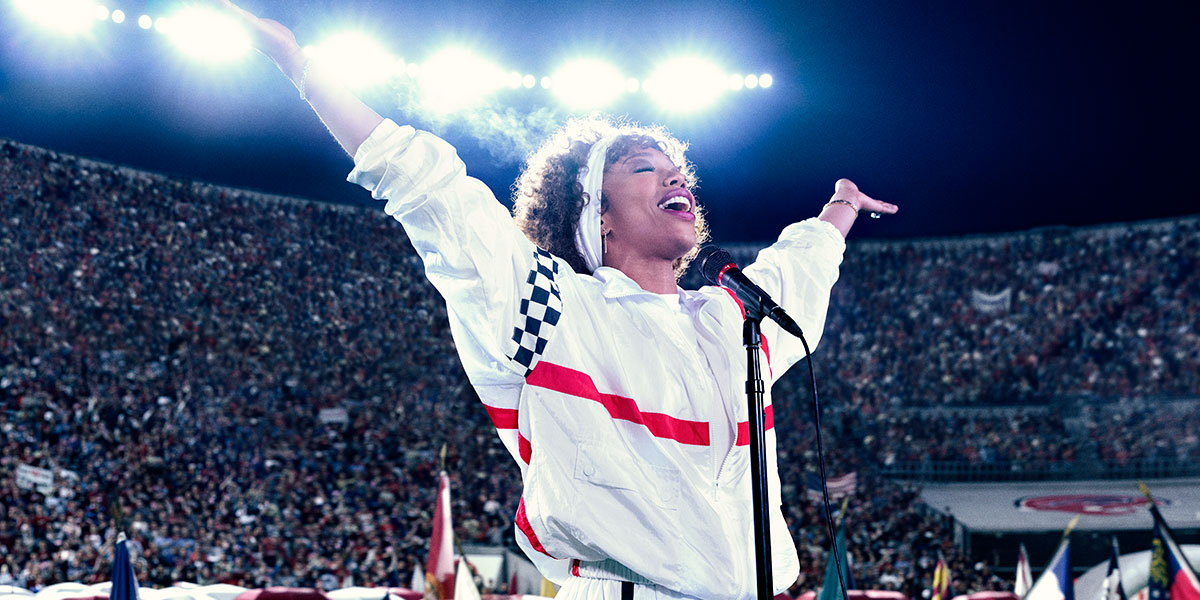 Naomi Ackie in Whitney Houston: I Wanna Dance With Somebody (Emily Aragones © 2021 CTMG, Inc.)
With a knockout performance by Naomi Ackie, Whitney Houston: I Wanna Dance With Somebody is a solid addition to the celebrity biopic genre.
---

Growing up, it would have been almost impossible for me to avoid listening to Whitney Houston's music. Whether "I Have Nothing" or the titular "I Wanna Dance With Somebody" was arguably the best ballad ever made, there is no doubt that the mark that Whitney Houston left on the entertainment industry will have lasting impacts until the end of time. Even though I knew how important Whitney Houston was, I only knew around three things about her life before watching this film. I knew that she is known as one of the best vocalists to ever live, she was married to Bobby Brown, and she tragically died due to drug-related issues. Luckily, this film is able to capture all of the greatest parts of Whitney Houston's life and career while still being quite entertaining.
Whitney Houston: I Wanna Dance With Somebody opens right before the world got to know and love the international sensation. Whitney (Naomi Ackie) is a girl who has dreams of taking music seriously but only sings for her church and backup for her mother, Cissy Houston (Tamara Tunie). Eventually, producer Clive Davis (Stanley Tucci) discovers Whitney and immediately starts to work with her and her family to create the woman and brand that we all know and love today. Similarly to many other celebrities biopics, Whitney Houston: I Wanna Dance With Somebody follows the highs and lows of her stardom, paying close attention to some of the more unknown personal relationships that have developed throughout Huston's life.
It goes without saying that, in order for any biopic to have quality, the person who plays the lead must knock it out of the park, and Naomi Ackie is more than up for the challenge. Starring as the lead and executive producing this film, Ackie plays Houston with both grace and ferocity, making this easily one of the best performances of the year. Playing one of the most beloved musicians of all time is such an intimidating task, especially since this film comes out only a mere ten years after Houston's passing, but Ackie's performance has a rare truth to it that, as an audience member, makes it obvious that there could not have been a better casting choice.
On top of that, all of the actors understood the weight of this film, and it can be felt through almost every performance. Both Nafessa Williams as Robyn Crawford and Aston Sanders as Bobby Brown are fantastic in their respective roles, further allowing Ackie to deliver such great work.
After the success of Bohemian Rhapsody, there has been a huge push for celebrity biopics, and Whitney Houston: I Wanna Dance With Somebody adds itself to the list. One of the biggest criticisms of this genre has been that too many of them are extremely formulaic and lack any originality. One of the best ways to combat this criticism is having the director of these films make whoever's life they are portraying have a particular style. While I wouldn't say that Whitney Houston: I Wanna Dance With Somebody is stylistic, director Kasi Lemmons brings a particular energy to this film. It is evident that Lemmons is such a fan of Houston, and it can be felt through some of the camerawork. It feels as if the audience is getting a sneak peak into Whitney's life as the events are happening, which causes a sense of excitement to fall over everyone. This mainly works out for the benefit of the movie, since the majority of the runtime is given to celebrate the glorious voice Houston had, but as some of the lows in her life occur, the excitement starts to turn into exhaustion.
Speaking of some of the lows in her life, one of the best parts of Anthony McCarten's screenplay is how it tackles Whitney's addiction. Similarly to real life, the addiction in her life slowly starts to creep into her life, and as viewers, we experience the same thing. We see a slightly unsettling exchange, or Whitney doing drugs once, but it doesn't feel like addiction until it's almost too late. Having this subtlety about the darker parts of the protagonist's life is was seperates Whitney Houston: I Wanna Dance With Somebody from a lot of the other biopics that have recently come out.
Unfortunately, this is one of the only positives of an extremely formulaic script. The film follows a lot of the same beats of other biopics and it takes away from appreciating some of Whitney Houston's life. Since this film courses through the career of Whitney Houston from start to finish, the script isn't allowed to stay in one part of her life for a long time. For example, the relationship between Whitney and her father John Houston (Clarke Peters) is constantly tested as she rises in fame, but we only get a few scenes of the film that explore what was probably one of the most important relationships of her life. Instead, we bounce from show stopping performances to personal and family drama, back to more music, not leaving enough time for the audience to really sit with what is going on in Whitney's life.
Yet, Whitney Houston: I Wanna Dance With Somebody still ranks high on the list of celebrity biopics. There is enough personality coursing through the entire film that makes it consistently entertaining, and it definitely helps that the subject matter about such a talented person. Whitney Houston was such an amazing person and having this film represent a large amount of her legacy makes it worth the watch, but it's its humanistic portrayal of both the film and her legacy that makes it mean so much more to many. During this holiday season, go see Whitney Houston: I Wanna Dance With Somebody in theaters, and everyone will get something out of it. From the phenomenal performances to the celebration of Huston's greatest hits, there is guaranteed to be something for everyone to love.
---
Whitney Houston: I Wanna Dance With Somebody will be released in US theaters on December 23, 2022, and in UK cinemas on December 26.