Where the Devil Roams: Brooklyn Horror Film Review

Where the Devil Roams is a unique addition to the indie horror space, showcasing the undeniable talent and creativity of the Adams family.
---

Before watching Where the Devil Roams, I wasn't familiar with the Adams family's work, though they've made quite a name for themselves in the indie horror world. The quartet in question consists of partners John Adams, and Toby Poser and their two daughters, Zelda and Lulu Adams. The family previously worked on Hellbender (2022), which awarded Zelda Best Actress at the 2021 Fantasia Film Festival, with the film also receiving a win for the Best Motion Picture Score. What makes the Adams family's films unique is the fact they handle all aspects of the production themselves, and their latest feature is no exception.
During the opening scene of Where the Devil Roams, a man dressed in dapper attire reads a poem in front of an audience. The literature in question tells the story of Abaddon, an angel who fell from heaven and then, through no choice of his own, lived in hell. After escaping the netherworld, he lived among men and fell in love with a human. Years later, she passed away, though by pure miracle, a needle Abaddon placed in her heart kept the organ alive. Since then, those who stumble across it possess unexplained magical powers.
After Where the Devil Roams' powerful opener, we are introduced to Maggie (Toby Poser), Seven (John Adams), and Eve (Zelda Adams), a traveling family of sideshow performers living through the Great Depression. Their passion is to entertain, but it's a dying business, with most onlookers appearing unamused by the acts that take the stage. One performer among the pack, Mr. Tipps (Sam Rodd), completely mesmerizes Eve as, while onstage, he cuts his fingertips off without so much as flinching. She later learns that he's the current owner of the heart that she wishes to steal in hopes of eternal life, though she later learns that it may come at a price.
The chemistry between Maggie, Seven, and Eve is undeniable and unsurprising, as the trio is a family in real life. Though quite different, each character brings distinctiveness to their respective roles, and there's a strong theme of family unity throughout the feature. Maggie is a serial killer, and her victims are those who stole land from others. We don't learn of any events that led to her committing the crimes, though this streak has been part of her DNA from a young age, and the mystery of why makes her more intriguing as a character. Though consistently showing a violent side, she is loving to her daughter and husband, with Poser transitioning from a brutal murderer to a loving wife and mother effortlessly.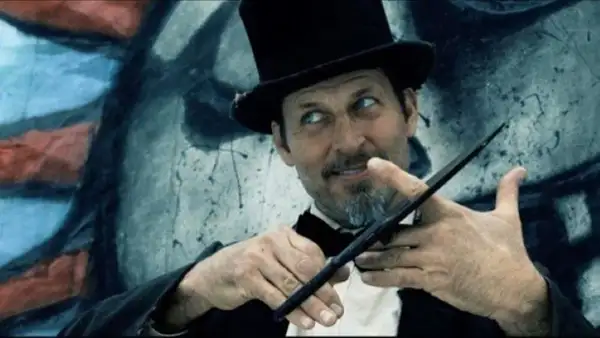 Her partner, Seven, is a former combat medic. He has severe PTSD after reluctantly carrying out an amputation while in the field. John Adams throws himself into the role of a fractured family man, and his tender approach pays off. Since his war incident, Seven can't bear the sight of blood. However, he seems unfazed by his wife's extracurricular activities outside of their carnival acts so long as he covers his eyes. Their daughter Eve is mute, though she's a smart observer and has a flare for photography and sewing. By pure miracle, when performing at carnivals with her parents, her vocal range comes to life, and she's able to sing angelically. Zelda Adams gives a captivating performance through Eve's strong-willed presence, even in the absence of dialogue.
See Also

The Adams family's cinematography in Where the Devil Roams is both beautiful and engrossing, given their limited budget. From snow-filled landscapes to trees overlooking their 1930s Chevrolet, as the family drives through damp country lanes lined with wooded forests, the filmmakers excel at visual storytelling. When it comes to the gore, and there's plenty of it, practical effects are utilized to produce potent kills that aren't for the faint of heart. There are moments where the feature coasts along, and the narrative takes a backseat to the bloodshed, but the horror elements are haunting and detailed. As genre horror fans, the Adams family know what their audience expects and how to give viewers a bloody good time.
All in all, Where the Devil Roams is an impressive horror flick that is beautifully shot and acted. While the film is quite graphic and may not be for everyone, the Adams family's dedication, undeniable talent, and creativity deserve to be noticed.
---
Where the Devil Roams had its NY Premiere at the 2023 Brooklyn Horror Film Festival in October.