TRAMPS! (BFI Flare Review): All Hail The New Romantics!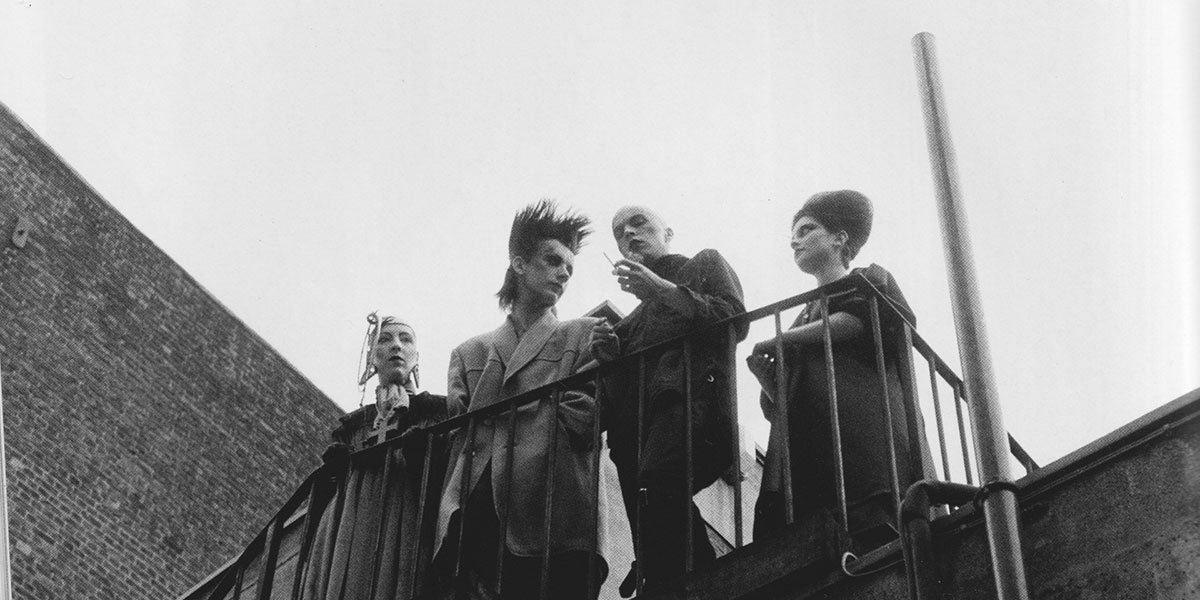 TRAMPS! (Courtesy of BFI Flare 2022)
The closing film at this year's BFI Flare Festival, TRAMPS!, is an audio-visual whirlwind and a beguiling documentary that pays tribute to the New Romantic scene.
---
In the mid-to-late-1970s, a new subculture of several artists and other creative types began to take shape in London. Soon, they gained the name 'New Romantics'. As the punk scene began to dissipate, the New Romantics took over. It was a lifestyle. It generated art, fashion and music, later inspiring acts such as Duran Duran and Spandau Ballet. TRAMPS!, the new documentary by Kevin Hegge, tells the story of the New Romantic scene and its increased prominence. But Hegge isn't interested in any famous figures. The most notable name mentioned here is Boy George, and he is mentioned constantly but never featured. Instead, he interviews the personalities who are often neglected from this story. They include Judy Blame (who passed away in 2018 – a sign of how long this documentary has been in development), Princess Julia, Scarlett Cannon, John Maybury and others.
The closing film at this year's BFI Flare Festival, TRAMPS! is less a documentary and more an audio-visual whirlwind. Right from the beginning, composers Matthew Sims and Verity Susman (and the film's exemplary sound department) produce a blistering wall of sound. It's electric and almost industrial, correlating with the synths later used in the 1980s to generate synthpop and conquer America. But it's also loud and abrasive, as radical as the strong, flamboyant and charismatic personalities that Hegge focuses on. Meanwhile, Neil Cavalier's rapid editing pieces together footage plucked from the archive, demonstrating the visual provocation that the New Romantic movement was all about. And the New Romantics were provocative. They held Alternative Miss World contests. Filmmaker Derek Jarman made arthouse films. Even in Thatcher's Britain, the New Romantics thrived in subversion, in counterculture and in gender non-conformity.
Hegge and the film clearly have a lot of reverence for this movement and their risk-taking. In particular, there is a focus on its ad hoc charm. Some of the main subjects mention that they did not have much (if any) money, so they scavenged for materials and squatted in homes. From this need to survive came creativity. However, other interviewees are not afraid to criticise certain aspects. For instance, there is a critique of what some of the New Romantics wore – costumes that made them look like Louis XIV or other aristocratic figures. For them, these clothes were too dandy or bourgeoise. The critical battle in the film is the one between creativity and consumerism. Creativity is mentioned multiple times throughout, signifying how vivid and inventive the New Romantics era was. But is it worth not working or being successful like Boy George and his Culture Club? Especially when some interviewees later say that they regret a lack of steady income.
Eventually, the New Romantics gained some form of media prevalence – either in the mainstream or in magazines they set up like I-D. However, if that is the height of the movement, TRAMPS! makes clear the slow decline of the 1980s. There was the rise of the New Romantic pop star – a sign of a new 'get-rich-quick' mentality. Drug overdoses became a major problem, as did the AIDS epidemic. In one of the film's more touching moments, those lost to the AIDS crisis are mentioned and memorialised. All this led to the end of the movement – or at least its heyday. In fact, the film makes the case that the movement has never really ended, with the elder subjects hoping for a new generation to come through.
Even then, TRAMPS! is a brilliant retrospective of a group that were unafraid to push boundaries and creative limits. As a documentary, there are a few holes. The pace is almost too fast, moving quickly and not sticking with its crucial subject matters for long enough. And perhaps there needed to be more focus on the music produced. But as a montage of iconoclastic figures, a film of bombastic sound and visuals, TRAMPS! is as beguiling and eye-catching as the New Romantics were. Today, they are seen as a definitive counterculture in British history, and this film is a terrific demonstration of why.
---
TRAMPS! had its World Premiere at BFI Flare on 26 March, 2022. Click here to read more reviews from the festival.