The Mandalorian Season 3 Episode 6 Review
Bo-Katan Kryze (Katee Sackhoff) and Grogu in Season 3 Episode 6 of The Mandalorian (© 2023 Lucasfilm Ltd. & ™)
In season 3 episode 6 of The Mandalorian, we're treated to a handful of cameos that manage to inject some life into an otherwise awkwardly acted episode.
---
Episode 6 of season 3 of The Mandalorian may feature some shoddy acting and awkward pacing, but it's also the most fun I've had with an episode of this show in a long time. It's definitely a mixed bag of an episode, but it also features Jack Black, Lizzo and Christopher Lloyd, so it's basically impossible to hate it. As with seemingly every episode of the season so far, it manages to still raise some concern over the general direction of the show, but it balances this with an otherwise genuinely fun mystery plot, complete with some very entertaining one-off characters and Star Wars cameos that contribute to the narrative without completely puzzling casual viewers.
"Chapter 22: Guns for Hire", directed by Bryce Dallas Howard, sees Din Djarin (Pedro Pascal) and Bo-Katan Kryze (Katee Sackhoff) travel to the planet Plazir-15, in an effort to reclaim Kryze's former fleet who have set themselves up as mercenaries working for the planet. On this planet, they meet Captain Bombardier (Jack Black) and The Duchess (Lizzo), who ask for their help in taking down several droids that have been malfunctioning recently. It's a somewhat pointless plot in the grand scheme of the season, but it's also exactly the kind of one-off stories I've been wanting the show to do more of, so I was very much on board. The problems lie in the fact I don't think the story is very well executed.
Jack Black and Lizzo are having the times of their lives here, especially Black, who gets the most out of every single line he has. Playing the quirky rulers of this planet, their performances are as flamboyant as their outfits, and it brings a lot of life and energy to a show that can often get caught up in its own seriousness. The visual effects aren't perfect by any means, nor do I think Lizzo's performance is particularly great, but it's one of those situations where the negatives don't outweigh the positives, and the sheer entertainment value present overrules anything else. They unfortunately barely appear in the episode, only getting two scenes to make their mark, and the rest of the storyline lacks that same energy.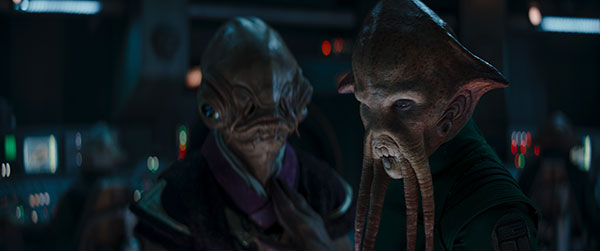 It's particularly in the middle where this episode starts to feel like a slog. Katee Sackhoff continues to be the show's weak link, and it's becoming more and more evident as the show pushes her further into the spotlight. This is another episode where she feels like the main character, and she just lacks the screen presence and charisma to really make anything out of the scenes where she's expected to do the heavy lifting. Djarin feels like a supporting character throughout here, and Pascal, in what almost feels like a response to his reduced importance, gives one of his weakest performances of the season. At the end of the episode, he gives what's supposed to be a rousing speech, but it fails to leave any kind of impact as Pascal struggles to imbue any of the lines with any kind of emotion at all.
Christopher Lloyd also unexpectedly makes a cameo in the episode as Commissioner Helgait, the head of the planet's security. He gives the exact performance you'd expect from Lloyd, with him being full of energy and stealing the screen anytime he's present. Again, I would have loved for him to be more involved with the episode, as the second we're left with our two leads, the energy drops immensely and the show suffers as a result. The opening of the episode features even more rough acting, as we see Kryze's old Mandalorian fleet take back a prince who managed to escape with his true love. Every line delivery in this cold open feels almost amateurish, and it's just odd seeing this level of acting in such a high-profile show.
See Also

Whilst I'm not overly familiar with them, I'm assuming a good handful of hardcore Star Wars fans were losing their mind at the prominent inclusion of the battle droids. If my sources are correct, these droids featured a lot in the animated show Star Wars: The Clone Wars (2008-2020). This is the kind of cameo I can get behind, as casual viewers like myself can see them as simply just droids, whilst those who do recognise them get the added joy of seeing them appear again. I much prefer this way of exploring Star Wars' vast lore over devoting entire episodes to returning characters from other shows or filling dialogue with complex jargon that only the most hardcore of fans will manage to understand.
There's a lot to like about episode 6 of The Mandalorian's season 3, but at the same time, not every episode is going to have the luxury of Jack Black, Lizzo and Christopher Lloyd all bringing the energy to an otherwise dull quest. Whilst I liked the climax of the episode, which sees Kryze partake in an admittedly great one-on-one duel, I'm not sure the show is making the right choice in pushing her to be the new lead of the show. With only two episodes of the season left, I assume this is how things will be for the remainder, in which case I'm not overly optimistic, but I hope that experience proves to be Sackhoff's best friend and as she's given more to do, she'll gradually get more comfortable in her newfound role, because whether or not the season ends with a bang or a whiff could come entirely down to her.
---
The Mandalorian 's Season 3 Episode 6 is now streaming on Disney Plus.