The Gesture and the Word: It's The Little Things That Count (Review)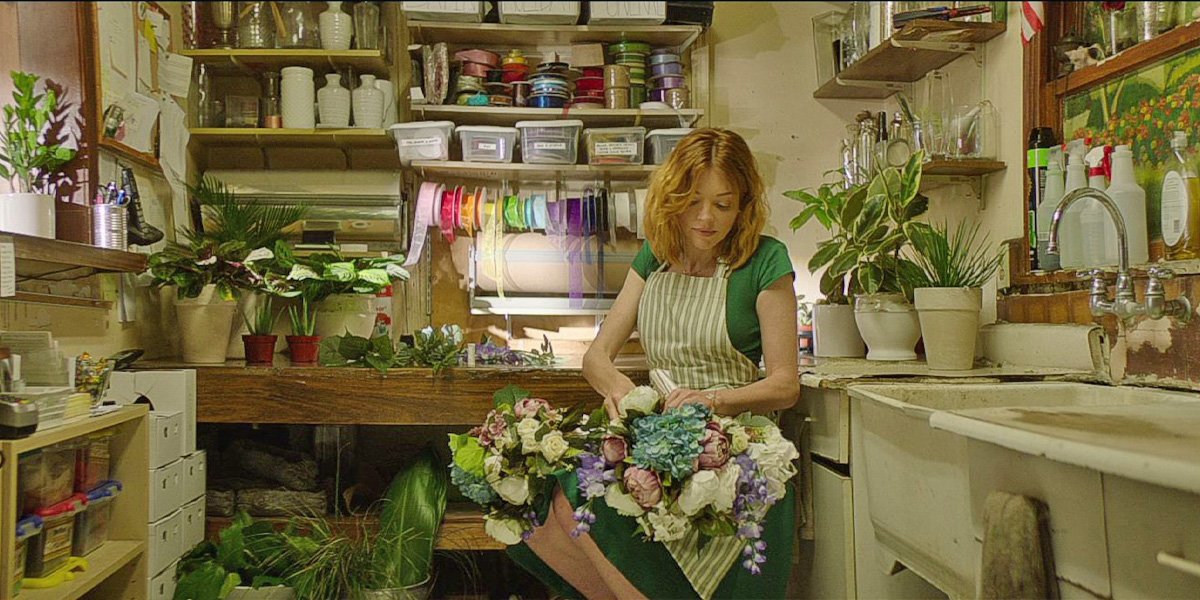 The Gesture and the Word (Burden & Light)
The Gesture and the Word is a quirky romantic short film where flowers and colours are the real protagonists.
---

Gilbert (James Michael Tyler) is a shy postman with a huge crush on Eloise (Nicole LaLiberte), the local florist he meets as he delivers post to her each day. As Gilbert goes on to his usual postal route, we meet Mr Rostalle (Paul Dooley), a lonely widowed professor, and Aurore (Roxane Mesquida), a young woman who suddenly stops receiving postcards from her world-travelling boyfriend. Seeing her quite upset for the lack of cards in her mailbox, Gilbert decides to make her some and delivers them to her as if they were sent by her boyfriend.
Director Helen Alexis Yonov (The Weight of It) got inspiration for The Gesture and the Word while she was living in Paris, and we can quite tell this short movie has a sort of European mood, vaguely reminding us to the 90s European romantic series like Sous Le Soleil and Les Filles d'à côté. It's not just the combination of pacing, acting style, choice of costumes and location design that helps the director evoke such atmosphere, but also the film's writing. Despite the level of saccharine that fills the screen (has any of your boyfriends ever kept a scrapbook of flowers or notes you gave them?), the film manages to convey its feel-good message and keep us engaged thanks to its well written characters, such as Eloise and Aurore, who seem friendly and reserved at the same time, or Aurore's sophisticated, debonair boyfriend. Gilbert may be a little too much on the stalkerish side at times: I'm not sure how it would feel, in real life, to have my postman writing postcards to me, pretending to be my boyfriend, but that is cynical me. That said, the character is still quite endearing with his adolescent approach to romance, making it almost impossible for us to not root for him and his quiet love for Eloise. I definitely couldn't help but anticipate Aurore's boyfriend's next postcard, or wait for Eloise to notice Gilbert as he looks at her with his adoring puppy eyes.

The relationship that Gilbert develops with widowed professor Mr Rostalle is perhaps the most meaningful and real of them all: whilst Gilbert's visits give meaning to Mr Rostalle's lonely day, their conversations and the old man's imparted wisdom give him hope and courage in opening up and find his own happiness. Mr Rostalle is significant to Gilbert's emotional growth and consequential interactions with Eloise: as a retired poet, he helps Gilbert finding the right words to write postcards to Aurore, and inspires him to approach Eloise with poetic words and meaningful gestures. The old teacher's gentleness and wisdom are pivotal to Gilbert, expressing the paternal love and support the young man lacked in his life. At the same time, we realize that Mr Rostalle is very fond of his conversations with the postman, as they fill the void left by his wife's death and his family growing and moving away.
The Gesture and the Word is about caring. It's about our efforts and our small gestures, and the little things we do that can make someone else's day brighter, and their smile sweeter. "You must think of more than words, Gilbert. Words can say so much, but, when combined with gestures, that's when romance can turn into something much more". As cheesy as Mr Rostalle's advice sounds, he wisely reminds us that gestures hold more meaning more than any word we say, as they can deepen our bond with one another or spark a meaningful connection. The Gesture and the Word will definitely bring a smile to your face as you realize that, in the end, it's the little things that matter.
---
The Gesture and the Word was screened at the LA International Festival on November 8 and at Hollyshorts on November 10. Click here for more information on the film's official site.
---
JOIN US!
Don't miss our monthly updates with film news, movie-inspired recipes and exclusive content! You'll only hear from us once a month. #nospam