The Crowded Room Episodes 1, 2 & 3 Recap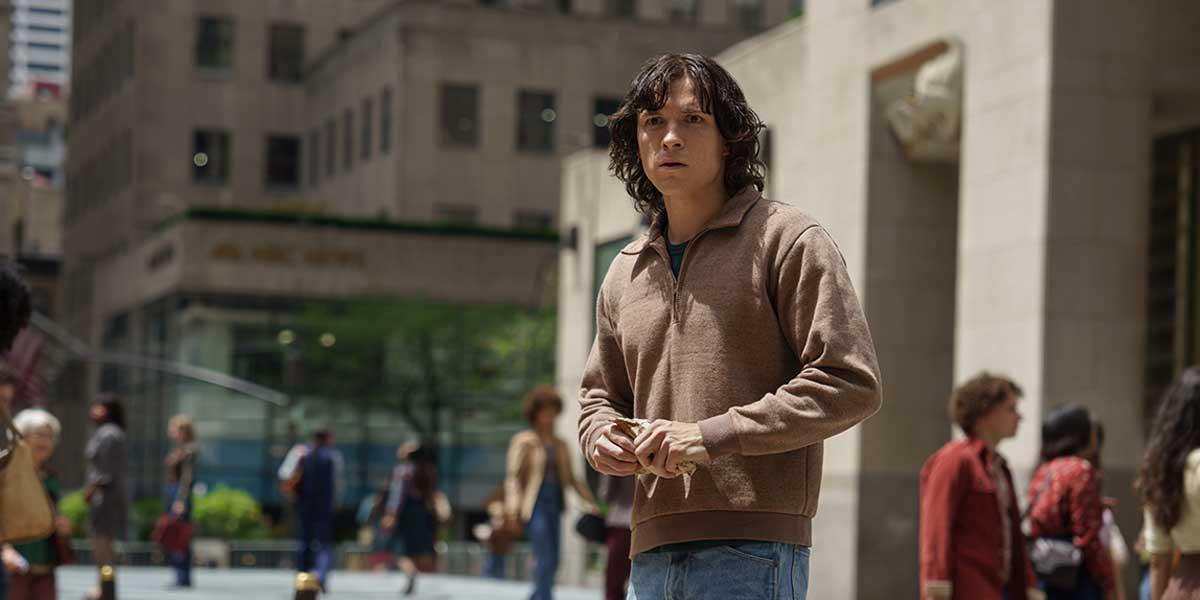 The Crowded Room, now streaming on Apple TV+. (Apple TV+)
Episodes 1, 2, and 3 of The Crowded Room explore trauma and its effects on mental health while deepening the mystery behind the character driving this story.
---
The Crowded Room offers up a refreshing role for Tom Holland, and I must admit it's refreshing to see him exploring a character with such psychological depth—kind of like he did with the 2021 emotionally intense but beautiful Apple TV+ epic saga Cherry, which is based on a true story most of the way—as opposed to a superhero with boyish charm wearing spandex, swinging between buildings and saving the world.
Now, Holland is back on Apple TV+ in The Crowded Room, which he not only stars in but also produced. To recap, the dark psychological thriller is inspired by a true story about the arrest of a man who stands accused of a terrible crime, but did he really do it? That's the burning question driving this thought-provoking series, which explores the depths of the human mind through an engaging narrative that works to balance intense, confusing emotions, nuanced performances, and a deeper exploration of mental disorders. Holland's performance here stands out as a call for empathy towards those living with any sort of mental illness, and we should all pay attention. In fact, his performance is so intense that Holland announced he is taking the next year off from acting following the show's strenuous production—that's how deeply he jumped into this role.
The Crowded Room follows a young, shy introvert named Danny Sullivan (Holland) who is arrested for a 1979 shooting incident at Rockefeller Center in New York City. Though he didn't actually shoot the gun, he was there and initially was supposed to be the shooter, but he freezes upon seeing the target. As a result, his accomplice, Ariana (Sasha Lane, of Loki), snatches the gun and shoots the intended victim, firing several shots at the man as he runs away, hitting multiple other people in the process. Long story short, Danny is arrested while Ariana seemingly disappears.
As the cops begin to suspect Danny might've murdered his missing accomplice, they bring in a specialist named Rya Goodman (Amanda Seyfried, of The Dropout) to interrogate him. The story then unfolds through a series of interviews between Danny and Rya to drive this mystery, with suspenseful revelations gently deconstructed as they both inch closer to the truth. In case you missed the three-episode premiere, here's a recap of episodes 1, 2, and 3.
---
The Crowded Room Episode 1 Recap: "Exodus"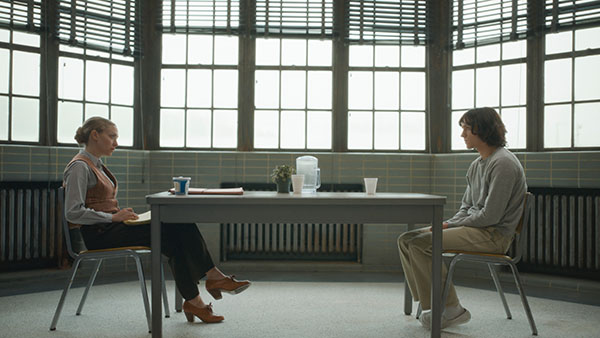 Episode 1 of The Crowded Room sets the stage for what awaits us. When we meet Danny, he's a seemingly ordinary (although reservedly quiet) kid living with his mother (Emmy Rossum, of Shameless) and his a-hole of a stepfather, who harasses and abuses Danny every chance he gets. Danny is unpopular at school with no real friends short of his two besties: a jock and a budding magician. He crushes on a popular girl named Annabelle (Emma Laird, of Mayor of Kingstown), who only likes him back when her friends aren't around, and viewers can feel how this hurts, saddens, and embarrasses Danny; that moment will break your sweet little viewer's heart. Still, he continues to try with Annabelle, even after her douchebag boyfriend threatens him. When she mentions smoking a joint together, Danny goes out of his way and takes great risk to secure weed from a dangerous dealer, and it is then we get the sense that there's more to him beneath the surface—something is just "off," as he struggles to find his way in the harsh environment he finds himself living in.
We also meet Danny's new neighbor Yitzak (Lior Raz, of Hit and Run), who comes to be a guardian angel of sorts for Danny. When a group of bullies (led by Annabelle's boyfriend) chases him down and beats the snot out of him, Yitzak steps in and straight open-hand smacks Annabelle's boyfriend in the face, knocking him to the ground; he then sends the rest of the bullies running. After this event, Danny decides to move into "the Ghost House" (which is what he and his friends have called the abandoned place) with Yitzak, and this is where he meets Ariana, who is also a tenant.
Juxtaposing his unassuming life are flash-forwards to present day where Special Investigator Goodwin (Seyfried) is questioning him. She doesn't quite believe Danny committed this crime, so she works methodically to prove he is innocent, which isn't easy since he refuses to talk about the shooting. By the end of Episode 1, we're left with several solid mysteries around Danny that tie into his past and the crime of which he stands accused. It certainly feels like a lot of context is missing, but it's clear there's more to this mystery than meets the eye.
---
The Crowded Room Episode 2 Recap: "Sanctuary"
Episode 2 continues exploring Danny's mind and his ongoing battle with his inner self as his life in "the Ghost House" begins to unfold through coming-of-age events: Danny has his first kiss, throws his first party, and even almost gets laid when Annabelle shows up. But what's most intriguing about Episode 2 is his developing relationship with Ariana, which, at times, seems platonic but oscillates between hot and cold moments. Still, their deepening relationship is undeniable.
As we jump back to Danny's interrogation, Rya carefully delves into his past and uncovers some deeply buried memories and traumatic experiences, and that's when the layers of his condition begin to unravel. It's clear Rya thinks Ariana is the shooter and Danny is just covering for her, but Danny won't budge on admitting it. He obviously has feelings for Ariana and through his recollections, we can see how he'd be willing to go along with her plan to shoot someone—after all, it was her plan to begin with.
So, while this episode unravels some of the yarn surrounding the big mystery, there are still many unanswered questions the series seems to be working towards, like what happened to Danny's twin brother, Adam, as well as what happened after the shooting at Rockefeller Center.
See Also

---
The Crowded Room Episode 3 Recap: "Murder"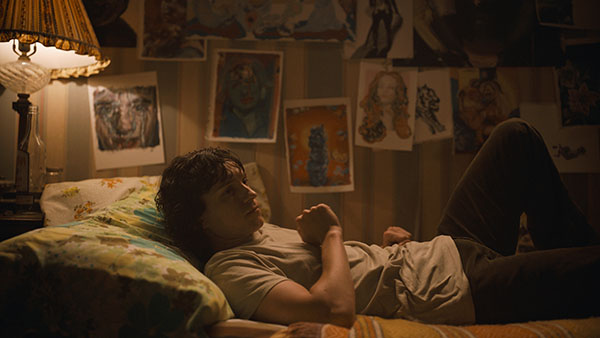 Episode 3 stirs up confusion, as scenes involving Danny show the frustration, fear, and desperation of someone trying to maintain control over his own identity and actions. Here, the visual and auditory elements of the series work together to convey the disorienting nature of his whole experience while pushing the boundaries of psychological exploration.
We learn in Episode 3 that Danny stole the gun from the weed dealer to give to Ariana to protect herself against a past sexual predator. As a result, the dealer breaks into Danny's house the night of his party, scares off Annabelle, then sets his sights on destroying Danny. Yitzak (Raz) appears at just the right moment to, once again, protect Danny from harm, but when Yitzak realizes Danny has broken the house rules of no drugs, no sex, no parties, he kicks Danny out. However, Ariana gets to stay and by the end of it all, her and Danny's relationship is secured as they begin to plan the shooting incident that kicked off the series.
What's so compelling to watch here are the nuanced performances. Holland's doe-eyed facial expressions embody an innocent soul at war with itself, and Seyfried's efforts are just as palpable as her expressions—namely her eyebrows—seem to imply she already knows the truth about Danny and is just trying to get him to admit it. While the series has received mixed reviews so far, I happen to completely disagree with anything negative. Sure, The Crowded Room lacks the big-budget action of Spider-Man films, and some of the subplots seem superfluous but are obviously there for a reason, but it's the story's layering and delicate performances that drive the mystery as it leads up to the big reveal.
---
The Crowded Room drops new episodes on Fridays on Apple TV+ but again, if you're a big nerd like me, you know each week's episode is available Thursday nights at 8 p.m.
---
Episodes 1, 2 and 3 of The Crowded Room are now streaming on Apple TV+.