The Bikeriders: LFF Film Review

Austin Butler, Jodie Comer and Tom Hardy star in The Bikeriders, Jeff Nichols' biker club drama that is a charged slice of Americana.
---

Biker culture has been a notable American subculture for decades, and the movies have latched onto it for just as long. From a greaser Marlon Brando in The Wild One to Roger Corman's B-movie The Wild Angels and Dennis Hopper's Easy Rider. The latter is referenced briefly in The Bikeriders, the new drama from writer-director Jeff Nichols (Take Shelter, Mud, Loving). His first film in seven years adapts a photo book by Danny Lyon, which contained incredible pictures of the Outlaws Motorcycle Club in Illinois. Those photos are used and reconstructed here, as are the transcripts of recordings that Lyon featured in the book. Nichols' resulting film feels like a charged slice of Americana.
The film is framed around interviews conducted by Danny (Mike Faist), who is studying photography at college. He gains unfiltered access to the group known here as the Vandals, founded by the level-headed Johnny (Tom Hardy). A truck driver and father of two daughters, he was inspired to start the club after watching The Wild One on TV. By the time Kathy (Jodie Comer) walks into its bar, the group has already gained a colourful cast of members. There is mechanic Cal (Boyd Holbrook), Brucie (Damon Herriman) and Corky (Karl Glusman). Zipco (Michael Shannon, a Nichols regular) is the elder statesman and Cockroach (Emory Cohen) – well, he eats bugs.
And then there is the handsome Benny (Austin Butler). Kathy feels instantly attracted to him, and he takes her home before waiting all night and all day for her. They marry five weeks later, and she becomes privy to the club's activities, whether they are revelling in a field or riding in unison. But tensions soon form. Is Benny untameable? And is she competing with Johnny for his attention? Furthermore, the Vandals have grown quickly with new chapters in Milwaukee and across the US. That leads to things becoming more dangerous, thanks in part to a kid known merely as The Kid (Toby Wallace, also at the London Film Festival with The Royal Hotel).
Comparisons to Martin Scorsese's Goodfellas are warranted and fairly obvious. The film begins in media res and with narration over a freeze frame. Kathy is similar to Lorraine Bracco's Karen Hill. And there is a rock soundtrack that gets harder as we progress through the years (it also has The Shangri-Las and the band Cream). However, it pales in comparison to perhaps the true soundtrack: the rumbling engines of the chopper bikes that are heard from miles away and cause glasses to vibrate.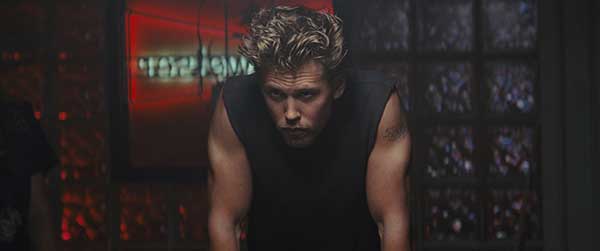 Butler, Comer and Hardy are very good, each with a Midwestern accent and a varying amount of standoffishness. It should be clear by now that Butler has that movie star swagger. Here, it is a little bit of Elvis and a lot of James Dean. His Benny is a high-speed individual – tough and stoic, but with a penchant for punching first and punching hard. Riding is everything to him. He doesn't stop after being caught by police following a chase. Even when assaulters break his foot, he still plans to ride with the Vandals just a few weeks later. And Kathy doesn't like that one bit.
Nichols smartly focuses on her recounts, with most of Danny's interviews coming from her perspective. And Comer's performance is an appropriate one to centre on. Her blunt Kathy takes no prisoners but expresses emotion and almost incomprehension at coming second for her husband's love to the ideal of riding. "You can't have him" – Kathy says at one point to Johnny. But he wants Benny to be the next club president – after all, he can't run things forever. Perhaps he is in love with the idea of Benny and his carefree attitude. Either way, Tom Hardy is engaging, with his Johnny dictated by emotions and weariness.
See Also

Danny stopped chronicling the Vandals in 1969 to move to New York. Returning four years later, he finds that everything has changed with a new cluster of bikers appearing. It has been said that the late '60s and early '70s represented a loss of innocence for America and its counterculture movements. It makes sense then that Kathy's – and Nichols' – interest in the group fizzles out towards the movie's conclusion. The Vandals will continue to expand, but it is not the same. As Kathy says after a major event (no spoilers here), it was the end of the golden age of motorcycles, brought down by violence and out-of-control viciousness.
Jeff Nichols has proven to be a character-driven filmmaker ever since his debut, Shotgun Stories, in 2007. He continues that with The Bikeriders, burrowing down to the essence of these personalities as societal outsiders who want to be a part of something. A family, a subculture or, in the case of Benny, a sense of freedom. The film is brutal too – you feel every punch, every broken bone and every slice with a switchblade. The plot does get a little repetitive towards the end. However, with the help of Adam Stone's visuals (some of which recreate Lyon's images), the ensemble cast and music supervisors Lauren Mikus and Bruce Gilbert, Nichols conjures an enjoyable film about a free-spirited rider that feels free.
---
The Bikeriders was screened at the 2023 BFI London Film Festival on 5-9 October and will be released globally in theaters on December 1. Read our list of 25 movies to watch at the 2023 London Film Festival!