Star Wars: The Bad Batch – "Reunion" (Ep. 8 Review)

Crosshair and Hunter in a scene from Star Wars: The Bad Batch (© 2021 Lucasfilm Ltd)
"Reunion" is the first excellent episode of Star Wars: The Bad Batch, with a surprising character reveal that will leave audiences wanting more.
---
*Warning: This piece contains spoilers for episode 8 of Star Wars: The Bad Batch*
We are officially at the mid-season of Star Wars: The Bad Batch, and it has been quite the tumultuous ride with its uneven pace, poor character development and a half-shell of a compelling story. However, its mid-season finale, titled Reunion, is the series' best episode yet; which not only acts as an excellent first-half finale, but brilliantly sets up what's to come next, with the appearance of one of The Clone Wars' best antagonists, Cad Bane (Corey Burton).
The episode, however, starts on Kamino, with Crosshair (finally!) having located Clone Force 99 (Dee Bradley Baker), through Scrappers on Bracca. He arrives on the planet with an army of obedient Clones and attacks the Force without hesitation, due to the amplifying effects caused by his inhibitor chip. The overall feel of this episode quickly takes a grim and dramatic turn, once Crosshair shows up and brands The Bad Batch as traitors. I feel as though we could've seen more of Crosshair during previous episodes, and even though his presence here provides a great sense of emotional depth for our main protagonists, it's a shame that he was sidelined as a "brooding antagonist", without more development than in episode three. Crosshair is set up as an *incredible* antagonist, and the possibilities you have with a character who thinks his sole purpose is to follow orders through is quite literally endless.
It's a shame we might not see more of Crosshair, as this mission incapacitates him badly, though we see his determination near the end that he wants to complete the mission through, even if he is not in the shape to do so. These are the devastating effects the inhibitor chips give him, which prevents any form of legitimate thinking and transforms the humanity of a Clone into a mindless robot. Crosshair believes he does his duty by following orders and killing "traitors", but his inhibitor chip prevents him from seeing the humanity behind the clones, specifically Omega (Michelle Ang).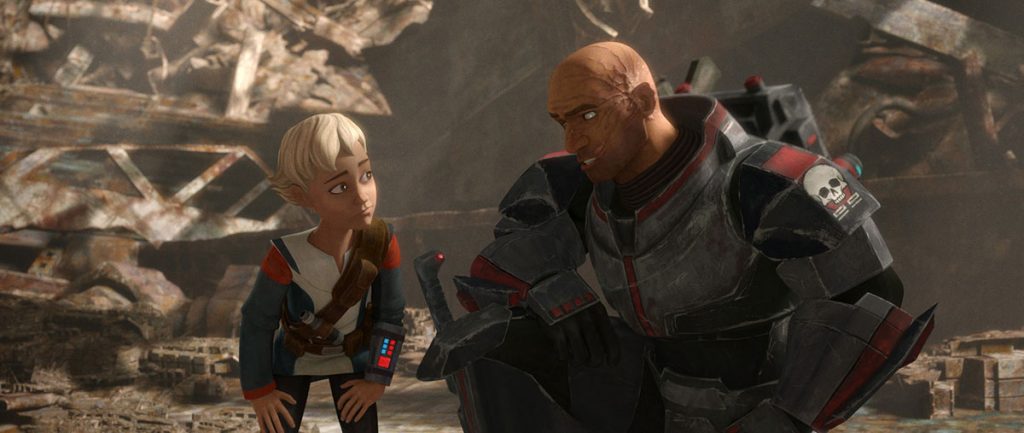 Speaking of Omega, I mentioned in one of my previous reviews that she might be the "key" to the entire series, and this is where CAD BANE (!) comes in. The utter shock and disbelief I was in when he suddenly appeared, in one of the very best character reveals of Star Wars I've seen in a long, long, time, and made tons more sense than whatever Luke Skywalker was doing in Season 2 of The Mandalorian. Ok, I know some of you might say: "What do you mean?" There's a big difference between fan pandering and making a major character have sense in the context of the story you're trying to tell. Luke's appearance at the end of The Mandalorian makes no sense; he has no personal attachment to Grogu, or any of the other characters, and appears completely out-of-nowhere as a "hero" to save the day, whereas Cad Bane has a history with the Clones, Jedi and the Sith and makes absolute sense for him to show up and screw Clone Force 99 (and Crosshair)'s plans altogether.
It's such a satisfying (and surprising) moment, because, from here, the show can only get better and better. Now the story's going to (really) kick into gear—with two clear antagonists who are gunning for Omega & the Clones. Yes, Omega's purpose is still unclear, but all will be revealed in due time. Crosshair works for the Kaminoans, who need to retrieve Omega, whilst Cad Bane has other plans in mind (with the "real" antagonist likely to be revealed next week). Omega didn't seem like an important character at first, and the way the showrunners treated her in the first few episodes only exacerbated that fact—she was an annoyance, really, rather than someone with a purpose and a legitimate member of the team. Now, Omega is in real danger from a force that will be revealed soon, and the Clone Force facing their first serious challenge.
I was waiting for the moment in which The Bad Batch would soar to the same heights as The Clone Wars did for seven seasons. This episode can be proudly placed in The Clone Wars 8 canon, as it's amazingly paced, contains an exciting action sequence, a real menace with Crosshair's will to complete the mission and one of the best villain returns I've seen in a long time. I never saw Cad Bane coming…but then again, the characters never see him coming either. That's how you make a character reveal work: it's not only surprising but it makes absolute sense in the context of the story. Now I'm hyped for next week. Bring it on. 
---
Star Wars: The Bad Batch: Reunion (Ep. 8) is now available to watch on Disney+.
---
JOIN US!
Don't miss our monthly updates with film news, movie-inspired recipes and exclusive content! You'll only hear from us once a month. #nospam