Star Wars: The Bad Batch Ep. 12 Review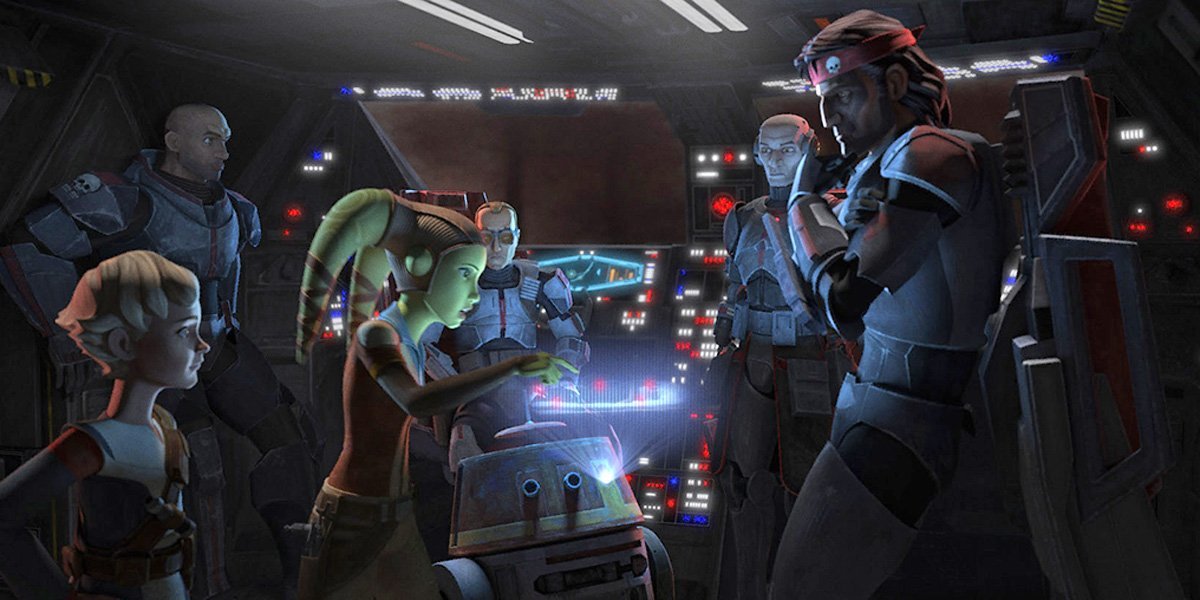 Chopper, Hera Syndulla, Omega, Wrecker, Tech, Echo and Hunter in a scene from Star Wars: The Bad Batch (© 2021 Lucasfilm Ltd)
While episode 12 feels like another detour for Star Wars: The Bad Batch, it at least gives us a clear glimpse of where the series' last four episodes will go. 
---
*Warning: This review contains spoilers for episode 12 of Star Wars: The Bad Batch*
We're officially in the home stretch, if you will, of Star Wars: The Bad Batch, with this week's episode, titled "Rescue on Ryloth", giving us a clear indication of where this series will go—and where this series should've gone in the first place. We didn't need all of these pointless detours and so many "gulp shitto" characters showing up only for them to be gone in subsequent episodes. All we needed was a more contained story where The Bad Batch/Clone Force 99 (Dee Bradley Baker) lived first-hand the effects of the Empire's rise, while battling one of their friends, Crosshair. Simple, yes, but far more compelling than endless detours and side-quests. I'll admit I enjoyed seeing characters like Cad Bane (Corey Burton) and Hera Syndulla (Vanessa Marshall), but they only served as mindless references for the expanded Star Wars lore. Hera is, by far, the most interesting expanded character in this series, and she's the one that makes the most sense, mainly due to Ryloth's connection with The Clone Wars.
In this episode, The Bad Batch receives a transmission from Hera, who explains that her parents have been imprisoned after last week's events, in which the Empire framed them for murdering Orn Free Taa (Phil LaMarr), with Omega (Michelle Ang) convincing them to help. After they observe the layout and see Crosshair, they ultimately give up on the mission, until Omega and Hera convince them it's possible to rescue the Empire's prisoners, without Crosshair noticing them. It's another standard episode that doesn't really add much character development for Omega and The Bad Batch (everything is pretty much fleshed out here), but at least gives us a good idea of how the series is going to end. 
Nothing in this episode was particularly interesting: standard character beats, standard action, clones realizing they're blindly following the Empire…and for what cause? But what really piqued my interest in this episode was what it planted the seeds for. Sure, Hera flying a ship with Omega was quite good, and gave us some insight as to how she became such a kickass pilot and one of the very best in the expanded canon of Star Wars, but Crosshair was by far the most interesting part of this entire segment. I've been saying for a while how he's been terribly underused in this series, or unjustifiably sidelined for side-quests and minor B-grade villains, while he's the most mesmerizing character of the entire series.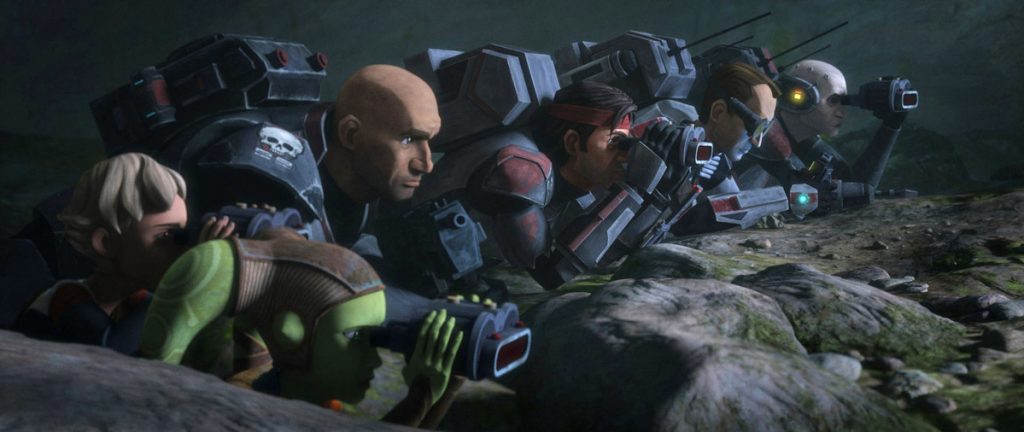 It's incredible to see how his transformation from The Clone Wars to The Bad Batch truly changes him as a character, with the inhibitor chip affecting his psyche and his willingness to follow orders. I've already explained how he's become a pawn in the Empire's game, blindly following a fascist regime, because the only thing he's good at is "following orders" to the letter. He thinks he'll be able to outsmart The Bad Batch, as he finds them predictable, but Hera's plan, with the aid of Clone Howzer, who warns them about a trap Crosshair has set for them, makes Crosshair look like a total buffoon. This is where it gets interesting; Crosshair reports to the Empire for the 'order' he desperately wants permission for: hunt down Clone Force 99 and kill them. Admiral Rampart (Noshir Dalal) grants him his wish, and the hunt is on for the next few episodes. This is a brilliant moment of tension, beautifully exacerbated by its gloomy music and tone, finally paying off to the third episode's promise of making Crosshair THE antagonist of the show. It took them long enough, but it's finally happening (hopefully soon, once again).
See Also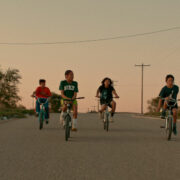 For Star Wars: The Bad Batch's final episodes to succeed, they'll need the following:
Less side-quests and detours. It's been a while since we've been stuck inside cyclical missions for Cid (Rhea Perlman), that hold no legitimate weight to the overall story. Time to spice things up a bit or at least change its familiar setting.
Less characters from the expanded Star Wars lore: cameos are fine, and some of them made lots of sense, but the show is supposed to be about Clone Force 99 and the ramifications of the Empire's rise through their perspective. So far, we haven't really had that, albeit some episodes were excellent.
More focus on Crosshair. If we had an episode told through Hera's perspective, then we can sure as hell have one told through Crosshair's perspective: what's rummaging through his mind? A mind corrupted by an inhibitor chip rendering him a mindless robot? I'd really like to know.
Finally, a bigger emphasis on Clone Force 99 as a family. We've seen their bond grow over the past few episodes, but it's time for it to solidify itself for a true rousing conclusion.
If the show follows this blueprint (if you will), I don't see how it won't succeed. It already improved from its dismal first episode, and proved to be an enjoyable, albeit quite forgettable, exploration of Star Wars, serving as a palpable distraction before The Book of Boba Fett hits the streaming service in December. Now that's likely going to rock our world.
---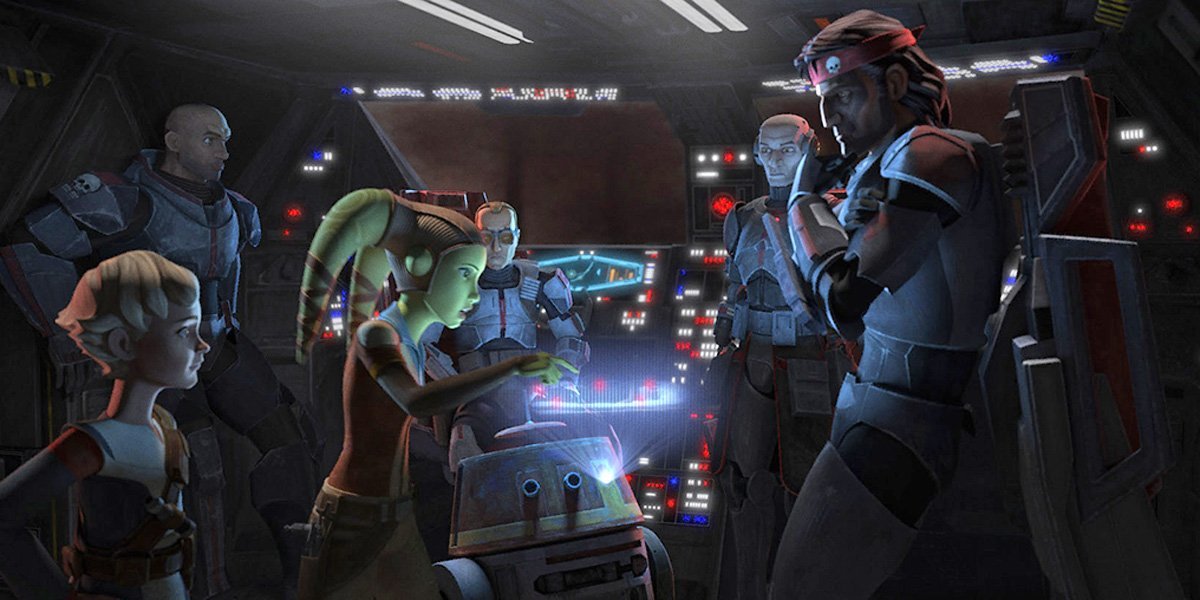 Star Wars: The Bad Batch: "Rescue on Ryloth" (Ep. 12) is now available to watch on Disney+.