Star Wars: The Bad Batch – "Decommissioned" (Ep. 6 Review)

Rafa Martez and Hunter in a scene from Star Wars: The Bad Batch (© 2021 Lucasfilm Ltd)
The Bad Batch is slowly finding its footing in "Decommissioned" (Ep. 6), another fun, though pointless, episode.
---
*Warning: This piece contains spoilers for episode 6 of Star Wars: The Bad Batch*
"Oh, no", are the words I uttered when Trace (Brigitte Kali) and Rafa Martez (Elizabeth Rodriguez) showed up in "Decommissioned", this week's episode of Star Wars: The Bad Batch. Arguably, their story arc was the absolute worst of any storyline in The Clone Wars, especially as it fizzled out an otherwise amazing final season for four dreary episodes of pure filler with uninterestingly written and developed characters. However, in this case, their purpose seems to be more intriguing than whatever they were doing in The Clone Wars' seventh season.
In this episode, Clone Force 99 (Dee Bradley Baker) accept a new mission from Cid (Rhea Perlman) to retrieve a soon-to-be obsolete tactical droid, before it gets destroyed in a Corellian decommissioning site. Fans of Solo: A Star Wars Story will surely love the Clones exploring Corellia, but the episode quickly turns into a battle royale of Clone Force 99 vs. the Martez sisters, who are also here to retrieve the tactical droid to a mysterious figure. Already, the excitement of seeing the "mysterious figure" appear in an eventual episode is giving me hope that we'll see someone *major* come into play. My mind thinks Ahsoka (Ashley Eckstein), since she spent time with the Martez sisters during The Clone Wars, but, here, the possibilities are truly endless. I honestly have no clue, which makes the anticipation of next week's episode feel tediously long. Of course, the character may not appear immediately, and will likely come into play at a pivotal moment of the show, but the suspense is truly killing me.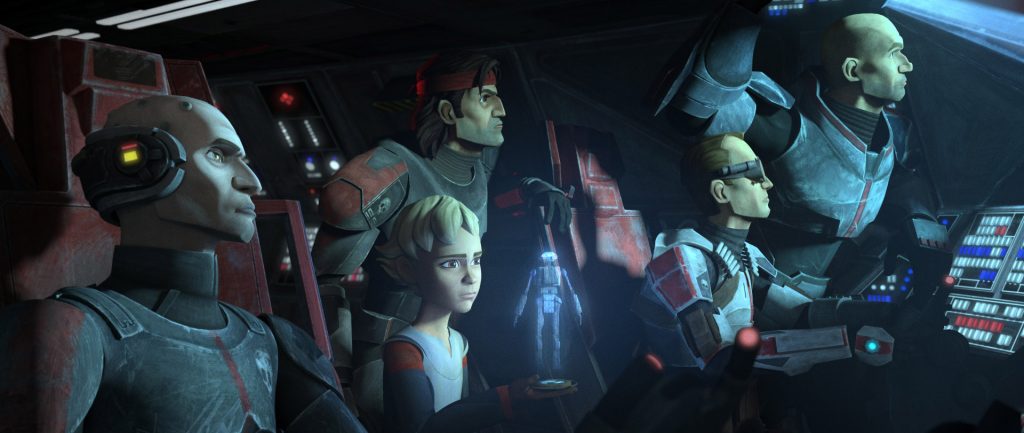 I honestly hope the teases the show has been sparsely doing since the beginning will pay off in something truly memorable, because the show is finally starting to find its footing. The action sequences have become more exciting, and this week is no exception. The battle between the Clones and the Martez sisters is lots of fun, and I liked the fact that they aren't necessarily enemies, even if they have a mission they need to accomplish. For instance, Trace helps Omega (Michelle Ang) from falling over the incinerator pit after she is pitted in the middle of the battle. Trace's facial expression shows her potential guilt if she doesn't help Omega from the pit and is responsible for her demise. It's a nice change of pace compared to whatever she was doing in The Clone Wars. In that series, the characters felt inherently pointless and only served as minor annoyances for Ahsoka.
In The Bad Batch, they feel more important, serving a higher purpose that we'll eventually know. Speaking of Omega, I'm hopeful that the tired trope that I've mentioned one too many times (please see my previous reviews, I don't want to sound like a broken record…again) will be gone for good. In the episode's first scene, the Clones do everything in their power to help her manipulate an electric bow-and-arrow like weapon to hit the target, teaching her to shut off all distractions and focus on the target at hand. That bonding scene comes in handy, as Omega practically saves the day at the end, becoming a perfect shot with the weapon and wanting to grow as a member of the team and help out in any way she could. She also listens to the Clones for once, and never purposefully gets in trouble to impress the team. It's great to see a character that learns their past lessons and don't repeat the same mistakes over and over, but it still took a while before we saw such a drastic shift in her arc.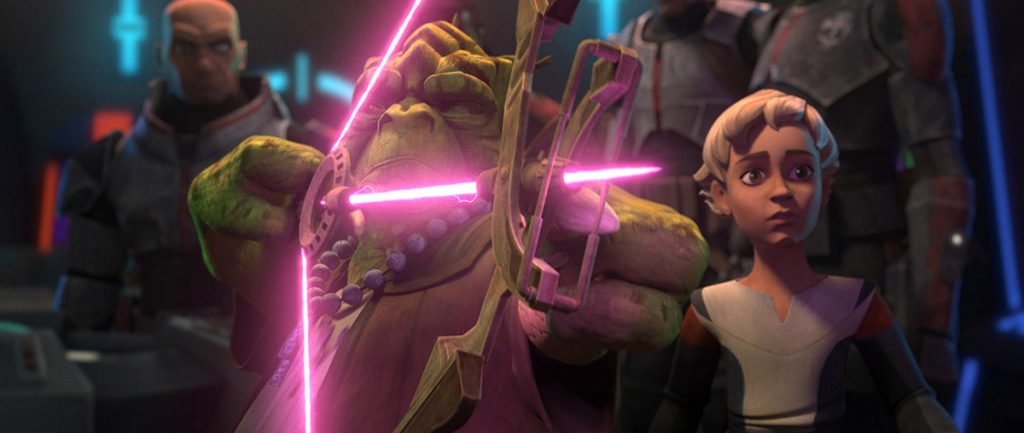 We also heard Crosshair's line "Good soldiers follow orders" when Wrecker was incapacitated on the floor, which is also leading me to wonder what the hell is going on with him and the Empire?!? Sure, it might be fun to watch the clones in their weekly adventures, but it doesn't really move the story forward. I want to know more details on the rise of the Empire, instead of watching a pointless mission that leads to nowhere and teases a big appearance from a major character. All of that is cool, maybe, but it doesn't serve the story at-hand. We were truly going somewhere with Crosshair, and I do hope we'll see him soon because the show drastically set him up as a compelling antagonist. Only time will tell what happens next with The Bad Batch, but it is certainly putting the show in a better position than it was two episodes ago. Who knows? It might be something *really* worth watching down the line. It has gained momentum to keep me intrigued, but can it reveal something truly drastic that'll shift our perception of the show in a completely different direction than before? It might happen sooner than later…
---
Star Wars: The Bad Batch: Decommissioned (Ep. 6) is now available to watch on Disney+.
---
JOIN US!
Don't miss our monthly updates with film news, movie-inspired recipes and exclusive content! You'll only hear from us once a month. #nospam