Rye Lane (2023): Film Review

David Jonsson and Vivian Oparah in Rye Lane (Chris Harris, Searchlight Pictures © 2023)
Raine Allen-Miller's Rye Lane is a hilarious and charming film that breathes new life into the romantic comedy through its performances and authentic locations.
---

Raine Allen-Miller's Rye Lane is on a mission to revitalise the romantic comedy genre. A break-out hit at this year's Sundance, the film is also looking to join the canon of London-set rom-coms, a sub-genre made famous by Richard Curtis in films like Bridget Jones's Diary and Notting Hill. However, Rye Lane wants to show off the diversity of South London, showcasing a Black British perspective normally missing from Curtis' films and the genre as a whole. And it is doing all this whilst serving as a breakthrough for Allen-Miller (making her feature debut), as well as its writers and stars. The result is a must-watch, an incredible rom-com full of charm.
When Yas (Vivian Oparah) first meets Dom (David Jonsson), he is sobbing in the gender-neutral toilets of an art gallery. He has recently broken up with his long-time girlfriend Gia (Karene Peter), who cheated on him with his best friend, Eric (Benjamin Sarpong-Broni). Now he is 'orbiting' her social media and preparing for a humiliating lunch date with the couple. But Yas ambushes it, pretending to be Dom's girlfriend and giving him a boost of confidence. In return, she wants his help stealing back her copy of A Tribe Called Quest's "The Low End Theory," which she left at her ex-boyfriend's place. It's a worthwhile quest (pun intended) that leads to an eventful journey for Dom and Yas. Perhaps they will fall in love in the process.
The two seem to be opposite forces, a pre-requisite for any rom-com. Dom is a sensitive and reserved accountant who has moved back in with his loving parents. Conversely, Yas is bold and confident, an aspiring costume designer who describes herself as "refreshingly disarming". He is an introvert. She is an extrovert. She is talkative, and he is slightly tentative. So far, we're in familiar territory for the genre. But Rye Lane reveals that first appearances are not always the truth. Both are on the rebound following terrible break-ups. And whilst Dom turns out to be not totally soft, Yas is hiding things underneath her demeanour.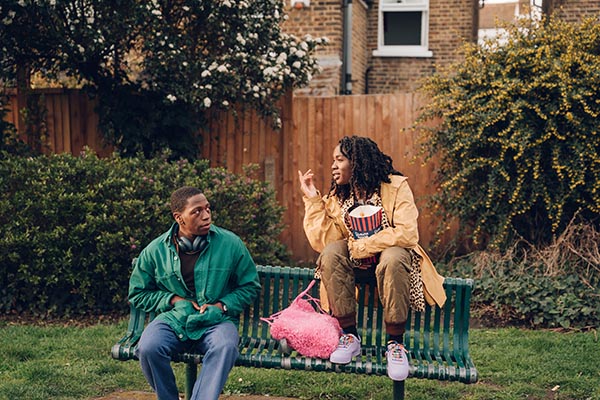 David Jonsson and Vivian Oparah are a joy to watch together, giving solid and expressive performances as well-rounded yet messy characters. "Everyone has a mess," says Yas, although what we find out about the pair and their vulnerabilities only adds to the warmth Jonsson and Oparah already exhibit in abundance. Hopefully, these two will be stars in the future. Moreover, the supporting cast all get some laughs: Gary Beadle, Simon Manyonda, Karene Peter, Omari Douglas and a scene-stealing Benjamin Sarpong-Broni. We also get cameos from Levi Roots, Munya Chawawa and a famous face who I will not spoil but is a brilliant choice.
Nathan Bryon and Tom Melia's script is very similar in structure to Richard Linklater's Before Sunrise, with two people spending one day together and getting to know each other. In Rye Lane, the conversations are referential and insightful regarding past relationships. Dom was sure he and Gia were at the next stage (they had Hamilton tickets, for crying out loud), whereas Yas thought her conceptual artist boyfriend was pompous because he refused to wave to tourists on boats. The humour and dialogue are razor-sharp, with scenes full of back-and-forths and witty comebacks. And there is never a scene where the camera isn't doing something creative. Olan Collardy shoots the film in anamorphic widescreen and with fish-eye lenses.
Most of Rye Lane's freshness comes from its depiction of South London. The film takes place in Peckham, with a short stop in Brixton and a trip to the South Bank for the final act. The script was set in Camden, but the switch was made because of Allen-Miller, who creates a lively, lovely and lived-in world over 82 minutes. Take a stroll through Brixton and Rye Lane's markets. Sift through LPs at a record shop before heading to the Peckhamplex cinema. Dive into a karaoke bar where our heroes perform a Salt-N-Pepa classic (and a white man attempts Stormzy's 'Vossi Bop'). Many have called this a love letter to the area and its African and Caribbean influences and the amount of detail is extraordinary.
See Also

Every vibrant corner of South London is shown off, reinforced by that wide-angle lens and a rich colour palette where yellows and greens stand out. And Allen-Miller and co have clearly devoted time and effort into making this multicultural district a character of its own.
Rye Lane is a film you will fall in love with immediately. A fun, hilarious and charming British movie all about resolving the past and finding the best person at the worst time. It is intricately made yet looks effortless thanks to Collardy's camerawork, surreal fantasy sequences and a hip-hop-infused soundtrack. Most of all, the film breathes new life into the romantic comedy whilst sticking to the genre's tropes and grand romantic gestures (and taking cues from Richard Curtis). It is an exceptional debut from Raine Allen-Miller, who stages this story with a visual flair and turns South London into a vivid world you never want to leave.
---
Rye Lane is now playing in cinemas in the UK and streaming on Hulu/Disney+, on digital and on demand in the US and globally. Watch Rye Lane!