Róise & Frank (SDIFF Review): A Well-Intended Pet Drama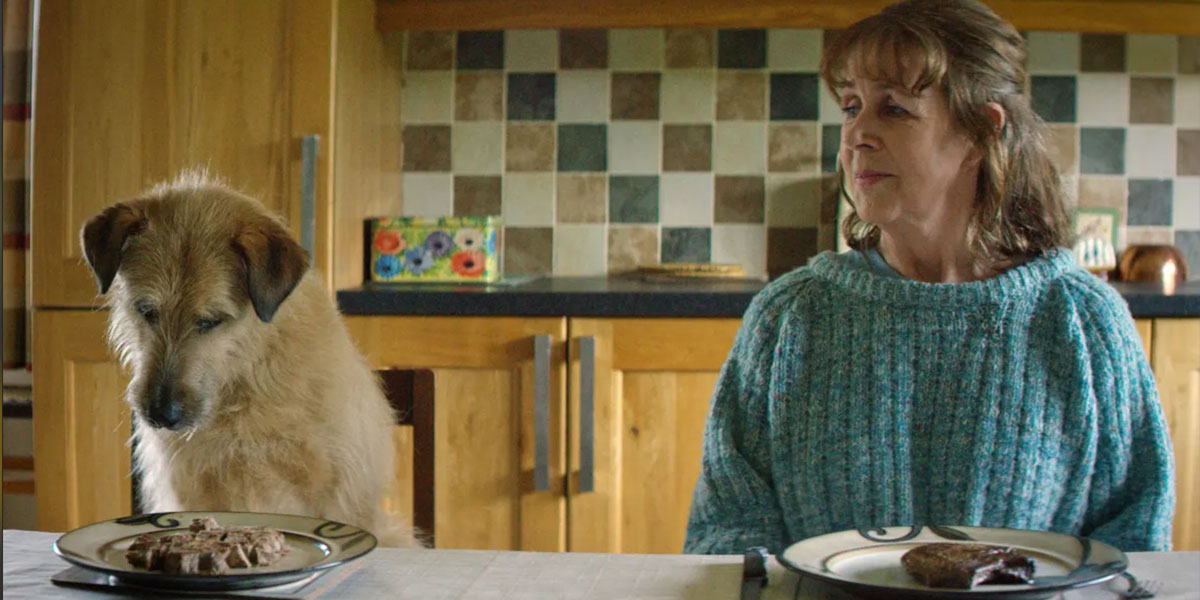 Róise & Frank (2022 San Diego International Film Festival)
In difficult times of grief or depression, Róise & Frank is here to remind us that we can find peace in places we least expect.
---
Two years have gone by since Róise (Bríd Ní Neachtain, The Banshees of Inisherin) lost her husband Frank, who promised they would meet again some day. She's now consumed with grief, barely leaves her house for her own pleasure, and doesn't talk to anyone, including her son Alan (Cillian O'Gairbhi, Tarrac). Life takes a left turn, though, with the arrival of a mysterious dog who proceeds to follow Róise, determined to bond with the widow. Róise begins to convince herself that the stray dog is the reincarnation of her Hurling-loving husband.
There are a multitude of dog movies that are often very manipulative in the way they try to force the audience to engage with their storytelling by presenting us to cute pets we can instantly connect with. Róise & Frank utilizes these same tropes, but it is far more sincere about what it is saying through its characters. It doesn't just introduce the themes of grief it wants to discuss: it actually explores them. Róise's loss isn't treated as an excuse to have a pet to come and fix her life, it is something that is deeply personal that over the course of the film is addressed through her neighbors, son and grandchild. It feels human, not manufactured.
Neachtain as Róise is the driving force of the film. Upon first glance, it might seem like an easy job to act friendly opposite a dog. I mean, who doesn't love dogs? What is so compelling about her relationship with the stray she later names Frank, after her late husband, is that Neachtain manages to sell the relationship she's built in her head with her new pet. It hits a point where you, too, believe this is not a simple dog, but there is a soul under that fur as well.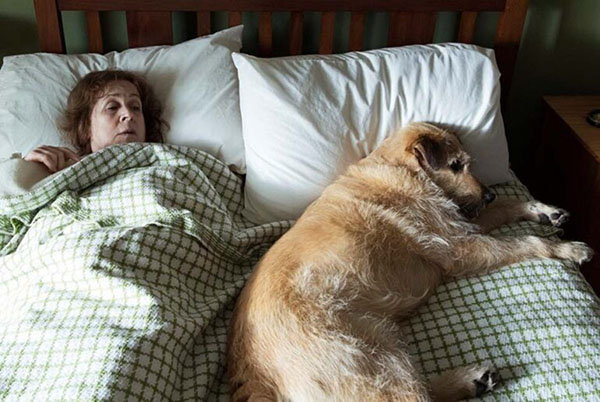 The impact Frank has on the town does give you a warm feeling. You have Alan, reluctant to believe her mom's superstitions, a local young neighbor of Róise's who is inspired to follow his dreams as a hurling player after connecting with Frank, and the small town as a whole coming together to care for the dog just as much as Róise does. Róise's young neighbor doesn't really add anything interesting to the table, but at least he has a purpose in our protagonist's journey. Unfortunately, I can't say the same about other characters.
Róise & Frank does have its issues. For starters, we are introduced to an unnecessary villain-like character in Donncha (Lorcan Cranitch, Bloodlands). He is a dislikable man who creepily wants to have a romantic relationship with Róise now that she's a widow. Whether it's because he senses his ill intentions or because he is her husband reincarnated, Frank is hostile towards Donncha and makes it his mission to make the man uncomfortable. In the end, this odd side character and plot line are only here to serve a purpose in the third act that is emotional for Róise and her bond with Frank, but we could've gotten there through a much smarter way. It is a distraction from the heart of the film that ultimately dumbs down an already simple narrative.
Looking back at the film as a complete package, you can't help but wonder if this would have played stronger if it were 20 to 40 minute shorter. The heart is there, the performances are solid and the themes are memorable, but Róise & Frank drags out quite significantly in its second act. It is almost as if writers and directors Rachael Moriarty and Peter Murphy wrote random, heartfelt scenes that are charming, but don't help advance Róise's arc. They are just there for the sake of being there.
Is Róise & Frank clichéd? Yes, but not in a preachy way that makes you feel sorry for either the dog or Róise herself. It's cheesy, sure, but it earns its silly tone. Perhaps I'm being biased because I am a pet owner too. If you're cynical about pet-themed movies, then this is definitely not for you. For what it is worth, though, this is one of the most honest ones I've seen in recent years. It especially hits close to home if you've lost a loved one in the past and the only thing you've had to give you support is your loyal friend besides you. It is not a perfect film, but one that might make you smile, and sometimes that is all that's needed.
---
Róise & Frank premiered at the 2022 San Diego International Film Festival on October 23, 2022. The film was released in the UK & Ireland on September 16, and will be distributed in North America by Juno Films on March 31, 2023.