Queer Eye Season 7 Review

(L to R) Karamo Brown, Bobby Berk, Jonathan Van Ness, Antoni Porowski, Tan France in Queer Eye (Iiana Panich-Linsman/Netflix © 2023)
Queer Eye Season 7 demonstrates why the heartfelt, uplifting reality television series is still cherished five years after its premiere.
---

Say what you will about reality television, but since Queer Eye was released in February 2018, it has become one of the most uplifting series in an oversaturated reality television genre-filled catalog. And though five years have passed since the show first aired, Season 7 proves it certainly hasn't lost momentum.
For those who don't know, the successful American Netflix series is a reboot of Queer Eye for the Straight Guy, which premiered in the early 00s. In the modern-day revolutionized version, five gay men, Antoni, Bobby, Jonathan, Karamo, and Tan, known as the "Fab Five," travel to a newly selected US city each season to meet selfless contestants whom family and friends have nominated for a well-earned makeover and a lesson of self-love. And the formula works. The Fab Five, who are close real-life friends, have chemistry, and their positive aura is what keeps fans eagerly awaiting a new batch of episodes each year.
Season 7 transports the clan to New Orleans. As soon as the opening sequence rolls, you know you are in for a treat, as soulful jazz music radiates through the speakers and bursts of color encompass Louisiana's famous city as the Fab Five dance amongst a marching band. The first episode of Season 7 introduces viewers to Lambda Chi Alpha, a self-nominated fraternity at The University of New Orleans, consisting of active community members eager to reinvent their fellowship after the pandemic.
When the Fab Five arrive at the fraternity's humble abode, entertainment ensues as the gang inspects the house and is disgusted by the living conditions. At one point, Bobby proclaims, "This is the one time I'm okay with fragrance plugins." Meanwhile, a distraught Jonathan is outraged by fake eyelashes left by one of the frat boy's girlfriends in a grimy bathroom cupboard, as he fears re-wearing them could lead to an eye infection. But these comedic one-liners are all part of the fun, bringing lightheartedness and balance to the equation before the crew works their magic to revitalize each of the Lambda Chi Alpha fraternity nominees' lives for the better.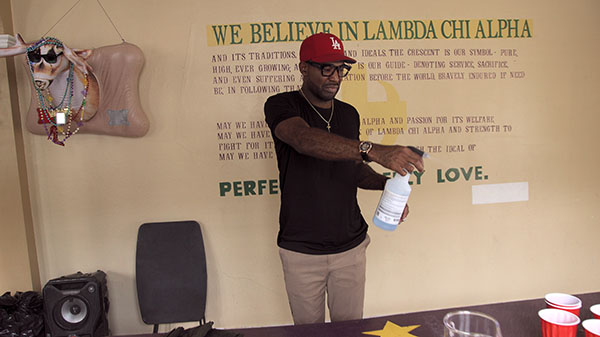 Culture expert Karamo teaches the importance of self-worth and mental health. Cook Antoni showcases how to meal-prep to save time at the close of a busy workday. Hairstylist Jonathan treats each nominee to a swanky new hairstyle. Interior designer Bobby transforms their living space into a palace, and last but certainly not least, fashion expert Tan rejuvenates each contestant's wardrobe to complement their style and personality.
The Fab Five's dedication to bringing positivity and guidance to transform lives is what makes Queer Eye so impactful, and each plays an integral role in the process. Though drastically different, every gang member's personality is infectious. You can see the genuine delight in their eyes whenever they empower the nominees that have been blessed with their uplifting presence.
On a trip to the beach, the Lambda Chi Alpha members sit around a campfire as Karamo asks them the thought-provoking question, "What have you been taught about what it means to be a man?" With every answer given, it becomes apparent that the frat boys have internalized trials and tribulations due to fear of expressing themselves among the brotherhood and, as men, being viewed as weak.
In a tear-jerking moment, a sobbing Demario voices his struggles of working two internships, taking summer classes, and dealing with financial burdens. As his friends listen to him intently while consoling their frat brother, Karamo teaches the young men the importance of emotional release.
And though the Fab Five have reached exponential stardom since the series first premiered, they aren't afraid to share their personal stories with the world. Regardless of fame, they are relatable and illustrate that no matter our background or where life may have taken us, we all experience hardships.
See Also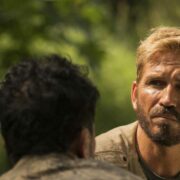 Episode two of Season 7 introduces us to Stephanie, a sports-fanatic lesbian whose confidence has been crushed after experiencing a homophobic encounter a few years prior, leaving her embarrassed of her sexual orientation. Thankfully, after being in the company of the Fab Five for a week, they successfully reignite her confidence. The episode's close is especially moving as an emotional Stephanie states, "This has been the biggest blessing of my entire life."
During episode three, Jonathan discusses his HIV diagnosis in his early 20s and the depression that accompanied the news during a heart-to-heart with 20-year-old nominee Speedy, who is struggling to deal with trauma after he was involved in a car accident that paralyzed him from the waist down and tragically killed his mother and aunt.
And each episode's heartbreaking narrative really makes you take a step back as you realize not only how short life is but how much we as individuals take for granted. So, while you may think, "Isn't Queer Eye much of a muchness?," my answer would be no. While each season's blueprint may be the same, each episode introduces us to new contestants whose stories will move you while you're glued to the screen.
Though, be warned: not only will Season 7 have you surrounded by tissues, but you won't know whether the next minute of television will have you laughing or crying, and after seven seasons, I'd say that's pretty impactful.
---
Queer Eye Season 7 is now available to stream on Netflix.