No Sudden Move (Review): Classic Soderbergh

Don Cheadle and Benicio Del Toro in No Sudden Move (© 2021 Warner Bros. Entertainment Inc. All Rights Reserved.)
In No Sudden Move, Steven Soderbergh unleashes his classic aesthetics for a fun crime-caper featuring a star-studded cast.
---

As soon as the 1950s Warner Bros. logo appeared on the screen, I knew, right then and there, that No Sudden Move was going to be yet another Steven Soderbergh banger. The director has had a bit of a resurgence after he came out of retirement in 2017 to direct Logan Lucky, going against the studio system and the traditional ways of filmmaking, shooting two movies on iPhones, and making movies exclusively for streaming services. Whilst No Sudden Move was made for a streaming service, it goes back to a more classic method of filmmaking, as Soderbergh sets it at the height of automobile sales in the mid 1950s, where three small-time criminals, Curt Goynes (Don Cheadle), Ronald Russo (Benicio del Toro) and Charley (Kieran Culkin) get hired by a man named Doug Jones (Brendan Fraser) to force a GM employee (David Harbour) to retrieve a document in a safe in their Detroit office. However, they quickly realize that Jones, and mob bosses Frank Capelli (Ray Liotta) and Aldrich Watkins (Bill Duke) have set them up to fail and plan to kill them after the document is retrieved. What follows is a classic game of cat-and-mouse, with Soderbergh utilizing his classic aesthetic techniques he perfected in the Ocean's trilogy and, surprisingly, Magic Mike, to deliver a fun crime caper with a star-studded cast giving great performances.
After viewing this movie, the only thought that came to my mind was "Ocean's 14!". It needs to happen, one way or another. That's in part due to Don Cheadle's performance, whose on-screen charm as Goynes reminded me of Basher from the Ocean's trilogy, minus the caricatural british accent. Both characters exude total confidence and an overall vibe of coolness, in whatever situation they're in, even if they likely face imminent death or being caught by the police. The film's best performance, however, goes to Benicio del Toro, who at every turn seeks to betray Goynes and everyone he works for, but keeps getting stuck through one situation after another, which results in him inadvertently teaming up with Goynes to get out of this predicament. He's particularly feared of Frank Capelli, as Russo has developed an affair with his wife, Vanessa (terrifically played by Uncut Gems breakout star Julia Fox). Del Toro's facial expressions are as legendary as ever, and speak louder than words. You can already tell that something is rummaging in Russo's head that we won't know until he confronts Frank Capelli head-on, also superbly played by Ray Liotta.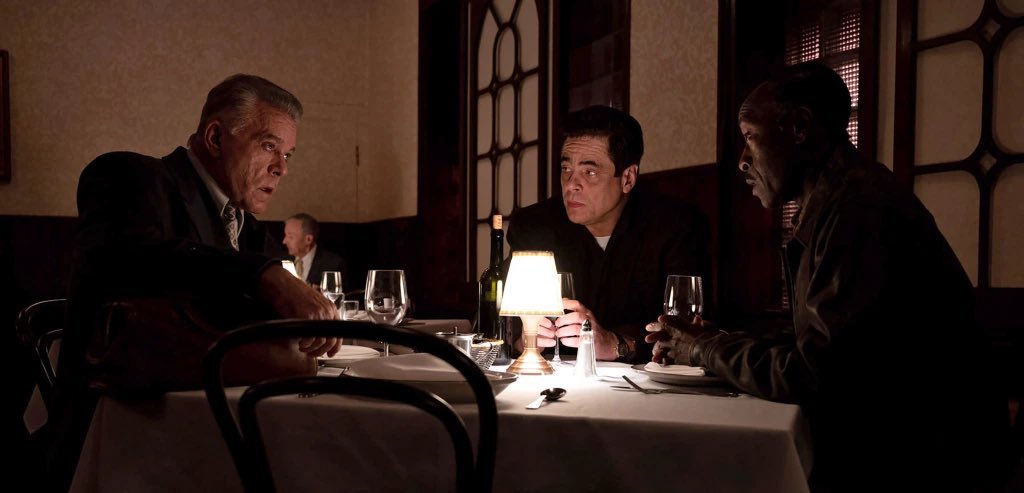 It's also great to see Brendan Fraser back on a major film production, especially after reading what he's lived through that has caused his career to decline. Once you see him in the front of a vintage car, it's almost like he never left. His on-screen presence feels amazingly important and oddly menacing, with Fraser imbuing the character with a legendary sense of coldness, where you immediately know he cannot be trusted and the job at-hand will be more complicated than it seems. What's most fun about this movie is learning how Goynes, Russo and Charley will eventually double-cross one another and whom they're actually working for. You think they're working for someone, when you find out that this particular "someone" is also planning to double cross one of the characters eventually, in a world filled with unfaithfulness and deception.
Soderbergh briefly hints at that happening during a scene where Charley talks to Jones alone, but doesn't deliver on that promise until the heist goes horribly wrong, with Russo and Goynes realizing they've been set-up by a higher power that won't be revealed until the film's incredible final act. No one, in their reviews, should spoil who THAT character is played by (though it was revealed by a reputable source in October 2020 if you look hard enough, but you shouldn't!), as it wasn't shown in its trailers and promotional materials, but once HE shows up, you'll likely go nuts and cheer, as I did. This is where No Sudden Move reaches its apex and hits a barrage of unpredictable twists and turns masterfully crafted in a way only Soderbergh can do, like a final reveal at the end of an Ocean's picture that showcases the complexity of the heist. No Sudden Move showcases, instead, the complexity of the operation and how Goynes, Russo and Charley were way in over their heads when they blatantly accepted Jones' job offer. Getting paid three thousand dollars to babysit Matt Wertz (Harbour)'s family while he retrieves the document already should've signaled some alarm bells, but when they realize something is afoot, the entire picture changes.
And this is where No Sudden Move starts to falter. As it continuously introduces more characters to showcase a spider-web like complex operation, it becomes more convoluted and hard to discern who's important in the story and who's not. Soderbergh's fish-bowl cinematography is, at times, highly effective at creating a tension-filled atmosphere with minimal dialogues and music, but we can sometimes see its artificiality as the film begins to distort itself with too many characters, and too many plotlines. Yes, everything starts to amalgamate together during the end, but it is very hard to know who's who and who's doing what and what everyone's endgame is with the document and its money. We essentially follow Goynes in the middle chapter of a scrapped trilogy we never saw, with the first installment introducing the world of the film in a more linear, exposition-heavy fashion, and the second act (No Sudden Move) being the central portion of Goynes' life.
See Also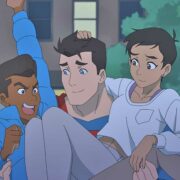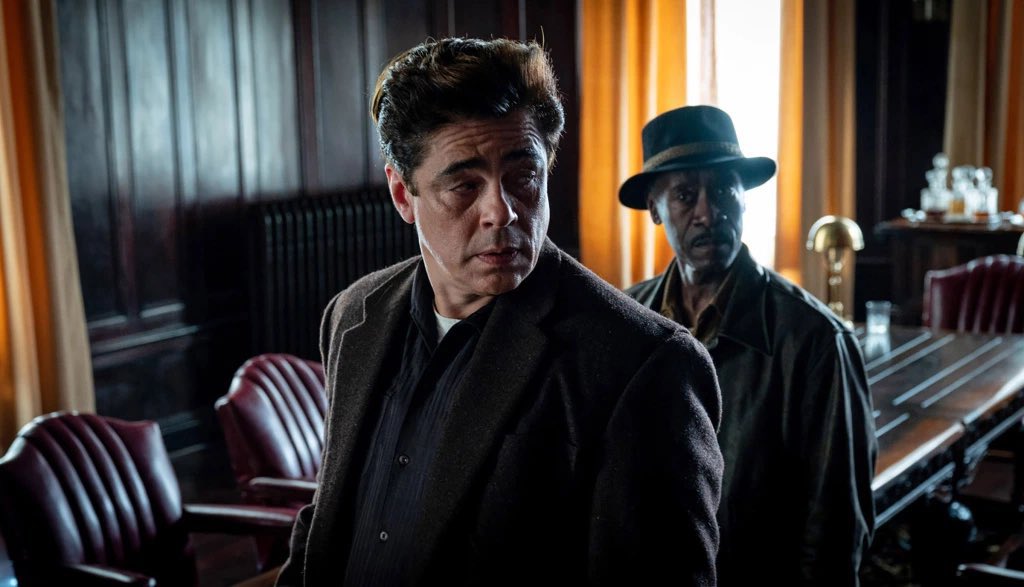 Still, No Sudden Move is a highly enjoyable sandbox for Soderbergh to play in; with a sleek and cool aesthetic that doesn't always work but is still insatiably creative, and an amazingly diverse cast of A-list actors delivering highly memorable performances. It almost feels like a precursor to Ocean's 14, which Don Cheadle has confirmed that Soderbergh is strongly considering it to be his next project. If he's considering it, I say give the people what they want for a full return to form for Soderbergh before he inevitably retires again. The Soderberghaissance is upon us, and I'm very glad to be here to witness it.
---
No Sudden Move is now available to watch on HBO Max.
---
WATCH NO SUDDEN MOVE:
---
JOIN US!
Don't miss our monthly updates with film news, movie-inspired recipes and exclusive content! You'll only hear from us once a month. #nospam