Marvel's Avengers S.T.A.T.I.O.N.: A look into the Avengers' lives (and closets)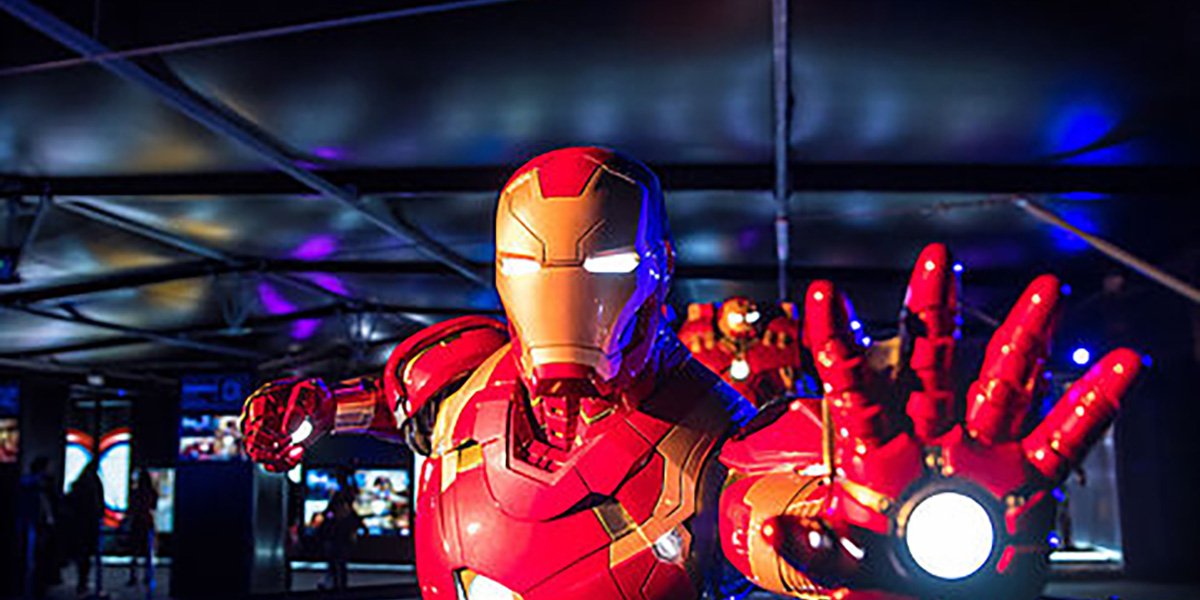 Iron Man's suit (Courtesy of Marvel's Avengers S.T.A.T.I.O.N.)
Marvel's Avengers S.T.A.T.I.O.N. at Excel London is a feast for geeky eyes that will not disappoint Marvel fans.
---
Thor's hammer is heavy. As more and more people fail in their attempts to lift it off the floor of the Thor Observatory, I wonder if the God of Thunder would consider me worthy enough to give it a try. A kid props himself with his feet on the platform and pulls with all his might, determined to make the hammer move despite the resigned look on his father's face, and a member of S.T.A.T.I.O.N. encourages him to keep going. "You can lift it, come on!" he cheers him on, but nothing happens. The little boy sighs, and the grown-up inside me takes over from my ten-year-old self: as much as I would love to lift Mjolnir (and take it home with me, for that matter), I reluctantly move away and get ready for the next part of my training.
Because once you step foot into Marvel's Avengers S.T.A.T.I.O.N., it doesn't matter how old you are or what you do for a living. You become a fully-fledged agent of the S.T.A.T.I.O.N. – that is, the Science Training and Tactical Intelligence Operative Network – and you get to be part of the Marvel Cinematic Universe. Which doesn't only mean looking at bios, reviewing case files and admiring costumes and weapons up close: as Maria Hill's brief explains from the very start of the "mission" (see clip below), "the world as we know it has changed" and "earth's mightiest heroes" need our help to defend our planet.
There are several reasons why this highly anticipated multi-room experience was received so well not only in New York, where it first opened in 2014, but also in Seoul, Paris, Singapore, Beijing, Taipei and Las Vegas, where it recently settled down with a permanent exhibition. Marvel's Avengers S.T.A.T.I.O.N. is loaded with informative material displayed on ceiling-size screens, with clothes and props from the films that you would die to take home as an addition to your own private geek collection. But that doesn't even begin to describe this experience: NASA's involvement adds a very special dose of science and technology that turns a private tour into the history of the Avengers into a much more authentic experience that lets you interact with their world.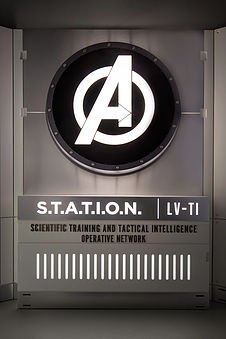 The mission takes place in what looks like an actual underground security facility, and every room is full of information on most members of the team, from Captain America, Black Widow, Hawkeye, The Hulk, Iron Man, Thor and the Loki to Falcon, Vision, War Machine, Black Panther, Ant-Man, The Wasp and even Thanos and the Infinity Stones.
The Thor Observatory is home to Mjolnir, but it's also where you can use NASA's EYE on the extroplanets program to study the universe and find out about Asgard.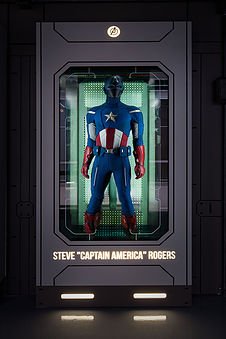 I assume Loki decided not to part from any of his own personal items (but he looks dashing in full gear, so we forgive him, right?), but Thor made up for it with an outfit, and so did Captain America in the following room.
Unlike Thor's hammer, Steve Rogers' shield can be picked up and gives us plenty of opportunities to get creative with our selfies. And, by the way, it is a (very fine) replica, but we can't blame the Captain for holding onto the real one: as a very helpful member of S.T.A.T.I.O.N. explained, he does need it to save the world, after all.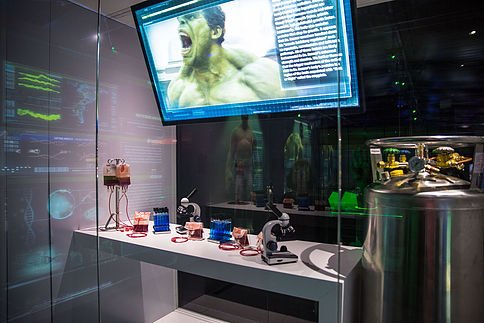 Bruce Banner's Bio Lab B is one of the highlights of the exhibition. The room itself looks extremely realistic with its touch screens and props and its science lab-like artificial lights, and the interactive screens allow you to be part of the action, giving you the chance to witness what happens to Banner's brain when he completes the transformation into The Hulk. 
As for costumes and props, the most impressive items are undoubtedly the suits of armour. At the Iron Man Engineering Bay, a well-developed installation lets you experience what it would be like to fly inside Iron Man's suit and fight a battle in New York. Mr Stark's iconic collection of suits is astonishing and a real treat, but the massive Hulkbuster armour, which was designed for The Hulk to use during the Infinity War, is the most notable item in the room. The armour alone is worth a trip to the exhibition, and looks as majestic and powerful in real life as it does in the film.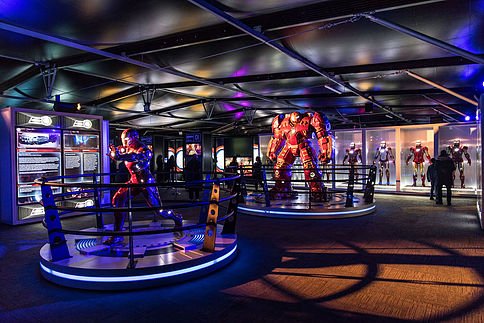 It was 2014 when Marvel's Avengers S.T.A.T.I.O.N. first opened in New York, so major MCU hits such as Doctor Strange (2016), Spider-Man: Homecoming(2017), Guardians of the Galaxy Vol. 2 (2017) and the much talked-about Avengers: Infinity War (2018) hadn't been released yet. This might be the reason why the exhibition doesn't seem to have any information Spider-Man, Quicksilver, Doctor Strange and the Guardians of the Galaxy, which is a shame as these are some of the most beloved characters in the MCU fandom. We also don't get to see anything related to Scarlet Witch, who is not only one of the most intriguing Marvel characters, but also a personal favourite of mine. The exhibition would definitely benefit from showing us what our favourite heroes have been up to in the past few years, but it's also true that it does have useful information on Ant-Man, the Wasp, Thanos and the Infinity Stones, together with cool props from Black Panther, such as T'Challa's iconic helmet and the Kimoyo beads.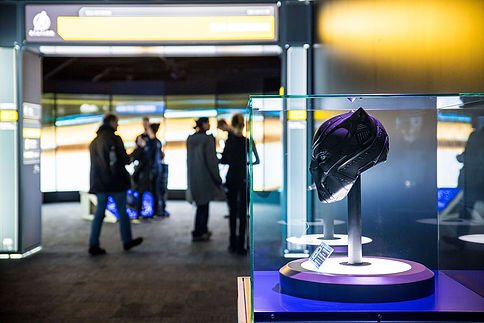 But if Marvel's Avengers S.T.A.T.I.O.N. is not as up-to-date as it could have been, it doesn't mean that it's not worth a visit. The set-up, the music, the opportunities to interact with iconic items and the members of staff who stay in character at all times turn Avengers S.T.A.T.I.O.N. into a truly immersive experience that makes it possible for the world of comics and film to blur with reality. If you're not a Marvel fan or haven't seen all (or any) of the movies yet, you will be intrigued by how much there is to learn. If you are an expert in the field, you will find it genuinely entertaining and amusing.    
What happens to Bruce Banner's brain when he turns into the Hulk? Where exactly is Asgard located in space? How does Black Panther's suit work? What is Black Widow's backstory? If you want to find out the answer to all these and so many more questions, you can already book your time slot to enter Marvel's Avengers S.T.A.T.I.O.N. and start your training. The exhibition opened in November and will be at London Excel until March 2019.