​Priyanka Chopra Jonas and Sam Heughan in Love Again (Sony Pictures, ©2022 CTMG, Inc.)
The welcomed (but completely unnecessary) presence of Céline Dion cannot save Love Again from being amazingly trite.
---

Love Again is a big deal in Quebec, as it will mark the first film role of Céline Dion (as herself, of course. Who wouldn't want to achieve this legendary status?). I'm curious to find out the box office numbers in the province this weekend. Still, Céline fans will not be disappointed at her appearances in the movie and at the multiple nods to Georges-Hébert Germain's 1998 "Céline: The Authorized Biography". Hell, our male protagonist, Rob (Sam Heughan) reads the book frequently to get to know more about the person he's going to profile. 
Rob is a music critic who feels he's not the right person for the job to profile Dion, as he recently suffered a bad breakup and can't handle her love songs. His boss (Steve Oram) believes he's the right person for the job. Rob receives a professional cellphone as a gift. Still, he starts to receive cryptic text messages from a number belonging to Mira Ray (Priyanka Chopra Jonas), who believes she is texting the phone number of her deceased boyfriend, John (Arinzé Kene). He passed away two years before, and the audience sees this tonally jarring scene at the top of the film that sets the stage for how clichéd and exhaustingly boring the whole affair is going to be. 
Then Céline Dion comes into play, badly shoehorned into a movie that does not need her presence. As herself, Dion is fine, but her appearance doesn't make sense. The film was based on a 2016 German film titled SMS für Dich (which I, unfortunately, did not get a chance to see as it was unavailable pretty much everywhere), which in turn was based on the novel of the same name by Sofie Cramer. I may be wrong, but my preliminary research shows that no pop singer is giving advice on love to our protagonists in those source materials. So what is Céline Dion doing here?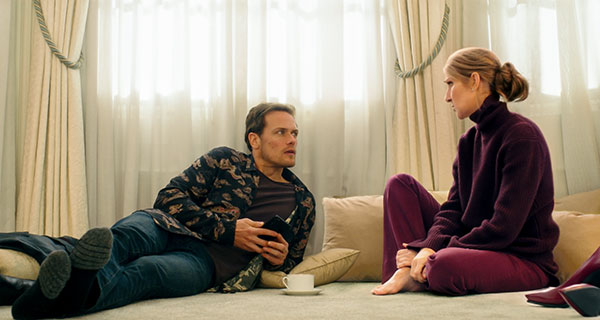 Of course, some will argue that the underlying theme of the film is love, and that Dion is the epitome of love, as she sang songs like "My Heart Will Go On", "Because You Loved Me", "The Power of Love", and released albums like "S'il suffisait d'aimer" (also a song), "Let's Talk About Love", "Falling Into You", "These Are Special Times", "Loved Me Back to Life", "The Colour of My Love"— you get the idea. Dion also lost her husband (and manager) René Angélil, who passed away in 2016. She has always described him as "the love of my life," and does so frequently in this film. In isolation, this all makes sense. And it would've made more sense if the film was about a fictionalized version of Dion inside a story that allows her to heal from that loss. 
What doesn't make sense is how she's integrated into the story about something completely different. Like, why is she here? Every time she's on screen, it's great because Dion has always had a legendary presence in Quebec media. Still, one can't help but think she adds nothing to the film, especially with its main relationship that feels so Hallmark-lite in how unimaginative it is. Rob falls in love with Mira by reading her texts addressed to her dead boyfriend? That's just… creepy. But it does have something in common with another 2023 romcom, Your Place or Mine, where the realization that one character is in love with the other is done when they're apart (in this case, they don't know each other). Much like Your Place or Mine, the two leads have virtually no chemistry when they go together. 
See Also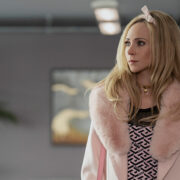 Priyanka Chopra Jonas is a charming actress and is quite funny in a scene where she's paired with her real-life husband Nick Jonas (playing a total douche as a date), but can't match with Heughan, who is as flat and unengaging as Ashton Kutcher was in Your Place or Mine. It doesn't help that their relationship is filled with endless clichés, from the moment they accidentally "meet" to their first date to the (predictable) scene where she inevitably finds out about the texts. Their reconciliation is amazingly baffling, but one would've thought this is where the filmmakers would save the best Céline Dion scene for last, yet…it never comes. 
Love Again never coalesces into something interesting. The leads aren't a "perfect match," and Céline Dion's fictionalized version of herself doesn't feel as inspired by the material as Chopra Jonas, who tries so hard to make this movie work (her phone call with Céline is quite magical). However, it's not enough for the movie to work. This is all stuff audiences have seen before and done even cheaply on the Hallmark channel, where they at least acknowledge their lack of originality. Wasting Céline like this feels criminal. She deserves better. We all deserve better than a film like Love Again. 
---
Love Again will be released in US theaters on May 5, 2023.