Kenyatta: Do Not Wait Your Turn Film Review

Kenyatta: Do Not Wait Your Turn (BFI Flare 2023)
Following a US politician as he tries to make history, Kenyatta: Do Not Wait Your Turn is an informative documentary about striving for change.
---

Malcolm Kenyatta tried to make history in 2022. Already the first openly gay person of colour elected to the Pennsylvania House of Representatives, the 31-year-old was looking to become the Democratic party's candidate for the state's senate election. If chosen in the primary, he would look to become the first LGBTQ+ person of colour in the United States Senate. Kenyatta's victory would have a couple of other milestones attached to it. Not only would he become only the 12th Black senator in the country's history, but also the first Black senator in Pennsylvanian history. However, he would have to fight political and personal prejudices during his run. It was a journey chronicled in Kenyatta: Do Not Wait Your Turn, Timothy Harris' debut film that has had its worldwide premiere at BFI Flare.
The documentary begins on Election Day 2020, with Malcolm pushing for Joe Biden to be elected President. It is a vitally important day for him because of what it would mean for US democracy. As he says, "if Donald Trump is not defeated, this could be our last election." Luckily, Pennsylvania becomes a critical state in helping Biden win the election (though not without contention). Months later, Malcolm begins his campaign for the Senate. And Kenyatta: Do Not Wait Your Turn gives us access-all-areas to his campaign, full of fundraising efforts and media appearances. We also see his loving relationship with his partner Dr Matt Miller, who he met over Instagram.
A Black, Queer person from a low-income background, Malcolm represents one of his state's poorest districts. Quickly, we get an impression of him and what he stands for as a politician. He is a devoted and engaging speaker. He is compassionate, as seen from afar when he comforts a woman who lost her son to gun violence. And he is for poor communities and the working class, which forms a strong base for his senate campaign. When Malcolm talks about the system failing lots of people, there is a sense that he is trying to be a force for change in US politics.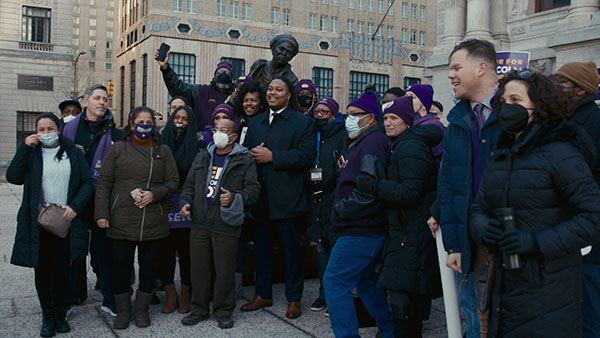 Whilst Kenyatta shows all the meticulous planning that goes into Malcolm's campaign, it also shows the uphill battle it faces, particularly with money and fundraising. Elections are expensive, especially with the massive media markets of Philadelphia and Pittsburgh. And his opponents, Lieutenant Governor John Fetterman and Congressman Conor Lamb (nicknamed "the young Biden"), both have higher profiles. As a result, Malcolm doesn't have as much spending power as his rivals. The film keeps track of fundraising totals throughout to emphasise this massive gulf. At an early stage, Fetterman has raised nearly $4m compared to Kenyatta's $374k. By the end of March 2022, Kenyatta has $1.8m, whereas Fetterman is at $14.9m.
There is the question of electability as well, with the belief those outside of Philly aren't as receptive to Kenyatta. His response – "there's never been a candidate like me" – has a double meaning. He has to face not just racial issues but also the fact he is a gay person at a time when anti-gay legislation is hurting LGBTQ+ Americans. Yet although Malcolm is forced to confront homophobia during his campaign, there is otherwise a positive depiction of his identity. The film displays the affection in his relationship with fiancé (and later husband) Matt, from a 'counter-proposal' to their marriage ceremony. Meanwhile, one of Malcolm's fundraising events is accompanied by a drag show (something both interesting and powerful in the current political climate).
See Also

Kenyatta: Do Not Wait Your Turn is a fairly standard political documentary, with interviews featuring Malcolm's staff and constituents. We also get some background on the political power of Pennsylvania, described by a journalist as "the most important battleground state." Progressive cities are surrounded by moderate and extremely conservative areas, making it a swing state where any party can win on any given Tuesday. The film is so densely packed with explanations and bar graphs that it becomes almost forensic. That is an interesting direction, but at the same time, when you should be buying into Kenyatta's journey and message, the documentary can feel less personable. Furthermore, there is a lot of text to set scenes and explain events. It is necessary with no narrator but also quite excessive.
Most of the audience seeing Kenyatta: Do Not Wait Your Turn may already know how the story ends. Nevertheless, it is a pleasant and informative documentary about a man trying to make history, despite facing improbable odds. The film's title comes from a speech Malcolm gives at the end, where he urges others to be proactive and break the status quo of the US political system. For someone who fights for the vulnerable working class, whose mere existence smashes historical boundaries, there is a real mix of drive and empathy that Harris demonstrates effectively. At times, Kenyatta acts like an advertisement for its central figure. However, its greatest achievement is that it is mostly an advertisement for progress.
---
Kenyatta: Do Not Wait Your Turn was screened at the 2023 BFI Flare: London LGBTQIA+ Film Festival on 17-18 March, 2023. Read our BFI Flare reviews!